For walkers
For an overview of Steeple Aston, its buildings and their history, follow A Walk Around Steeple Aston.
If you like to walk in a group, you can join Steeple Aston Walking Group (SAWG) which was set up in 2015. There are regular monthly walks throughout the year, and some extra ones on summer evenings and weekends. For more details please click here.
A guide to local footpaths is available from the village shop and provides detailed information on individual routes. This map, reproduced from the book by kind permission of Steeple Aston Life, shows all the public footpaths in and around the village. For a copy to print and take with you on your walk, please click here.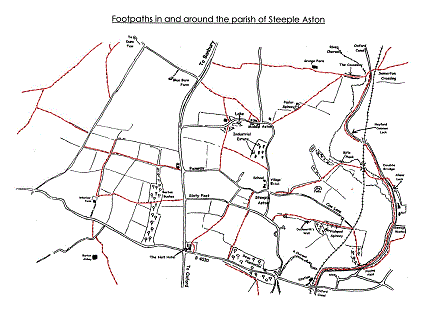 Cherwell District Council publishes leaflets on 12 circular walks in North Oxfordshire. All leaflets are available to download or order online. To go to their website, please click
here
.
Alternatively you can purchase as a set of 11 full colour booklets in a splash-proof pack from Banbury Tourist Information Centre on 01295 753752 and Bicester Visitor Centre, 01869 369055 for £5.95 (+ £1 p&p if ordering by post).
Oxfordshire County Council also provides lots of information on walking opportunities throughout the county. It publishes leaflets on 8 circular walks and 12 attractive "Paths for All" as well as links to sites about walking in the Chilterns and along the Thames Path. To find out more and to download the leaflets, please click here.
Oxfordshire Preservation Trust features a number of walks on its website.
Walking in Oxfordshire, compiled by John Harris as part of his Walking in England series, brings together a lot of the walks available elsewhere for free download and printing.
The Oxfordshire Fieldpaths Society was founded in 1926 for the preservation of footpaths, bridlepaths and commons in the Oxford vicinity. It organises a regular programme of social walks.
Exercise classes
There are exercise classes for all ages and stages available in the village and nearby.
For everyone
Glow exercise class
Glow exercise classes, Total Body Workout, are held by Sharon Canning on Thursday mornings in the Village Hall from 10.00 to 11.30am. She also runs other classes in nearby towns and villages. See her website below for details.
All classes include a weigh in, a nutritional or motivational talk and a 45 minute workout suitable for all abilities – especially beginners and overs 50s.
For more details, contact Sharon on 01869 240959, email Sharon.canning@glow-fit.co.uk or go to her website: www.glow-fit.co.uk
---
Latin and Ballroom Dance for Beginners
These classes run in the Village Hall every Friday night in term time from 6.30 – 8.00pm.
They cover Cha Cha Cha, Jive, Samba and Rumba as well as Waltz, Social Quickstep, Foxtrot and Tango. They cost £8 per session.
For more information, contact Tiziana Jones on 07986 837119 or email tizianajones@btinternet.com
---
Pilates classes
Suzi Hambridge
Suzi Hambridge runs Pilates classes at Heythrop Park at 10.00am on Tuesdays, with an advanced class at 11.00am. Classes cost £7.
She has another Pilates class at 7.45pm at Middle Barton Primary School on Wednesdays. The cost is £6, pay as you come.
For more details, go to her website or contact Suzi on 01295 722230.
---
Sarah Redfern of Happi Pilates runs classes for everyone and has people of all ages and abilities joining her classes in Aynho, Souldern and Ardley. She plans to start face to face classes in more locations as the restriction ease, but for now all her classes are available via Zoom, so very easy to access for anyone wishing to give it a go. More details on her website.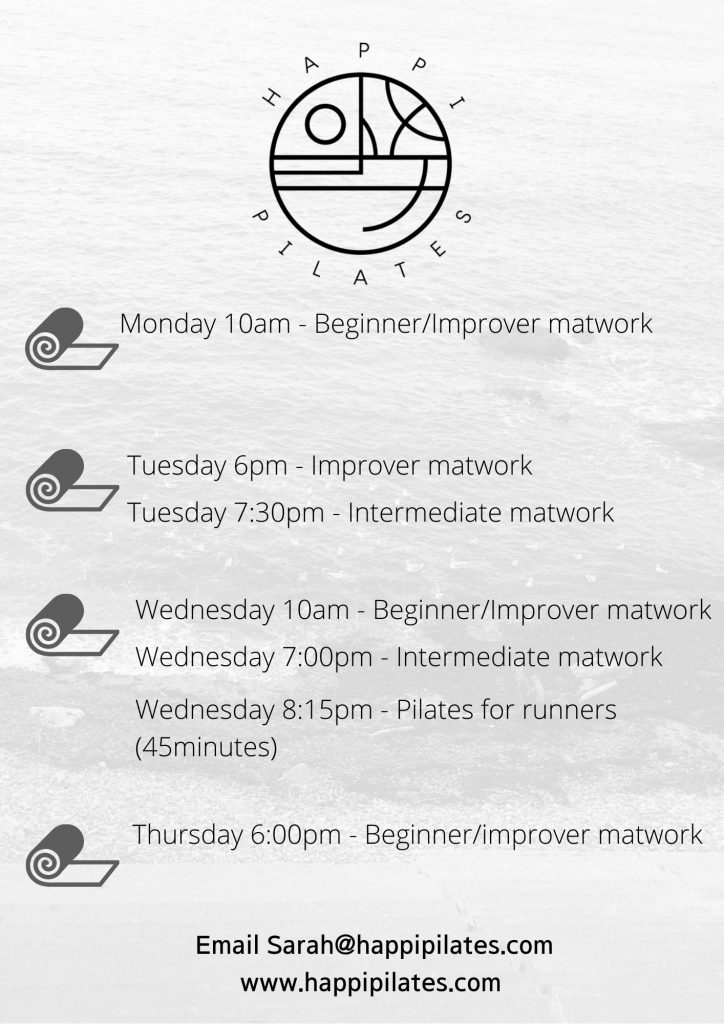 ---
For the over-50s
Zumba Gold
There are a group of ladies who thoroughly enjoy the benefits of Zumba Gold. These incorporate cardiovascular, flexibility and balance, and muscle conditioning – all to music. They meet in the Village Hall on Wednesdays 11.00am to 12 noon in term time.
These exercises are aimed at the over 50s through to 90! It is a fun and lively session and it doesn't matter if you have two left feet. The instructor is fully qualified and participants enjoy the varied programme she provides. This class is part of Cherwell District Council's "Go Active" programme.
For more information, please contact Janet on 01869 347882.
Pilates class
They meet in the Village Hall on Mondays from 2.30 to 3.30pm. The cost is about £5 a class.
There's no need to book, you can just turn up and give it a try. There's no special clothing or equipment required.
For more information, contact Julia on 01869 347850.
---
For Children
Suzi Hambridge offers the following classes for children in Steeple Aston Village Hall:
Mondays
3.45 – 4.30pm Pre-Primary Ballet
4.30 – 5.15pm Grade 1 Ballet
5.15 – 6.00pm 5-11 year old Street Dance
Thursdays
4.15 – 4.45pm Grade 2 Modern
4.45 – 5.00pm Grade 2 Ballet
5.00 – 6.15pm Grade 3 Modern
6.15 – 7.00pm intermediate Tap
7.00 – 7.45pm Grade 7 Ballet
Other Ballet and Modern classes are available throughout the week at different locations. There are more details on her website or contact Suzi on 01295 722230 or 07828 190963.
Sports Clubs
There are plenty of sports clubs in the village that are keen to welcome new members. Sports include:
Angling
Badminton
Cricket
Cycling
Football
Golf
Tennis
For more details, please click here.