Steeple Aston Church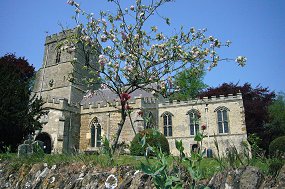 The village has a Church of England church, St Peter and St Paul, to the north of the village. Although the village is called Steeple Aston, the church has a tower. The church was built at different times; the nave is 12th century, the chancel and narrow aisles are 13th century, the tower is 14th century and the chancel screen is 15th century. The building was extensively renovated in the 18th and 20th centuries.
An embroidered 14th century cope is first mentioned as being in the village in 1846. The quality of the embroidery is superb and the cope is now on display in the Victoria and Albert Museum in London. The cope has been returned at intervals to the village for display and was last here in 2003.
The bells are rung regularly by an enthusiastic group of local bellringers who practise on Tuesday evenings. For further information contact Graham and Dorothy Clifton on 01869 347273 or go to their website: http://www.steepleastonbellringers.com/
The church is open to visitors every day. A booklet giving further details of its history can be purchased in the church for £1, and more information can also be found on the website, www.sntchurch.com/. Details of the time of services in the next month are given on this website's list of events.
To read the latest Annual Report from the Parochial Church Council, please click here.
Contact details
St Peter and St Paul
North Side
Steeple Aston
Oxfordshire
OX25 4SF
Rector: Revd Marcus Green (01869 340903)
Churchwardens: Rebecca Hoare (01869 340949) and Graham Clifton (01869 347273)
Website: www.sntchurch.com/