Steeple Aston Church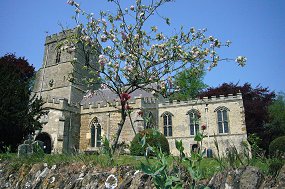 Steeple Aston has one active church building and congregation, St Peter & St Paul's (Church of England), to the north of the village.
There is Sunday morning worship every week and anybody in the village is welcome to attend. The building is open every day and visitors are always welcome just to look around, or to take a moment and pray.
The earliest parts of the building date back to the 12th century, but almost every age has left its mark on the structure. There are plans for alterations to be made in our day too! A booklet is usually available inside the church with details about its history – and another with details about those plans for the future.
The church's most famous artefact is the Steeple Aston Cope, a marvel of medieval embroidery, most recently the centre piece of a display at the V&A museum in London (where it is permanently stored) in 2018. Why such a magnificent piece came to Steeple Aston in the first place is shrouded in mystery, but we are delighted it is ours. There are displays featuring reproductions of parts of the Cope inside the church.
Details about church life (including service times, news, contact details and information about the other two churches in the Benefice at Tackley and North Aston) can be found on the website www.sntchurch.com.
A copy of the Parochial Church Council's most recent Annual Report can be read here , with all sorts of aspects of church life highlighted within it.
They also have a very active bell tower, with eight bells that are rung regularly by an enthusiastic group of local bellringers who practice on Tuesday evenings.
Contact Details
Revd Marcus Green
The Rectory
Fir Lane
Steeple Aston OX25 4SF
Tel: 01869 340903
Churchwardens
Eileen Baglin-Jones – 01869 340099, Graham Clifton – 01869 347273
Bellringers
Graham Clifton – 01869 347273