Saturday 29th January: Annual Quiz Night
Village Hall Chair, Barbara Brewer writes:
Entrance fee £2.50 pp, maximum 8 people to a table. Entrance fee at time of booking please. 7.00pm for a prompt 7.30 start. There will be a licensed bar so please do not bring your own drinks to this event. Only 12 tables will be available for this event so please book early to avoid disappointment. In order for the Quiz to take place we need a minimum of 8 tables or we may have to cancel this event.
In line with the latest government announcements, all Village Hall users must now wear facemasks in all communal areas of the building. I am sure this won't come as a surprise to you, and we ask for your full cooperation in making our Village Hall as safe as it can be in the face of the threat from the new Omicron COVID-19 variant. I would be grateful if you could make everyone in your group aware of the new requirement and encourage everyone, once again, to remember 'HANDS, FACE,and SPACE' Let's help keep each other safe into the New Year. I sincerely hope we will not have to escalate Covid measures any further.
Ring Barbara on 01869 340423 to book your team.
---
Sunday, 6th February: Snowdrop Sunday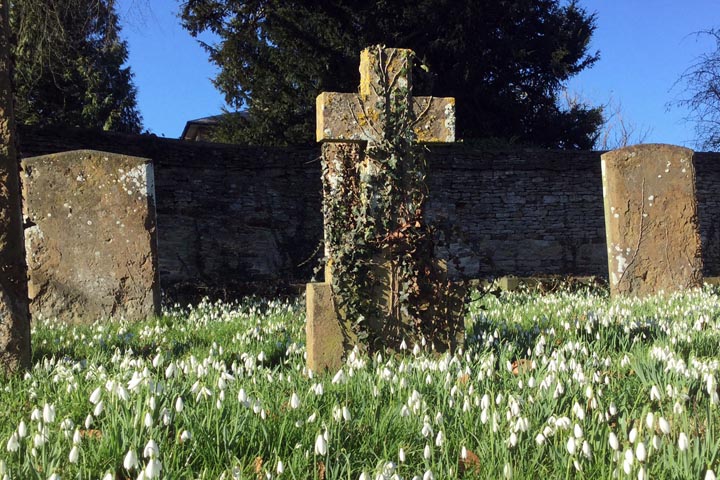 Take a stroll among the lovely snowdrops in the churchyard on Sunday February 6th, 2.30 – 4.30pm. Then call into the church for tea and cake. There will also be bookstalls, cards by Nigel Francis on sale and a family quiz .
---
Saturday, 12th February: Meeting about Jubilee Celebrations
The Parish Council would like to create a committee to explore possibilities for celebrating the Platinum Jubilee of Her Majesty the Queen.
A preliminary meeting for all those who would like to suggest activities, and possibly help with their organisation, will be held in the Village Hall on Saturday, 12th February at 10.00am.
Please come along and help to make the holiday weekend of 2nd to 5th June a memorable village celebration.
---
Sunday, 20th March: Spring Show
Richard Preston, Chair of the Steeple Aston and Middle Aston Horticultural Society writes:
"It's 2022 and Spring is just around the corner and after a two-year beak, the Spring Show will be back in the Village Hall. Without sounding like we are repeating ourselves; entries make the show and without your support the show will not survive. The schedule is to be found on the here and in the January edition of SAL. We hope the classes are self-explanatory but if you have any queries, just ask any member of the horticultural committee, or give me a call on 01869 340512.
"Looking even further into the future, the Annual Flower and Fun Dog Show will be held on August Bank Holiday Monday as usual but there is an ever-growing interest in photography, so we have decided to extend the number of classes and to give you plenty of time to take those amazing shots, here are the classes.
A panel of four photographs entitled "Evolution"
Musical Connections
A digitally enhanced image of a church (This is where you can use your tech skills to best effect)
"Abstract"
"A Country Scene"
"A portrait"
"Whatever class you might consider entering, remember, it is your entries that make the show and enables this decades-old tradition to continue."
---