Saturday, 29th – Monday, 31st August: Not the Annual Flower Show
In the absence of the annual village Flower Show this year The Horticultural Society is promoting a "Scarecrow" competition with BIG PRIZE MONEY! Also there will be an opportunity to contribute to an online exhibition of photos of your produce under the theme "Colours of the Rainbow" and to take part in a Charity Produce Sale.
Scarecrow Competition (Open to residents of Steeple and Middle Aston)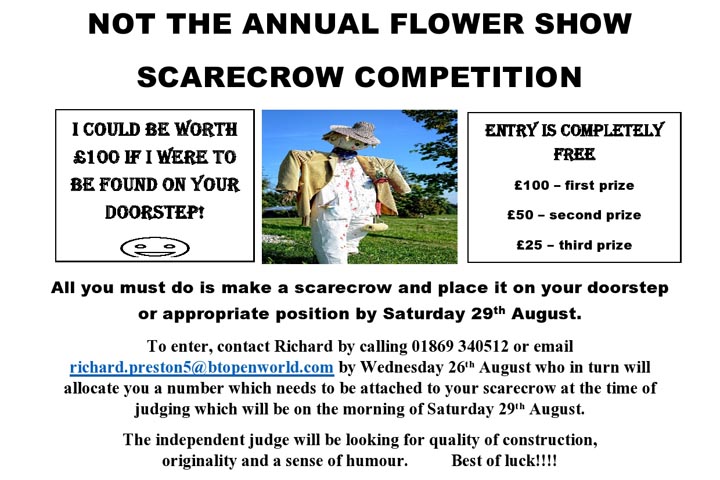 All you have to do is make a scarecrow and place it in a prominent position such as your front gate or doorstep to be judged by an independent judge on Saturday 29th August and viewed by villagers throughout the bank holiday weekend. There will be no charge for entry so all you need to do is let Richard know you are entering with your name and the address and location where the scarecrow is to be judged. Last date for entry is Wednesday 26th August. You will be allocated a number which needs to be pinned onto the scarecrow and easily visible. The scarecrow will be judged from a safe distance and quality of construction, originality and humour will be taken into consideration to find a first, second and third place (£100, £50, and £25 respective). The judge's decision will be final.
To enter, please give Richard a call on 01869340512 or email Richard.preston5@btopenworld.com It is a simple as that. Best of luck and let us see what you can come up with!
Colours of the Rainbow online exhibition
We still wanted to give you the opportunity to make, bake, arrange or grow something and share it with the community. There is no judging or prize associated with this. The theme is "Colours of the Rainbow."
We look forward to seeing a range of photos of your flowers, fruit, vegetables, handicraft or baking, and are also keen to see anything that has been made or grown by the children in the village.
If you'd like to send your photos to be exhibited on the village website, please email them to editor@steepleaston.org.uk by Wednesday, 26th August. A maximum of five photos per person please.
Your email should include your name as you'd like it to appear on the website and a short caption for each photo. The photos should be attached to the email as jpegs.
If you don't have internet access or you're not able to email photos, please contact Claire Hall on 01869 389508 and she will arrange to do it for you.
The photos will appear on the village website (www.steepleaston.org.uk) by Bank Holiday Monday, 31st August along with, we hope, pictures of lots of wonderful scarecrows.
Charity Produce Sale
Some potential show entrants will be placing produce outside their houses for purchase over the August Bank Holiday Weekend. To safeguard all concerned, a suggested donation may be placed in an honesty box and the proceeds will go to a charity of the homeowner's choice to be displayed with any items on display. Please only touch what you intend to purchase and keep at a safe distance as advised and enjoy a walk around the glorious villages of Steeple and Middle Aston and KEEP SAFE AT ALL TIMES.
Richard Preston, Chairman, Steeple and Middle Aston Horticultural Society
---
Saturday, 29th August: Fete at the Gate
---
Saturday, 12th September: Ride & Stride
There's no stopping this annual fundraising event! Help to preserve the history on your doorstep by cycling, walking or horse-riding your way around Oxfordshire's churches. Perfect open-air exercise, raising money. Now's the time to start gathering sponsors, so visit the website at https://ohct.org.uk/ ride-and-stride to download an entry form
---
Sunday, 22nd November: SACS Autumn Beethoven Concert
Steeple Aston Choral Society presents it s Autumn Happy Birthday Beethoven Concert on Sunday, 22nd November at 7.00pm in the church.
In celebration of Beethoven's 250th birthday anniversary on 28 December, we have a very special autumn concert featuring our guest musician – Dr. Paul Whittaker OBE. He is a profoundly deaf pianist and organist who 'signs' music. (He signed Beethoven's Choral Symphony with the Halle Orchestra and Sir Mark Elder at the Barbican Beethoven Weekend recently.)
The concert will include choir numbers (Hallelujah from The Mount of Olives; Creation Hymn etc.) organ and trumpet solos; tenor and soprano solos; a piano trio; a piano duet and an adaptation of the Pathetique sonata for Power of Voice Silent Moments.
The concert will end with our SACS accompanist, composer and friend of Paul Whittaker, Paul Herrington's Gloria, written for choir, organ, trumpet, violin and cello. It was written especially for SACS and will be signed by Paul Whittaker.
If you have any deaf or partially hearing friends, do bring them along to this concert. Tickets will be available in October.
---