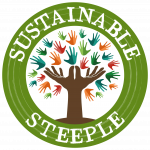 Saturday, 5th June: Recycling service
Sustainable Steeple will be in the car park at Robinsons Close from 10.00am – 12noon on Saturday, 5th June collecting the following items for recycling:
Desktop / laptop computers
LCD/flatscreen monitors
Mobiles
Tablets
Hard drives
SSD / NAS
Plastic shopping bags / bread bags
Unused / lightly used cosmetics / toiletries
VHS tapes
Please note that these are the only items we can accept, and in particular, please don't bring printers as we aren't currently able to recycle them through the services we are partnered with (but are looking at options for the future).
All of the tech collected will be recycled in support of the Air Ambulance and as part of the recycling process, all data will be wiped and I will receive a certificate confirming this.
The plastic bags/bread bags will be recycled via a supermarket service, the cosmetics/toiletries will go to a charity supporting women's refuges and the VHS tapes will be recycled through a paid for service (which we are funding) which guarantees that every part of the tape is recycled for re-use.
Any questions, please email amanda@sustainablesteeple.com.
---
Sunday, 13th June: Annual Litterpick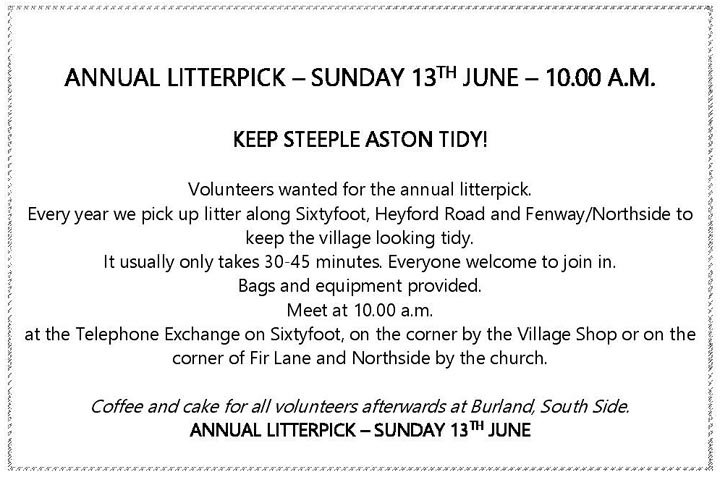 ---
Sunday, 13th June: SAVA Guided Walk

---
Sunday, 20th June: NGS Open Gardens
Six gardens in Steeple Aston will open under the National Garden Scheme between 2.00pm and 6.00pm on Sunday, 20th June. To visit all six gardens will cost £6 per person (children free) and tickets can be purchased at the first garden you enter. All funds raised will go to the nursing and health charities supported by the NGS.
Normally, teas would be served in the Village Hall but due to the present situation, it has been decided not to do so this year. The organisers are sorry for any disappointment. However the church is going to offer takeaway tea and cake in the churchyard instead, with funds split between Steeple Aston Church and the charities supported by NGS.
The six gardens are as follows: –
The Longbyre
Hornton stone house (not open) in ¼ acre. Garden constructed in old orchard with a water feature, mixed perennials, shrubs, tubs, gravel paths and garden on different levels with many secluded garden rooms. Excellent view of the Edwardian Folly.
Kralingen
One-hectare informal garden created over many yrs by present owners. Great variety of interesting trees and shrubs. Mixed borders lead down to the tranquil woodland, water and bog garden with candelabra primulas, bluebells, golden saxifrage, and a rose garden on old tennis court.
Acacia Cottage
Approx. ½ acre garden within high stone walls. Herbaceous border decked and paved area around Edwardian summerhouse and old stone barns. Box edged parterre with white planting in a courtyard setting.
Primrose Garden
A wide variety of gardening styles set within 1 acre of walled garden on a south elevation. Established herbaceous borders and island beds with a pond and marginal planting. A vegetable plot, soft fruit plot, polytunnel and two greenhouses. Borders to the house containing perennial, shrubs, bulbs, and annuals. Designed for year-round interest.
Canterbury House
A varied and evolving 3-acre garden with large borders originally designed and planted by the garden designer John Hill. It contains a large walled garden, lovely herbaceous borders, ponds, a separate shrub border and a large vegetable garden. Convenient seating at key points.
Combe Pyne
Front garden has mixed herbaceous borders with rose bed leading to a back garden, primarily laid out for growing a wide range of vegetables.
There's more information and an opportunity to pre-book on the National Garden Scheme website.
---



POSTPONED FROM MONDAY,21ST JUNE TO MONDAY,19TH JULY

: SACS meet in person
The Secretary of Steeple Aston Choral Society, Margaret Bulleyment writes: "We are hoping to resume normal rehearsals in the Village Hall on Monday, 6 September.
In the meantime, we are planning to meet in the Village Hall (with whatever restrictions may, or may not, be in place) on Monday, 19th July, just to remind ourselves that we all still have legs. Then we shall sing, hum, or do whatever we are allowed to do, together.
Any new members are very welcome to join us.
Beethoven Birthday (+1) Concert
Our Beethoven Birthday Concert is now scheduled for Sunday, 21st November. It will feature our special guest musician – Dr. Paul Whittaker OBE. He is a profoundly deaf pianist and organist who 'signs' music. (He signed Beethoven's Choral Symphony with the Halle Orchestra and Sir Mark Elder at the Barbican Beethoven Weekend last February.)
"The concert will include choir numbers (Hallelujah from The Mount of Olives; Creation Hymn etc.) organ and trumpet solos; tenor and soprano solos; a piano trio; a piano duet and an adaptation of the Pathetique sonata for Power of Voice Silent Moments.
"The concert will end with our SACS accompanist, composer and friend of Paul Whittaker, Paul Herrington's Gloria, written for choir, organ, trumpet, violin and cello. It was written especially for SACS and will be signed by Paul Whittaker.
"If you have any deaf or partially hearing friends, do bring them along to this concert."
---
Saturday, 10th July: Church Fete
As lockdown eases, plans are coming together for Steeple Aston Church Fete. All being well, the fete will be held on Robinsons Close a couple of weeks later than usual on Saturday, 10th July at 2.00pm. More details to come.
---
Saturday, 17th July: Music for a Summer Evening