Saturday, 1st December: Words & Music for Advent
There is to be a concert of Words and Music for Advent in the church at 7.30pm on Saturday, 1st December.
The performers include members of the Choir of St Martin in the Fields in London, some of whom have been to Steeple Aston on two previous occasions as Amici Singers.
Also included are two violinists who are studying for their masters at the Royal College of Music. They are Australians and are graduates from the Queensland Conservatorium of Music in Brisbane where Steeple Aston's Nick Cleobury has been working for the past three years. They have both played under Nick's baton in the Symphony Orchestra concerts. They will play the 2nd movement of Bach's Double Violin Concerto plus other classical pieces. Nick will be playing the organ.
Interspersed with the music will be readings from eight parishioners on the theme of Advent. They will include words by Betjeman, Tennyson and Rowan Williams.
Tickets are £10 (to include a glass of wine) and can be obtained from the village shop, from Margaret Bulleyment on 01869 47346 or on the door at the church before the concert.
The concert is in aid of the Church Building Project.
---
Saturday, 8th December: Dr Radcliffe's School Christmas Fayre
Come and meet Santa at Dr Radcliffe's School Christmas Fayre on Saturday, 8th December between 11.00am and 2.00pm. There will be plenty of opportunities for Christmas shopping with stalls selling toys, books, teddies and much more. And plenty of yummy food to eat along with some delicious mulled wine for the grownups!
---
From Sunday, 9th December: Steeple Aston Handbell Ringers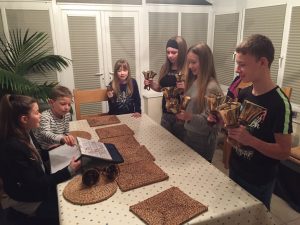 This year Steeple Aston Handbell Ringers will be collecting for the Ronald McDonald House
Charity, which provides free 'home away from home' accommodation for families with children in hospital. They currently have a 17 bedroom House located on the top floor of Oxford Children's Hospital, but are now proposing to construct a new 62-bedroom House close to the John Radcliffe Hospital. A small portion of the money collected will go to the village Church Tower Fund, the amount to be decided at the AGM in the New Year.
They will begin ringing round the village on Sunday 9th December. They have six very keen young ringers in the team this year (pictured above) who are looking forward to ringing a Christmas Carol for you at your door.
More details about the Ronald McDonald House Charity can be found on their website www.rmhc.org.uk.
---
Sunday, 9th December: "Brilliance" 
Farnham Maltings present "Brilliance" in the Village Hall on Sunday, 9th December at 7.00 for a 7.30pm start.
1948 and 1963.  Everyone is gathering in the Village Hall.  Lightning has struck the hall roof. Mrs Atkinson has called the repairman – a man who can fix a creaking door, chimneys that smoke.  And in he comes with his daughter, bright blue eyes full of brilliance, like an animal in from the woods. Long after its arrival in the city, the slow process of rural electrification is starting to illuminate every corner and crevice of village life. As the dark evenings hold us in, 240 volts of alternating current and the humble electric light bulb allow us to gather and sing long into the night.
Tickets cost £12, under 18's £10. They are available in advance from Barbara on 01869 340423, the Village Shop from 24th November, and on the door. Refreshments  will be available.
---
Sunday, 16th December: Wassail Evening
Enjoy a light-hearted evening of mulled wine, soft drinks, mince pies, carols, readings and Christmas music. This is an opportunity for everyone, families, young and old to join in some community singing. So come along to the Village Hall at 6.00pm on Sunday, 16th December and celebrate a country Christmas. Everyone is welcome. Free entry.
---
Saturday 19th January: Annual Quiz Night 
Steeple Aston's popular Annual Quiz night will take place in Saturday, 19th January in the Village Hall at 7.00 for a 7.30pm start.
All tables are now fully booked, but ring Barbara on 01869 340423 to join the waiting list. The entrance fee is £2.50 per person with a maximum eight people to a table. Entrance fee to be paid at the  time of booking please.   
There will be a 'superb' raffle along with a licensed bar. Please do not bring your own drinks to this event.
---
Saturday, 26th January: Scouts' Grand Jumble Sale
1st Aston Scout Group will hold their Grand Jumble Sale in the Village Hall at 1.30pm on Saturday, 26th January.
Come and grab yourself a bargain! Refreshments available – 40p entrance fee.
Jumble will be collected around the village on Saturday 26th from 9.00am, or ring Torquil McLusky on 01869 347914 to arrange drop-off or collection. Please leave jumble outside and mark 'Scouts'. Sorry, no TVs or furniture.
Scouts meet every Tuesday during term-time at 7.30pm in the Sports and Social Club. If you have children aged between 10 and 14 come up and find out more.
---
Sunday, 10th February: SACS Spring Concert
Steeple Aston Choral Society's Spring Concert will take place on Sunday, 10th February at 7.00pm in the Church.
The programme includes Mozart's Requiem; the Mass in Eb, by Mozart's pupil, Hummel and a work specially written for the choir by Paul Herrington.
Tickets are £10 in advance (£12 on the door) and will be available in January from choir members, Margaret Bulleyment (01869 347346) and the Village Post Office. 
---
Saturday, 18th May: Opera Anywhere presents 'Patience'
Patience is a Gilbert & Sullivan's lively operetta that playfully pits the strict morals of the Victorian era against the passionate indulgences of the 1870s Aesthetic Movement. It's a high-spirited tale full of the misplaced desires of rakish poets, swooning maidens and burly military men!
Available online from now https://www.ticketsource.co.uk/operaanywhere
Also, limited early bird tickets from Barbara 01869 340423 @ £15pp until February.