Fridays, 3, 10, 17, 24 & 31 August: Sports sessions for kids
Cherwell District Council's Youth Activator  programme for the summer holidays includes a regular visit to Robinsons Close in Fir Lane, Steeple Aston. The activators will be there organising sports, fun and games between 11.00am and 12 noon every Friday during August. These are open sessions for kids and are free of charge. Just turn up and join in!
For more information, please click here.
---
Monday, 27th August: Flower Show and Fun Dog Show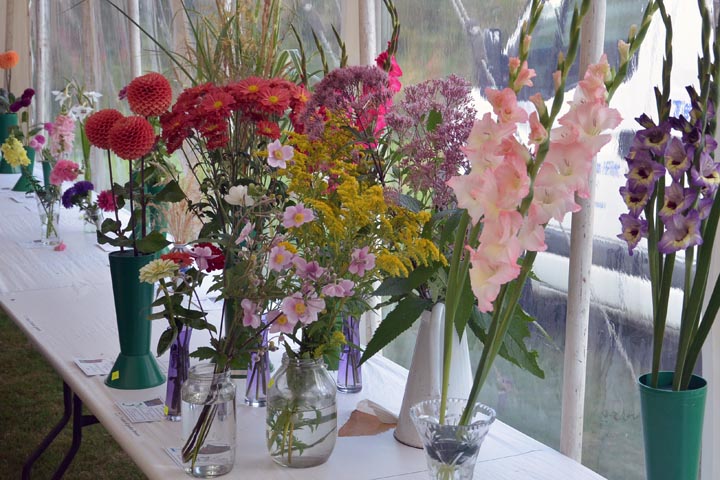 Steeple Aston & Middle Aston Horticultural Society presents its 127th Annual Flower Show and Fun Dog Show on Bank Holiday Monday, 27th August in the Village Hall and on Robinsons Close, Fir Lane. The gates open at 2.00pm. Admission is £2 for adults, children under 16 free.
As well as the two shows there will be plenty to entertain visitors of all ages. Attractions include a children's entertainer, glitter tattoos, balloon models, a bouncy castle, giant games, bowling, handicraft and produce stalls, bottle stall, prize draw, teas, games and side shows.
The Society's Chairman Richard Preston shares ten facts and tips about the flower show:
The show is open to everyone except for Division One which is for villagers only.
Schedules are free and can be found on the magazine rack at the village shop (thank-you Raj and Parry) or online (see below) or from Richard (01869 340512) or any committee member.
Steeple and Middle Aston holds the biggest traditional flower show around.
You can have a stall at the show for as little as £15.  Call Richard for details. (01869 340512).
There are 139 classes encompassing skills from gardening to cookery, craft to photography.
There are 20 trophies or medals up for grabs.
You can enter an outdoor container or hanging basket without having to step outside your home.  Class 18 – Outdoor planter or hanging basket to be judged at home.  To enter this class, you need to let Janet (01869 347882) or Richard (01869 340512) know by Sunday 19th

August and they will make arrangements for judging to take place in situ. 

We have two new classes in the horticultural section.  Class 74 is for five Fuchsia flower heads displayed in oasis. Oasis can be purchased from any garden centre or florist. Tip! Soak oasis in water overnight and then place on a shallow tray with some water. Class 75 is for three Clematis blooms floating in water. Very simple idea!Tip!  Try to find three blooms of similar size and place so as not to overlap each other in a clear glass dish.
Do you own a dog, or can you borrow one?  If so, why not take part in our annual "Fun Dog Show"? There are four classes to include 'agility', 'dog with the waggiest tail', 'best sausage catcher' (make sure they come hungry!) and 'best child handler'.  Rosettes will be awarded to third place with all classes and the overall winner will be awarded a trophy for 'Dog of the Day'.  The dog show is sponsored by The Hart Veterinary Centre

and we are very grateful for their support.

The show can only be a success if you take part.  Please enter something and don't forget, if you enter five classes or more then you gain free admission to the show in the afternoon.
This is your show so please come and support our very small but hard-working committee who put this on every year and try to make this the best event in the village's calendar.
Thank-you in anticipation of your support.
To see the full schedule, please click here.
To download an Entry Form, please click here.
---
Saturday, 8th September: Ride + Stride
Over the last 54 years, Oxfordshire Historic Churches Trust has given in grants, several million pounds to churches and chapels of all Christian denominations in Oxfordshire to help maintain them and save roofs, stained glass, wall paintings and much more.   Recently they have been supporting the installation of roof alarms for churches who have had, or are vulnerable to,  lead thefts and of recent years given substantial grants towards making the buildings more useful to the local community – for example by the installation of kitchens, loos, extra rooms and more.
Much of this has been as the result of funds raised by Ride + Stride – a fun day to get out and about cycling or walking or other activities.   More people are needed to support this as often these historic buildings are integral to where people live and in many areas are the only community building which can be used.
For more details go to https://ohct.org.uk/ride-stride/  where you can click through to set up a JustGivingpage. Or you can find sponsorship forms at the back of the church or from Mary Williams on 01869 347757 or mail@marywilliams.me.uk.
All funds raised are divided equally between Oxfordshire Historic churches and Steeple Aston church.
---
Saturday, 8th September: Oxford Classic Jazz
NB This show was originally scheduled for 3rd March, but had to be cancelled because of the weather.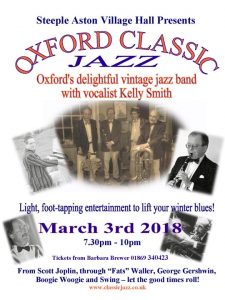 There will be a welcome return to Nick Gill and his Oxford Classic Jazz on Saturday, 8th September in the Village Hall at 7.00 for a 7.30pm start. They are a quartet of musicians plus singer Kelly Smith. They are highly skilled in the joyful style of pre-war jazz, providing an evening of spectacular music from the Jazz Age played by experienced musicians.
Tickets cost £12 and are available from Barbara Brewer on 01869 340423. There will be a licensed bar.
For more information about the quartet, and to hear their music, go to www.classicjazz.co.uk.
---
Saturday, 22nd September: Opera Anywhere presents H.M.S Pinafore 
Early bird tickets available now at £15 (under 18's £7) from Barbara Brewer on 01869 340423.
This is a tale of mismatched love across different social classes. Josephine is the captain's daughter and has fallen for lowly sailor Ralph. Yet her father has other ideas – he has promised her to Sir Joseph Porter, the First Lord of the Admiralty. Will love prevail? Climb aboard to find out and enjoy a feast of fun along the way. Hip hip hooray!
---
Sunday, 23rd September: SACS Autumn Concert 
Steeple Aston Choral Society's Autumn Concert is entitled 'Gloria'. It will be held at 7.00pm in the Church on Sunday, 23rd September.
'Gloria' celebrates the 'glorious' music of Vivaldi – Gloria (D major) and Magnificat –  and Pergolesi – extracts from his Stabat Mater.
This concert was snowed off on 18 March, but just had to be performed.
Tickets including refreshments (savouries, wine, soft drinks etc) are £10 in advance (£12 on door) are available from the Post Office, from choir members, or from Margaret Bulleyment 01869 347346.
---
Sunday 9th December: "Brilliance" 
Farnham Maltings present "Brilliance" in the Village Hall on Sunday, 9th December at 7.00 for a 7.30pm start.
1948 and 1963.  Everyone is gathering in the Village Hall.  Lightning has struck the hall roof. Mrs Atkinson has called the repairman – a man who can fix a creaking door, chimneys that smoke.  And in he comes with his daughter, bright blue eyes full of brilliance, like an animal in from the woods. Long after its arrival in the city, the slow process of rural electrification is starting to illuminate every corner and crevice of village life. As the dark evenings hold us in, 240 volts of alternating current and the humble electric light bulb allow us to gather and sing long into the night.
Tickets cost £12, under 18's £10.