Saturday, 2nd December: Dr Radcliffe's Christmas Fair
Dr Radcliffe's School Christmas Fair will take place on Saturday, 2nd December from 11.00am until 2.00pm.
There will be lots to do with Mr Fane's Games Emporium, face painters, presents for parents, fantastic raffle prizes and class stalls. There will mulled wine and festive food on offer, and local businesses including Ela Tricia Jewellery and The Curiosity Box will also be there.
And of course Santa himself will be in his Grotto waiting to meet the children!
Entry costs 50p for adults, children go free.
---
Saturday 9th December: Fritwell Christmas Farmers' Market
Fritwell's Christmas Market will take place on Saturday, 9th December from 10.00am to 2.00pm in Fritwell Village Hall OX27 7QA.
There will be Christmas cards and giftwrap, lots of gift ideas and stocking fillers. Also you will be able to buy from the regular local food stalls and try Christmas treats from The Café.
This will be the last Fritwell Farmers' Market for the time being.
---
CANCELLED
Sunday, 10th December: Wassail Evening
This year's Wassail Evening will take place in the Village Hall on Sunday, 10th December starting at 6.00pm. Entrance is free.
Enjoy a light-hearted evening of mulled wine, soft drinks, mince pies, carols, readings and Christmas music. This is an opportunity for everyone, families, young and old to join in some community singing. So come along and celebrate a country Christmas. Everyone is welcome.
---
Sunday, 10th December: Handbell Ringing starts
The Handbell Ringers will be starting their door-to-door Christmas carol ringing on Sunday, 10th December. They hope to complete their tour of Steeple and Middle Aston and the outlying farms by  Friday, December 22nd.
They will be collecting for the charity ROSY (Respite nursing for Oxfordshire's Sick Youngsters). A small proportion of the total collected will go to the Church Tower Fund The exact amount will be decided at their AGM in the New Year
They have a team of youngsters with them aged 11 – 13 years who will be playing four bells in hand and will be ringing at the Wassail Evening in the Village Hall (see above) They will also ring at the Crib Service in the Church on Christmas Eve.
If you are out when they call but would like to donate to their chosen charity, you will find a collection box in the Village Shop.
Any enquiries about Handbell Ringing should go to Sally Cooper on 01869 347173. For more information about ROSY, please click here
---
Friday, 22nd December: Carols round the piano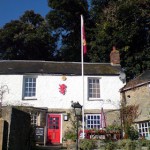 The annual singing of Christmas carols around the piano with the Maestro, Mr Nicholas Cleobury, will take place on Friday, 22nd December at the Red Lion. The singing starts at 6.00pm and all are welcome.
For other events at the pub and their Christmas opening hours, please click here.
---
Christmas Services in Steeple Aston Church
| | | |
| --- | --- | --- |
|  Sunday, 17th December |  Carol Service | 600pm |
|  Sunday, 24th December | Crib Service | 4.00pm |
| |  First Communion of Christmas | 10.00pm |
|  Monday, 25th December | Holy Communion and Carols | 10.30pm |
|  Sunday, 31st December |  Morning Prayers, Carols and Baptism | 11.00am |
---
2018
Saturday 20th January: Annual Quiz Night
Please book your teams early to avoid disappointment, 10 tables are booked already. Ring Barbara on 01869 340423 to book your team. Three tables are currently still left..
The entrance fee is £2.50 per person with a maximum of eight people to a table. Entrance fee at time of booking please. 7.00pm for a prompt 7.30pm start. There will be a licensed bar so please do not bring your own drinks to this event.