Saturday, 5th to Sunday, 13th May: North Oxfordshire Artweeks
Oxfordshire Artweeks, which has been running since 1981, is an opportunity for people to see creative works by local artists, often in interesting settings. Nearly 500 artists will be exhibiting across the county during May, and all the exhibitions are free. This year the Artweeks Festival in North Oxfordshire runs from Saturday 5th May until Sunday 13th May.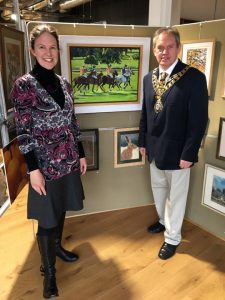 One of the local artists exhibiting is Abigail Boisot from Steeple Aston, pictured here with Bicester Town Mayor Les Sibley and some of her artworks at a Taster Event for Artweeks currently being held at Perch in Bicester.
She is showing new prints and drawings of local landscapes, as well as her bold and colourful equine paintings in a Bicester cafe. Stansfield & Hoole is at 34 Market Square, Bicester OX26 6AG. It will be open on Saturday, 5th May 9.00aam – 5.00pm, Sunday, 6th May & Bank Holiday Monday 7th May 10.00am – 3pm, Tuesday, 8th – Saturday, 12th May (7.30 am – 6.00pm), Sunday, 13th May 10.00am – 3.00pm.
You can see examples of Abigail's work on her website https://www.abigailboisot.com/
Nearby you can also visit Bicester Sculpture Group's exhibition in The Studio in the garden of the Old Vicarage behind St Edberg's Church. The Studio was set up in the 1990s by George Muller, himself a celebrated stained glass artist. He had the vision of creating a space for artists to work together and inspire each other to explore their work in a shared studio. It currently hosts 24 sculptors working in a range of materials and producing a variety of artistic responses to the world around us.
You can go along to this free exhibition and talk to the artists – and maybe find your own creative inspiration! They will be happy to see you whether or not you have visited before . The exhibition  will be open from  Saturday,  5th to Sunday, 13th May from 10.30 am to 4.30pm. For more information go to www.sculptureatbicester.org.uk
There are lots of other artists exhibiting nearby including http://www.artmorelovely.co.uk and  http://www.fleurenser.co.uk/ in Lower Heyford, three artists at The Manor, Western on the Green and Bicester Art Club in the Library, Franklin Place, Bicester.
The Oxfordshire Artweeks May Festival continues in Oxford City 12th-20th May and in South Oxfordshire 19th-28th May.
For more information about artists exhibiting in North Oxfordshire and throughout the county, go to https://www.artweeks.org/
---
Saturday, 12th May: Plant Sale
There will be a Plant Sale on Saturday, 12th May at Paynes Hill House from 10.30am to 1.00pm. coffee and flapjacks will be served.
There will be the usual mix of annuals, including sweet peas and tobacco plants, perennials, dahlias, grasses and vegetables. All proceeds will go to Medecins Sans Frontieres and Steeple Aston Church.
---
Sunday, 13th May: Nessasaurus
Nessasaurus is a highland fairytale for children brought to life through live jazz and storytelling. It's premiere will take place in the Village Hall on Sunday, 13th May at 2.30pm.
There will be a 25 minute concert followed by an improvisation workshop for children age four and upwards. It will feature world-class musicians and be narrated by Cameron Blakely.
Tickets cost £6. To find out more about Nessasaurus and to book tickets online, go to www.jazzanory.com.
---
Monday, 14th May: Village Hall Management Committee AGM
The Annual General Meeting of the Steeple Aston Management Committee will take place on Monday, 14th May in the Committee Room starting at 8.00pm.
The AGM lasts approximately 30 minutes and is followed by the monthly village hall committee meeting. Members of the public are very welcome to attend the meeting and if anyone feels they would like to join the committee they would be welcome. If interested, telephone Barbara Brewer on 01869 340423 for further details.
---
Friday, 18th May: Pre-School Race Night & Curry
Steeple Aston Pre-School is holding a fund-raising Race Night with Curry on Friday, 18th May in the Village Hall. The doors open at 7.30pm and the races start at 8.00pm. There will be money prizes and yummy curry.
Tickets cost £10, including the curry supper. They are available from the Pre-School or by emailing steepleastonpreschoolfundraising@hotmail.com.
---
Saturday, 19th May: Royal Wedding Bells
Steeple Aston Church Bellringers will be ringing a special peal between 2.00 and 3.00pm on Saturday, 19th May in honour of the wedding of Prince Harry and Meghan Markle.
---
Sunday, 3rd June: Steeple Aston Open Gardens
Eight gardens in Steeple Aston will open under the National Garden Scheme this year on Sunday, 3rd June. The gardens will be open from 1.00 to 6.00pm. Tea and homemade cakes will be on sale in the Village Hall. Combined admission will be £6, children free.
The following gardens will open:
Acacia Cottage
Cedar Cottage
Combe Pyne
Kralingen
The Longbyre
The Pound House
Primrose Gardens
Touchwood
For more information on these and many other gardens open to the public, go to the NGS website www.ngs.org.uk/
Teas in Village Hall
The Village Hall Committee are once again organising refreshments for the Open Gardens. The money raised goes towards the Macmillan Nurses and other cancer charities. If anyone would like to bake or supply a cake, or help serve teas in the afternoon (for approximately one hour, for a time to suit you) please contact Barbara Brewer on 01869 340423.
---
Thursday, 7th to Sunday, 10th June: Deddington Festival
The 2018 Deddington festival offers a packed programme of events designed to appeal to all ages and will run from Thursday, June 7th to Sunday, June 10th.
All the old favourites will be back, but in some cases with a bit of a twist . . . Deddy Jazz will be focusing on a more traditional jazz offering than in recent years and Deddy Rocks will this year be hosted by Kathy and Anton Hayter, owners of the Crown and Tuns, Deddington, so you can look forward to an evening of 'Tuns of Rock'!
The Art Exhibition, the Writing Competition, the Church Tour and the History Walk will also return for 2018 plus  two events held for the first time last year – the Children's Festival and Deddy-Car-Fest.
There will be an acoustic evening at the Deddington Arms on Thursday, June 7th, and one of the highlights of last year's Festival, the singing workshop and concert by a capella sensations All the King's Men, will be back for Deddy Fest 2018. They will be appearing at Deddington Parish Church on Sunday, June 10th.
New to the programme this year is a village treasure hunt on the morning of Sunday, June 10th, which promises to be lots of fun for all the family.
To view the full line up of events planned for this year's Festival, please visit:  www.deddingtonfestival.org.uk  and you can follow them on Facebook and Twitter for all the latest updates.
---
Thursday, 21st to Saturday, 23rd June: Cabin Pressure
Steeple Aston Players Present Abu Dhabi, Cremona, Edinburgh and Fitton, four episodes taken from the radio series CABIN PRESSURE by John Finnemore
Steeple Aston Players are excited to announce our stage presentation of four episodes taken from John Finnemore's Cabin Pressure. This hilarious comedy documents the highs and lows, the ups and downs, the looping-theloops-and-defying-the-grounds of MJN Air, a struggling air charter company. Owner Carolyn struggles to keep order, and her beloved G-ERTI, as control freak Martin, raffish Douglas and hapless Arthur take turns to try her limited patience. Wordplay, slapstick, and razor-sharp characterisation are the hallmarks of Finnemore's writing.
The award-winning show originally aired with an all-star cast on BBC Radio 4 between 2008 and 2014, and is regularly repeated on BBC Radio 4 Extra. Steeple Aston Players' director Geoffrey Cotterill is thrilled to have acquired the amateur rights to perform these four episodes in this hilarious production. Cabin Pressure will be performed at Steeple Aston Village Hall on 21, 22, 23 June.
Tickets will be on sale from 1st May – please call 01869 347346 to buy yours. Please like the  Steeple Aston Players Facebook page for regular updates from behind the scenes.
Our cast of regulars and new faces promise you a flight to remember.
---
Saturday, 23rd & Sunday, 24th June: Tackley Beer Festival
---
Saturday, 30th June: Steeple Aston Church Fete 
This year's Church Fete will take place on Robinsons Close on Saturday, June 30th from 2.00 to 4.00pm.
The Fete organiser, Martin Dale writes: "This year's fete promises to be really exciting – we're trying  not only to expand the number of stalls but also we've asked Clubs and Societies on the Village if they would like to take part, running their own stalls as advertising stands in order to promote themselves and hopefully increase their membership and outreach.
"We want to celebrate the absolutely fantastic amount that goes on in our village. For example we have a corner devoted to performing arts with four societies represented; we have a terrific amount of gardening and horticulture represented; sport is there – the Football Club is running an activity  – Beat the Goalie; Golf is once more with us; SAVA is opening for the day so take advantage of that; angling, walking and bee keeping will be there ;plus plus plus.
"Last year in the heat people said "Wouldn't it be good to have a beer stall" So we listened and we will have both a Beer stall and a Pimm's stall and we shall be singing the praises of our great local – The Red Lion. And of course we shall have all the usual ice creams, hot dogs and soft drinks available as well.
"Teas, cakes and other stalls will be there, books, bottle stall and all our traditional stalls. Plus a children's art competition.
"We're trying to offer entertainment and to this end we shall have a Band in the Arena and Spotlight Dance Company will be giving demonstrations.
"As a new event we are putting on an unrehearsed "Scenario" which we are calling "Tame Your Dragon" featuring a dragon, knights in shining armour and a fair maiden. You could write the plot yourselves. And that's the idea – we want mums, dads and children to take part in what will essentially be a fun event to create loads of laughter! Watch out!!
"The whole Fete this year will have a Dragon theme. We want to name the stalls with that in mind e.g. the "Snapdragon" plant stall will be there!
"Altogether a terrific afternoon's fun. Don't miss it. See you there!"
---
Sunday, 1st July: SACS Summer Party Concert
Steeple Aston Choral Society's Summer Party Concert is called 'Kaleidoscope'. It will take place at  7.00pm in the Village Hall on Sunday, 1st July.
'Kaleidoscope' parties through different genres of British music from the last hundred years – Beatles; Andrew Lloyd Webber; Jenkins's Adiemus; 21st century arrangements of  Irish folk songs etc.
Tickets including refreshments (strawberries, savouries, wine, soft drinks etc.) cost £10.00 in advance (£12.00 on door) are available from the Post Office, from choir members, or from Margaret Bulleyment on 01869 347346.
---
Saturday, 8th September: Oxford Classic Jazz
NB This show was originally scheduled for 3rd March, but had to be cancelled because of the weather.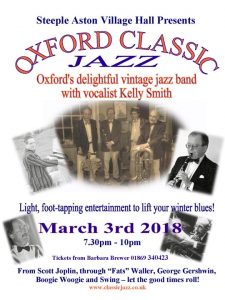 There will be a welcome return to Nick Gill and his Oxford Classic Jazz on Saturday, 8th September in the Village Hall at 7.00 for a 7.30pm start. They are a quartet of musicians plus singer Kelly Smith. They are highly skilled in the joyful style of pre-war jazz, providing an evening of spectacular music from the Jazz Age played by
experienced musicians.
Tickets cost £12 and be available from Barbara Brewer on 01869 340423. There will be a licensed bar.
For more information about the quartet, and to hear their music, go to www.classicjazz.co.uk.
---
Saturday, 22nd September: Opera Anywhere presents H.M.S Pinafore 
Early bird tickets available now at £15 (under 18's £7) from Barbara Brewer on 01869 340423.
This is a tale of mismatched love across different social classes. Josephine is the captain's daughter and has fallen for lowly sailor Ralph. Yet her father has other ideas – he has promised her to Sir Joseph Porter, the First Lord of the Admiralty. Will love prevail? Climb aboard to find out and enjoy a feast of fun along the way. Hip hip hooray!
---
Sunday, 23rd September: SACS Autumn Concert 
Steeple Aston Choral Society's Autumn Concert is entitled 'Gloria'. It will be held at 7.00pm in the Church on Sunday, 23rd September.
'Gloria' celebrates the 'glorious' music of Vivaldi – Gloria (D major) and Magnificat –  and Pergolesi – extracts from his Stabat Mater.
This concert was snowed off on 18 March, but just had to be performed. Tickets (including refreshments) will be available soon.
---
Sunday 9th December: "Brilliance" 
Farnham Maltings present "Brilliance" in the Village Hall on Sunday,9th Decemberat 7.00 for a 7.30pm start.
1948 and 1963.  Everyone is gathering in the Village Hall.  Lightning has struck the hall roof. Mrs Atkinson has called the repairman – a man who can fix a creaking door, chimneys that smoke.  And in he comes with his daughter, bright blue eyes full of brilliance, like an animal in from the woods. Long after its arrival in the city, the slow process of rural electrification is starting to illuminate every corner and crevice of village life. As the dark evenings hold us in, 240 volts of alternating current and the humble electric light bulb allow us to gather and sing long into the night.
Tickets cost £12, under 18's £10.