Brownies
Guides
North Oxfordshire School of Drama
Scouts
Spotlight School of Dance
Baby and Toddler Group
---
Steeple Aston Brownies
Steeple Aston Brownies meet at the Sport and Recreation building every Wednesday during term time between 6.00 and 7.30pm.
Brownies are the junior division of the Girl Guides for girls aged from seven to ten. They provide an opportunity to get together with other girls of a similar age, try new activities and make some friends while developing confidence and life-skills — all while having fun!
Activities include arts, crafts, outdoor activities, cooking, singing, games and team challenges. Brownies can also earn badges for doing their best to meet special challenges across a wide variety of interests including "artist", "stargazer", "wildlife explorer" and "world culture", to name but a few.
Termly subscriptions are £25, which works out at approximately £1.80 per week. Girls can join at any time, not just at the start of term, and the subs are worked out pro rata. There are no subs for the first two weeks, during which time the girls can decide if becoming a Brownie is for them.
There may be spaces available for girls aged seven to ten to join now (even mid-term) and younger girls can put their names on the waiting list. For more information, contact Fiona, details below.
Contact
Fiona McLoone
Tel: 01869 340132
Email: aston.brownies@yahoo.co.uk
---
Guiding For Girls
1st Deddington Guides Report – November 2019
A large group of Deddington Guides spent an amazing week on a trip to Switzerland. They travelled by coach to Adelboden, with other Guides from the Banbury Area, Cherwell Division.
They have talked excitedly about making new friends from other units in addition to meeting other Guides and Scouts from other countries, who were also in Switzerland.
The Guides visited Our Chalet – an amazing world centre, high in the mountains – a wonderful experience for the Guides! The opportunity to see the local woodcarver at work and purchase badges is always a must for all guiding visitors.
Switzerland's stunning scenery was much appreciated by the Guides and they loved visiting the mountains and waterfalls.
Another popular trip was to a chocolate factory with a chance to taste and buy gifts for home. Tobogganing on a rail track was voted best outing of all in spite of a few tumbles. What a great trip.
The annual outing to the Big Gig – this year in Sheffield was loved by the girls – again travelling by coach with sister Guides from Banbury. This is a huge pop concert with well known artists and only for Guides! Thousands of them. If you are not a Guide you can't go. They arrived home very tired and hoarse but very happy.
Back in the meetings we spent time in patrols, planning and tackling their own activities. We are getting better at identifying natural wonders, including nuts, seeds and fruits, tree and birds and sharing wildlife sightings and experiences.
The Guides had a great time producing mini sandwiches and snacks that were healthy and well presented. We had great fun taking up the challenge as two rival teams. "Swizzy Sandwiches" and "Snazzy Snacks". The menus and presentations were superb. There are definitely some entrepreneurs in our midst.
We gave a nod to Halloween – only home made costumes allowed. All a bit of fun followed by apple bobbing and the ever popular mummy game – when it's a race to wrap your team member in loo roll from toe to top first!! This always leads to a second game – "snowball fight "with the paper used.
To follow we talked about All Saints Day and the British Patron Saints and what forces for good they were.
Lastly a wonderful turnout for Remembrance Day parade. All the Guides looked very smart and our colour parties and wreath and cross layers did us proud. Well done Guides.
All girls over 10 are very welcome come and join us and make some new friends and join in our adventures.
Tuesdays, 7.00 to 9.00pm at the Windmill Centre, Deddington
Contacts
Maggie Rampley: 07957 600755
Marion Trinder: 01869 340806 or mariantrinder@gmail.com
Tilly Neal: 07557 095681
---
North Oxfordshire School of Drama
North Oxfordshire School of Drama offers classes for primary school children in Steeple Aston Village Hall on Wednesdays during term time.
It offers classes in three sessions: Stage One is for ages 5 – 7 (3.15pm – 4.15pm) Stage Two, for ages 8 – 11 (4.20pm – 5.20pm) and Stage Three for ages 12-15 (5.45 – 6.45). .
The classes are suitable for all abilities from beginners to those with more experience. The classes will cover basic drama skills including voice, stagecraft and improvisation with an emphasis on fun and confidence building.
For details of fees and booking go to their website www.northoxfordshireschoolofdrama.org
Contact
Jenny Stewart, Principal
Aston Cottage
Heyford Road
Steeple Aston
OX25 4SH
Email: principlenosd@gmail.com
Website: www.northoxfordshireschoolofdrama.org
---
Steeple Aston Scouts
Get involved with Steeple Aston Scouts. Come and join them on Tuesday evenings between 7.30 and 9.00pm at the Sport and Recreation building. It is open to boys and girls between the ages of 9½-15 years of age.
They at present have a thriving troop, who have already enjoyed such activities as sailing, cooking, archery and shooting. They have camped out, cooked on open fires and gained badges from a range of specialist skills.
For further information, please contact Colin.
Contact
Colin Cassford , Group Scout Leader
Tel: 01869 243038
Email: c.cassford@sky.com
---
Spotlight School of Dance
The Spotlight School of Dance is a North Oxfordshire based dance school teaching children ballet, tap, modern and street dance. Lessons are after school in Steeple Aston, Middle Barton and Sandford St Martin. RAD ballet and ISTD tap and modern exams are taken throughout the year, with the highest grades offering extra points to apply for University.
Ballet classes start from the age of three, tap from age four, and modern and street dance starting from five years old. Modern is a combination of dancing seen in musicals and music videos.
These fun and imaginative classes give the children a good grounding in musicality, fitness, posture and performance. Every two years there is a dance show in a theatre using professional lighting, scenery and stage effects. The performers have costumes and stage make up giving them the full theatre experience.
For details of class times, prices and venues please visit the website www.spotlightdanceschool.com.
Contact
Suzi Hambidge
Spotlight School of Dance
Tel: 01295 722230
Website: www.spotlightdanceschool.com
---
Steeple Aston Baby and Toddler group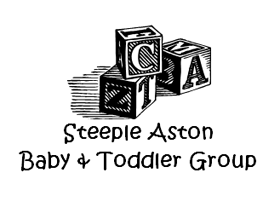 The Baby and Toddler Group meets at the Sport and Recreation building every Thursday from 9.30 to 11.30am.
The group is a friendly one. Children can socialise with others whilst mums, dads, grandmas, grandpas and carers chat over a cup of tea or coffee. They have a good selection of toys, puzzles and other activities, and also benefit from being next to a fantastic children's play area.
Membership is open to anyone with a "bump", or bringing along a baby or toddler. The cost is £2.00 per session. All you need to do is turn up on the day and you will be very welcome.
To view some pictures of the group click here
Contact
Charlotte Clarke
Tel: 01869 340061
Email: charlotte@clarkefarming.co.uk
---