Angling
Badminton
Cricket
Cycling
Football
Golf
Rugby
Steeple Aston Angling Club

Steeple Aston Angling Club was formed by local men back in 1949. They included such stalwarts as T Barratt, W Brock, B Lewis, E Calver, J Wadham, J Smith, E Townsend, R Walton and many others.
The season runs from 16th June until 14th March. There are 18 competitions throughout the season at various venues both close to home and further afield. Trophies are presented at the Annual Dinner, which is normally held in May of each year.
Now for a bit of history. The original membership fee was 3 shillings old money – that's 15p today. Hire of Village Hall for Annual Dinner was £0-17-9. C Preston for vegetables £1-6-6.
Membership is a bit more expensive these days. It costs £20 for adults, £10 for senior citizens, but there are big reductions for juniors (£3.00). The Club is also affiliated to Oxford and District Anglers Association (ODAA) meaning Members can fish their stretches of the Thames and Oxford Canal for free. Membership is open to all from age 10 upwards. An adult must accompany members under the age of 16. The main skill required is PATIENCE.
For more information about membership and competition dates please contact the Club, details below.
Contacts
Antony Morley, Treasurer
Tel: 01295 810380
Sean Simms, Chairman
Email: info@steepleastonanglingclub.com
Website: www.steepleastonanglingclub.com
---
Tuesday Badminton
This Badminton group meets on Tuesdays in the village hall between 10.00am and 12.30pm during term time – but not in the school holidays. It is a mixed group with all abilities and ages. They try not to take themselves too seriously, and don't compete in a club league.
Barbara, the organiser, says that this is a fun way of getting some exercise. If you are tempted to come along and see if it's for you, either phone her or simply turn up in trainers and comfortable clothes. She looks forward to seeing you there.
Membership is open to all from 18 to 90 years. No skills are needed, but maybe a little knowledge of badminton would be useful.
Contact:
Barbara Brewer, OrganiserTel: 01869 340423
Email: alanbrewer747@btinternet.com
---
Thursday Badminton
This Badminton group meets on Thursday evenings in the Village Hall between 8.00pm and 10.00pm. The charge is £2 per session.
Due to the size of the Village Hall, they are unable to offer this fun sport on a serious basis, therefore sessions are very informal. They normally play doubles and mix the pairings during the session.
No previous experience is required as they are all different standards and tend to learn as they play.
Age is no barrier, apart from being over 18 for legal reasons, or teenagers accompanied by a parent/guardian.
As they are not a club, there is no membership fee – just turn up and play (at your own risk) wearing suitable footwear and clothing, and bring a racquet if you have one.
Contact:
Alison Moran
Tel: 01869 347033
Email: alison_moran@tiscali.co.uk
---

Steeple Aston Cricket Club
Steeple Aston Cricket Club moved from Barton Abbey to share the ground at Great Tew in 2022. It has a programme of around ten games this summer, four of which are at home. Games usually take place on Sunday afternoons.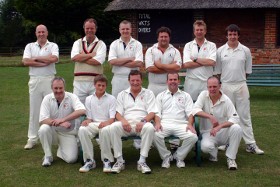 Pictured here is the team who played Barton Abbey on Sunday, June 21st 2015. They are:
back row (l to r): Harvey Townson, Paul Longman, Jon Scotchbrook, Peter Higgins, Chris Nevile, Ben Ramos, Rob Hull
front row (l to r): Ross Baird, Jamie Longman, Arthur Higgins, Stan Owen, Graham Goadby
For more photos of the team in the field at their former home ground in Steeple Barton, please click here.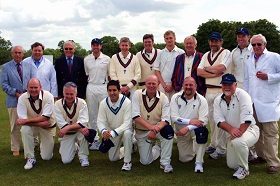 Every four years the village plays against the Lord's Taverners, pictured here. They are captained by former England Captain, Mike Gatting and include Graeme Hick, Chris Tarrant, Nicholas Parsons (umpire) and Barry Norman (umpire). For more photos of the 2011 match, please click here.
For the Chairman's latest report, please click here.
The club is open to anyone from age 13 who can play cricket. Membership is £10 a year. If you are interested in joining, please contact Peter Higgins.
Contact
Peter Higgins, Chairman
Tel: 01869 347493
Email: Peter.higgins@ctshirts.co.uk
Fixtures 2022
| | | | | |
| --- | --- | --- | --- | --- |
| Day | Date | Opponents | Venue | Time |
| Sunday | 15th May | Blenheim Park | Away | 1pm |
| Saturday | 21st May | Peter Higgins XI | Home | 11.30am |
| Sunday | 29th May | Middleton Stoney | Away | 2pm |
| Sunday | 5th June | Sandford St Martin | Away | 2pm |
| Sunday | 19th June | Oxford Downs | Away | 2pm |
| Sunday | 26th June | Minster Lovell | Away | 1.30pm |
| Sunday | 3rd July | Philanderers | Home | 2pm |
| Sunday | 17th July | Ascott-under-Wychwood | Home | 2pm |
| Sunday | 7th/14th August | Great & Little Tew | Away | 2pm |
| Sunday | 11th September | Chairman's v Captain's | Home | 1.30pm |
---
Cycling: Team Steeple is still here
We are a group of mainly middle aged cyclists who meet up every Sunday morning for a ride of anything between 40 and 60 miles normally heading out into the Cotswolds. We do ride further on occasions and do take part in several Cycling Sportives in the UK and Europe from time to time.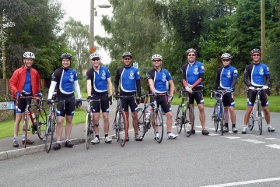 The group includes Ian Hart, Charlie Hodges, Jose Lluna, Simon Thatcher, Ian Churchill, Steve Boote, Torquil Mclusky, Matt Robinson, Scot Henney, Chris Preston and Bill Thatcher.
We meet at 08.30am every Sunday throughout the year at the top of Bradshaw Close and would welcome all cyclists from the village to join us – this invite genuinely extends to all cyclists, so please come along.
If you want more details please contact any one of us, or if you see us out riding please stop us.
Hope to see more of you out on a Sunday morning.
Contact
Steve Boote
Tel: 01869 349091
Email: bootesteve@outlook.com
---
Steeple Aston Football Club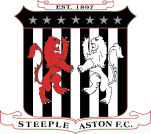 Based at Robinsons Close in the village, Steeple Aston FC was formed in 1897. The club has traditionally had two teams playing in the Banbury District & Lord Jersey Football Association, which is affiliated to the Oxfordshire Football Association, but for 2019/20 there will only be one team representing Steeple Aston.
The Club not only has a great tradition, of which the members are proud, but it also has some of the best facilities in the league and a reputation as a true village club which members strive to protect and enhance.
The teams play every Saturday from September to May, kick off 2.00pm at Robinsons Close. Training takes place in the summer months at the home ground on Wednesdays 6.30pm – 8.00pm. Winter training takes place at Heyford School.
To keep up to date with what is happening at the club please use the following links:
Website http://www.pitchero.com/clubs/steepleaston
Facebook: https://www.facebook.com/SteepleFC/
Twitter: https://twitter.com/SteepleFc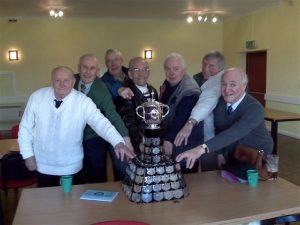 Steeple Aston's football team has won the Lord Jersey Cup seven times since it was first contested in 1887 and since their first appearance in the Final in 1897. Pictured here are members of the Lord Jersey Cup winning team in 1957/58. They are (from l to r): Sam Keys, Gerald (Dicky) Kirby, John Flower, Gordon MacCutcheon, Eric Stevens, Gil Sorrell and Roy Kinch. See the history of the cup: www.thejerseycup.co.uk
Contact
Peter Wild, Secretary
Tel: 07950 837773
Email: wild.peter54@gmail.com
Alan Peckham, Chairman
Tel: 01869 347756
Email: alanpeckham@btinternet.com
---
Steeple Aston Golf Society (SAGS)
SAGS has been going since 1988, and is recognised by the R & A. The Society currently has 25 members, and around 20 turn up to each meeting.
Members meet at a different golf club each month (see programme below). The average cost of a day's play is £40/45. All of the games are played midweek, except for the annual game against Steeple Aston Cricket Club which is played on a Sunday.
The club is open to all genders over 18. A handicap is preferred, but not essential. Most important is a sense of humour and to be able to enjoy a game of golf with good company.
The cost of membership is £20, which includes society club tie and entry to all competitions. To enquire about membership, please contact Alan or Chris.
Fixtures for 2022
Friday 13 May – The Wychwood – meet 11.30, first tee 12.30
Friday 17 June – Wrag Barn – meet 12.00, first tee 13.00, restricted to 16 players
Friday 15 July – The Springs – meet 12.00, first tee 13.00
Friday 5 August – Naunton – Captains Day – meet 12.00, first tee 13.00
Friday 9 September – Studley Wood – meet 12.00, first tee 13.00
Friday 14 October – Temple – meet 11.00, first tee 12.00
Contacts:
Alan Brewer, Chairman
Tel: 01869 340423
Email: alanbrewer747@btinternet.com
Chris Cooper, Secretary
Tel: 01869 347173 or 07803 750442
Email: steepleastongs@gmail.com
---
Rugby clubs
There isn't a rugby club in Steeple Aston, but there are two close by in Banbury and Bicester. They both have websites, giving details of membership, fixtures and much more.
Contact
Websites:
www.pitchero.com/clubs/banbury
www.pitchero.com/clubs/bicester/
---