The information in this section has been provided by local parents, carers and children. We list their recommendations of places to take the kids within easy reach of Steeple Aston.
Walks with a buggy
Christ Church Meadow, Oxford
In the heart of Oxford, Christ Church Meadow is a large area of tranquil pasture. It borders the rivers Cherwell and Isis and provides opportunities for picnics and river walks. It is free, and open to the public until dusk each day. The paths are easy and wide enough for a double buggy.
Enter the meadow through the Memorial Garden entrance on St Aldates, through a gate between Merton College and Corpus Christi on Merton Lane, or through a gate at the eastern end of the Meadow next to the Botanic Gardens. The nearest car park is Westgate shopping centre. Or you could Park and Ride from Botley Road to Queen Street.
University Parks, Oxford
The University Parks consist of over 70 acres of parkland bordering the River Cherwell. They include sports areas and a large collection of plants and trees in landscaped surroundings.
On Saturday after 1.00pm you can park in Norham Gardens for free (or park from 10am and pay £2.50 for maximum 3 hours). For more information, go to www.parks.ox.ac.uk
Adderbury Village Trail
Early in 2011 improvements were made to the footpaths in Adderbury which mean that the Village Trail is now walkable with a buggy. The Village Trail is approximately 1.8 miles (3 kms) long and is a tour around some of the most fascinating buildings and features of this historic village. For detailed information and a map, please click here.
Blenheim Palace, Woodstock

An annual pass for an adult costs £22.00. Just buy a one-day ticket and then convert it to an annual pass. There is no charge for children under five.
You can walk in the park and formal gardens, which have wide smooth paths. There is also a café, a train, a butterfly house and much more. For more information, go to www.blenheimpalace.com
Spiceball, Banbury
This leisure centre has two pools, a crèche, a children's soft play area and a café as well as exercise and sports facilities.
Spiceball Leisure Centre
Cherwell Drive,
Banbury
OX16 2BW
Tel: 01295 257522
Cutteslowe and Sunnymead Parks, Oxford
Big open space with aviary, paddling pool (July & August), duck pond, two playgrounds and a miniature steam railway. Railway enthusiasts are usually there on Wednesday and Saturday.
If driving, you can enter the park via Harbord Road (off Banbury Road).
Stoke Wood
An ancient, well-maintained 88-acre wood with some very pretty footpath routes which are good for buggies and young children. It's filled with bluebells and primroses at springtime.
From Ardley at J10 of the M40, go onto A43 and turn right at the Esso garage roundabout (Baynards Green) onto the B4100. Take the first turning on the right. A short way down is a car park on the left hand side where you will also find a map of the woods. For a little more information on the Woodland Trust website, please click here.
Port Meadow
The largest area of common land in Oxford, Port Meadow runs alongside the River Thames, and is home to lots of horses and cows.
Park in Wolvercote car park for a nice but long circular walk. You can also walk into centre of Oxford from here.
National Trust
Properties with lovely grounds accessible with a buggy are Waddesdon Manor, near Aylesbury and Stowe Landscape Gardens in Buckingham.
See www.waddesdon.org.uk and www.nationaltrust.org.uk/stowe
More suggestions
Two websites with information about accessible walks throughout the country are www.walkswithbuggies.com and www.walkswithwheelchairs.com
Also Oxfordshire County Council has downloadable leaflets on short easy walks in the county under a mile  long and accessible to all users including those with mobility difficulties, wheelchairs, and pushchairs. For more information, please click here.
Walks for small children without a buggy
Lower Heyford circuit
From Heyford station car park, cross the bridge over the railway, and go left along canal, over the lift bridge and back through the village. Turn right at the pub then down the footpath at the end of the lane, and back over railway bridge.
Points of interest for children: railway bridge for watching trains, ducks to feed, bridge to pull up and down, park just over bridge, pub with garden (good for hide and seek) or Kizzies waterside bistro (see www.oxfordshire-narrowboats.co.uk for opening times).
Kirtlington Quarry
Park down the bumpy track behind village green. The quarry is about 1/4 mile walk down the track. Steps, lane or path leading down in to quarry, big flat area to run around at bottom, scree to scrabble around in, some trees, canalside, picnic benches. More of a place to run around than a walk though you might be able to walk down the canal path if it's not too muddy.
Steeple Barton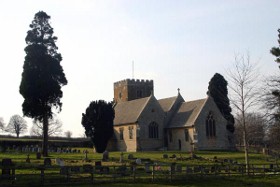 Park outside the church (pictured here) in the little car park. Go through the churchyard, down the path to the stream opposite the Abbey and gardens. There's a small waterfall, lots of daffodils etc in spring, leads along edge of gardens up to open fields/hill, at which point you turn around unless you want a much longer walk, but very pleasant.
Playgrounds and Play Areas
Ardley – in football ground – very small play area, but the bit behind the football building (free access) has a zip wire/ pulley.
Souldern – big slide and reasonable range of other park stuff, big field, good for throwing leaves in the autumn (and strict anti-dog fouling policy), nice pub in village with garden (haven't eaten there).
Waddesdon (NT) – good play area with zip wire etc.
Windmill, Deddington – good playground and lots of activities
Middle Barton – wooden playground next to big field to run around.
Spiceball Park, Banbury – this is large and a very good place to let children run around and there is a picnic area with tables. It has facilities for all age groups such as swings and a climbing frame for small children seesaw, and various roundabouts as well as swings and a climbing frame for older ones plus a skate park.
Garth Park, Bicester – entrance off Launton Road. A nice selection of playground activities plus lots of space to run around near the band stand. Free parking in Garth Park.
Cutteslowe Park – this has a variety of attractions including a train, an aviary, a playground and lots of space to run around in and fly kites. If driving, go through Kidlington and you can enter the park via Harbord Road (off Banbury Road).
Upper Heyford – has a climbing frame where children can only get high if they can climb there (ie it does not have easy steps up which could otherwise enable small children to get dangerously high for their climbing ability). On left when you go down Camp Road but difficult to park.
Rectory Farm, Stanton St John – free, bouncy castle and slide, sand pit, climbing stuff, café and pick your own fruit and veg. See www.rectoryfarmpyo.co.uk.
Seeing Animals
Birdland , Bourton on the Water
Birdland has over 500 birds in a natural setting, including the only King Penguins in England. There are over 50 aviaries as well as toucan, tropical and desert houses. Café and children's playground. See www.birdland.co.uk
Cotswold Farm Park, Guiting Power near Cheltenham
This is very good for little children, allowing them to stroke the rabbits, see baby animals. See www.cotswoldfarmpark.co.uk.
Cotswold Wildlife Park, Burford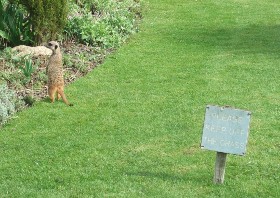 There is a wide variety of birds, mammals (including rhinos, camels and zebras, reptiles and insects. It also has a train (£1 for the over-3s child) and adventure playgrounds for childre of differet ages.
There is a restaurant as well as refreshment kiosks around the park and picnic areas ,Tickets cost £16 for adults, £1050 for children, but are cheaper online.  This is a great day out. See www.cotswoldwildlifepark.co.uk.
Fairytale Farm, Chipping Norton
Described as a sensory and learning experience for all the family, Fairytale farm is divided in to six zones which include an Enchanted Walk and a Fairy Dell. There are animal handling sessions throughout the day when children can meet Alfie the Alpaca and his friends – ponies, pigs, goats, chickens etc. See www.fairytalefarm.co.uk
Odds Farm, High Wycombe
"A kid's farm for all ages!" Lots of animals, playground, facilities for under-fives. Fab! See www.oddsfarm.co.uk.
Stoke Bruerne Farm Park, near Towcester
Lots of small animals – lambs, calves, pigmy goats, miniature ponies. Within walking distance of the canal and locks. Also Waterways Museum nearby. See www.rookeryopenfarm.com
Thrift Farm, Whaddon
Farm animals include cattle, sheep, goats, pigs, donkeys, chickens, ducks, geese and turkeys. There's also a hatchery with various small animals – chicks, ducklings and guinea pigs. Play and picnic area. Smaller and cheaper than some others, but still a good day out. See http://thriftfarm.co.uk/
Wigginton Heath Water Fowl & Childrens' Animal Centre, near Chipping Norton.
Access for pushchairs and wheelchairs. Small animals, which children can hold. Extensive grounds containing ponds of ducks, geese etc. Play and picnic areas. Small and very friendly. See www.waterfowlsanctuary.co.uk.
Swimming pools suitable for young children
Spiceball, Banbury
This leisure centre has two pools, a crèche, a children's soft play area and a café as well as exercise and sports facilities.
Spiceball Leisure Centre
Cherwell Drive,
Banbury
OX16 2BW
Tel: 01295 257522
Website: www.leisurecentre.com/spiceball-leisure-centre
Bicester
This leisure centre has a training pool, and a crèche.
Bicester Leisure Centre
Queen's Avenue
Bicester
OX26 2NR
Tel: 01869 253914
Website: www.leisurecentre.com/bicester-leisure-centre
Aylesbury Aquavale
Tremendous fun with a lazy river, plumes and some of it is outside.
Aqua Vale Swimming & Fitness Centre
Park Street,
Aylesbury,
Buckinghamshire,
HP20 1DX
Tel:01296 488555
Website: www.everyoneactive.com/centre/Aqua-Vale-Swimming-and-Fitness-Centre
Marston Ferry pool, Summertown
Ferry Sports Centre
Diamond Place
Summertown
Oxford
OX2 7DP
Tel: 0844 8933 222
Tel: 01865 467060
Website: www.fusion-lifestyle.com/centres/ferry-leisure-centre/
Chipping Norton Leisure Centre
The depth is changed here on two days a week.
Burford Road
Chipping Norton
OX7 5DY
Tel: 01608 645154
Website: www.better.org.uk/leisure-centre/west-oxfordshire/chipping-norton-leisure-centre 
Swan Pool & Leisure Centre, Buckingham
Has a creche and runs a Nightwave Kids' Fun Evening.
London Road,
Buckingham MK18 1AE
Tel: 01280 817500
Website: https://www.everyoneactive.com/centre/swan-pool-and-leisure-centre/
Outdoor pools
Woodstock Open Air Pool
The pool is open from April to September.
Woodstock Open Air Pool
Shipton Road
Woodstock
OX20 1LP
Tel: 01993 811 785
Website: https://www.better.org.uk/leisure-centre/west-oxfordshire/woodstock-open-air-pool
The Lido at Chipping Norton,
There are a limited number of parking spaces at The Lido so you can park in the free public car park in Albion Street and turning left out of the car park walk along Albion Street turning left into Fox Close. You'll find the pool 100 yards away at the end of Fox Close. See www.chippylido.co.uk.
Ski slope
SnowSlope, Milton Keynes
Indoor skiing, tobogganing, snowboarding etc for children from age three. See www.snozoneuk.com.
Soft Play
Bicester
There is a small soft play area in Wyevale Garden Centre in Bicester. This is convenient for shopping but definitely on the small side.
Mad Hatters is a bigger soft play centre at Unit 42, Murdock Road. Tel 01869 325554.
Banbury
Rugrats and Half Pints – this is an excellent soft play centre with separate facilities for smaller and larger children (Through centre of Banbury towards Tesco, go straight on instead of turning into Tesco shopping precinct, take first left and it is on the right) Beaumont Road OX16 1QY. See www.rugratsandhalfpints.com.
For Twins
The Twins Group is at Bicester Children's Centre (Brookside Centre, Queens Avenue, Bicester OX26 2NR) and is on Mondays from 9.30am to 11.30am. You just turn up and the charge is £1 for a family with free tea and coffee provided. For more informations, please phone.
Museums and discovery
NB Major local art galleries are listed in the Arts and Entertainment section of the website.
Bekonscot Model Village and Railway, Beaconsfield (just off M40 J3)
Includes picnic facilities and playground.
Tel: 01494 672010. www.bekonscot.co.uk
Bletchley Park, Bletchley, Milton Keynes
The famous Home of the Codebreakers has lots to see including the famous World War 11 Enigma machine and, in the National Museum of Computing, the rebuild of Colossus, the world's first programmable computer. This attraction is more suitable for older children, but under-12s are admitted free and there is a children's play area.
Telephone 01908 640404 or see www.bletchleypark.org.uk.
Buckinghamshire Railway Centre, Quainton nr Aylesbury
This rail centre has plenty of interest for train enthusiasts young and old. It is a working steam museum with lots of exhibits ranging from a giant South African locomotive to a royal dining car. There is a miniature railway, and special days out with Thomas the Tank Engine will appeal to younger children. Tel: 01296 655720 See www.bucksrailcentre.org.
Museum of the History of Science, Broad Street, Oxford
Suitable for older children and teenagers. Take the Park and Ride from Water Eaton to Magdalen Street. No pushchair access. Collection of scientific instruments and some family-friendly events. Tel: 01865 277288. See www.mhs.ox.ac.uk
Lookout Discovery Centre, Bracknell, Berks.
Interactive science and nature exhibits. Nature trails. All ages. Tel: 01344 354422. www.bracknell-forest.gov.uk/lookout
Roald Dahl Museum, Great Missenden, Bucks
For 6 -12 year olds. Open daily. Workshops, events and storytelling during school holidays and at weekends. Park in pay-and-display car park in Great Missenden. Tel: 01494 892192 See www.roalddahlmuseum.org.
The Story Museum, Pembroke Street, Oxford
This unusual museum celebrates stories in all their forms. It has exhibitions and events for all ages. There are drop-in sessions for babies and toddlers, as well activities for older children particularly in the school holidays and at weekends. There are visits from famous children's authors and storytelling and craft workshops for adults. They also cater for schools and visiting groups. The museum has a shop and a café selling light refreshments.
Tel: 01865 790050. Website: www.storymuseum.org.uk
Oxford Bus Museum, Long Hanborough, near Witney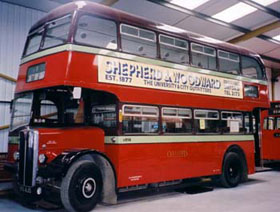 Collection of 40 buses used in Oxfordshire over past 100 years, plus fire engines and bicycles. Also Morris Motors Museum. Tel: 01993 883617. See www.oxfordbusmuseum.org.uk
Oxford Castle Unlocked
For the first time in 1000 years, the secrets of Oxford Castle have been Unlocked revealing episodes of violence, executions, great escapes, betrayal and even romance.Walk through these ancient buildings and experience the stories that connect the real people to these extraordinary events. Activities such as science workshops, Victorian theme days etc. For more information, go to www.oxfordcastleunlocked.co.uk.
Oxford University Museum of Natural History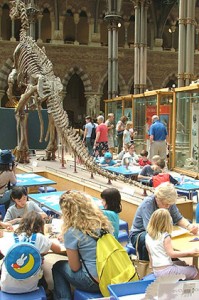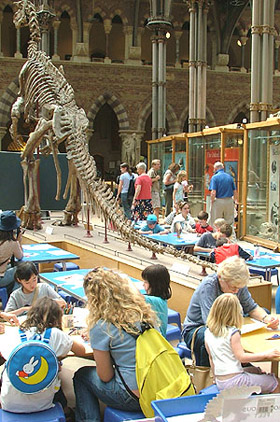 The Museum houses the University's scientific collections of zoological, entomological and geological specimens. It's a Grade 1 listed building, renowned for its spectacular neo-Gothic architecture. Among its most famous features are the Oxfordshire dinosaurs, the dodo, and the swifts in the tower. It won the Guardian Family Friendly Museum award in 2005 and there is a full programme of family activities running throughout the year. Tel: 01865 272950, see www.oum.ox.ac.uk
The Oxfordshire Museum, Woodstock
The museum is in Fletchers House, Park Street in the centre of Woodstock. It has a Children's Gallery and a programme of free children's activities. The garden is suitable for young children to run around in, but the café is too small for buggies. See www.oxfordshire.gov.uk/the_oxfordshire_museum.
There is a Dinosaur Garden with:
Fossilised megalosaur footprints discovered at Ardley Quarry which have been carefully installed in the walled garden
Meet the life-size megalosaur – as big as a bus!
Explore the new garden with its Jurassic plants
There are also dinosaur costumes to try on and other dinosaur-related activities for children in the Children's Gallery. Children must be accompanied at all times.
The garden is suitable for young children to run around in, but the café is too small for buggies. See www.oxfordshire.gov.uk/the_oxfordshire_museum.
Local clubs and classes for children
For more information about activities in Steeple Aston, please click here.
Also Cherwell District Council runs holiday activities for children from age five including sports roadshows and arts activities. For more information please click here.