The Garden Club is back for 2022!
From the Garden Club Committee:
We are back! Our first meeting of the year will be at the Village Hall on Tuesday, April 5th at 7.00pm for a 7.30pm start. Please note this is the first Tuesday of the month! We will hold a very short AGM first followed by a talk by Richard Preston on "The Life and Times of Primrose Garden".
For those of you who know Richard it will come as little surprise that he can provide the history of what used to be the kitchen garden to The Grange and its evolution to a commercial enterprise for 50 years, and then to the garden that now opens regularly to clubs and the NGS throughout the year. For those of you who don't know him, it will be a wonderful opportunity to get an insight into the workings of a kitchen garden where his grandfather used to be head gardener for nearly fifty years until the outbreak of World War Two. Tea, coffee, and biscuits will be available at no charge!
On Thursday, 26th May we will be visiting Chivel Farm at Heythrop for a tour around Mr and Mrs Sword's wonderful garden with refreshments included at an inclusive cost of £8.75 payable on the day. This is a garden that never ceases to amaze.
On Thursday, June 16th we are visiting Rousham Gardens, meeting at 6.00pm, where we will have an opportunity to wander around these world-renowned gardens and then enjoy a glass of wine and some nibbles, all for the inclusive price of £10 per person.
Membership for this year becomes due on the first of April and new membership cards will be available for individuals priced at £10 and family tickets at £15. Apart from providing interesting talks throughout the winter months the club makes regular trips to gardens of interest during the summer months. An additional benefit is 10% discount at Yarnton Garden Centre on garden products and the same at Applegarth Nurseries at Chipping Norton plus the chance to meet with fellow gardeners where you can compare notes and put the world to rights at the same time.
Looking forward to seeing as many of you as possible.
---
Garden Club Report – September 2019
Our final visit of the season was to Coton Manor in Northamptonshire, a really glorious garden, looking magnificent in its autumn finery. It really is a splendid place and extraordinary well maintained – huge pots of amazing pelargoniums, salvias in full late summer bloom. Autumn is a great time to go but I suspect it is wonderful year-long. I wish I knew how to do it, even the flamingos toned with the borders.
We celebrated the end of the summer with our annual garden party, this year at Miranda Souter's garden. A bit of a breeze but a fine, sunny evening and an enjoyable 'get together'. Wine flowed, people chatted, a pleasant evening. Our thanks to Miranda.
We are back in the Village Hall for our next meeting on 15th October (7.00pm for coffee, and a 7.30pm start to the talk). We have Philip Aubrey coming to talk about 'Successful Fruit Growing', appropriate for the beginning of Autumn I thought.
Philip began his career at Birmingham Botanical Gardens and eventually retired as Director there having several varied horticultural posts on the way. From a horticultural manager growing camellias in Dorset to managing a garden centre. He will be illustrating his talk with slides and possibly demonstrating pruning techniques.
Do come, you can join the club that evening if you are not already a member.
Not sure how many of us are pumpkin growers but I guess the village will not be short of them come the 31st, Happy Halloween!
Margaret Mason, Secretary
---
Garden Club Report – April 2019
We had a rather different theme at April's Garden Club meeting, coming inside with a talk about Houseplants. We now know that phalaenopsis orchids do rather better with a bit of neglect, certainly not too much water, and that pitcher plants are not difficult to grow. Our speaker Jane Perrone, a journalist and until lately (amongst other things), the Guardian gardening editor, gave an inspiring talk. She now runs an informative gardening podcast and blog, 'On the Ledge', packed with information on all things to do with houseplants. It's interesting, do have a look.
April is the month that the Club has its AGM. The subs. will remain the same for the coming year, £10 for an individual membership and £15 for a couple. With your membership, as well as monthly talks (with tea and biscuits!) and summer visits arranged, you get your membership card which gives you 10% off in several local garden centres. It is amazing value. If you haven't renewed your membership yet or would like to join the club, give Anne Bonwick a ring on 01869 347430.
The club now begins its summer visits, on 16th May at 6.00pm, with a visit to Ushercombe in Upper Tadmarton. Evening visits are usually popular, more details for club members later on but please let me know if you would like to come.
Margaret Mason – 01869 340485
Secretary, SAGC
NB Future visits will be:
19th June 6.15pm Falcutt House, Brackley
3rd July 2.00pm Asthall Manor
---
Garden Club Report – March 2019
Michael Brown, the March meeting speaker, did NOT bring specimens, which was probably just as well, since the subject of his talk was 'Death in the Garden'. Totally fascinating – from mandrake, which would be pretty unusual as a garden plant, to foxgloves and rue, which are often grown. We learned a lot about poisoning and the amazing properties of a surprising variety of plants, through the ages up to the present day, accompanied by excellent slides. Some plants were very useful medicinally in small quantities, some immediately lethal. Hopefully there will not be an outbreak of unexplained sickness in the village…..
Our last talk of the season is on 16th April, then we are off out visiting for the summer. The final winter talk is on a rather different aspect of gardening, one everyone can be involved in…we are coming indoors. In April Jane Perrone. will be talking about Houseplants.
Jane is a freelance writer, she was the garden editor of the Guardian from 2008-2017. Nowadays she writes for a number of publications, Gardens Illustrated and the Financial Times amongst others, broadcasts and is the presenter and producer of the indoor gardening podcast On The Ledge. Houseplants having been a passion since she was a child. She will come with demo plants and pictures to illustrate the talk. It should be a good evening.
Margaret Mason, Secretary SAGC
memsteeple@gmail.com
---
Garden Club Report – February 2019
On Tuesday, 19th March in the Village Hall we are going to be treated to a presentation on "Death in the Garden" by Michael Brown, a garden historian and horticulturist. I am sure that we have all experienced "Death" in our garden at some stage and this should prove to be an enlightening and entertaining talk, accompanied by slides, about some of the disappointments of gardening and possibly, how to avoid those disappointments!
Just to remind members and prospective members that for a family membership of £15 or individual membership of £10 per year you can enjoy the many meetings held in the village hall throughout the cooler months of the year and the opportunity to visit gardens that are not often open to the public during the summer months. On top of this you will receive discounts at Yarnton Home and Garden Centre and Applegarth Nursery near Chipping Norton. Just turn up to our next meeting in the Village Hall on Tuesday 19th March for 7.30pm where you can enjoy a cup of coffee and a biscuit (at no charge!) and meet a friendly bunch of people.
Richard Preston, Chairman
---
Garden Club Report – August 2018
An excellent visit to Radcot House near Bampton on 15th August with the Garden Club. It is a beautiful and interestingly planted three-acre garden around a historic house, with glorious trees (even an ancient sprawling Mulberry) and sculptural surprises hidden in the long grasses. We were warmly welcomed, given some history and a very pleasant glass of wine after our walkabout. This was an evening visit, maybe we should do those more often.
Our next 'entertainment' is the annual garden party, this time in Caroline Parsons' garden in Middle Aston at 6.00p.m. on Tuesday, 11th September. This is open to all members. Bring a bottle, a plate of something suitable and enjoy an evening chatting and drinking wine in Caroline's lovely garden.
Our second attempt to visit Hardy's Cottage Garden Plants is booked for Thursday, 20th September. We cancelled the previously arranged visit because it was booked for what proved to be the hottest day of the summer, not a day to be wandering around and peering into polytunnels. It should be an interesting and informative visit with a talk from Rosie Hardy included and an opportunity to buy some of her gorgeous plants, much better now that autumn is approaching.
So, some good things to look forward to, please let me know if you would like to come.
Margaret Mason, Secretary SAGC
memsteeple@gmail.com
---
Garden Club Report April 2018
Our April meeting at the Village Hall started with the AGM. As usual, this was not a prolonged meeting but allowed members to contribute to future ideas for the club. There was a slight change to subscriptions after being held unchanged for the previous seventeen years. Single membership will remain at £10 per annum but joint membership will be increased to £15 per annum. This is primarily to reflect the ever-increasing cost of speakers for our winter meetings but still provides very good value when you consider what is on offer including a 10% discount at Applegarth Nursery near Chipping Norton. If you are not familiar with this nursery then make a point of visiting as it offers a diverse range of plants and sundries at sensible prices and accompanied by good advice if required. Unfortunately, Yarnton Garden Centre have decided not to continue with their discount scheme to garden clubs but will be offering an incentive instore.
For our speaker at our April meeting we were very fortunate to be able to welcome Adam Pasco, best known as editor of numerous gardening magazines and broadcaster on local radio stations. His talk on "Gardening the Natural Way" was highly informative and accompanied by some superb slides and free seeds.
We start our summer programme this month and our first visit is to Batsford Arboretum during the afternoon of Wednesday 16th May. Cost payable on the day is £7.20 or £6.30 for concessions. For more details contact Margaret (01869 340485)
Richard Preston, Chairman, Steeple Aston Garden Club
---
Garden Club Report March 2018
Rosy Hardy, from Hardy's Cottage Garden Plants was our speaker in March, and what a treat it was. Rosy's nursery is a treasure house of unusual perennials and a repeat award winner, including a clutch of Chelsea gold medals. Rosy's stands are famed not only for the plants but the artistry of the displays. Mr "Rosy" introduced the talk with a gallop through the history of the nursery up to today, when they are beginning to think through this year's Chelsea stand. All exciting but, goodness, what a lot of hard work goes into success.
They had brought a beautiful selection of plants from the nursery and Rosy talked us through their characteristics, habits, likes and dislikes, deftly cutting back an epimedium as she went. (Just the time to expose the beautiful, graceful nodding yellow flowers). Needless to say, the members fell on the Spring plants they had brought for sale. I think it is a 'must visit' nursery, near Whitchurch, only just over an hour away, and I'm arranging a Club visit there in July. Another opportunity to indulge in interesting, well grown plants.
April's speaker will be Adam Pasco whose talk is called 'Gardening the Natural Way'. Adam is a former editor of BBC Gardeners' World, Garden News and Garden Answers magazines and worked on a variety of gardening television programmes, books, magazines and newspapers during 35 years as a gardening journalist. Lots of experience, and slides too.
April is SAGC's AGM so the evening will start at 7.15pm for 7.45p.m. with a, very short, Club meeting. If you have been thinking of joining do come along. Membership will still be extraordinarily good value, we have a winter programme of monthly talks and a summer programme of visits, reductions at local garden centres…. and a Summer garden party!
Margaret Mason, Secretary SAGC
---
Garden Club Report February 2018 (Part 2)
February's meeting had an unexpected change of speaker as Bob Brown from Cotswold Plants couldn't come. At short notice Amanda Potter, who used to work with Bob and is now Head Gardener at Batsford House, came along and gave us a very entertaining and interesting talk with the provocative title 'Plant it, Grow it, Kill it'. She brought along some plant illustrations of the 'Kill It' part, including a perfectly reasonable looking potted Daphne which proved to be just a stick in a pot, due to the depredations of vine weevils. Chafer bugs and Narcissus fly were also included in the list of 'unseen nasties', Narcissus fly being a truly obnoxious silent bulb killer. It was all very enjoyable!
Mandie also brought a selection of plants for sale, without the bugs, with a sprinkling of rarities from Bob Brown's nursery so some members' gardens are off to a good Spring start. We hope Bob will be able to be a speaker in the Autumn, and we are planning a visit to Batsford Arboretum in early May when we hope to catch Magnolias and Prunus in bloom. We are also planning a visit to Batsford House itself, but maybe not until next year.
March's speaker, on 20th March in the Village Hall, is to be Rosy Hardy from Hardys Cottage Garden Plants, a very well known plantsman's nursery www.hardysplants.co.uk , whose talk will be 'Early Spring Flowering Perennials'. Rosy includes 'live plant demonstrations' in her talks… so come along and find out!
Margaret Mason, Secretary SAGC
---
Garden Club Report February 2018
I'm afraid Bob Brown of Cotswold Garden Flowers has had to unexpectedly cancel his visit to SAGC next Tuesday but the good news is he has suggested an alternative speaker for us.
She is Amanda Potter, presently Head Gardener at Batsford House in Bourton on the Hill. Her title will be 'Buy it, Plant it, Kill it' and it promises to be light hearted but well informed.
Mandie used to work with Bob Brown previously, until she took over at Batsford, and he is sending a selection of his plants with her (and the van to bring them!) so we will still be treated to the opportunity of buying some of Bob's 'specials'.
I hope Bob will be able to come and speak to us in the Autumn. I am arranging a visit to Batsford Arbouretum for May, probably 16th. This is not under Mandie's care. It is adjacent to the house, with a garden centre, café and, hopefully by then, wonderful Spring blossom from cherry trees and magnolias.
If you haven't been it is a glorious walk and a joy at that time of year.
Hope to see you on Tuesday 20th February, 7.30 for 8.00pm in the Village Hall. If you are not a member you can join the club on the evening. Do come.
Margaret
Margaret Mason, Secretary SAGC
---
Garden Club Report – January 2018
Garden Club began the new season with a very welcome injection of glorious garden colour. Gardening really is all about promise for the future. This came from Pettifers, north of Banbury, and it's owner Gina Price who brought a selection of slides of the garden through the seasons by Clive Nichols, a very well known professional garden photographer. Our appreciation of wonderful photographs was slightly tempered when we discovered that Clive is up and about at 5.00a.m. to take these magical photos. No more lazing in bed if we want to aim for similar shots!
Pettifers is a stunning garden and Gina an expert plantswoman, not afraid to rethink a planting which she feels could be bettered and not dismayed when storms necessitate radical change. Every problem creates an opportunity. The garden is an evolution over the past 30 years and a masterclass in keeping a garden vibrant. We will be visiting Pettifers in June when it should be looking wonderful. Don't miss it!
Our next speaker is the renowned Bob Brown of Cotswold Garden Flowers at Badby near Evesham. Bob is the plantsman's plantsman with an encyclopaedic knowledge of herbaceous perennials and a nursery full of interesting and rare plants, some of which he will be bringing on 20th February. He is also a very entertaining speaker.
Do come and hear him. If you are not a member you can join the club on the evening. It is sure to be an antidote for February blues!
Margaret
Winter Programme and two summer visits
20.2.2018.​ Bob Brown of Cotswold Garden Flowers – 'Too many plants, too little space'
20.3.2018 Rosy Hardy of Hardy's Garden Plants – 'Early Spring flowering Perennials'
17.4.2018 AGM. Adam Pasco – (one of the UK's most highly regarded gardening magazine journalists. Having been in at the inception of Garden Answers Magazine, he went on to establish the market leader BBC Gardener's World Magazine which he has edited for the last 5 years) subject to be decided.
And two dates for forward planners-
20.6.2018 @2.00pm. Pettifers garden visit
15.8.2018 Radcot House Garden visit
---
Garden Club Report and Winter Programme – November 2017
On 21st November we were back in the Village Hall with a talk by Chris Small who is the Chairman of GFGS Guild of Judges, a keen grower and a leading light at Moreton Show.
We can look forward to a busy programme of talks next year. They all take place in the Village Hall at 7.30 for 8.00pm. There's always a raffle, and refreshments are served after the talk.
2018 meetings are:
Tuesday, 16th January – Gina Price from Pettifers garden north of Banbury. She will be talking about the evolution of her garden, with stunning photos taken by Clive Nichols. We will be visiting the garden next June.
Tuesday, 20th February – Bob Brown from Cotswold Garden Flowers. Bob is a great speaker who comes with armfuls of plants from his amazing nursery, so don't forget your money!
Tuesday, 20th March – Rosy Hardy from Hardy's Cottage Garden Plants. Her talk is "Early Spring Flowering Perennials". Another expert Nursery owner, ready for Spring.
Tuesday, 17th April – Adam Pasco. Adam is a gardener, writer, lecturer, the former editor of BBC Gardeners' World Magazine and currently edits the Waitrose Garden Magazine. He also comes with a collection of wonderful photos.
So, you can see there is plenty to look forward to and enjoy at the Garden Club next year. Do come along. The year's subscription is still only £10, single or family, or, if you would like to just come to hear a particular talk, you can just pay a single £4.00.
Meanwhile, Happy Christmas!
Margaret
Margaret Mason, Secretary SAGC
---
Garden Club October meeting
Club Secretary, Margaret Mason writes: "Our October meeting is a joint meeting with Tackley Garden Club in Tackley Village Hall. It will be on Tuesday, October 17th at 7.45pm.
"The speaker will be Tim Miles on 'Kitchen Vegetable Gardens' Sue from Tackley says, 'Tim is an interesting speaker who oversees all aspects of horticulture at Burford Wildlife Park and Gardens.'
Burford Wildlife Park is renowned for its gardens, as well as the animals, in fact it is worth a visit for the gardens alone, so it should be an interesting meeting."
---
Garden Club Report – February 2017
New Year brings some wet, grey weather but I have found snowdrops already flowering in the garden, which is more than welcome.
By February 23rd, Spring should be really here and we will be going out on a club visit to Welford Park near Newbury (RG20 8HU) to see the snowdrops there. The owner tells me that, as the weather is at the moment, the snowdrops should be looking good. There are thousands of them, look on the website www.welfordpark.co.uk.
As an added extra there is a Plant Fair at Welford Park that day, running from 11.00am. They have a café serving light lunches from 11.00am and teas.
We will be meeting there for a walk round the grounds at 2.00pm. If you would like to come, please email me. memsteeple@gmail.com. The total cost is £6.00 (£5.00 for concessions) and there is parking space.
January's talk was "Four Local Gardens – Some Thoughts on Design" by Jonathan Ford, a landscape architect and garden designer from Coombe. From terrace house back gardens to Glympton Park, where Jonathan worked on the design of the re-landscaping, there was huge variety and many useful tips. Narrowing a pathway into the distance creates a sense of greater distance; to check whether stone or brick is likely to be spoilt by frost, put it in a tub of water in the freezer and you will soon find out!
The talk on February 21st will be by Davina Wynne-Jones, Rosemary Verey's daughter, who grew up at Barnsley House and now runs Barnsley Herb Garden. "Herbs Gardens Historic and Modern" will be on herb growing and their many and various uses. I think, hope, she will bring some plants with her as well as her slides. It should be fascinating. Non-members are always welcome, you can join the club that evening. Do come along.
Margaret Mason, Secretary memsteeple@gmail.com
TALKS – Winter 2016-7 in the Village Hall @ 7.45 FOR 8.00pm.
15th November Paul Williams – 'Digging Deeper'
17th January Jonathan Ford – ' Four Local Gardens, Some thoughts on Design'
21st February Davina Wynne-Jones – 'Herb Gardens, Historic and Modern'
21st March Geoff Hodge – 'Bugs and Garden Plagues'
18th April AGM – 7.15 p.m. START followed by Tony Clear – 'Patios and Pots'
---
Garden Club Report – December 2016
Winter has arrived at last with a very icy blast and the Garden Club has gone into hibernation for December.
At the last meeting of the year in November Paul Williams gave a talk entitled 'Digging Deeper'. Not knowing quite what to expect we were entertained with a miscellany of garden surprises and curiosities, plant and animal, with excellent slides to illustrate. Paul also brought a collection of succulents which he grows. Many of us went home with trophies!
The next meeting, on January 17th, will be on a very different theme. January is an excellent time to plan the garden for the year ahead and maybe to make some changes.
Johnathan Ford is a Landscape Designer and Architect who works on designs for large and small gardens and his talk will be called, '​Four Local Gardens, 'Some thoughts on ​​​​​​​​​​​​Design'. Maybe inspiration for some re-thinking of our own gardens or just a chance to look at how it is done!
Do come along and lift your January blues with thoughts of Spring and Summer in the garden, 7.30pm.for 8.00pm in the Village Hall.
With season's greetings, keep warm!
Margaret Mason
---
Garden Club Newsletter – Autumn 2016
We finished the Summer season of visits with a very pleasant garden party on a beautiful September evening. Thank you all for coming, with bottles and splendid nibbles, and our thanks to Jane and David Stewart for hosting us all in their beautiful garden.
We have got what I think is a really interesting and varied programme of talks to take us through the Winter (see below) from gardeners, authors, designers. I hope you will enjoy it.
We now have quite a large membership but there is always room for more, do encourage friends to come along, either to the Winter talks or to next year's Summer garden visits.
Please let me know if there is a change to your emails, I do try to keep the list up to date, I would hate to miss anyone off!
I will be arranging the next season of garden visits, from May onwards, and would love to have any suggestions of gardens or nurseries, or indeed anything else, you think the Club may enjoy.
Margaret
memsteeple@gmail.com
01869 340485
TALKS – Winter 2016-7 in the Village Hall @ 7.45 FOR 8.00pm.
15th November Paul Williams – 'Digging Deeper'
17th January Jonathan Ford – ' Four Local Gardens, Some thoughts on Design'
21st February Davina Wynne-Jones – 'Herb Gardens, Historic and Modern'
21st March Geoff Hodge – 'Bugs and Garden Plagues'
18th April AGM – 7.15 p.m. START followed by Tony Clear – 'Patios and Pots'
---
Garden Club report – August 2016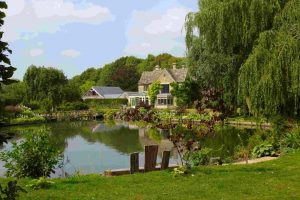 Down to Chalgrove in South Oxfordshire for the last visit of the season and The Grange certainly didn't disappoint. A lovely, large garden with vast lakes which must have been very useful keeping things watered during this dry August. Splendid planting around the lakes, a prairie garden with the grasses shining in the sunshine, long cool walks under the trees and an enviable vegetable garden. There was much to admire.
In September the Garden Club will have its annual garden party, this time in Jane and David Stewart's garden on Southside. It will be at 6.00pm on Friday 23rd September, an excellent end to the Summer.
In October we start the programme of talks with a real treat. On October 18th, Val Bourne, who writes in the Saturday Telegraph and is a very well- known garden author, will be giving the Club a talk in the Village Hall. The provisional subject is 'The Winter Garden'. Since Val is a snowdrop specialist who gardens organically on a windy Cotswold hill it should be an enthralling evening.
If you are not a member but would like to come, turn up at the Hall by 7.45p.m. You will be very welcome. The cost will be £5 for non-members.
Margaret Mason. Secretary. memsteeple@gmail.com
For more photos of Chalgrove and an earlier visit to Chivel Farm, please click here.
---
Garden Club Report – May 2016
Spring seems almost over, we are heading towards summer and the Garden Club has begun its programme of garden visits with a trip to Priors Marston Manor, near Southam.
Luckily, we escaped the deluge of the couple of days before and were able to walk around this wonderful garden in dry if not sunny weather. It was an idyllic, pastoral setting, a tranquil lake edged with yellow flag irises and amazing sculptures of deer hiding in the cow parsley. In addition, an enviable vegetable garden and a lovely walled garden with a magnificent bronze basin splashing into the pond, amongst much else. It would be fascinating to see it later in the year as well, when the growth is really rampant.
After the walk around first rate tea and cake were ready for us. It was an excellent afternoon.
Our June visit, on the afternoon of 23rd, will be to Chivel Farm, a country garden between Heythrop and Little Tew, with extensive views, unusual trees and lovely borders. Do let me know if you would like to come.
Margaret Mason. Secretary. memsteeple@gmail.com
---
Garden Club Newsletter – Spring-Summer 2016
Chairman: Richard Preston 01869 340512 Treasurer: Anne Bonwick 01869 347430;
Secretary: Margaret Mason 01869 340485
Here is the calendar for Spring/Summer 2016. We have some good speakers and exciting visits to look forward to:
March 1st SAVH @ 7.45pm. for 8.00pm. Andrew Mikolajski 'Plants For Shade'
April 5th SAVH @7.00pm. for 7.15pm. AGM Frank Hardy 'Focal Points in the Garden'
May 19th VISIT meet there @ 2.30pm. Priors Marston Manor CV47 7RH £4.50 + teas
June 23rd VISIT meet there @ 2.30pm. Chivel Farm, Heythrop OX7 5TR £7.50 incl. teas
July 21st VISIT meet there @ 6.00pm. Kingsbridge, Steeple Claydon MK18 2EJ £9.00 incl.wine & nibbles
August 18th VISIT meet there @ 2.30pm. The Grange, Chalgrove OX44 7RQ £7.50 incl. teas
In September we are planning another Garden Party, probably on the 16th, we will let you know where this will be nearer the time.
And finally, a real treat –
October 18th SAVH @ 7.45pm. for 8.00pm. Val Bourne, who writes a gardening column on Saturdays in 'The Telegraph' will be coming to Steeple Aston. I have heard her speak and she is excellent and inspiring. The subject is not settled yet, but it is likely to be 'The Winter Garden'.
I hope that this programme will interest everyone, and that you will all be able to come along to both the talks and visits.
Best wishes
Margaret
---
Garden Club Newsletter – Winter-Spring 2016
2nd February 2016 – Geoff Burroughs of Halcyon Honey Gardening and Bees
At SAVH 7.45pm. for 8.00pm
17th February 2016 – Evenley Wood Garden NN13 5SH, Snowdrop visit (with teas I hope)
Meet at Evenley at 2.00pm
1st. March 2016 – Andrew Mikolajski -garden designer, author and lecturer Plants for Shade
At SAVH 7.45pm for 8.00pm
5th April 2016 – AGM
Frank Hardy Creating Focal Points in Your Garden
At SAVH 7.00pm for 7.15pm
This programme takes us to May when the days will be longer, the weather, hopefully, brighter and we can begin our Spring and Summer garden visits.
---
Garden Club report – December 2015
On a blustery, wet day in November it was a tonic to listen to Steve Lowen's talk on 'What's New in Seasonal Colour', and, my goodness, what a lot there is to choose!
Steve is the Marketing Manager for Ball Colegrave, an international plant and seed company, based up the road in Adderbury. He came with samples of their new pansies and violas and many pictures of new varieties of bedding plants, their speciality. Unfortunately they only sell to the wholesale trade so you have to track their plants down. Yarnton Nurseries is our nearest centre, convenient as Club members have a discount there! We were all inspired to be more adventurous in planting our pots next year with new colours and varieties, many a real improvement on the varieties we are familiar with, so I hope the Horticultural Show will have enough space.
There is no meeting in December but do come along to the Village Hall on 19th January at 7.45pm to hear Stuart (Wildman) Mabbutt speaking on Wildlife Gardening, (with a bit of psychology and sociology thrown in!). Wildlife gardening is Stuart's speciality, you may have seen his articles in the local press. A chance to learn how to look after and increase the wildlife in your garden, and maybe how to deter the slugs?
We have an exciting and varied programme of talks for the Spring to spur you back into the garden, everyone is more than welcome.
Meanwhile, stay warm and dry and admire the winter landscape!
Happy Christmas and New Year to you all.
Margaret
Margaret Mason, Secretary. 01869 340485 (memsteeple@gmail.com)
---
Garden Club visits Harcourt Arboretum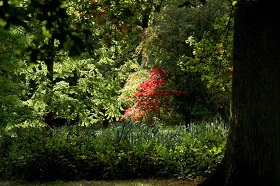 Steeple Aston Garden Club's final outing of the year was to Harcourt Arboretum in Nuneham Courtney. The visit, on 29th September, was timed to view the stunning Autumn colours.
The Arboretum, which is part of Oxford University, began in 1835 as a pinetum and continues as a centre for study as well as a having magnificent collection of foreign and native trees. Some of the original 19th century trees are still growing there, and the Acer Glade is known for its spectacular Autumn display.
Many thanks to Garden Club member Mick Bonwick who took his camera along. To see more of his lovely photos, please click here.
PLEASE NOTE The Inter-village Garden Quiz due to take place at Ardley and Fewcott Village Hall on 16th October has been cancelled due to a lack of team entrants.
The next Garden Club meeting is a joint one with Tackley. Nicholas Jeff, 'The Molecatcher' will be at Tackley Village Hall on 20th October.
---
Garden Club Newsletter -August 2015
Autumn is drawing nearer and the Steeple Aston Garden Club will end the summer with a Garden Party, on Friday 4th September at 6.00pm at Chris and Ray Clarke's house, The Pound House, Paines Hill. All members are very welcome, bring a bottle and a plate of nibbles and enjoy, I hope, a delightful summer evening.
The planned visit to Oxford Botanic Garden on Thursday, September 17th has been postponed.
Instead, the final visit of the season will be to The Harcourt Arboretum (www.harcourt-arboretum.ox.ac.uk) at Nuneham Courtney, OX44 9PX, on 29th September, meeting there at 2.00pm. Tickets are £4.50 / £3.00 cons., with ID. The Arboretum began in 1835 as a pinetum and continues as a centre for study as well as a magnificent collection of foreign and native trees. There are also 97 acres of historic meadows and parkland. There is plenty of car parking space. The Autumn colours, particularly in the Acers, should be appearing by then. Do come, if you can and, if you wish, bring a picnic.
The Notcutts Garden Centre, OX44 9PY, the original site of Mattocks Roses, is just south of the village of Nuneham Courtney off the A4074 and lunches or teas would be possible there until 4.30pm.
Finally, put in your diaries, Nicholas Jeff, 'The Molecatcher' at Tackley VH on 20th October and the Inter-village quiz at Ardley and Fewcott Community Hall on 16th October at 7.30pm. It is usually an entertaining evening, and not too serious, let Richard know before 1st October if you are willing to take part.
Enjoy the Autumn!
Margaret Mason, Secretary. 01869 340485 (memsteeple@gmail.com)
---
Garden Club report – June 2015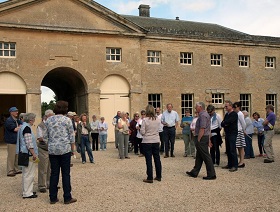 The Garden Club has just been on its second trip of the season, to Rousham. A very popular visit on such a lovely day. Ann Starling, the gardener, (pictured here talking to Garden Club members) met us and walked around with us answering many questions about the house, gardens and plants. Then, equipped with bottles and picnics, we basked in the beauty of the garden on a glorious summer evening. It was hard to imagine a more perfect outing.
The next event in the calendar is an evening visit to The Old Vicarage, Main Road, Bledington OX7 6UX on Thursday, July 16th, meeting there at 6.00pm. The £6.00 cost includes a glass of wine and nibbles. The garden is 1 1/2 acres including 350 David Austin roses, herbaceous borders, shrubs, hardy perennials, an orchard, pond and vegetable plot. Plenty to see.
Aston Pottery, Bampton OX18 2BT is on Thursday, 20th August and we will be meeting there at 2.30pm. (astonpottery.co.uk) The pottery and shop will be open and the café, until 4.30pm. The garden should be stunning in August with perennial borders, a hot bank, a hornbeam walk and, if you enjoy dahlias a real treat, a new dahlia garden. All this, and a chance to view the well renowned pottery, for a £2.50 entry.
Do come and join us, even if you are not a member yet. £10 will bring you a family membership with the added bonus of 10 per cent discounts at Yarnton and Chipping Norton nurseries, very well worth while!
The Garden Club organises garden visits in summer and talks, which are very various and interesting, in the Village Hall in the winter. No need for green fingers, come and enjoy!
Margaret Mason, Secretary. 01869 340485 (memsteeple@gmail.com)
For more photos of the beautiful gardens at Rousham, please click here.
Many thanks to Mick Bonwick for these.