Dr Radcliffe's School Foundation consults on a new constitution
Kate Tomlinson, Chair of the Dr Radcliffe's School Foundation writes:
Dr Radcliffe's School Foundation promotes the education (including social and physical training) of children and young persons under the age of 25 years who are either resident in the Parish of Steeple Aston or Middle Aston, and have attended the Dr Radcliffe's Church of England Primary School for at least two years and who are in need of financial assistance, as well as subsidiary objects.
The Foundation is currently governed by three Charity Commission Schemes and Minister's Orders dated: 3 May 1956; 2 August 1982; and 1 June 2017, (together the "Scheme"). These documents are available, with the proposed new constitution from this web page.
The trustees of the Foundation wish to replace the Scheme with a new constitution. Prior to making an application to the Charity Commission the Trustees wish to undertake a consultation process with its stakeholders in relation to the adoption of the New Constitution. The Trustees are contacting stakeholders directly but we also wanted to provide information to the Village community.
The proposed changes are summarised below. If you would like to provide feedback to the Trustees please download the feedback form provided and then either return electronically to nigel.roots@freeths.co.uk or by post to Nigel Roots, Freeths LLP, 5000 Oxford Business Park South, Oxford OX4 2BH. Please return the form by 31 January 2021.
Your feedback is important as it will enable the Trustees to demonstrate to the Charity Commission that a consultation exercise was undertaken, and that the Trustees considered the views of the a range of stakeholders.
Changes proposed
By adopting a New Constitution, the trustees can reflect current working practices (for example, email as an acceptable form of communication and acknowledging the possibility of virtual Trustee meetings) and ensure we are following best practice. The key changes that are proposed relate to the Objects and the appointment of trustees.
Proposed Objects of the Foundation
When reviewing the Objects of the Foundation, the trustees were mindful of the original aims of the Foundation as articulated in the 1956 and 1982 schemes.
Historically the beneficiaries of the Foundation have been young people resident in the parishes of Steeple and Middle Aston, or young people who attended Dr Radcliffe's School for two years. The Trustees do not propose any change to the definition of the beneficiaries.
In considering the support of children and young people, the Trustees considered different stages of education. The proposed Objects of the Foundation support:
Dr Radcliffe's School
providing funds to assist the secondary, further, higher, technical or professional education, training or apprenticeship
Steeple Aston Pre-school
In addition the proposed Objects allow the Trustees to support charitable purposes in Steeple and Middle Aston, and to support Dr Radcliffe's Almshouses.
Proposed changes to appointment of Trustees
The original Scheme required the appointment of 12 Trustees as follows:
ONE Ex-officio Trustee, being the Rector for the time being of Steeple Aston;
ELEVEN Representative Trustees, to be appointed
Two by the Principal and Fellows of Brasenose College, Oxford;
Two by the Rector and Churchwardens of Steeple Aston ;
Two by the Steeple Aston Parochial Church Council;
Two by the Steeple Aston Parish Council;
Two by the Oxfordshire County Council as Local Education Authority;
One by the Oxford Diocesan Council of Education.
Having reviewed the work of the Foundation, the Trustees believe that a body of 10 Trustees is a more appropriate size.
The Trustees propose that a proportion (four of ten) of the Trustees are appointed by the Foundation on the basis of skills and experience. The skills and experience that the Trustees consider important are:
the skills required for the effective management of the Foundation;
local knowledge and connections to the Parishes of Steeple and Middle Aston; and
connections with the School and education
The Trustees propose that in addition to the Rector of Steeple Aston, the chair of Governors of Dr Radcliffe's School, Steeple Aston is appointed ex-officio.
A further 4 Trustees are to be appointed by appointing bodies. To reduce the number of trustees, it was necessary to reduce the number of appointing bodies.
The status of Dr Radcliffe's School is that of an academy and it is part of the Oxford Diocesan Schools Trust. The Trustees therefore do not consider the Local Education Authority an appropriate appointing body and propose that the Trustee nominated by Oxfordshire County Council as LEA no longer exists.
The Trustees recognise the historic link between Dr Radcliffe and Brasenose College, Oxford, however Brasenose College has no involvement in Steeple Aston or the running of the Foundation and so the Trustees propose removing Brasenose College as an appointing body.
The proposed appointing bodies are therefore Steeple Aston PCC, the Rector and Churchwardens, Steeple Aston PC and the Oxford Diocesan Board of Education.
---
Choral Society goes online
Margaret Bulleyment, Secretary of Steeple Aston Choral Society explains how the Society is coping during the pandemic – by singing online. She writes:
Our special Beethoven Birthday Concert that we were so looking forward to performing for you on Sunday 22 November, has had to be postponed until Sunday 13 June 2021. (Unless our musical Fairy Godmother waves her magic wand and we can begin rehearsing in January 2021 for performance on Sunday 28 March.)
In the meantime, we are getting together every Monday at 7.30pm on Skype for a 'note-bash,' so when we can rehearse properly we have already covered the basics. (Singing online is impossible due to the time lag – do not be fooled with what you hear on television, it has taken a team of sound engineers days to synchronise everything.) If you would like to join us for our 'note-bash' please contact me 01869 347346, email jbulleyment@waitrose.com.
Beethoven Birthday Concert
Our Beethoven Birthday Concert will feature our special guest musician – Dr. Paul Whittaker OBE. He is a profoundly deaf pianist and organist who 'signs' music. (He signed Beethoven's Choral Symphony with the Halle Orchestra and Sir Mark Elder at the Barbican Beethoven Weekend last February.)
The concert will include choir numbers (Hallelujah from The Mount of Olives; Creation Hymn etc.) organ and trumpet solos; tenor and soprano solos; a piano trio; a piano duet and an adaptation of the Pathetique sonata for Power of Voice Silent Moments.
The concert will end with our SACS accompanist, composer and friend of Paul Whittaker, Paul Herrington's Gloria, written for choir, organ, trumpet, violin and cello. It was written especially for SACS and will be signed by Paul Whittaker.
If you have any deaf or partially hearing friends, do bring them along to this concert.
---
Concerts and services planned in COVID-secure churches
Plans for church services through to the end of November, along with two concerts in Steeple Aston are revealed by the Rector, Revd Marcus Green. He writes:
Church Services
We have a regular patter of worship sorted now. The summer was really super: we planned eight services in the open air, and we had eight fine days and everything worked out brilliantly. At Harvest, back at the end of September, we raised around £650 for Tackley and Banbury food banks – as well as donating bags and bags and boxes of food to those terrific organisations.
At the start of October we went indoors (just in time for the rain) and everyone is (sort of) getting used to having to book before coming to church. If you haven't joined us yet – you have to book to come now, but this means we have safe, organised seating, with plenty of hand sanitiser available when you get here, good distancing, and we are all getting used to wearing masks. Check the service rota in SAL or on the church website for details. You ring the church warden for Steeple to book for Steeple, and for Tackley to book there and for North Aston to book there.
Worship at Home, our online service, also continues every week via YouTube or www.sntchurch.com or you can ring 929021 to hear a service if you don't have internet.
October 18th 5.30pm North Aston – Evensong​
October 25th 10.30am Steeple Aston – Holy Communion​
November 1st 5.30pm Tackley – Evensong for All Saints​
November 8th Remembrance Sunday
9.30 North Aston
10.50 Steeple Aston Churchyard (no need to book)
5.30pm Tackley ​
November 15th 10.30am Steeple Aston – Holy Communion
November 22nd 5.30pm North Aston – Evensong ​
November 29th 10.30am Steeple Aston – Holy Communion
All Saints November 1st
Normally we have a really wonderful, full church in Tackley as we take an evening to remember and give thanks for those whom we have loved and who have gone before us. This year we can't do that with numbers attending capped – but our All Saints Evensong at 5.30pm in Tackley, with our choir singing, will still have the names of all those we love read out. If you can't be there (and we expect to book up very quickly for this), there is also lovely Worship at Home option on our website for everyone who holds this weekend special.
Remembrance November 8th
In Steeple Aston, this will be an open air service in our church yard at 10.50am. There is no need to book for this. We can't sing, but we will remember, and hear the names of those who served, and pray together, and the bugle will sound. We will do this whatever the weather – but again, if you can't make it there is a really good Worship at Home alternative on our website. Because of the current restrictions, everyone who comes must wear a face covering or mask, and we do ask that people very carefully distance around the churchyard. You may bring your own chair to sit on, or you can stand if you prefer. The village Parish Council & the Rector have agreed that we can't organise the usual post-service walk up to the memorial opposite the top of Nizewell Head, but we do invite those who wish to lay wreaths or poppies up there to take a moment any time during the Remembrance weekend and do so privately.
Compact Concerts
With a long winter ahead of us, we are beginning a series of small concerts in church. The rules allow us (as of mid-October) to do this because we are a COVID-secure venue, with a maximum audience of around 30 people. The concerts will be just under an hour in length, with no interval. It is the colder part of the year – so do wrap up when coming. We hope the music will also warm our hearts…
On November 21st at 8.00pm we will have a Concert for St Cecilia (patron saint of music) with Cassandra Wright, a wonderful young singer, and her accompanist Elli Welsh, focussing on the gift of music and the composers Britten, Handel and Purcell. Cassandra and Elli are very talented young Australian musicians studying in London.
Then on December 12th at both 6.00pm and 8.00pm (just decide which time suits you) we have the Aston Singers, a group of excellent local-ish singers directed by Nicholas Cleobury, getting us in the festive mood: A Choral Christmas will be an evening of glorious seasonal music.
Concert tickets are all £12 and must be booked in advance by ringing Eileen on 01869 340099.
---
The Parish Council is looking ahead
Much of the future is still uncertain. The second wave of Covid is now here; the rules will undoubtedly change again; and further restrictions are possible.
However, please be certain that your Parish Council is still here to help over the coming months. If there is another lockdown or you have to self-isolate, if you need someone to do some shopping or collect a prescription, the Parish Council can help. If you need assistance, call Cathy Fleet (01869 347000 or 0798 939 8838) or Richard MacAndrew (01869 347209).
Also, S and J are still providing tasty affordable meals delivered to your door. If you want to sign up again, or maybe try them for the first time, call Charlotte Bartlett (01869 347347) for more details.
Steeple Aston Parish Council
---

Village History Centre re-opens, but exhibition postponed
Steeple Aston Village Archive is pleased to announce that the Village History Centre at the Village Hall, Fir Lane is re-opening on Saturday, October 3rd.
The Centre will be open each Saturday morning from 10.00 till 12.00 as before, but with "COVID Secure" measures in place for your and our safety. A maximum of two visitors will be allowed at any one time.
While we have been closed, we have not been idle. The extraordinary events of this year have been, and continue to be, recorded for posterity in our archive, and contributions of photos or personal testimony are always welcome – preferably digitally to: steepleastonarchive@gmail.com
We have also been busy producing our annual Exhibition and book; this year it's "Steeple Aston at Work". We had hoped to be able to proceed with the Exhibition, on the weekend of November 7th and 8th in the Village Hall, but it has had to be postponed.
Publication of our super new book on the subject will go ahead on the same weekend as planned – and will make a perfect Xmas present. Details of when and where you can to buy it to follow soon.
---
Bus gate plan will disrupt travel to Bicester
A plan to put a bus gate on the road between Steeple Aston and Middleton Stoney faces opposition from county and district councillors, many local parish councils and the Mid-Cherwell Neighbourhood Plan Forum. But it is likely to be approved next month as part of the Masterplan for Heyford Park, which will bring 1,600 new homes and 1,500 additional jobs to the site.
The proposal for the bus gate is part of a Travel Plan for the area aimed at encouraging the use of public transport and cycling from Heyford Park. The plan has been agreed by the developers with Oxfordshire County Council's Highways Department.
If approved, the bus gate will be placed across the road about half a mile before the Middleton Stoney crossroads at the sharp bend where the road to Heyford Park joins the B4030.
Buses, bikes and local residents will be allowed through. But car drivers will either have to find a different route to Bicester and the M40 or they will be diverted onto to a round about route that will add two and a half miles to their journey with two additional new sets of traffic lights.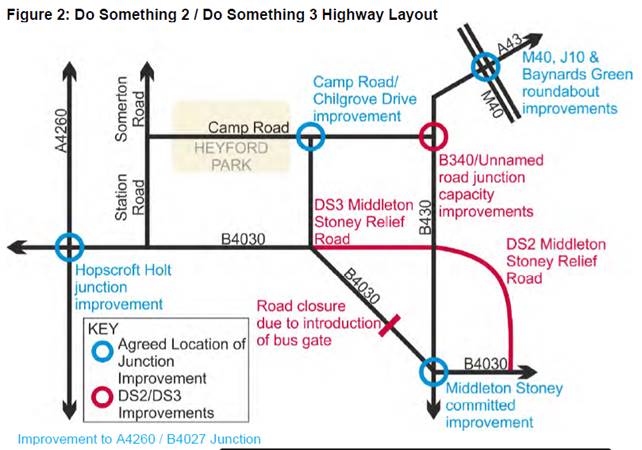 As the diagram above shows, drivers coming from Steeple Aston will have to turn left at the bus gate diverting towards Heyford Park. There will be new traffic lights at the junction with Camp Road, where they will turn right. Then they will turn right again at another new set of traffic lights on to the B430 towards Middleton Stoney.
The red line on the diagram shows a relief road which would have solved the problem, but that has been rejected.
The developers believe that the bus gate will improve the travel time and reliability for buses between Heyford Park and Bicester and will encourage cycling..
Steeple Aston Parish Council wasn't consulted about the bus gate as traffic would not diverted through the village. No consideration seems to have been given to the impact on drivers from Steeple and Middle Aston who need to travel to Bicester and beyond along the route.
Other villages that expect to see an increase in traffic as a result of the bus gate have been offered some payments in mitigation, but all the affected parish councils except Lower Heyford have objected to the proposal.
The plan won't be implemented for at least two years as its adoption will depend upon the amount of traffic generated at Heyford Park, which in turn depends upon the amount of housebuilding there.
The proposals were to be considered by Cherwell District Council's Planning Committee on Thursday, 8th October, but they aren't on the agenda. The next meeting will be on 5th November.
You can see the details of the application and the comments on it on Cherwell District Council's website ref number 18/00825/HYBRID. You can also watch Planning Committee meetings during and after they happen on the council's website.
---
Fourth application made for Beeches development
There has been yet another planning application from the owner of The Beeches on Heyford Road, Adrian Shooter, At the fourth time of trying, the plan has been amended to include two extra houses taking the total to ten.
The increase in the number of houses means that the application now must be considered by the Planning Committee at Cherwell District Council. Previous applications were rejected by a planning officer.
There will be no requirement to build any affordable houses on the site, as only developments of 11 or more dwellings must include affordable housing. However, if the scheme does get approval this time, the developers will need to come with around £44,000 to be spent on community and sports facilities in the village.
The new application includes more smaller houses than the previous one, and consists of three 2-bedroomed houses, five 3-bedroomed, one 4-bedroomed and one 5-bedroomed house.
The first application for housing development on this site was made in March 2019. It was withdrawn following objections from Steeple Aston Parish Council and several others. A modified plan was submitted which took into account some of these objections. This time, the Parish Council decided by a majority not to object to the revised plans. However, the Mid-Cherwell Neighbourhood Plan Forum still had several objections and the plan was refused
The third application was exactly the same as the second one, but with the addition of a lengthy legal counsel's opinion. The lawyer Peter Goatley looked in detail at the case and made the point that the refusal of permission last time was delegated to a planning officer and never considered by the council's Planning Committee.
He argued that the officer made an incorrect decision and that the relevant development plan policies, council guidance and strategies had been misinterpreted and misapplied. He said that if the application went before the committee "there would be a sound prospect for members of the planning committee, properly informed, to reach a different view to that expressed in the officer's delegated report."
Steeple Aston Parish Council once again voted by a majority to support the application, but the Mid-Cherwell Neighbourhood Plan Forum continued to argue against the development. The decision was once again delegated to an officer, and did not go before the full Planning Committee as requested by the lawyer.
The application was refused for two reasons, stating once again that it was contrary to local plans (including the MCNP Plan) and government guidelines. The first reason was that "The proposed development represents new housing that would significantly encroach into the countryside beyond the built-up limits of Steeple Aston. The second was that "The proposed development represents inappropriate 'back-land' development that would fail to relate well to the pattern of development in the area and would appear as an intrusion of built form into the countryside, detracting from the rural character and quality of the area the setting of the village."
Peter Goatley said if the application was refused again, Mr Shooter would have no choice but to appeal. Now, he seems to have found another way to try again. By increasing the number of houses he has ensure the application will go before district councillors at the Planning Committee.
Comments are due on this application by 12th October, and the target decision date is 13th November. You can see details of the application and comment on it on the Cherwell District Council website ref number 20/02227/OUT.
---
Parish Councillor goes on BBC to talk about potholes
Steeple Aston Parish Councillor Graham Porcas appeared on local radio and television on Tuesday, 8th September to talk about his role as a FixMyStreet SuperUser.
Oxfordshire County Council are trying to encourage more people to take on the role and cut out the middleman in reporting potholes and other street problems. Members of the public can report potholes on the FixMyStreet website but then a council official has to come out and inspect the pothole to decide whether it qualifies for mending.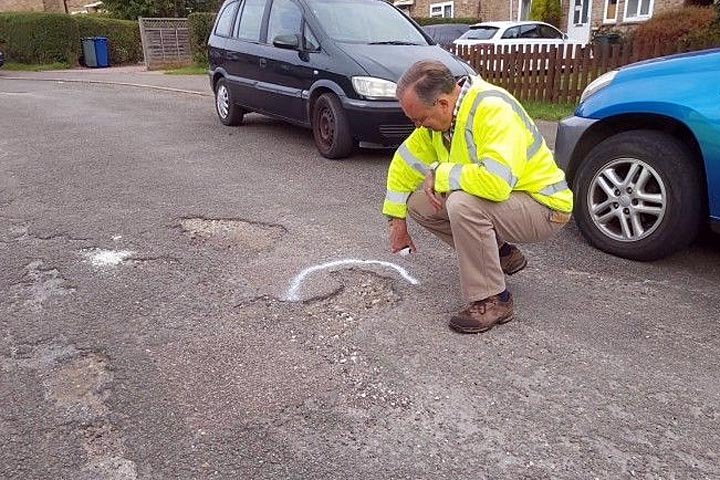 Graham has been a SuperUser ever since the scheme started two years ago. He explains: "This means that I can directly action any potholes in the village and have them repaired without having to go through involving Oxford County Council Highways Department. The result is that potholes in Steeple Aston are repaired much more quickly.
"I also act as local contact with the Highways Department so I can get action on other matters regarding road maintenance and repairs. The system works very well for us, and as the pilot has been successful the council are keen to expand the scheme."
The council is now calling on residents across the county to put themselves forward to train and volunteer as 'SuperUsers'. Graham appeared on Radio Oxford and the regional TV news to explain his role and encourage others to get on board. He says the potholes he identifies are guaranteed to be mended within 28 days, but it's often much quicker. The pothole he's identifying in the picture above was mended the same day!
And he has ambitions to go even further. He says, "I have been asked whether we would like to be involved in a further pilot scheme for us to undertake minor repairs ourselves, something which I have been suggesting for some time and which is now becoming possible."
Graham will need to find two other volunteers to help with this so that the village has a team of three. If you're interested in joining the team, please contact him on 01869 347240 or email grahamporcas@btconnect.com.
You can listen to Graham's interview on Radio Oxford here https://www.bbc.co.uk/programmes/p08pkbdq You need to fast forward to 2 hours 17minutes into the programme.
---
Pre-School raises concerns about bonfires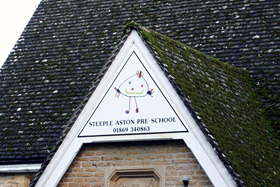 Staff at Steeple Aston Pre-School are increasingly worried about the bonfires that keep happening around their building. They say that the locations of the fires vary, coming either from the direction of the allotments or the opposite direction.
Pre-School Manager Ann Buswell says, "We experienced this on Friday 4th September around 10.15am and then again the following Wednesday at the same time! Then we could see the smoke through the trees beyond the churchyard. We have children and staff that have asthma conditions and we have a new little child that has joined us this term that has a heart condition. The parents were visiting at the time and mum was very concerned about this as this has a detrimental effect on their little child's heart condition.
"The children that attend here are aged from two to four and a half and the embers and acrid smoke that these bonfires produce is really dangerous to their growing development. We spend a very big part of our day outside normally but with the seriousness of this virus we have spent every day outside since returning to school this term.
Ann hopes that this publicity will bring the bonfires to an end. But she is documenting the dates and times of these bonfires and says she will contact the council if they continue.
Back in April, in response to complaints from residents, Cherwell District Council asked people not to start bonfires during the pandemic. There are no laws against having an occasional bonfire, but it is an offence for the smoke, or the smell of the smoke, to cause a nuisance. According to the council, "Smoke can pose a risk to people's health, so avoiding fires will reduce the chance of people having their airways affected and avoid further burden on the NHS."
---
Thanks to generous Bank Holiday villagers
There has been praise for the generosity of villagers over the recent Bank Holiday in contributing to good causes as they went round the villages viewing the entries in the scarecrow competition.
Julia Whybrew raised funds for and asked for contributions to Banbury Food Bank, while Richard Preston and friends were collecting on behalf of Katharine House Hospice.
Julia writes "A HUGE THANK YOU. When I started the collection of food for the Banbury Food Bank I was hoping to get an average of one tin per household plus a small amount of money from selling meringues and lemon curd.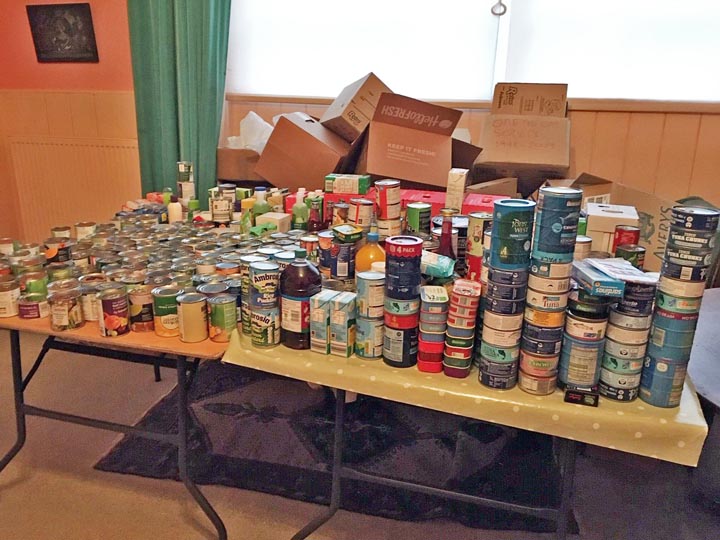 I was stunned by the generosity of friends and neighbours. In all 800 tins or cartons of food plus £710 was given by Steeple, Middle and North Aston plus a particularly generous donation from Gagingwell. I don't know how to describe how I have been overwhelmed by your generosity. THANK YOU"
The Prestons and the Coopers had a similar experience. Richard writes: "A VERY BIG "THANK-YOU. During the August Bank Holiday weekend Chris and Sally and ourselves had stalls outside our homes to raise funds for Katharine House Hospice.
"Sally had made some superb preserves and we had some surplus produce from our garden and over the weekend and with the help of a donation from a scarecrow exhibitor, raised an astonishing £400 for the hospice.
"Thank-you to all who supported us in raising this incredible sum for such a worthwhile charity which in turn has helped their continued support for families dealing with end of life care."
---
Scarecrow competition result declared
It took the judges several hours to decide the winners of Scarecrow Competition. They said that the quality and innovation of all the entries was so impressive that it was very difficult to make a decision.
But they have decided that the first prize of £100 should go to No 14 The NHS Angel by Claire Hall of Walton House. A delighted Claire said, " I am totally chuffed to win, it was a lovely activity to do with my daughter.
"I have worked as a nurse in the NHS for almost 20 years, and currently work in clinical research. The scarecrow was my tribute to the amazing NHS Research Nurses who have worked so hard throughout the COVID pandemic caring for patients in groundbreaking clinical trials. Research is the only way to get us out of this mess!
"Talking of mess, I'm going to be finding sticky feathers all over my house for some time."
You can see what she means when you see the reverse view of the angel!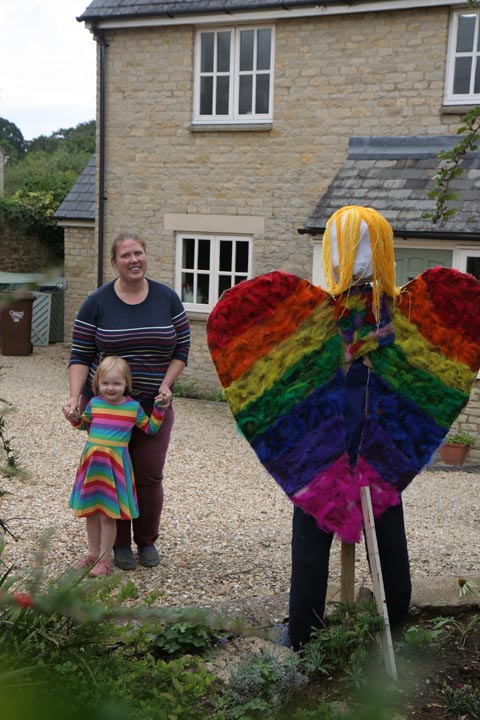 The second prize of £50 goes to John and Janet Coley of Paines Cottage for No 17 The Witch.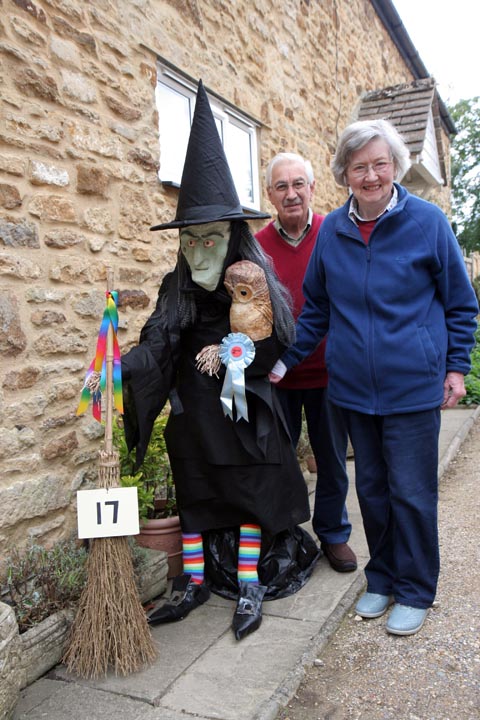 And the third prize of £25 goes to No 7 The Drunken Toileteer by Andy and Jane Cadd at 12 Jubilee Close.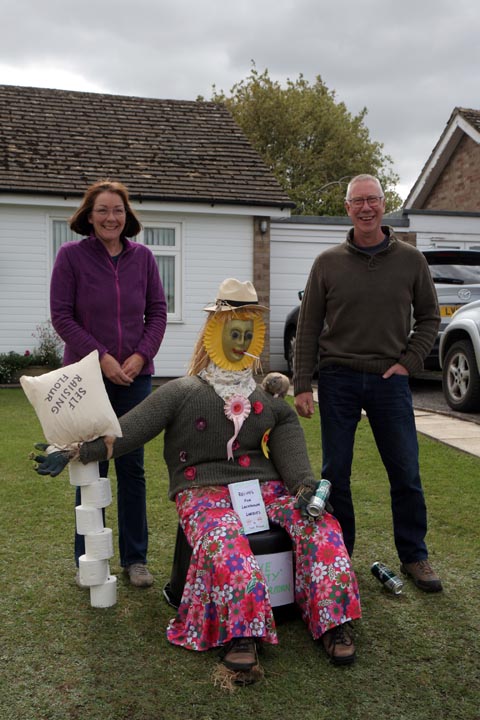 Congratulations to them – and all who entered!
Richard Preston was on Radio Oxford on Sunday afternoon just after 2.30pm talking about the scarecrows and other activities in the village. If you fast forward through the first half hour, you can hear his interview on BBC Sounds.
There are wonderful photos of all 39 scarecrows taken by Mick Bonwick in the Photogallery.
---
Opening of the Sports & Rec & Robinson's Close Field
The Committee are keen that the Sports & Rec building and sports field should be available to use as soon as possible but we also need to balance that against the continued uncertainty around organised events, both indoor and outdoor. At the moment our intention is as follows:
The first league football match of the season will take place on Saturday 26th September, with the teams arriving changed and not using any of the facilities in the building.
We plan to allow regular hirers of the building to start using it once again from Monday 28th September.
We will keep both dates under review, in particular taken account of how the return to school works for children, teachers and parents.
Please note that some activities that take place in the Sports & Rec, including use of the kitchen, are still not permitted. Once we have trialled the reopening of the Sports & Rec building with our regular users we will make a decision regarding other events.
For more information please contact:
Chris Cooper (Tel. 347173); Torquil McLusky (Tel. 347914) or Letting Agent Katie Rushworth (Tel. 340196)
Thank you for your help. We hope to have everything in place to get the Sports & Rec up and running as soon as possible.
---
Prescriptions from Deddington Health Centre
Changes to contact details from Monday, 20th July
If you used to collect your prescription from the shop, but for the last two months it has been delivered to your door by Anna Thatcher, the system remains exactly the same. However, your medication will now be delivered to you by Penny Cummins. If you need to contact Penny, you can reach her on 01869 349155 or 0770 325 8009 or at sapc.medsdelivery@gmail.com
If you used to collect your prescription from Deddington Health Centre, but for the last two months have been contacting Katie Crawshay and asking her to collect it for you, you now need to contact Linda Watkins. You can reach Linda on 0779 881 4171 or at sapc.medspickup@gmail.com
If you have a new or urgent prescription that you need collecting, the system remains exactly the same as before. Call Richard MacAndrew on 01869 347209 or email richardmacandrew.steepleaston@gmail.com
Steeple Aston Parish Council
---