Tory Hugo Brown returns as local councillor 
Conservative candidate Hugo Brown was re-elected as a District Councillor for the Deddington ward in the election on Thursday, 2nd May.  Steeple Aston is part of the Deddington ward of Cherwell District  Council following recent local government changes.
Mr Brown was the only Deddington councillor up for re-election this year. The other two Deddington representatives, Bryn Williams and Mike Kerford-Byrnes, will be in office until May 2022.
The turnout in the election was 38.47 per cent. Mr Brown was opposed by three other candidates. The Green Party candidate polled second highest, with the Liberal Democrat third and Labour in fourth place.
The votes cast were as follows:
| | | | |
| --- | --- | --- | --- |
| Candidate | Party | Votes | Elected |
| BLISS, Aaron James | Green | 523 | |
| BROWN, Hugo Michael Hubert | Conservative | 1376 | Elected |
| DAVIS, Nigel Geofrey | Liberal Democrat | 477 | |
| MURPHY, Annette | Labour | 382 | |
---
Heather takes over as Editor of SAL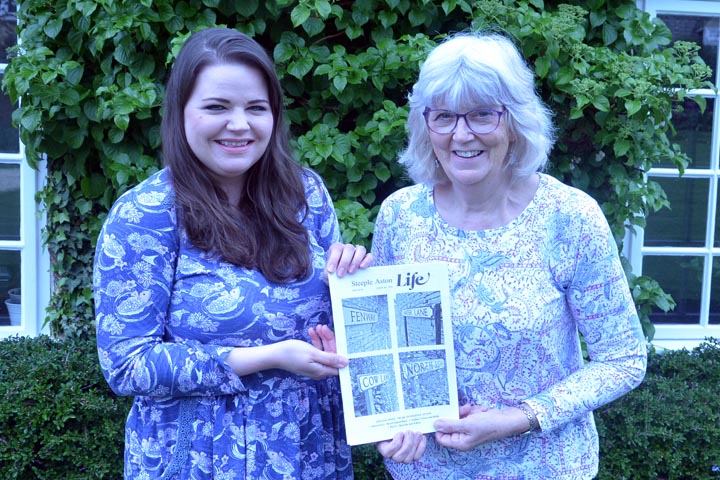 Heather Sherkunov is taking over from Cathy Lawday as Editor of the local magazine Steeple Aston Life. She will edit the June issue of the magazine, with some help from Cathy.
Heather, 34, is a newcomer to the village, moving here in September 2018 with her husband Yury and Manchester terrier Evie. She hopes that taking on SAL will help her to get to know local people and get involved in village life.
Heather was born and brought up in Blackpool, so the move to rural Oxfordshire is a big change for her; it's also a big change for Yury who comes from Moscow. He has been in Britain for 12 years and until recently was an academic at the University of Lancaster. Trained as a theoretical physicist, he now works for Oxford Technical Solutions in Middleton Stoney.
Heather has a degree in journalism from the University of Central Lancashire and has experience of working in a local newspaper as well as in public relations and communications. Her most recent post was as Head of Internal Communications at Lancaster University. So she brings plenty of publishing experience to her new role.
The couple decided to move south partly to be near Heather's sister who lives in Buckinghamshire. Her mother has also moved to live nearby. When Yury found his job they started looking for rented accommodation nearby and found Steeple Aston by chance. But Heather immediately took to the village. She says she doesn't miss the bright lights of Blackpool – or even the seaside – though it will always have a special place in her heart.
She adds "Perhaps it's the attraction of the opposite, the countryside here is stunning, I just love the fields and the views, it is so beautiful and so different from what I've always known." The couple hope to buy a house in the village in due course.
Heather regards taking on the editorship of SAL as quite a daunting task, but she has edited lots of newsletters in the past. She knows Cathy will be a hard act to follow, but her qualifications and experience give her a head start.
She says "It is a very good magazine, really very impressive. I don't feel I need to do a big overhaul and will get a couple of issues under my belt before I think of any changes.
What I would like to know is what the community enjoys about the magazine, so I will try and get more feedback from readers if I can."
If you have any views about SAL, or if you just want to welcome Heather to her new post, you can email her. She has now taken over the editor's email address – editor@salife.co.uk.
---
Planning application for The Beeches withdrawn
The application for planning permission to build up to eight houses at The Beeches on Heyford Road in Steeple Aston has been withdrawn. This followed a message from the planning officer dealing with the application that he had an "in principle" objection to the development.
Steeple Aston Parish Council, on the other hand, was not against the principle of building of some houses in the grounds of The Beeches, but it did object to the proposal on the basis of the mix of houses proposed. Others including the Mid-Cherwell Neighbourhood Forum and the Highways Authority had more wide-ranging objections.
Agents acting on behalf of the owner Adrian Shooter asked Cherwell District Council for more time to respond to the various objections, but they were refused.
Bob Neville, the Senior Planning Officer dealing with the application wrote in an email to the agents, "With minor development proposals such as this application, extensions of time are only likely to be appropriate when it is clear what needs to happen to achieve a positive outcome, and there is agreement on the timescale within which this can be achieved. As discussed, highways matters are just one of a number of issues that all contribute to the proposals being considered unacceptable and even if these matters were to be satisfactorily addressed (which in my opinion (in relation to highways only) would require amended plans increasing the size of the access, not just Speed Survey and assessment of the visibility splays). However, the fundamental issue is that the principle of development is not considered acceptable being contrary to the Council's rural housing strategy and not representing a sustainable form of development; as such we are unlikely to get to a position where we would be considering a positive outcome.
"If you believe you can address all of the matters that have been raised during the application then I would advise withdrawing the application and resubmitting once all the appropriate information is available; however I would advise that in my opinion this would be very difficult to achieve and unlikely that such a resubmission would receive officer support given that the principle of development is not considered acceptable. In light of the 'in principle' objection I see no reason to extend the application beyond its statutory target date of 09.05.2019 and will be preparing my recommendation early next week."
To view the application and all the associated documents on the CDC website, please click here.
---
Parish Council responds to South Side parking ideas
The Parish Council is grateful to residents who have responded to their recent letter about parking problems on South Side, and is going to investigate some ideas for improvement.
A letter was sent to every household in the village at the beginning of April asking villagers to park carefully after careless parking on South Side  meant the S4 bus has encountered difficulties getting through.
They also asked for suggestions from residents about how to deal with the problem. They have had a number of responses, and have now sent the following message:
"The Parish Council would like to thank everyone who has taken the time and trouble to write to them about parking issues: either in response to the letter to the whole village, or in reply to the previous letter which was circulated to specific residents on South Side.
"A number of useful suggestions have been made especially on the subject of parking on South Side:
It might be possible to widen South Side by cutting away some areas of the grass bank on the southern side of the road. This would allow more room for parking and ease the access for buses and larger vehicles.
It might be possible to cut out some areas from the pavement to make parking bays.
Painting white lines to discourage parking in certain places is still an option and is favoured by some residents.
"The main problem with the first two suggestions is expense. We will consult with Oxfordshire County Council Highways Department to find out whether either of these ideas is feasible; and, if so, whether they have the funds to expedite them. If they think the ideas are workable but cannot afford them, we will look at other possible ways of financing the work.
"In the meantime, the Parish Council is still open to, and would welcome, other ideas."
Richard MacAndrew
Chair, Steeple Aston PC 
---
Local children perform in MYCO's 'The Wedding Singer'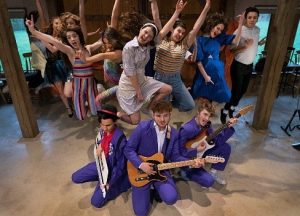 A number of children from Steeple Aston will appear in the Musical Youth Company of Oxford's production of a 1980s musical comedy at the Headington Theatre in April that will transport audiences back in time to the decade of big hair, yuppies and spandex.
Based on the Adam Sandler and Drew Barrymore film, 'The Wedding Singer' is packed with toe-tapping tunes and choreography that pays tribute to era-defining music videos such as "Footloose" and "Thriller".
One of the local performers is Lucas Lluna, who lives in Bradshaw Close. He says: 'So far The Wedding Singer has been an experience full of surprises and moments of laughter and excitement. Many members of the company were in doubt as they had never heard of The Wedding Singer before. However, as we have got closer and closer to show week the thrill has grown throughout the company as the show improves more and more. Personally I feel The Wedding Singer will be phenomenal and I am privileged to be a part of the experience in putting on a fabulous show. I definitely would recommend coming to watch."
The show tells the story of the heartbroken Robbie (the Wedding Singer) as he attempts to find love and to climb out of his funk after being left at the altar. Sweet Julia, along with her eccentric friend Holly and Robbie's overly-friendly Grandma Rosie, tries to help, but the singer seems to only be making matters worse for himself; ruining weddings; stamping on love and allowing Julia's powerful fiancé Glenn to entice him into a world of greed.
Nicola Blake directs the show, with choreography by Jess Townsend and musical direction by Dan Knight.  'The Wedding Singer' is Nicola's first MYCO show as Director, but she is no stranger to MYCO.  She joined the cast as a teenager in 2002 and starred as Dorothy in 'Wizard of Oz'.
Nicola Blake says: "The eldest member of the cast was born in 2000 so they've all had great fun visiting the 80s and learning iconic era-defining dance moves such as the 'worm' and the 'running man'!  MYCO is an extremely professional group of youngsters that has brought incredible energy to the rehearsal process. It has been an honour to work with the company."
MYCO is a teenage musical theatre group based in Oxford, with over 50 members from schools and colleges in and around Oxford. The group celebrated its 30th anniversary in 2018.  In 2017 the Company was awarded the Youngstars Award for 'Best Youth Production' by the National Operatic and Dramatic Association for their production of 'The Hired Man'.
In another local connection, the Deputy Head and Year 6 teacher at Dr Radcliffe's School, Guy Brigg is Resident Creative Director for the MYCO and has directed and choreographed many shows at the Oxford Playhouse and New Theatre, Oxford. He directed 'Godspell' last year and is back in the hotseat for next year's production of 'Chess'.
The show starts on Tuesday, 9th and runs until Saturday, 13th April nightly at 7:30pm. There is a matinee on Saturday at 2.30pm.
Venue: The Theatre at Headington, Headington School, Headington Rd, Oxford, OX3 7TD
Prices: £15.00 – £22.00
Box office: Tickets are on sale via www.myco.org.uk  or call 01865 686 481.
---
Warriner school bus saved for now 
Local parents are relieved to hear that the bus that takes their children to The Warriner School in Bloxham has been saved for the time being at least.
Under new rules, Oxfordshire County Council had told parents there would be no bus provided from September. Parents currently pay £700 per child per year for the bus, but to find a replacement themselves would have been much more expensive.
Now the council has come up with a plan to keep the bus running for at least a year and maybe longer.
Local parent Shirley Palmer explains that the council made a mistake in denying a North Aston child free transport to The Warriner. This decision was reversed on appeal. Therefore, with one child now needing free transport to The Warriner plus around 25 paying under the "spare seat" scheme, the council came up with a plan to combine the Heyford Park bus with the Warriner route to give a financially viable option.
Under this plan, North Aston and Middle Aston children will get on the bus earlier, visit Heyford Park School and then return to Steeple Aston for one stop at The Dickeridge at 8am before going to the Warriner. (Or alternatively, the North and Middle Aston children can get on in Steeple Aston at 8.00am).
The return journey from The Warriner will be the same as the current journey (stopping at North Aston, Middle Aston and The Dickeridge in Steeple Aston).
This route is guaranteed for one year and will be subject to review after that, but provided the child in North Aston stays at The Warriner there should be sufficient numbers for it to run for five years.
But there may be further trouble to come as Shirley also understands from the OCC transport and admissions teams that the bus to the Marlborough School is also at risk. It will definitely run for the 2019-2020 academic year, but again it is dependent on just one child from Steeple Aston having the right to free transport and a letter concerning this will be sent to parents using this route soon.
Below is the proposed route timetable for the Warriner bus that OCC will be putting out to tender soon.
| | | | | |
| --- | --- | --- | --- | --- |
| 2-HP03/1-WA04 proposal | Students | AM | MTWTh | Fr |
| |   | | | |
| Middle Barton – Barton Garage Bus Stop | HP | 07:15 | 16:40 | 14:40 |
| North Aston – Jct. of Somerton Road | HP/W | 07:25 | 16:35 | 14:35 |
| Middle Aston – Jct. with Middle Aston Lane | HP/W | 07:30 | 16:30 | 14:30 |
| Steeple Aston – Church/Jct. Fir Lane | HP | 07:35 | 16:25 | 14:25 |
| Steeple Aston – The Dickeridge Bus Stop | HP | 07:36 | 16:24 | 14:24 |
| Steeple Aston – The Crescent Bus Stop | HP | 07:37 | 16:23 | 14:23 |
| Lower Heyford – Bus Stop opp. Kingdom Hall | HP | 07:40 | 16:20 | 14:20 |
| Heyford Park Free School – Specialisms Campus |   | 07:48 | 16:12 | 14:12 |
| Heyford Park Free School – Officers Mess Campus |   | 07:50 | 16:10 | 14:10 |
| Steeple Aston – The Dickeridge | W | 08:00 | 15:49 | 15:49 |
| Middle Aston |   | N/A | 15:39 | 15:39 |
| North Aston |   | N/A | 15:35 | 15:35 |
| Warriner School |   | 08:20 | 15:15 | 15:15 |
---
Voters back Mid-Cherwell Plan by over 90 per cent
Local villagers voted overwhelmingly to approve the Mid-Cherwell Neighbourhood Plan in a referendum held on Thursday, March 21st.
In all 1,231 people, that is 90.2 per cent of those who voted,, were in favour of the plan which will now guide decisions on future planning applications in 11 parishes including Steeple and Middle Aston and the development site at the former RAF Upper Heyford until 2031. Only 128 people voted against the plan.
Turnout for the referendum was 24.8 per cent on average across the neighbourhood. Steeple Aston polling station had a slightly higher turnout of 26 per cent. But Middle Aston had a much higher turnout rate than Steeple Aston at around 50 per cent.  Postal votes made a significant difference to the outcome, with a much higher response rate than polling station voters.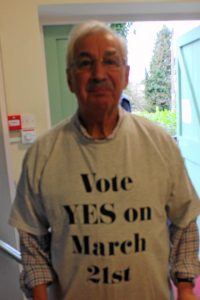 The Plan was devised by the Mid-Cherwell Neighbourhood Plan Forum, which included representatives from all the villages. It was the subject of extensive consultation throughout the area over the past four years.
John Coley, one of the Steeple Aston representatives on the Forum has been reporting back on the plan's development on this website and in Steeple Aston Life for all this time. He had his own special way of encouraging villagers to vote in the referendum as pictured here.
Martin Lipson, the Steeple Aston parish councillor who chaired the Forum said, "Many thanks to all across the neighbourhood who took the trouble to vote. The turnout was better than some other neighbourhood plans, even those where only a couple of parishes were involved. In our case, it was perhaps to be expected that, spread across eleven parishes, turnout for our plan would be diluted to an extent.
"However, the important thing is that a 90 per cent vote in favour leaves no doubt that our local communities care deeply about the future of our villages and rural Oxfordshire in general. We now hope and expect that the support shown for our Mid-Cherwell plan can be harnessed to good effect when decisions are being made about development – both major and minor – in Cherwell and the wider county."
Robert Jolley, Cherwell's assistant director for planning and economy also commented. He said: "Neighbourhood planning is a powerful process which allows communities to have a greater say over the future of development in their areas.
"This plan is different because it's the product of cooperation by a large number of parishes and organisations who have recognised that they represent a distinct area of our district.
"Cherwell District Council is happy to have facilitated the process and the Plan itself will now go forward as council policy."
The Plan policies ensure that Steeple and Middle Aston will be better protected from unwanted development, with indicative limits on the numbers of new homes permitted. Other benefits include the protection of rural views and of 24 designated 'Green Spaces'.
To see the Plan on the council website please click here.
---