Huge freight interchange planned for Ardley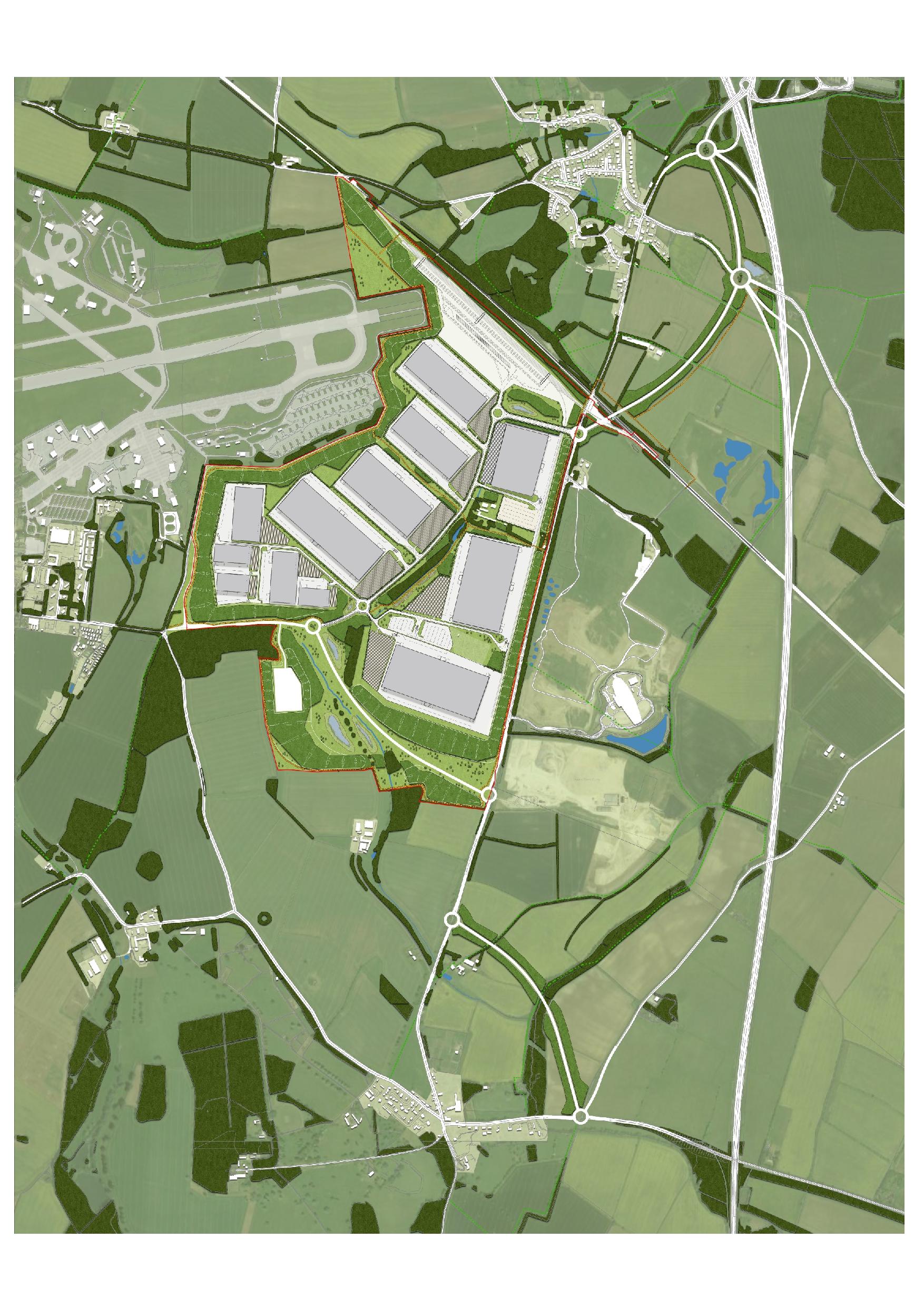 Martin Lipson, Chair of the Mid-Cherwell Neighbourhood Plan Forum and Vice-Chair of Steeple Aston Parish Council reports on an enormous new development proposed near the M40 junction at Ardley.
He writes:
Our delightful and leafy corner of Oxfordshire seems to have come under siege from developers. While we are still reeling from the Government's recent approval of the Great Wolf Water Park at Chesterton, another huge project has emerged. It is for a Strategic Rail Freight Interchange (known as an SRFI) at Ardley, close to what we all know as "the dump".
First word of it came from County Councillor Ian Corkin, who wrote to parish councils in the area at the end of May, as follows:
"Yesterday I received a telephone call from a consultant working for a company called Oxfordshire Railfreight Interchange Ltd. They intend to bring forward plans for a rail freight interchange and associated commercial development, on land adjacent to the current railway line at Ardley. These are the bullet points I captured during the conversation:
The proposed site consists of circa 135 acres on land bounded by B430 in the east to the edge of Heyford Park development in the west and the railway to the north.
There would be a very sizeable rail yard/sidings and associated sheds to process goods, distribution depots
Part of the application is likely to be a new junction(s) on the M40, with an associated bypass for Ardley and for Middleton Stoney
It is at a very early stage, although survey work to inform any application has begun this week and they will be contacting affected PC's in the next few days.
As and when an application comes forward, it will be dealt with under the 2008 planning act as a national infrastructure project. That means it will not be heard by CDC, but it goes directly to the planning inspectorate. OCC and CDC will be consultees. It also frees up councillors from the usual restrictions on commenting publicly on an extant application.
They tell me the timeline looks like:
Notification to affected parishes and field survey work. Starting this week
Sept/Oct 21 formal consultation with public/parishes
Further technical work and submission to planning inspectorate circa mid 2022."
Since receiving Ian's email, the following further facts have emerged:
This is the first Nationally Significant Infrastructure Project (NSIP) to have hit Oxfordshire. The planning process is therefore very unfamiliar, and it is already clear that consultation is much more limited than we are used to with locally-determined planning applications.
The "sheds" to which Ian refers are in fact the very largest kind of warehouses that have been springing up (for example, near Milton Keynes). They are simply enormous, and there will be at least seven of them, as can be seen in the drawing extracted from the applicants' Scoping Report.
Government launched the idea of SRFIs back in 2014, so there is a presumption in favour of approval. So far, it seems that 6 of these Interchanges have been constructed or approved in various parts of England. The nearest is at Daventry, where the initial development has already received two further approvals to be expanded.
The idea behind them is to enable more efficient distribution of goods to regional and local populations, by bringing freight containers in on trains from ports, offloading the contents to warehouses, and then sending the goods in containers by road to their destinations. Typically, it is the big stores such as John Lewis and Marks and Spencer who lease these warehouses for distributing goods to their stores and, we are told, the market is hungry for more of these types of facility.
It is claimed that SRFIs maximise rail freight journeys and thereby reduce carbon emissions. However, there are critics who say that many of these huge warehouses are fed mostly by road deliveries- one container at a time.
Ian Corkin subsequently asked the applicants to set up a website for the project, which you can see here: www.oxsrfi.co.uk
The first stage is well under way – a consultation on the Scoping Report (a 214 page document which must have taken at least a year to produce) ends on July 5th. Under the strict Regulations for NSIPs only those invited to respond at this stage may do so. Neither Steeple Aston PC nor the Mid-Cherwell Neighbourhood Plan Forum have been invited – despite the Interchange's proposed location being entirely within the neighbourhood plan area. Only parishes immediately adjacent have the opportunity to respond to the Report.
In later stages, the public will have their chance. But, sadly, it is clear from large-scale local campaigns lasting years, against several of the SRFIs already approved elsewhere, that the strong and well-argued opinions of Parish Councils, District Councils and County Councils, local organisations and groups, and the general public, may all eventually get set aside "in the national interest".
---
How your parish council spends your money
Parish councillors explain the Steeple Aston element of the 2021/22 Council Tax bill:
For each of the past few years the Parish Council has published a commentary on the Parish 'precept' which is the local element of the overall council tax bill. Unlike last year, when the Parish Council managed to avoid any increase over the previous year, this year we have asked for an additional 2.2% (£558) bringing the total to £29,994. This article explains why we need the increase. You might have noticed that Cherwell's Council Tax demand refers to Steeple Aston having a 3.8% increase, which may have caused some confusion. Apparently, each year Cherwell assess the numbers of households paying full Council Tax and this year it has gone down, therefore increasing the amount to be paid by each household which pays full Council Tax. So we will only receive the 2.2% that we asked for, but Cherwell needed to increase individual payments by 3.8% to generate the required precept.
The increase in Steeple Aston's precept this year reflects the fact that we have had to maintain some of the important village facilities, of which we have more than many villages. This is in addition to the PC's "normal" spending on grass-cutting, hedges, and weedkilling. Prominent amongst the responsibilities are the Playground, the Village Hall and the Sports and Recreation Centre. The costs of playground repairs, general maintenance, tidying, ROSPA reports etc are borne by the Parish Council. This year substantial repairs, replacement of fencing and equipment has been needed at the playground – one of the most heavily used in the area. A competitive tender was conducted, and a contract for over £15,000 was entered into, with the excellent results that you can now see. The multi-use games area was also professionally cleaned, for the first time in many years.
We pay for daily cleaning, consumables and repairs to the toilet, some of which are necessary as a result of anti-social behavior. We've just installed a new high-specification door and locking system in the hope of reducing vandalism and misuse of the toilet. The door cost nearly £4,000. We are aware that some have suggested that CCTV monitoring may have been cheaper but we are not convinced that this would be an effective deterrent (and identifying vandals still leaves the cost of repairs to be met). Bob Bickley has looked after the facilities for some years now, but in March he gave notice that he was retiring. While we recruit a replacement, we've contracted with a cleaning firm to keep up the standards that users have come to expect. In addition to the toilet we also pay for daily cleaning of the whole playground area. Then there are the Village Hall and Sport and Recreation buildings to maintain. The respective management committees do a great job in acquiring funds for some improvements, most recently to the kitchen in the Village Hall, but other things, for example exterior decoration, roof and drainage repairs, and insurance, come out of PC funds. Repairs are often more expensive as the buildings are in the Conservation area. When the VH roof covering was replaced in 2000, it cost over £65k, so the Parish Council has a prudent policy to maintain reserves of funding, which this year amounts to £65,576, with a view to the inevitable future repairs and replacements. This year we have also incurred solicitor's fees to update lease documents associated with these buildings.
Each year, the PC makes grants available to eligible local organisations, to help with their running costs in providing services to the community. This process is carefully managed to ensure that money is both needed and used effectively, and grant-making decisions, like all PC decisions about spending, are taken in our meetings and open to public scrutiny. Grants this year have totalled just over £3,600.
In 2019 the PC responded to many requests from parishioners to try to reduce speeding in the village. We purchased the Speed Indicator Device that we're sure you've seen in one of the five locations that it can be moved to, and we're regularly monitoring the data produced. The machine cost over £3,000 but it seems to have been a sound investment as a speeding deterrent.
Once the detailed accounts of the parish council have been audited each year, we publish them on the village website, so you can see in detail where your money goes. We believe that the PC is providing the facilities that parishioners want, and we hope we have the balance about right in terms of the expenditure needed to support them, and a reasonable level of affordability. We hope you agree but, as always, we welcome feedback, to parishclerk.steepleaston@gmail.com or by attendance at our monthly meetings.
---
Parish Council and many more object to 'chicken sheds' plan
Steeple Aston Parish Council has now sent in its detailed objections to the plans for the redevelopment of the 'chicken sheds' – Hatch End Old Poultry Farm between Steeple and Middle Aston. The objections were accompanied by a series of photos showing traffic problems around the village.
There have also been strong objections by Middle Aston Parish, the Mid-Cherwell Neighbourhood Plan Forum, the Governors of Dr Radcliffe's School and the Rector, Revd Marcus Green. In addition nearly 50 villagers from Steeple, Middle and North Aston have objected to the plans.
Last year the developer Middle Aston Ltd withdrew a previous application which also met strong opposition. Their amended proposals, they said, took into account some of the concerns raised last time. The footprint of the development was reduced in size and the number of units reduced from 29 to 24. The appearance of the units was also altered to make them fit in better with the rural environment.
However, there was one significant change which could not be blamed on the developer, but was the result of a change government policy. The proposed use of the units now includes light industry, offices, shops, cafes, restaurants, leisure facilities, fitness centres, day nurseries, etc.
This was seen by many objectors as leading to an even greater increase in the volume of traffic travelling to and from the building. Traffic problems and particularly the danger to children at the school, which is next door to the 'chicken sheds', were the main reasons for concern by most objectors.
The Paris Council objections fell under the following headings:
Intensification of use
Pedestrian safety and Dr Radcliffe's School
Parking provision
Travel plan and vehicle movements
Construction period
Need for extended footpath to the site
Loss of greenfield land
National Planning Policy Framework
It concludes that "It is clear to Steeple Aston Parish Council that this application is exactly what the NPPF guidance seeks to avoid – a development that has an unacceptable impact on local roads, and fails to facilitate safe access on foot."
Read the full submission here.
The target decision date for the planning application is 28th June, which means that, unless there are delays, it should be considered at the Planning Committee meeting on Thursday, 17th June. You can see the detailed plans and the comments on them on the Cherwell District Council website. Go to Supporting Docs to see the detailed plans and all the comments.
---
Great Wolf Resort approved on appeal
Approval has been given on appeal to the proposed redevelopment of part of Bicester Golf Course at Chesterton to provide a new leisure resort incorporating a waterpark, a family entertainment centre, a hotel, conferencing facilities and restaurants.
The resort will be the first of its kind to be built in the UK by the American water theme park company, Great Wolf Resorts. It will be called Great Wolf Lodge.
This appeal has been granted in the face of vocal opposition from residents in much of the local area, including 35 parishes, and the unanimous objection of the Cherwell District Council's Planning Committee. Volunteers raised £90,000 for the campaign against the development.
Diane Bohm, of Parishes Against Wolf, wrote of her disappointment in a letter to the chairs and clerks of the parish councils involved. She wrote: "Notwithstanding the objection of a significant section of the Cherwell area including 35 villages it has been deemed that the development will be good for us in the long run.
"Can we thank you for your support, encouragement and financial support during the campaign against Great Wolf. The volunteers who raised over £90,000 for our campaign worked tirelessly and did absolutely everything they could to raise money."
Concern in many parishes like Steeple Aston centred on the impact of the development on the local road network of an expected 500,000 visitors a year. Objectors said this would mean 1,800 additional car trips a day on local roads, which are already stretched to capacity. This includes local country lanes, the accident hot-spot A34, plus the A41, A4095, B430 and A4030.
In his report the Planning Inspector recognised this as one of the main issues and made particular reference to the effect on the Middleton Stoney junction. He recognised that resort visitors from the North, Midlands and East Midlands would approach the site from Junction 10 of the M40 via the B430 and through the Middleton Stoney traffic light-controlled junction. But he said that improvements were already planned to the junction in connection with the development at Upper Heyford, and he didn't think more needed to be done.
He saw nothing to suggest that the impact of resort traffic would unacceptably affect the safety and free flow of traffic on the A4095. And said that "a comprehensive signage strategy" would direct traffic going to the resort away from the single track road through Little Chesterton.
Other issues considered by the Inspector were:
the landscape and visual impact of the proposal;
the implications for sport and recreational facilities in the area, with particular reference to the provision of golf facilities;
whether, having regard to the nature of the development, the appeal site represents a locationally sustainable choice;
whether the proposal conflicts with the provisions of the development plan, and if so whether there are any material considerations that would outweigh that conflict.
All these are dealt with in detail in the Inspector's Appeal Decision report.
---
Cathy takes over as WI President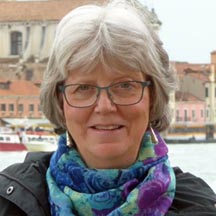 Steeple Aston WI has a new President. Cathy Lawday (who may be known to you as a previous editor of Steeple Aston Life, and the writer of cheerful poems for the magazine) has taken over from Linda Needle.
She says that Linda will be a hard act to follow. "Linda has been a WI stalwart for many years and knows all the ins and outs of the local branch, and the Oxfordshire and the National WI too. I'm a relatively new member and don't yet feel very familiar with the traditions of the WI. It's going to be a steep learning curve. Luckily I have the support of a very experienced committee, and of two vice-presidents, one of whom has been president herself, and so knows the ropes!"
Cathy thinks that there is some advantage in being a 'newbie' to the WI as it helps her view the group not as members see it, but as it is seen by outside world. "The WI is viewed by some people as being just a club for old women, out of fashion, and out of touch. People overlook the fact that it is one of the largest pressure groups in the UK and has used its influence to campaign on many issues. At a national level, the WI has helped to bring about important changes in society, such as equal pay for equal work, fair milk prices for dairy farmers, organ donation, and the provision of more midwives. It is currently working on the promotion of cervical screening, ending plastic pollution, and expanding the stem-cell transplant donor network."
At a local level, the WI provides an opportunity to socialise, and a chance to make new friends.
Cathy says: "We would like to encourage those who have moved into the village recently to come along to the WI meetings, to meet people and start new friendships. We are celebrating the end of lockdown with a garden party for members on July 13th, to which prospective members are also invited.
"Then from September we will meet in the Village Hall at 7.30pm on the second Tuesday of every month. Do come along to a meeting and listen to our speaker or join in a social evening. Find out about the book group, the walking group, our plans for craft demonstrations and outings. Our programme for the coming year will be ready soon so you can see what interests you."
Contact Cathy for more information. And if you feel nervous about going along to a meeting on your own, she will arrange for a member to go with you and introduce you.
WI President: Cathy Lawday 01869 347209 cathy@lawdaymacandrew.co.uk
---
Landlord Chris offers a warm welcome to the Red Lion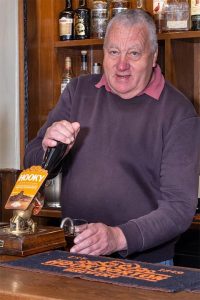 Chris Gates is the new landlord welcoming customers to Steeple Aston's Red Lion pub. He took over in the first week of May at very short notice, and has already been attracting lots of custom from locals despite the unreliable weather.
Chris and his wife Naomi live in Adderbury with their 17-year-old son Will and daughter Lottie, aged 13. Many years ago, he ran the Dog and Partridge pub there, now sadly turned in to flats, but more recently he has been running a trucking company and has spent long hours driving across Europe and as far afield as North Africa.
The pub is currently open from 5.00pm on weekday evenings and all day on Saturday and Sunday. Chris is advertising for a chef and hoping to start serving food at lunchtimes and in the evening soon. A menu offering good quality fresh local food and pub favourites is in development. There will also be a smaller takeaway menu. Meanwhile he hopes to get the pizza oven up and running even sooner.
Bar manager India Dennison, who has been there for six years, is staying on but Chris will be looking to recruit more staff to help with catering, cleaning and waiting at table.
And there's a lot of effort going in to sprucing up the pub both inside and out. The owners, Hook Norton Brewery, are refurbishing the upstairs as staff accommodation, and putting in a new bathroom. The kitchen will be cleaned and painted, and the outside paintwork will be refreshed.
Chris has ordered new planters for the front of the building and more tables and chairs. He hopes to be able to accommodate around 50 people outside, and to make the pub look more attractive and inviting to passers by.
Chris says he sees 'huge potential' for the pub and has lots of plans for the future. Ideas include themed nights – a steak night, maybe a seafood night and a quiz night for example. Chris's wife Naomi is the cook at Adderbury Primary School. She finishes work at lunchtime and is a keen cake-maker, so there might even be a chance of afternoon tea!
They are also looking for ideas to make use of the small room on the right of the door, which used to house second-hand books. All suggestions will be gratefully received.
And our new landlord is a man of many talents with plenty of stories to tell. Born into a farming family in Gatwick, he spent much of his early life in Shropshire. He spent eight years in southern Spain running yacht charters, sometimes entertaining famous showbiz clients such as Warren Mitchell and Cilla Black.
He and Naomi married in Gibraltar but returned to her home in Adderbury for the birth of their son Will. There they ran the Dog and Partridge pub until it was sold for development. Then driving trucks long distance, gave Chris plenty of time to think up stories to tell his children when he got home. Now he has published a children's story book based on some of his experiences and the people he met on his travels.
Dragon Mouse tells of the adventures of a strange creature part dragon, part mouse, who journeys from the chilly Welsh mountains to the sunny seas of Spain. And Chris has just finished working on a sequel – so watch this space for news of its publication!
---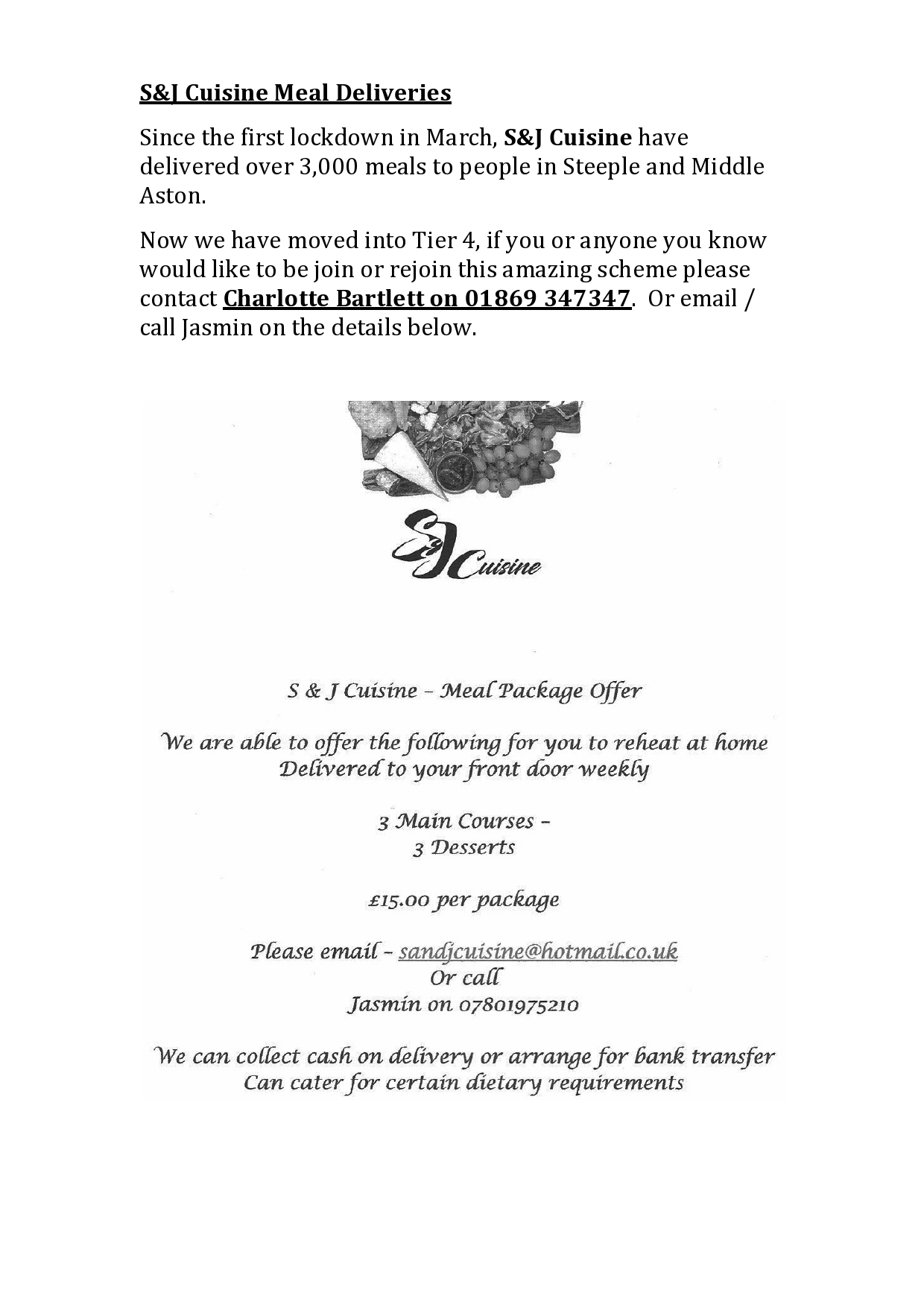 ---
The Parish Council is looking ahead
Much of the future is still uncertain. The second wave of Covid is now here; the rules will undoubtedly change again; and further restrictions are possible.
However, please be certain that your Parish Council is still here to help over the coming months. If there is another lockdown or you have to self-isolate, if you need someone to do some shopping or collect a prescription, the Parish Council can help. If you need assistance, call Cathy Fleet (01869 347000 or 0798 939 8838) or Richard MacAndrew (01869 347209).
Also, S and J are still providing tasty affordable meals delivered to your door. If you want to sign up again, or maybe try them for the first time, call Charlotte Bartlett (01869 347347) for more details.
Steeple Aston Parish Council
---
Prescriptions from Deddington Health Centre
Changes to contact details from Monday, 20th July 2020
If you used to collect your prescription from the shop, but for the last two months it has been delivered to your door by Anna Thatcher, the system remains exactly the same. However, your medication will now be delivered to you by Penny Cummins. If you need to contact Penny, you can reach her on 01869 349155 or 0770 325 8009 or at sapc.medsdelivery@gmail.com
If you used to collect your prescription from Deddington Health Centre, but for the last two months have been contacting Katie Crawshay and asking her to collect it for you, you now need to contact Linda Watkins. You can reach Linda on 0779 881 4171 or at sapc.medspickup@gmail.com
If you have a new or urgent prescription that you need collecting, the system remains exactly the same as before. Call Richard MacAndrew on 01869 347209 or email richardmacandrew.steepleaston@gmail.com
Steeple Aston Parish Council
---