Congratulations to Steeple Aston WI as it celebrates its centenary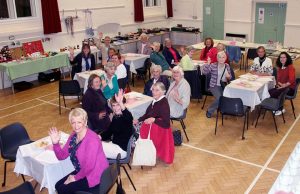 Steeple Aston Women's Institute, the oldest extant WI in Oxfordshire, is celebrating its centenary in style this March with a special programme of activities and speakers, including a surprise outing for members in June. Its centenary dinner will take place on 13th March at the Village Hall.
The current WI President, Merrill Bayley looks back over the achievements of the last 100 years. She writes: "The earliest document we hold states that, towards the end of the great war in 1917, Mrs Vincent of Cedar Lodge Steeple Aston, called a meeting of the women in the village and told them of a new society called The Women's' Institute, which had just started in Anglesey North Wales 1915.
"Miss L G Worrell took the minutes of the first documented meeting held on March 21st 1918 and she subsequently became the first President. As a result this event has become our official birthday date. The records of the Oxfordshire Federation of Women's Institutes (OFWI) confirm this with a simple entry stating, "Steeple Aston WI – Formed in March 1918", whilst OFWI themselves were not formed until 1919.
The Minutes & Memory Books
"The minutes have been diligently kept with just a few gaps during WWII, which is pretty good going! We have a large collection of Minutes and Memory Books. The latter are beautifully covered with embroidered work created by various members over many years. These Memory Books hold souvenirs and photographs taken at events and meetings with various snippets of descriptive notes beside them.  We are continuing to compile these books, one per year, and now have an Archive Sub-Committee who have combed through all the old Memory Books, re-hinging and re-binding as necessary using acid free paper to ensure preservation, for perhaps the next 100 years?
What has Steeple Aston WI done for our Village?
"Never mind what the Romans did for Britain, what did Steeple Aston WI do for our village? During WWII our WI organised the ladies of the village to make-do and mend and collect vegetables and fruit for pickling and preserving. In order to carry out this incentive the Ministry of Food allocated the WI the extra sugar required. Our WI also knitted scarves and socks for members of the armed forces overseas.
"Since the war our WI has continued to undertake various projects within the village. For example, presenting embroidered hassocks to the Church, arranging to have a map of the village erected beside the bus stop on South Side and donating funds towards the replacement of the ancient Sycamore in the churchyard. We support many events in the village such as, running a stall at the Village Show selling jams, pickles, cakes and bric-a-brac. We present our Silver Jubilee Cup and our Coronation Bowl for both the Spring and Autumn shows.  We have also arranged for the planting of a tree on South Side with an accompanying plaque to commemorate the millennium as well as lobbying for and part funding better lighting outside the Village Hall.
"Each year we join with other village organisations to lay a wreath on the War Memorial.
Currently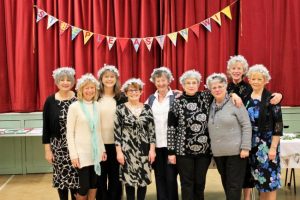 "We are 36 members strong, with four new members joining recently. Our members ages range from 40 – 90.   Our WI is run by a committee (pictured here) currently led by office holders, President: Merrill Bayley, Treasurer: Linda Needle, Secretary: Janice Kinory and Vice President: Mary Rushworth, ably assisted by Pauline Brock, Catherine Crook, Julie Hillier, Angie Allen and Priscilla Lange.
"Members have been contributing to our Centenary Fund for several years and for the past two years a sub-committee has steered the preparation and planning for 2018. A special programme of activities and speakers has been arranged for this milestone year, including a surprise outing for June. Invitations have been sent to our members and special guests for our centenary dinner celebration on 13th March 2018 at the Village Hall.
The Future
"The WI motto is 'Inspiring Women'. To this end we strive to enlighten, educate and usually entertain our members, to make new friends and connections through the wider WI community.  In keeping with new technologies we are embracing new methods of communication including Facebook and our own page on the Steeple Aston website. We continue to encourage all of our members to reach their own potential through the Steeple Aston Women's Institute."
---
Charlotte co-opted to fill last council vacancy 

Charlotte Bartlett has agreed to be co-opted on to the Parish Council. So for the next three months the council will have its full complement of members at last. Then they will all have to resign and stand again (if they want to) in the election to be held on Thursday, May 3rd.
Charlotte, of Seven Springs House, stood for election to the council last December. She was beaten by Richard MacAndrew by 72 votes to 57. But at their January meeting councillors decided to ask her if she was willing to be co-opted to fill the remaining vacancy. 
Before the election Charlotte was interviewed by Julia Whybrew for Steeple Aston Life. She said: "I realise that much of what I love about this village is directly because of the time and effort that others put into keeping it the way it is, strangely, both just the way it has always been and yet also vibrant and moving forward."
Charlotte lived here when she was a child and all her early memories are of this village.  She had close friends in Middle Aston and kept her contacts with the village by visiting them for many years. Her family moved away because of her father's job; then when she married she lived in Holland, New Zealand and Syria.
She eventually returned to London with her husband Andy and their two sons Oliver and Hugh. Quite by chance she discovered that her childhood home was for sale.  "It seemed to be too good to be true!"  They bought the house in 2004 and moved in. Charlotte says "My big regret is that our two sons were too old for Dr Radcliffe's School, as I know that has always been like a bedrock for the village."
Andy commutes to London weekly, where he works in finance, but both boys are still based nearby in Oxford. Oliver is just completing his PhD after eight years at the university, and Hugh works for a church charity having studied for a Master's at Oxford Brookes.
Julia said that Charlotte has a lot to contribute to the Parish Council. She has both the time and the inclination to help other people.  She has worked in a PR company and has plenty of experience working with others.  She has been involved with community projects, particularly in Syria where she worked with women's groups in villages around Damascus, teaching sewing skills and supplying equipment enabling them to earn their own living.  She started and ran her own project to distribute basic food supplies to the most vulnerable families in the winter months. She has experience of fundraising and is very keen to take an active part in the community.
---
Southside planning application withdrawn
The application for planning permission to build six homes on South Side opposite the entrance to Hill House has been withdrawn, at least for the time being.
The developer, Rectory Homes, withdrew its application on 15th February. This followed a number of objections from local residents, the Parish Council, the Mid Cherwell Neighbourhood Plan Forum and the Highway Authority
In general, neither the Parish Council nor other commentators are hostile to some development on this site. But there are major objections to the scheme proposed. The Parish Council listed the three main ones:
Housing mix: the proposal is for six houses of four bedrooms. There is however a clear need locally for a mix of house sizes, including some with smaller number of bedrooms…..
Safe pedestrian access: walking into the village with no footpath – especially in darkness – is dangerous, and difficult to solve where the road narrows at the Red Lion.
Safe vehicular access: the new road junction for the development will exacerbate an already dangerous stretch of road unless measures are taken to improve safety. Both speeding and limited visibility on the bend here have caused several near misses for traffic using the Hill House lane used by about 20 cars serving various dwellings.
It is possible that a revised plan may be submitted at a later stage. A message from Amy Atkins of Rectory Homes is published on the Cherwell District Council planning website. In it, she confirms the withdrawal of the current application and writes to the planning department "I look forward to working with you in the near future to overcome the concerns of the site."
---
Police to examine CCTV footage after more anti-social behaviour
Further anti-social behaviour by teenagers in the village during February has led to numerous reports to the police – and they should be able to look at some more CCTV footage which may help to identify the culprits.
Several incidents involving up to five teenagers have taken place on Paines Hill, South Side and in The Dickredge. There have been damage to cars and break-ins to sheds and a conservatory. Villagers are urged to take photographs or videos if they witness any incidents and make them available to the police. You can report non-urgent incidents online or by phoning 101
Paris Clerk Cathy Fleet reports that on Monday, 30th January a group of youths were seen openly taking drugs in the presence of school children in the playground. Later in the afternoon, the basin was pulled off the toilet wall taking tiles off with it, and the brand new soap dispenser was also pulled off the wall.
The following day some youths targeted the village shop, stealing some items of little value. The police have been informed of both incidents and it is hoped they will be able to examine CCTV footage from the shop and be able to identify the culprits.
Cathy Fleet said that the damage to the toilet will cost money to fix, not to mention the time involved. She added, "I think it's time these idiots and their parents were held to account."
In discussions on the village Facebook page many villagers echoed her frustration, calling for the parents to take responsibility for their children's behaviour. There were also calls for CCTV to be installed in the area around the Village Hall. There are cameras already at the school and the shop, but the Parish Council has been reluctant to install cameras around the play area in the past. Now villagers are being encourage to raised the issue at the next Parish council meeting on February 19th.
These latest incidents follow on from a spate of vandalism in the village before Christmas. There were a number of photos taken of the culprits and the police were said to have spoken to them. After a few quiet weeks the problems have started up again.
Villagers are encouraged to report anything suspicious they see to the police, and to get photographic evidence if possible. The more people who contact the police the better. If the non-emergency number 101 isn't answered, then dial 999.
---
Mid-Cherwell Neighbourhood Plan submitted at last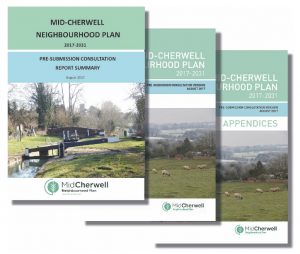 Martin Lipson, Steeple Aston Parish Councillor and Chairman of the MCNP Forum, writes: "After over three years of preparation, the Mid-Cherwell Neighbourhood Plan has finally been completed and formally submitted to Cherwell District Council. Before the end of March, CDC will launch the statutory consultation – during which anyone can submit comments on the proposed Plan. They will advertise this on their website and in various public locations, where copies of our documents will be available.
"The Plan will then go to Examination before a local Referendum is held in all eleven parishes involved in the Plan, of which Steeple and Middle Aston are just two. MCNP is believed to be by far the largest grouping of parishes that have prepared a neighbourhood plan in the country (and there are 2,200 of them in preparation, with 410 already approved).
"As many local people know, it is the development of Heyford Park that is the main reason why the parishes got together in the first place, keen to ensure that houses did not proliferate in the fields and villages around it, and keen also to ensure that adequate supporting facilities are provided for the new population, and that the effects of increased traffic are minimised.
"The Neighbourhood Plan therefore contains policies that, for example, support provision of a new cemetery for Heyford Park, require developers to submit proposals for reducing the impact of motorised traffic, and to take steps to replace any loss of biodoversity as a result of development.  The Plan also has a non-statutory section called the Community Action Plan, in which the parishes will continue to work together over the years ahead to bring to fruition a number of ambitious aims that are not just about land-use planning.
"At this stage we don't know in which month of 2018 the Referendum will be held, but we do know on past experience that there are bound to be more delays. In May and June, we have been told, CDC planners will be occupied with the Public Enquiry into the somewhat unpopular proposals for thousands of new houses in the south of the District, to assist Oxford's "unmet housing need".  So we know that our Examination will not take place before that one is finished.
"Close discussions with CDC planners in the lead-up to our submission resulted in a few more changes to the version of the Plan on which MCNP consulted last summer. Steeple Aston's settlement area – the built-up zone of the village in which development is preferred – has now had omitted the two areas at each end of the village that were previously shown on the village policy map. This is because CDC took the view that these potential sites would only be suitable as rural exception sites for low-cost housing, and as they were exceptions they should not be in the preferred zone.
"This does not diminish the Parish Council's wish to see one or both of these sites eventually developed in a way that will benefit the village, but it does reduce the encouragement that might have otherwise been given to purely commercial developers. It is somewhat ironic that Rectory Homes recently put forward their scheme for one of the sites (opposite Hill House on South Side), only to have to withdraw it – as also reported on this website. If it is resubmitted without elements of affordable housing it will now have less support under the MCNP than it would have done. The other site – the former allotments on Heyford Road – remains perhaps a distant possibility."
---
Follow Steeple's Rose as she sails round the world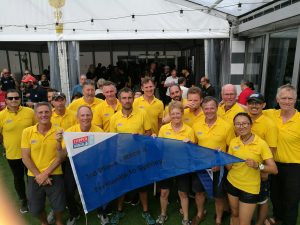 Steeple Aston resident Rose Todd has now reached Australia as a crew member on Qingdao, one of the boats competing in the Clipper Round the World Race 2017-18.
She started her adventure in Liverpool on 20th August 2017, and will be sailing a total of 40,000 nautical miles to circumnavigate the globe in eleven months.
Rose took up sailing after the death of her son Harry at the age of 18. He spent his last few months supported by Helen and Douglas House, the Oxford Hospice for children and young people, and Rose is raising money for them.
She sailed two legs of the 2013 – 14 Clipper Race from San Francisco to London. But this time she has signed up for the whole race around the world. She has been given one of the most important roles on the boat – she is the victualler, which as she explained before she set off is a major responsibility.
She wrote, "Being the victualler on a boat is right up there at the top of the 'you-cannot-get-this wrong' list when it comes to crew roles! Being the victualler means that I am responsible for organising everything to do with food; deciding what we need (ie writing the menu), buying the stuff, packing the stuff into bags to survive the journey, deciding where to store the stuff in hiding places on the boat, retrieving the stuff when it is needed for cooking and eating, making sure we have enough stuff, and buying more stuff and repeating the process before the start of each race."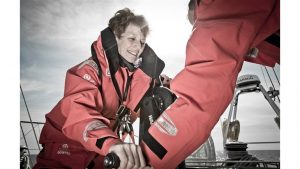 Since last August, Rose has had some exciting times reaching Capetown in October, then seeing many seabirds as well as whales and dolphins on her way through the Southern Ocean to Australia. Now she faces the next few months travelling to China, then across the Pacific Ocean and through the Panama Canal to New York. Finally she will sail home across the Atlantic Ocean to Liverpool.
You can follow Rose's adventures on her blog at https://wavingnotdrowningwithclipper.wordpress.com/
And you can help her raise money for Helen and Douglas House at https://www.justgiving.com/fundraising/Rose-Todd9
---
Villagers protest against proposed Enstone development
A group of villagers in West Oxfordshire have joined together to object to a proposed development next to nearby Enstone airfield. They are appealing for other local people and parish councils to oppose the application for planning permission by 10th January.
The "Move the Mullin" campaign has been formed to fight a proposal by the Great Tew Estate and American businessman and philanthropist Peter Mullin to build an automotive museum, corporate pavilion, Bentley showroom and 28 luxury residential homes on land adjacent to Enstone Airfield.
They argue that the location for a proposed development of this scale and form in a rural area is inappropriate and contrary to national planning policy.  It has numerous costs for local residents – not least significantly increasing the traffic on small country roads that are already in a poor state of repair.
They suggest that this museum could be built in a location with much better connectivity to the road network and public transport, such as Bicester Heritage or Silverstone.
The Move the Mullin campaign, which is supported by the Campaign to Protect Rural England, is an informal group of residents who live in Enstone, Church Enstone, Gagingwell, Sandford St Martin, Ledwell, Westcote Barton, Middle Barton, Little Tew, and The Wortons. They are appealing for others to join them in objecting to this development.
They write: "The most effective way to oppose this development is to make a public objection to planning application 17/03745/OUT on WODC's planning portal.  Please forward this email to your friends and neighbours to encourage them to make an objection too. The timeline for making objections is 10th January 2018 (although objections may be heard after that date) – so please do not delay! The more substantive objections that are made, the better chance we have to stop this development
"We believe that if national planning policy is properly applied to this application, and West Oxfordshire District Council hears the communities' voice, we can stop this type of inappropriate development.
"To contact us please email movethemullin@gmail.com."