Five men and two trucks for one pothole!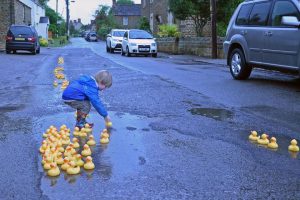 Nearly two years ago, the plight of Steeple Aston's potholes went viral worldwide when two parish councillors floated a collection of yellow ducks in them one rainy day.
That publicity persuaded Oxford County Council to take action, and the potholes in question outside the former White Lion pub on Southside were eventually properly repaired.
But the many remaining potholes in Steeple Aston have been largely ignored, except that someone has been along painting white lines around them.
Then early in the New Year there were signs of progress. Some pothole repairers were spotted outside Dr Radcliffe's School in Fenway.
Former councillor Richard Preston was not impressed though. He recalls all that happened. "Yesterday, two lorries and five men arrived at a hole in the road outside the school to "repair" an existing pothole that had got a white line around it.  After some time the "repair" was made and they moved off to what I guess was another white line!
"The government announced late last year that it was to award £7.5 million towards the pothole issue in Oxfordshire.  On BBC local news this morning it was suggested that within the next 15 years about a third of Oxfordshire's roads would become unfit.
"If it takes five men and two vehicles to complete a very poor repair then no wonder the roads in Oxfordshire are in such a state.  Look at the photos taken this morning to make up your own mind as to the quality of the work paid for by the tax payers of this county."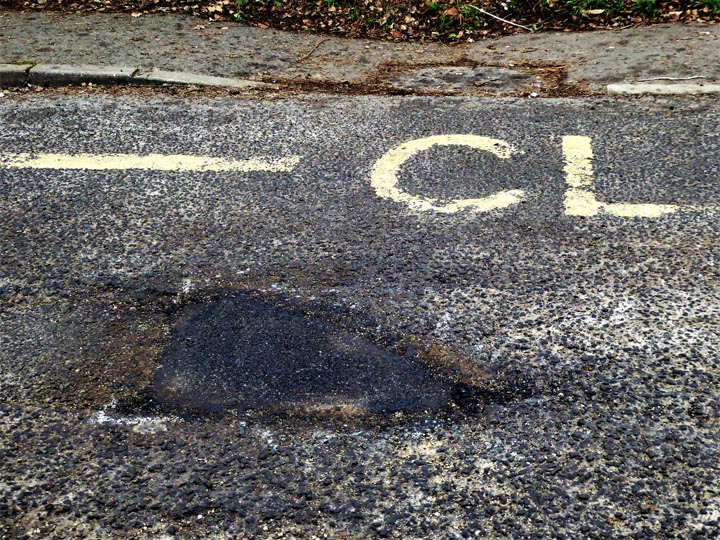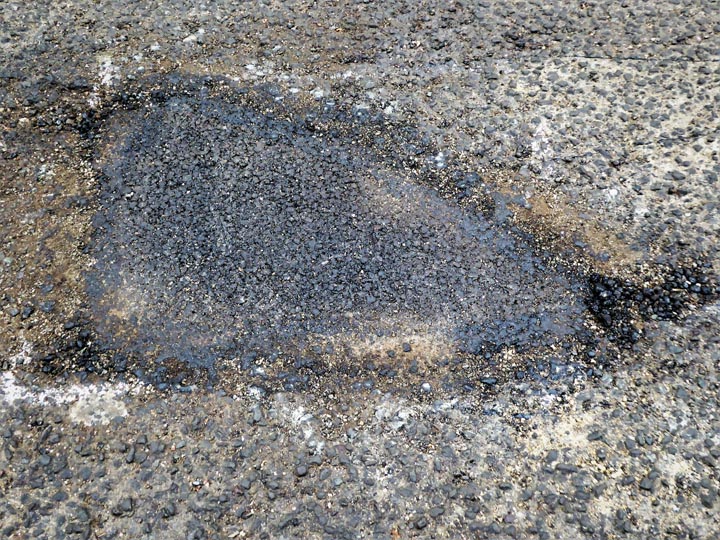 ---

Neighbourhood Plan will go to a referendum soon
The Mid-Cherwell Neighbourhood Plan has "passed its exams" and will be put to a public referendum, albeit with several modifications, in March or April.
Mr Richard High, the examiner, said in his report that the Plan has met the "basic conditions" to proceed to a referendum. But he did require several changes to the plan, including the deletion of some proposed green spaces.
However he was extremely complimentary about the Plan and the way it was put together. He wrote, "The preparation of a neighbourhood plan for 11 parishes and a substantial growth area is a major undertaking, in terms of the need for joint working, effective project management and the amount of research and evidence required. I have found the Plan and its supporting documents to be very clearly presented, with carefully constructed policies which, with few exceptions, take their relationship with other development plan policies in to account…………It is also evident that there has been much joint working between the MCNP Forum and CDC and extensive consultation of other agencies."
Steeple Aston councillor, Martin Lipson is Chairman of the MCNP Forum. He said, "I'm very pleased at the overall outcome. I hope people will see that some of the policies that have been approved bring a positive aspect to planning to set alongside the more protective ones. There were some disappointments in the examiner's report, but fewer for Steeple Aston than for some other parishes. Over the plan period to 2031 there should be some real benefits for the neighbourhood and for our parish.
"Of course, people still have to get out and vote on the day, once the referendum is announced, but I'm confident from the feedback that we're receiving that there is widespread support for adopting the neighbourhood plan, and the Forum members are very grateful for that support. In the run-up to the referendum, we're planning various ways to ensure that voters know what they will be voting for."
Sixteen of the 18 policies proposed in the Plan have been approved by the Inspector. The highlights include:
All five of the proposed village settlement areas have been approved unaltered, and the limits on the numbers of new dwellings in these villages have also been accepted.
An important policy on the impact of development on views and vistas in the neighbourhood plan area remains, albeit with some slight change to wording.
The non-coalescence zone for Upper Heyford village has actually been extended by the examiner.
However some villagers will be disappointed that the Inspector deleted six of the 30 proposed local green spaces including the Old Quarry site in Steeple Aston.
You can find out more on the Forum's website here.
To read the Examiner's report on Cherwell District Council's website, please click here.
---
Old Quarry site to be deleted from green spaces list 
The controversial site of the former Sandworks at Old Quarry House must be deleted from the list of Local Green Spaces in the Mid-Cherwell Neighbourhood Plan, according to the recent report of the independent Inspector.
The Plan proposed the designation of 30 Local Green Spaces in the Mid-Cherwell area where development should only be permitted in exceptional circumstances. The Inspector, Mr Richard High, visited all of them and concluded that six should be deleted, including the Old Quarry site in Fenway, Steeple Aston. 
In his report he noted that sand working finished on the site around 1960 and since then it has been left undisturbed. He writes: "In parts of the site the undergrowth has clearly been cut back, but in other parts it remains overgrown. The site has clearly been colonised by many trees which are now semi-mature and there are larger mature trees close to the northern boundary. There is no public access to the site, but I was given access on my visit and walked around the whole site. The area is clearly visible from the gardens and rear windows of houses in Fenway and Grange Park and glimpses into the northern part of the site can be obtained from the footpath on the northern boundary. "
The Inspector notes that representations were made on behalf of the owners of the site against the designation of the site as a Local Green Space on the grounds that it is not of historic significance, that an ecological assessment concludes that it is not of great significance, and that many trees on the site are protected by Tree Preservation Orders (TPOs). However, they do acknowledge that a small area at the northern end of the site is designated as a priority habitat.
He said many representations had been made in favour of the designation as a Local Green Space, on the basis of its wildlife value and its secluded, wilderness character. In fact, over half the representations in response to publicity on the Plan supported Local Green Space designation.
He concluded: "There is no doubt that the site in its present unused state is attractive as a wild and secluded place in which there is potential for increased biodiversity. It may have been the intention of the previous owner that it should be a recreational resource for the village but that is clearly not the intention of the present owners and designation as a Local Green Space would not in itself facilitate this. There is no reason in principle why a privately-owned site that is not accessible to the public should not be designated, but for this to be justified it is important that the site is demonstrably special to the community it serves.
"I understand that those who live in houses that overlook the site would prefer that it was not developed, but that is not a sufficient reason for designation; indeed, if the site is not designated it does not follow that it would be considered suitable for development, particularly as it is a large site outside the settlement area. To justify designation, it must be demonstrably special in some way to the community it serves. Although the Parish Council has supported the designation, almost all the representations received ….were from the occupants adjoining the site.….. While there is undoubtedly a range of wild and plant life and this has been recorded by qualified person, it has not been demonstrated to be of particular ecological significance. It is difficult to see how the site functions as a community asset, given its lack of visibility and the lack of access to it. This is a large site …. on the edge of the village and I am not persuaded that there is a clear justification for its designation as a Local Green Space."
Steeple Aston councillor Martin Lipson, who is Chairman of the MCNP Forum comments, "The Old Quarry site behind the house and its modest back garden is now officially excluded from the village settlement area. This should offer some protection, as land outside the designated settlement has a presumption against development. The examiner mentions the exclusion in his comments, which is not insignificant.
"It is clear that the examiner was influenced by the fact that most of those who submitted letters of support for green space designation live immediately around the site, but he had to be satisfied that the local community as a whole cared about it. People elsewhere in the village do not seem to be as exercised about the potential loss of this valuable habitat, but perhaps that will change if the owners do go ahead with an application for development.
"Through the efforts of the late Andy Allen and others, the site is now extensively protected with swathes of tree protection orders, one of which covers the entire north end of the site closest to the Beeches footpath. These TPOs should limit the ambitions of a developer, and we will then have to see how much the policies of Cherwell's Local Plan and the new Neighbourhood Plan impact on those ambitions.
"It's worth noting that the other three Local Green Space designations in the village – Robinsons Close, the Allotments, and the field on Paines Hill – have all been approved, and will therefore now be protected from any development "which does not relate to or complement their importance to the community"."
To read the Examiner's full report on Cherwell District Council's website, please click here.
---

New Emergency Plan for Steeple Aston
Oxfordshire County Council has been helping Parish Councils to revisit and review their Community Emergency Plans.  A copy of Steeple Aston's new plan is available on the Noticeboard of this website here.
The Parish Council, whilst trying to anticipate all emergency situations believes the most likely emergencies to affect Steeple Aston will be heavy snowfall and/or prolonged power cuts.
The OCC Emergency Planning Unit have issued several very useful information brochures to help us all be better equipped to deal with these situations.  These are explained here with links to each one.
Are you ready?   
The aim of this booklet is to give clear practical advice to help everyone, their families, their businesses and communities to prepare for and respond to an emergency.  Much of the information is common sense, but it has saved lives in the past.
To download the booklet, please click here.
Utility Failure Priority Services
This brochure is a guide to extra care priority services by utility companies.    Anyone in receipt of a state pension, or who is disabled, or who has a child under the age of five may benefit from joining the utility priority care registers.
Anyone who relies on one or more or the following will also be eligible to join: home dialysis, oxygen concentrator, artificial ventilator, stair lift or adjustable bed.
Once you are registered for the free priority service your local supplier will do all they can to prevent your supply from going off.  If you are cut off they will make sure your service returns as a matter of urgency.  In the meantime extra assistance may include hot drinks and food, charging points, generators, bottled water delivery or temporary heating and cooking appliances.
To download the brochure, which includes information on how to register, please click here.
As the biggest power supplier in this area, SSE  have their own brochure with information on how to register for their Priority Services. To go to their website, please click here.
Snow Guide 
This is a simple guide with practical advice on the best way to clear snow to improve the safety of the area. The brochure also explains the legal situation regarding clearing snow for neighbours.  There has never been a case where anyone has been sued for clearing snow from pavements.  However occupiers of properties have a responsibility to ensure their paths are safe for visitors and everyone is encouraged to do that little bit more.
To download the guide, please click here.
Lions Message in a Bottle
This is a simple but effective way to keep all emergency medical and contact details where they can be found easily and quickly by the responding services – in the fridge.
There are many people in the village who take regular medication who have these clever bottles already, but anyone who has small children in the house is also encouraged to have one.  Emergency Services are responding to calls more and more, where either the adult, before collapsing, or a child has dialed 999.  Once on the scene they are unable to get vital information that could have been kept in the bottle in the fridge.
For more information, please click here.
Safe and Well Visit
If you would like Oxfordshire Fire and Rescue Service to visit your home to advise on how to reduce risks in your home please click here to fill in a request form.
Preparing to Evacuate
Hopefully nobody will need to leave their home, but here is a practical guide to what to consider should the need arise.
To download the guide, please click here.
If you would like a hard copy of any of these brochures or a Lions message in a bottle, please contact Parish Councillor Charlotte Bartlett on charlottebartlett.steepleaston@gmail.com
---
Neighbourhood Plan goes for examination
The Mid-Cherwell Neighbourhood Plan is currently being scrutinised by the official Examiner He was appointed on October 15th  and has already started work on the plan. His examination is expected to last well into November.
The Neighbourhood Plan Forum has issued the following update: "Our Examiner has been appointed. MCNP was advised today by Cherwell DC that Mr Richard High has accepted our joint nomination to carry out the Examination of our plan, which will shortly commence. It is expected to take 4- 6 weeks to complete. After a period for checking, the report will be published. We are expecting this to be before December.
"Mr High was the examiner for Cherwell's first neighbourhood plan at Hook Norton back in 2015, and has conducted 30 examinations of neighbourhood plans across the country, including one comprising of five parishes. He was chosen from a shortlist of suitable and available examiners provided by NPIERS, the national body tasked with the role
"This important stage has been a long time coming. Following submission of our draft Plan documents in April, we were asked to make some adjustments to the supporting documents. The formal submission was made in early May…In mid-June CDC's formal consultation on the Plan closed, and the representations received were published on their website. These included CDC's own comments, of which we had been previously advised through a series of meetings over many months. MCNP then produced, as advised by CDC, a "schedule of proposed minor modifications" so that the examiner, once appointed, would be able to seehow we planned to respond to the various comments. This took a few weeks to finalise. Then came the long hot summer, in which not much happened. But finally, we are moving forward again.
The examiner will be looking at a suite of documents which can be found on CDC's website here.
---
Amanda is co-opted on to the Parish Council
Amanda Rodgers was invited to be the seventh member of Steeple Aston Parish Council at its September meeting. The vacancy arose because only six candidates stood for the seven vacancies in the May elections.
Amanda moved to the village two years ago with her husband-to-be Paul. They planned a very special wedding a few months later. It started with the ceremony and dinner in Middle Aston House, followed the next day by their very own "fête" in the Sport and Rec Centre then supper and a ceilidh in the Village Hall. Quite a celebration!
Born and brought up in Derbyshire, Amanda studied law at Durham University before moving to London for work. Her varied work background includes a long period working in recruitment and HR, running a business improvement district in London and leading an anti-radicalisation project.
For the last ten years she and Paul have worked together building a business community in the consumer payments industry. They have moved their office to the village, but spend much time travelling at home and abroad to the 70 events a year they organise as well as other meetings.
Amanda explains that they decided to move to the area and rented for a year in Lower Heyford while looking at a total of 52 properties trying to find their perfect home. They fell in love with Windy Ridge on Paines Hill and see it as their "forever house". They are about to embark on an extensive refurbishment of the old house and the building of an extension.
Outside work Amanda is keen on F1, but is often found knee-deep in mud at the bottom of a canal. She and Paul are currently working on the restoration of a lock on the Thames and Severn Canal. After a very nasty accident breaking bones in her leg and foot, Amanda is planning her own road to recovery with a sponsored walk next summer along the length of the Oxford Canal to raise money for canal restoration.
A naturally busy person, she finds the more she does, the more energy she has. So taking on the role of parish councillor holds no fears for Amanda. She is passionate about community and wants to ensure that Steeple Aston thrives both now and in the future.
She has plenty of experience to bring to the role, with her community building background, having been a school governor and involved in planning issues before. Her legal experience will be useful with one of her first tasks which is to help review the council's leases.
But right now, she's concentrating on the contentious issue of dog poo. She has some experience of this too and hopes to persuade more villagers to do the right thing – bag it and bin it!
---
Richard is elected to chair Parish Council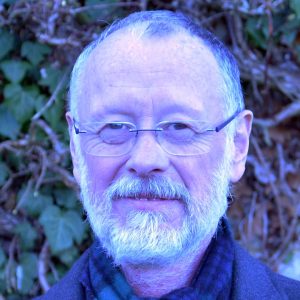 Parish Councillor Richard MacAndrew was elected as the new Chair of Steeple Aston Parish Council at its September meeting. Martin Lipson will be his deputy.
Richard replaces Stuart Ferguson who has resigned due to pressure of work. He took over the role at short notice last year when John Coley stood down from the chairmanship on the advice of his doctors. The council thanked Stuart for taking on the job at a difficult time and were grateful for his experience and expertise in sorting things out.
Richard who was elected to the Council last December says: "I see the Parish Council very much as a joint endeavour. During my limited time as a Councillor, I have been greatly impressed by the many and diverse talents of my colleagues. I look forward to working with them over the coming months with a view to enhancing life in the village."
Richard came to Steeple Aston in 2011 with his wife Cathy Lawday, who is the Editor of Steeple Aston Life.  In the 1970s he trained as a teacher of English as a foreign language and has worked in Finland, Sweden and Malaysia.  After eight years abroad, he returned to the UK, and worked in language schools in London and Oxford, ending up as a member of the Senior Management Team at St Clare's, Oxford.
Since 1996 he has been a freelance writer, teacher and examiner. He has written a number of books for OUP, CUP and Macmillan. He is now semi-retired,
---