Parents worried over loss of bus to Warriner School 
Parents of children attending The Warriner School in Bloxham are concerned that there will be no transport to the school from September. This is despite the fact that the Astons are in the school's catchment area and Dr Radcliffe's School is part of The Warriner Partnership.
A group of parents attended the February meeting of the parish council to ask for help. But councillors weren't able to provide any assistance, and the parents are now asking villagers to come up with any ideas that might help to get their children to school.
This complex situation has come about because Oxfordshire County Council has announced that in the future, following changes to their school transport policy, they will now only be providing free home to school transport to the student's nearest school.
The nearest secondary school to the Astons is at Heyford Park, Therefore from September 2019, there will no longer be any students with a statutory entitlement for free school transport to The Warriner School. This means that the county council no longer has a legal obligation to provide transport from the Astons to the Warriner School. Currently the parents of children who don't qualify for free school transport pay £700 a year for them to travel on the Warriner bus under the "spare seat" scheme.
However, the county council seems to have declared this new policy without taking into account the new admissions due to start in September, and also without considering that Heyford Park School is actually full and from 2020 will not have an entry at age 11. The next nearest school is Marlborough School in Woodstock, but Steeple Aston is not in its catchment area. So parents face the dilemma of having no choice but to send their children to The Warriner, but having no transport to take them there.
The parents discussed various alternatives with the councillors such as providing a community bus with volunteer drivers, contracting a bus to make the journey or using taxis. But all the options will be much more expensive.
Steeple Aston parent Shirley Palmer explains: "This leaves the year 6 parents (who weren't informed of this lack of bus when they chose to put The Warriner on their choices list) and the 27 children using the bus in a difficult position. We are currently looking at alternatives, but the cost is a problem and we don't want to add to the traffic congestion in Bloxham by all driving.
"In many cases, parents have said that they would have to give up work or it would make their working lives excessively difficult, even with a car-share scheme.
"We are trying to do our best to keep The Warriner School, the catchment school, as a viable option with travel for the current and future years, but if you can offer any suggestions or help, then please contact me."
Shirley's email address is  s.e.palmer@btinternet.com
---
Your chance to comment on Oxfordshire's future
There is a public consultation taking place on the Oxfordshire Plan 2050, and residents are asked for their comments by 25th March.
The plan will set out the development framework for the county for the next generation. At this stage, the consultation is on the Vision and Objectives, and doesn't include specific targets. There is also a consultation running simultaneously on the Oxfordshire Plan 2050 Sustainability Appraisal Scoping Report.
CPRE Oxfordshire believes the underlying assumptions must be challenged now, otherwise the Plan will be fundamentally flawed. It is campaigning for residents to take this opportunity to have their say on the future of the county, and has written to parish councils explaining its views as follows:
"Our question is – who is the plan for? It takes as read the 100,000 houses our Local Councils have already signed up to deliver by the mid-2030s (in exchange for £215 million from the Government) – a 40% growth in housing stock. Although not spelt out in the Plan, after 2031, the Oxford-Cambridge growth corridor proposals envisage another 250,000 or so houses – doubling Oxfordshire's housing stock and population by 2050.
"The inevitable conclusion is that this is not a plan for us – Oxfordshire residents of a rural county – but a plan for developers and big business.
"The countryside is not just a 'nice to have' – it is a social good in its own right, providing food, water, clean air and more, and vital to our physical and mental well-being.
"This shouldn't be about how much development we can cram in over the next 30 years.
"It should be about what Oxfordshire actually needs and how that can best be accommodated over time, within its social and environmental limits.
"This plan should be led by the needs of existing Oxfordshire residents and their families, working to ensure that anyone living in Oxfordshire in 2050 can still experience and enjoy the rural character of the county that exists today."
CPRE Oxfordshire's detailed commentary on the Oxfordshire Plan 2050 is available on their website here.
To find out more about the Oxfordshire plan and to register your comments by 25 March, visit: https://oxfordshireplan.inconsult.uk/consult.ti
---
Environmental campaign continues over Oxbridge Expressway
Environmentalists have promised to continue their campaign against the proposed growth corridor around the Oxford to Cambridge Expressway despite a rejection by the courts of their first claim.
Though the final route of the Expressway has yet to be decided, one of the two proposed routes comes very close to Steeple Aston, and there is concern that plans for extensive development along the route may impact the village.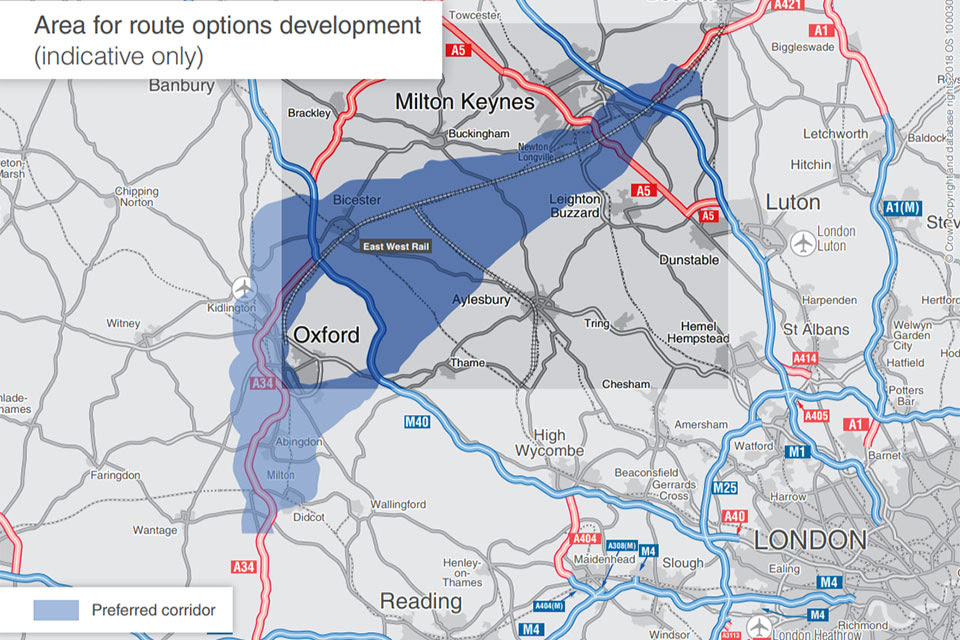 The alternative routes can be seen on this map. Highways England is developing two viable route options for a public consultation expected in the Autumn:
Corridor B1 – a central corridor broadly aligned with the proposed East-West Rail route from Abingdon to south Milton Keynes via Winslow. This option passes to the west of Oxford, and close to Steeple Aston
Corridor B3 – a central corridor broadly aligned with the proposed East-West Rail route from Abingdon to south Milton Keynes via Winslow. This option passes to the south east of Oxford.
In November last year Berks, Bucks and Oxon Wildlife Trust (BBOWT)  issued a claim in the High Court, challenging the government's failure to commission a Strategic Environmental Assessment (SEA) or a Habitats Regulation Assessment (HRA) as part of the process of selecting a 'Growth Corridor' (within which the Expressway and associated housing will be built).
They say that these assessments are required under European law, and that the true environmental impact of the scheme hasn't been properly considered. They argue that the proposals threaten "wildflower meadows, ancient woodlands, hedgerows alive with birds and butterflies, and gentle undulating ridge and furrow fields which have survived from the Middle Ages".
In January the High Court refused BBOWT's claim on paper, but thecampaigners say they will now renew the application for permission to be heard at an oral hearing, where the grounds can be argued in front of a judge and they hope the decision will be overturned.
They are raising funds for the legal costs involved. You can read more about their claim, and donate on their website here.
Highways England's booklet about the expressway can be found here.
---
Villagers urged to vote in March 21st referendum
Members of the Mid-Cherwell Neighbourhood Plan Forum are urging villagers to support them by voting for their Plan in the referendum on Thursday, 21st March.
You will be able to vote in person between 7.00am and 10.00pm in the Village Hall. For the Notice of Poll, and details of how to register to vote, to apply to vote by post or by proxy, please click here.
A majority vote in favour of adopting the Plan will be legally binding and will mean that until 2031 all planning applications in the 11 parishes covered will have to be weighed against the 16 policies that have been approved by the independent examiner.
The Plan policies ensure that Steeple and Middle Aston will be better protected from unwanted development, with indicative limits on the numbers of new homes permitted. Other benefits include the protection of rural views and of 24 designated 'Green Spaces.
Members of the Plan Forum, chaired by Steeple Aston parish councillor Martin Lipson, say that they have worked hard on behalf of residents in the 11 villages to achieve all that has been asked of them following consultations over the last few years. They say "Please vote on Thursday, March 21st to support Mid-Cherwell's Neighbourhood Plan, drafted by local people with your interests at heart. You can make a difference – its real local democracy at work."
The Plan documents can be viewed at the Village History Centre at the Village Hall in Steeple Aston on Saturday between 10.00am and 12 noon and at the Red Lion during opening hours. To see them online, please click here.
And for more details about voting etc in the flyer that has been delivered to all households in the Plan area, please click here.
---
New Emergency Plan for Steeple Aston
Oxfordshire County Council has been helping Parish Councils to revisit and review their Community Emergency Plans.  A copy of Steeple Aston's new plan is available here.
The Parish Council, whilst trying to anticipate all emergency situations believes the most likely emergencies to affect Steeple Aston will be heavy snowfall and/or prolonged power cuts.
The OCC Emergency Planning Unit have issued several very useful information brochures to help us all be better equipped to deal with these situations.  These are explained here with links to each one.
Are you ready?   
The aim of this booklet is to give clear practical advice to help everyone, their families, their businesses and communities to prepare for and respond to an emergency.  Much of the information is common sense, but it has saved lives in the past.
To download the booklet, please click here.
Utility Failure Priority Services
This brochure is a guide to extra care priority services by utility companies.    Anyone in receipt of a state pension, or who is disabled, or who has a child under the age of five may benefit from joining the utility priority care registers.
Anyone who relies on one or more or the following will also be eligible to join: home dialysis, oxygen concentrator, artificial ventilator, stair lift or adjustable bed.
Once you are registered for the free priority service your local supplier will do all they can to prevent your supply from going off.  If you are cut off they will make sure your service returns as a matter of urgency.  In the meantime extra assistance may include hot drinks and food, charging points, generators, bottled water delivery or temporary heating and cooking appliances.
To download the brochure, which includes information on how to register, please click here.
As the biggest power supplier in this area, SSE  have their own brochure with information on how to register for their Priority Services. To go to their website, please click here.
Snow Guide 
This is a simple guide with practical advice on the best way to clear snow to improve the safety of the area. The brochure also explains the legal situation regarding clearing snow for neighbours.  There has never been a case where anyone has been sued for clearing snow from pavements.  However occupiers of properties have a responsibility to ensure their paths are safe for visitors and everyone is encouraged to do that little bit more.
To download the guide, please click here.
Lions Message in a Bottle
This is a simple but effective way to keep all emergency medical and contact details where they can be found easily and quickly by the responding services – in the fridge.
There are many people in the village who take regular medication who have these clever bottles already, but anyone who has small children in the house is also encouraged to have one.  Emergency Services are responding to calls more and more, where either the adult, before collapsing, or a child has dialed 999.  Once on the scene they are unable to get vital information that could have been kept in the bottle in the fridge.
For more information, please click here.
Safe and Well Visit
If you would like Oxfordshire Fire and Rescue Service to visit your home to advise on how to reduce risks in your home please click here to fill in a request form.
Preparing to Evacuate
Hopefully nobody will need to leave their home, but here is a practical guide to what to consider should the need arise.
To download the guide, please click here.
If you would like a hard copy of any of these brochures or a Lions message in a bottle, please contact Parish Councillor Charlotte Bartlett on charlottebartlett.steepleaston@gmail.com
---