'Chicken sheds' development – contact your councillor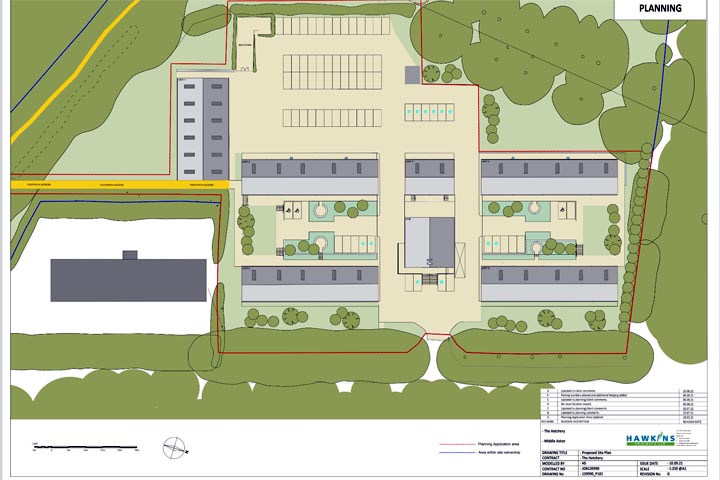 Edward Dowler, the Chair of Middle Aston Parish Meeting, gives an update on the application to build 25 new business units at Hatch End Old Poultry Farm between Steeple and Middle Aston and asks villagers worried about this to contact district and county councillors. He writes:
On 2nd December 2021 Cherwell District Council's Planning Committee discussed the application to redevelop the Chicken Sheds (officially Hatch End Industrial Estate). I was invited to speak, as Chair of Middle Aston Parish Meeting, and Mike Kerford-Byrnes, one of our District Councillors, made an impassioned and influential contribution to the debate.
Whilst the developers have made some significant and welcome changes to the proposed appearance and configuration of the site, a very serious issue remains: the volume of additional traffic that will be generated, and its risk to road safety, particularly in relation to Dr Radcliffe's Primary School. It is our contention that the Highways Team at Oxfordshire County Council has accepted at face value the developers' assumption that there will be few additional journeys to the site and failed to recognise the dangerous situation that can already be seen every school day at drop-off and pickup times.
Please excuse a short diversion into the history of the site. In 1996, an application to change its use from a chicken hatchery to a small industrial estate was refused by CDC, on grounds of highway safety. A renewed application in 1997 was granted, but with the very exceptional provision that each and every change of tenant or specific use in any unit on the site required CDC's prior permission, on grounds of highway safety. As we all know, there has been no improvement in the condition of the road in the intervening years, and traffic volumes have of course increased.
At the Planning Meeting, it was noted that the Highways Team, in its statutory consultation submissions in July and October 2021, had imposed an obligation on the developers to create a footpath along Fir Lane from the school to the entrance to the site. This looked like an acknowledgement of the safety issue, and a helpful if partial remedy. However, in November 2021 a further submission removed this obligation, in exchange for the creation of a footpath wholly within the development site. No-one could explain, at the meeting or indeed subsequently, how this would increase pedestrian safety on Fir Lane.
The Planning Committee resolved, on 2nd December, to defer a decision on the application for three months, for further consideration. So what has happened to date?
Richard MacAndrew, Martin Lipson and I met the developers on 23rd December to see whether there was any scope to amend their proposals to help address our concerns. Sadly, the discussions did not result in significant progress.
We have been made aware that the OCC Highways Team has been asked to re-examine the developers' calculations on increased traffic flow.
I have asked the Team to explain the rationale of the withdrawal of the obligation to create a footpath on Fir Lane, in exchange for an internal site footpath. So far, the only explanation offered is that the developers baulked at the cost of the obligation
The matter will next be considered by the CDC Planning Committee on 10th March 2022. If, like me, you feel that the road safety issue remains as a grave concern, please do contact our local District and County Councillors to express your view.
Contact details for local councillors
---
Angharad joins the Parish Council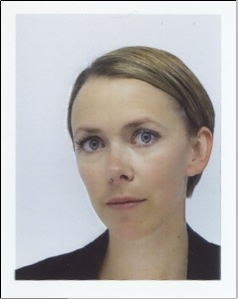 Angharad Lloyd-Jones has become our newest parish councillor. She moved into the village two years ago with her husband Justin Grainger, who is training to become an actuary in London, and their daughter Seren, now six-years old. Four weeks after they moved in, they were joined by their son Aneurin, who is now a one-year-old.
Unfortunately, soon after he was born, lockdown started. This meant that the family were not able to join in village life in the normal way. But Angharad says she met many friends and neighbours out and about in the village, and as they walked past her house.
The family had known the village for six years already as they bought their cottage in a very dilapidated state, and it took a long time to negotiate its renovation with the local authority and then for the work to be done.
Despite her very Welsh name, Angharad was born and educated in Liverpool. However, she spent most of her weekends in North Wales where her parents came from. As a proud North Walian, she has chosen to give Welsh names to both her children.
After secondary school in Liverpool, Angharad took a degree in history at Sheffield University. Her career since then has been in business development in charities and the creative industries. This included several years and Harper's BAZAAR and Esquire, and a long spell at the Royal Academy. Her last job was as Director of Business Development and Marketing at Talk.Global, part of the M & C Saatchi group.
Angharad is now looking to set up her own business as an independent consultant, as well as being the main carer for her two children. Now she no longer has to commute to London for a full-time job, she is pleased to have the opportunity to involve herself in village life as a parish councillor.
She hopes that her work experience and her involvement in women's projects in the past will allow her to bring a different perspective to the parish council. Her main interests are in the built environment, its history and architecture. She also hopes to bring her communication skills to the role, helping villagers to feel that the work of council is relevant to them. With a daughter at Dr Radcliffe's school, Angharad has the interests of young families particularly in mind.
Outside work she also has an interest in contemporary craft and design, and has a collection of contemporary ceramics. She's interested in food too, saying "I frequently find that more time than ought is spent experiencing the restaurant scene and trying (unsuccessfully) to recreate at home." But, since they arrived in the village, the family have developed a taste for takeaway pizza from the Red Lion. All in the good cause of supporting local business!
---
Council to set up Village Environment Group
Steeple Aston Parish Council is hoping to set up a new Village Environment Group next year, and is looking for volunteers to get involved. The proposal is made in response to the recent consultation by the council on climate change and other issues.
The Parish Council writes
RESPONSE TO THE VILLAGE CONSULTATION
The Parish Council would like to thank everyone who responded to the consultation questionnaire about important issues, including climate change, that the village will be facing over the next few years. Many interesting ideas were put forward, and questions raised. Issues which respondents felt were important included:
energy provision for public buildings
energy provision on new build houses
planning issues on energy efficiency in the conservation area
street lighting
20 m.p.h. speed limit
home surveys on energy efficiency & information on potential grants
wildlife and environmental surveys
EV charging points
a community orchard
alternative ways of recycling waste and other products
a car club
community events: recycling, repair, hazardous waste collection, biodiversity, guest speakers, etc.
MAKING ENVIRONMENTAL CHANGE A REALITY IN STEEPLE ASTON
Could you help make a difference to our local environment? Would you like to be involved in effecting some of the changes suggested in the Parish Council questionnaire?
The Parish Council would like to set up a Village Environment Group in 2022 to research, investigate, and implement some of the ideas suggested above. We will be holding a meeting early next year to establish the membership of the group and its aims. If you would like to be involved, or even just to express an interest, please email the Parish Clerk at parishclerk.steepleaston@gmail.com and we will keep you informed of further developments.
---
Work already started on ultrafast broadband connection
Work is already under way to provide 500 properties in Steeple and Middle Aston with ultrafast full fibre broadband, and villagers will start being connected early next year. This was the message from the Abingdon-based company Gigaclear at an online public meeting on 22nd November.
At the meeting, the company gave a detailed presentation about what's going to happen over the next few months. Though the timings aren't guaranteed they hope the work will be finished by the middle of 2022, and all villagers who want to sign up for the new service should be able to do so.
Gigaclear have already said that there will inevitably be some disturbance as they build the network, and there may be some road closures. But they will try to keep disruption to a minimum by using existing telecoms ducts and poles where possible.
They will inform the residents affected when disruption is likely to occur and suggest villagers check out the one.network website which gives details of forthcoming roadworks.
At the end of the build phase, villagers will be free to decide whether they want to be connected to the network. Installation will normally be free.
The work is being done as part of the government's scheme to get 85 per cent of the country on full fibre by 2025. At the moment we have full fibre to a cabinet in the villages, but the connection to the house is on copper wiring. The government plans to phase out copper in the long term.
Full fibre will provide a more reliable and robust internet signal with high-speed connections for both upload and download. It is designed to 'future proof' the system as more people work from home and the demands for greater capacity and speed increase. It is also likely to be bundled with phone and television services in the future.
If you decide to sign up for the service, and are successfully connected, the government will give vouchers to Gigaclear to help pay for the cost of the works. You can find out more about this on the government website .
The cost to householders of signing up for the Gigaclear service starts at £24 per month for 300Mbps. Higher speeds of up to 900 Mbps will also be available, but they'll be more expensive. The initial contract will be for 18 months, and prices look to rise steeply after that. Customers will be free to use a limited number of other providers. These are listed on the company website https://gigaclear.com/our-partners However, Gigaclear says it will have loyalty and retention schemes in place to help keep its prices competitive.
There's lots more information on the company website where you can register your interest. Questions about the scheme should be emailed to vouchers@gigaclear.com.
If you have queries about the works in your area, contact the Network Build Care team on 01865 591137 or email networkbuildcare@gigaclear.com.
---
Councillor resigns, new one co-opted, but still a vacancy to fill
From Steeple Aston Parish Council
With great regret the Parish Council has accepted the resignation of Rebecca Lewin. During her brief time with the PC, Rebecca proved a great asset, contributing many useful and insightful ideas, and for a time taking responsibility for the Speed Indicating Device. However, she now finds herself over-committed at work, at home, and with other village activities, and is therefore unable to devote sufficient time and energy to the work of the Council. We wish her well and hope that at some point in the future she might return.
On the plus side the PC are delighted to welcome Angharad Lloyd Jones as a new councillor. Angharad is a relative newcomer to the village and will bring fresh ideas and a different perspective to our discussions and activities.
There remains therefore one vacancy on the Council. We welcome interest from anyone in the village who would like to make a positive contribution to village life and help with the various responsibilities of the PC. We invite anyone interested in becoming a councillor to get in touch with the Parish Clerk for further details, and to come along to our next meeting, which will be on Monday 17th January.
---
Villagers first to volunteer to fill potholes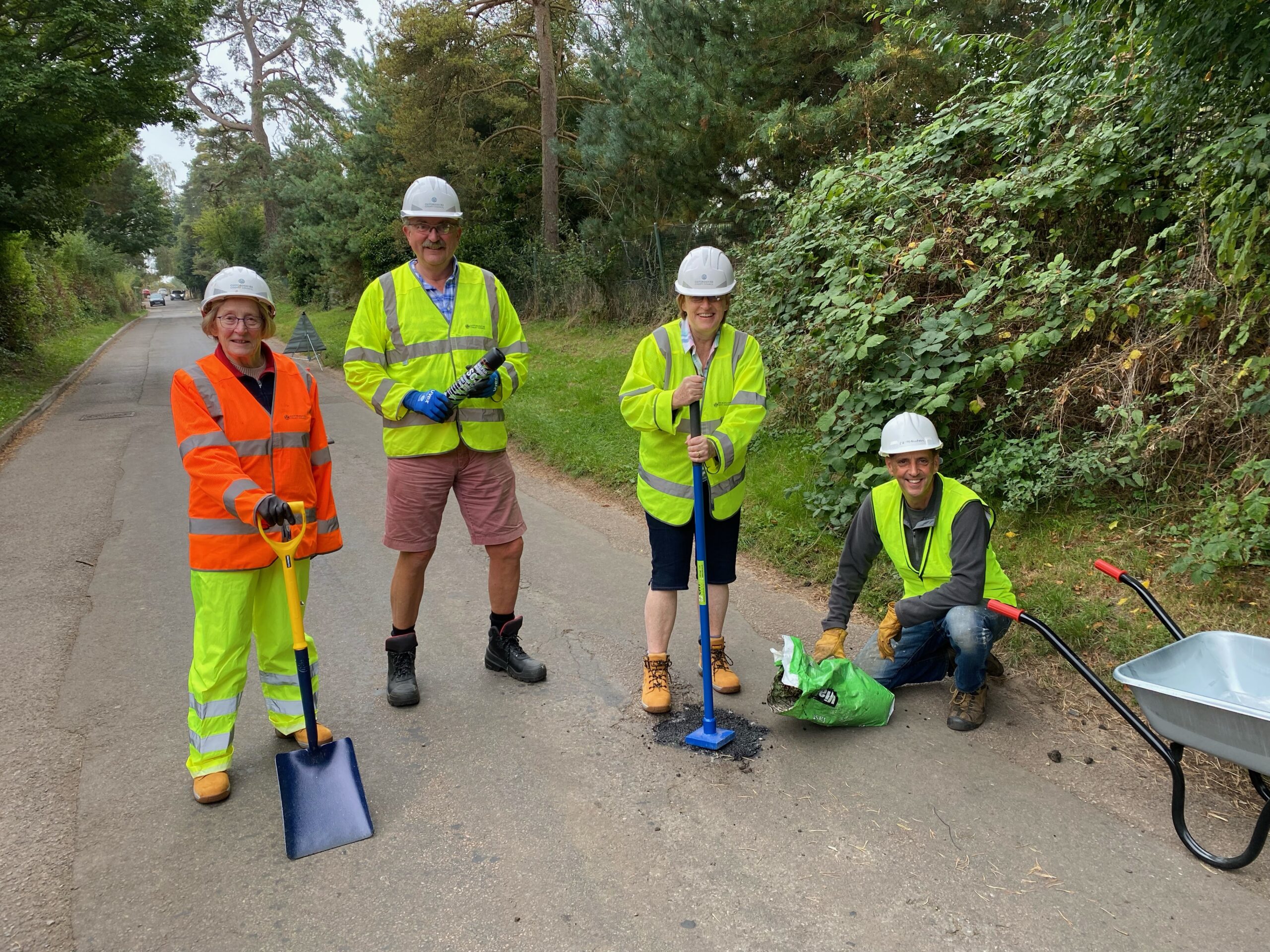 Steeple Aston's Graham Porcas is leading a group of villagers who have volunteered to fill potholes rather than wait for the local authority to do it. This trial scheme is the first in Oxfordshire.
Graham writes:
I have been a Fix My Street Super User for some years since the original scheme started and that means I have been able to get potholes and other minor road repairs actioned much more efficiently than the official system ever does. The white circles painted around holes in the village roads over the last few years are generally my doing and I am allowed to contact the local contractors directly without having to go through all the usual Oxford Highways bureaucracy. Although I am strictly limited in the type of repairs I can arrange I am generally able to get minor repairs done very quickly, always within 28 days but usually within a week of requesting a repair; on one memorable occasion they were out within two hours!
The downside is that I am strictly controlled in the size of defect I can report, nothing less than 150mm square and 40mm deep which is already quite a significant pothole, I am often asked why I don't report smaller defects and this is why, I can get away with the odd one or two below specification but once I make a habit of it then I shall be reported back to the council officials and sat on!
I have often suggested that it would be better still if we could fix such minor defects ourselves and have been trying for years to get Oxford Highways to agree, finally they have done so and we are now the first official Road Warden group in Oxfordshire, complete with council issued equipment and materials to repair minor potholes around the village.
This photo shows the volunteers hard at it on our first pothole repair in Fir Lane, no doubt the first of many as the road there is riddled with small holes and cracks. Julia Whybrew is on the shovel whilst Charlotte Bartlett does the hard work of tamping down the filler material poured out by Nigel Francis, whilst I stand by doing nothing except holding my official spray can!
It's only a trial scheme at present and we shall be closely monitored but I hope that once things settle down we can fix some of the smaller holes and other defects around the village roads and pavements which annoy so many people.
Each repair only takes a few minutes although we have to set up bollards and road signs to comply with road safety requirements, from our initial experience it seems that setting up the signs takes longer than actually carrying out the repairs! So if you see us out and about around the village please give us a little consideration if we have to hold you up whilst we fill a hole in the middle of the road, I promise we shall be as quick as we can.
It will take us some time to get round the village but if you know of a pothole you think we have left out you can contact the Parish Clerk Cathy Fleet on 01869 347000 and email her at parishclerk.steepleaston@gmail.com Or you can still report them through the Fix My Street website for official action although I guarantee it will take longer to be fixed that way, if it happens at all.
---