Plans for Old Poultry Farm raise traffic concerns
Steeple Aston Parish Council and Middle Aston villagers are considering how to respond to a planning application for a new business park to replace the chicken sheds on the road between Steeple and Middle Aston.
The 29 units proposed at Hatch End Old Poultry Farm could be used for offices, research and development or industrial activities. The application includes provision for parking for nearly 100 cars and 50 bicycles.
Steeple Aston councillors had seen some outline plans at their meeting last September and were initially supportive. They can still see advantages to the proposals as can villagers in Middle Aston. The site is an eyesore. The current chicken sheds are collapsing and can't be let. Only 15 people work on the site. A new development could bring jobs as well as greater use of the shop, the pub and the bus.
The site is in Middle Aston, which doesn't have a parish council. Edward Dowler is the Chair of Middle Aston Parish Meeting. Because of the lockdown, he's had to canvass the views of villagers by email.
He said that that the increase in traffic is the number one concern for villagers. The same is true in Steeple Aston. Initially there will be heavy construction traffic needing to travel to the site either via Southside and Paines Hill in Steeple Aston or via Middle Aston. Then the daily arrival of at least 100 employees' cars and 50 bicycles in addition to clients visiting the site and deliveries would lead to an enormous increase in traffic. The proximity of Dr Radcliffe's School, where there have already been worries about road safety for children, is of particular concern.
The parish council discussed ways in which the traffic impact could be reduced. Edward Dowler believes the traffic information included in the planning application is incorrect, and has spoken directly to the developer Charles Sandy of Middle Aston Limited about traffic mitigation measures, not just during construction but also for the long term. He wondered for example whether traffic could be limited during school pick up and drop off times, or whether perhaps employees could travel to the site by minibus. The Parish Council also want to speak to the owners and get more detail about what's intended.
In addition, there is also concern in both villages about the appearance of the site, and whether it will be in keeping with its rural environment. The plans show buildings that are 50 per cent higher than the current ones and look quite urban. Some thought that judicious tree planting could help.
Both Steeple and Middle Aston have asked for an extension to the time allowed for comments. This has been granted and their comments now have to be in on 20th June. SAPC will discuss it again at its next meeting on Monday, 15th June. Members of the public are welcome to join the council meeting which starts at 7.30pm. Contact the Parish Clerk, Cathy Fleet on 01869 347000/07989 398838 or email parishclerk.steepleaston@gmail.com for a Zoom invitation.
Originally the application was to be considered only by officials, but now it has been decided to bring it before the CDC Planning Committee. A decision is scheduled for 6th August. You can view the application, and comment on it if you want to, on the Cherwell District Council website ref: 20/01127/F.
---
Village celebrates VE Day in lockdown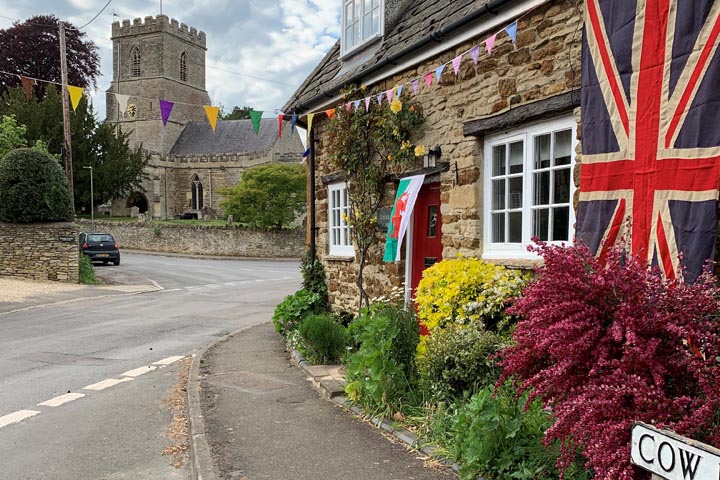 Hope you enjoyed celebrating VE Day despite the restrictions. The Union Jack in this picture belonged to Vaughan Billings' parents and was flown on VE Day in 1945. There are lots more VE Day pictures in the Photo Gallery. Thanks to Merrill Bayley for her contributions. If you have any more photos you'd like to share please send them to editor@steepleaston.org.uk.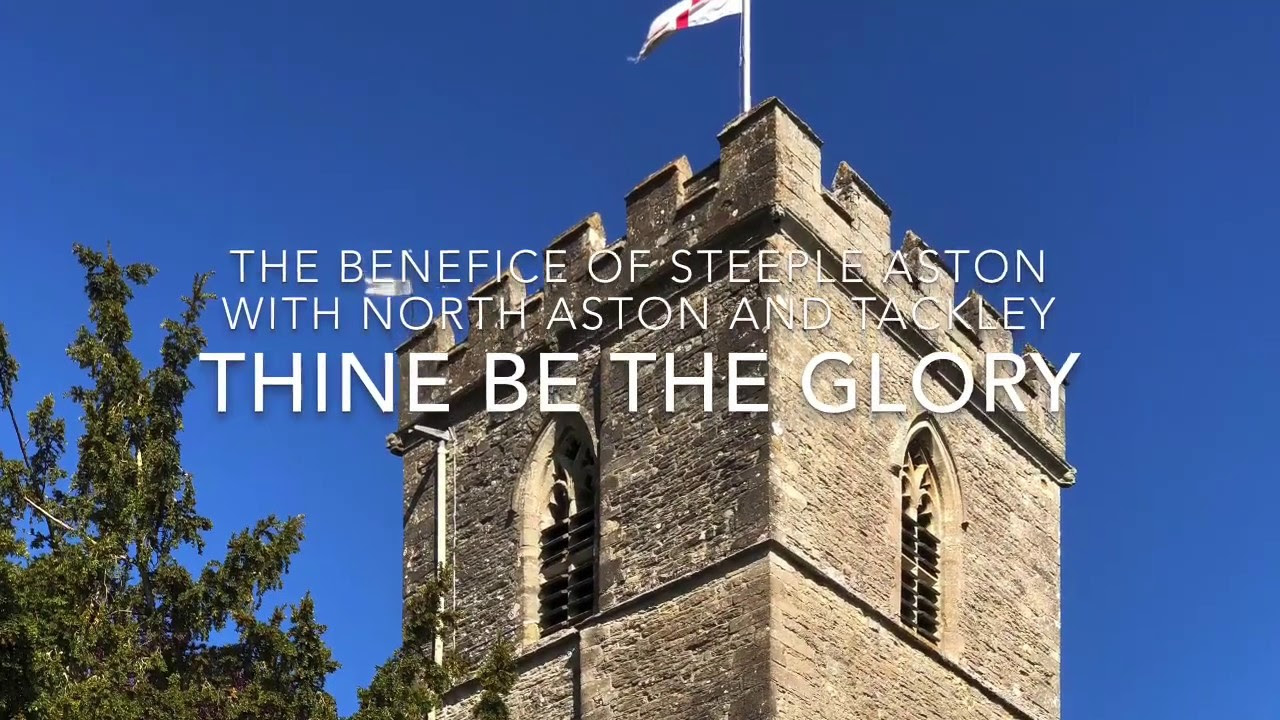 The Rector, Rev Marcus Green reports on a new way of celebrating. He writes: "Singers and musicians from Steeple Church, along with Tackley and North Aston, have recorded a version of the Easter hymn 'Thine Be The Glory' in isolation!
"As a celebration of our community and our faith this VE 75 weekend, and really feeling the pinch that we couldn't come together in person, we all recorded our parts in our own homes – and then became a congregation again by the wonders of technology! The result is something we hope will bring some joy to everyone. It is included in the special VE 75
Worship at Home
service which will be on the church's homepage,
www.sntchurch.com
, on Sunday."
You can have a sneak peak here
---
Mobile virus testing sites open locally
The JR Hospital Bulletin reports that as part of the Government's new testing programme, three new Government run mobile testing sites have opened in Oxfordshire. They offer testing for key workers and for the over-65s who believe they may be displaying COVID-19 symptoms.
They are located in the car park of Cherwell District Council's offices at Bodicote House;in the car park of Bicester Village; and in New Street car park in Chipping Norton. The facility at Bodicote House came into operation on 1 May and council staff worked closely with Ministry of Defence staff to ensure the set-up of the site ran smoothly.
These sites are in addition to the regional site at Thornhill park and ride and the NHS staff run testing sites at the Churchill and John Radcliffe Hospitals.
If you think you might have coronavirus, do not go to places like a GP surgery, pharmacy or hospital. Stay at home. Go to https://111.nhs.uk/ to find out what to do if you have symptoms and follow the advice here which will be updated regularly https://www.nhs.uk/conditions/coronavirus-covid-19/
---

Parish Council supports Beeches development again
Steeple Aston Parish Council has once again decided by a majority to support the application by owner Adrian Shooter to build up to eight houses at The Beeches in Steeple Aston, despite a conflict with the Mid-Cherwell Neighbourhood Plan.
The Plan states that there are houses, mostly on the edge of the village where it would be inappropriate for large gardens to be developed because such sites are characterised as 'backland' never intended to be covered with houses. The developers at The Beeches are arguing that the MCNP view is not relevant to their planning approval.
The majority of the Councillors are not against the Beeches development seeing it as an acceptable way to help meet our limit of new homes by 2030. But they recognise the importance of not undermining the MCNP as it is a vital element in our arsenal to prevent unsuitable developments
This is the third time that Mr Shooter has applied to Cherwell District Council to develop the site. His first application was withdrawn following objections from Steeple Aston Parish Council and several others. A modified plan was submitted which took into account some of these objections. This time, the parish council decided by a majority not to object to the revised plans. However, the Mid-Cherwell Neighbourhood Plan Forum still had several objections and said the plan should be refused.
The plan was rejected by Cherwell District Council. The district council give two reasons for the refusal, both on the basis that the proposals are contrary to the Cherwell Local Plan and government guidance contained in the National Planning Policy Framework. The council's case officer who recommended the refusal judged that "the proposals represent an inappropriate form of development beyond the built-up limits of the village, for which no essential or identified need has been demonstrated."
This latest third application is exactly the same as the second one, but with the addition of a lengthy legal counsel's opinion. The lawyer Peter Goatley looks in detail at the case and makes the point that the refusal of permission last time was delegated to a planning officer and never considered by the council's Planning Committee.
He argues that the officer made an incorrect decision and that the relevant development plan policies, Council guidance and strategies have been misinterpreted and misapplied.
He concludes that "there would be a sound prospect for members of the planning committee, properly informed, to reach a different view to that expressed in the officer's delegated report … Clearly, if that approach is not successful then Mr Shooter will have little option but to appeal."
The target decision date for the application is 1st June, and you can see the plan and supporting documents and comments on the Cherwell District website planning register.
---
Planners say no to Great Wolf, but yes to Southside development
Cherwell District Council's Planning Committee has made decisions on two important applications for the local area. Steeple Aston Parish Councillor Martin Lipson, who is also Chair of the Mid-Cherwell Neighbourhood Plan Forum, was at the meeting. Here is his report.
"The application from American company Great Wolf to turn Chesterton into a Centreparcs-style theme park was unanimously rejected by Cherwell's Planning Committee on 12th March. About 60 local people turned up to oppose the application, and various district councillors spoke strongly against the scheme. No one spoke in favour of it, and the representatives of the applicants sat stony-faced listening to their plans being rubbished. It will be a while before we hear whether they are going to appeal against the refusal.
"Later in the meeting, Rectory Homes' scheme for 10 dwellings in Steeple Aston was approved by 10 votes to 4, with one abstention – against the recommendation of their officers.
"The vote took place after the planning officer had explained that the main reason for recommending refusal was the capacity of the site to take more houses, thereby triggering the requirement for four of them to be "affordable homes". This despite the fact that Rectory had volunteered to make two of the houses "shared ownership", which means they would in effect be affordable homes.
"The views of Steeple Aston Parish Council and Mid-Cherwell Neighbourhood Plan Forum were presented to the Committee by Martin Lipson, who said that the village had led the way in recent years in providing two rural exception sites for affordable housing (Shepherds Hill and Coneygar Fields), and that the officers' view that the scheme should be refused was paradoxical, as without the support of SAPC and MCNPF the Committee would not be considering a scheme of any kind.
"Mike Kerford-Byrnes, our local Cherwell councillor, proposed a motion of approval. The Leader of the Council – Barry Wood – felt that Steeple Aston had done its bit. He said "Steeple Aston has championed rural exception sites and affordable homes, and was a classic and leading example that others should follow". He thought that rural areas need not have the housing density that might be required elsewhere, and praised Rectory Homes for volunteering to have two affordable homes in their scheme.
"Approval will bring with it a Section 106 agreement requiring the applicants to fund a number of community benefits to the parish, the details of which will be discussed with the Parish Council."
---

No increase in Parish Council charge for this year
Steeple Aston Parish Council has managed to hold its part of the council tax bill, known as the precept, to the same level as last year. There will be no increase in the charge for the year 2020/21.
On behalf of the Parish Council, Stuart Ferguson explains how the Steeple Aston element of the council tax bill is spent:
"At about this time for each of the past few years, the Parish Council has published a commentary on the Parish 'precept' or element of the overall council tax bill. The good news for 2020/21 is that the Parish Council has managed to avoid any increase whatsoever over the charge levied in 2019/20. Despite ever rising costs, this 0% change has been achieved through a rigorous analysis of all our necessary expenditures.
"Precepts vary between villages depending upon what has to be paid for in a given year. In general, the precept levied for a relatively urban area will be larger than for villages, a reflection of the greater responsibilities of those areas. The Steeple Aston precept is not one of the smallest, but we do have more facilities to maintain than many villages. At one extreme, for example, Middle Aston has no facilities and thus no expenditure or precept. (I understand that Middle Aston has a Millennium Fund, fed by voluntary contributions, which were also used to purchase their defibrillator. In Steeple Aston the defibrillator, now attached to the Sport and Rec building, was purchased using Parish Council Funds).
"Prominent amongst the responsibilities of the Steeple Aston PC are the Playground and Village Hall. The playground was established after very successful fund raising campaigns led by Richard Preston. The first section opened in 1994 (cost c£80K), the teenage area including the MUGA followed in 2009 (cost c£100K). Everyone knows that it is almost impossible to acquire funding for ongoing running costs. So costs of repairs, general maintenance, tidying, ROSPA reports etc are borne by the Parish Council. As the years go by, replacement fencing and equipment will be needed, quite probably at short notice, so the PC needs reserves to meet such immediate needs. The layout of the playground is such that it cannot be 'locked up' and thus the option of leaving time-expired/broken equipment behind a secure gate and fence does not exist. When the playground was first opened there was an army of volunteers which enabled regular Saturday maintenance/cleaning/tidying work to be done. Now we are reliant on paying for these things, except that the village is very fortunate in having one councilor who possesses the skills (and equipment) to do many repair jobs on a voluntary basis. There have been a few comments recently about how many of the notices are looking grimy. Fair point, but there have not been volunteers to do weekly cleaning and so now pressure washing of the MUGA area is needed. When the current crisis is over the PC intends to do this work but quotes suggest that there may not be much change out of a four figure sum.
"Many in the parish pleaded that the PC installed a toilet at the playground and that was done. Requests that Cherwell DC contribute to that, and ongoing costs, were rebuffed. So we pay for daily cleaning, consumables and repairs, some of which are necessary as a result of anti-social behavior. All of this costs money.
"There are the Village Hall and Sport and Recreation buildings to maintain. The respective management committees do a great job in acquiring funds for some improvements, most recently to the kitchen in the Village Hall, but other things, for example exterior decoration, come out of PC funds. The heavily requested exterior lighting is another example of relatively recent expenditure. Salutary was the cost of extensive repairs to the Village Hall roof in 2000. In the end, under the auspices of the then chair, Margaret Mason, we obtained a Lottery grant of 65K and the PC would have made an additional contribution. The anticipated life time of the new roof was said at the time to be c75 years. The original had lasted longer but it may have been luck that it had not started leaking. Repairs were expensive as it is in the Conservation Area and thus replacement tiles had to be essentially identical to the old tiles; use of new materials would have been cheaper no doubt, but not allowed. The Parish Council is being responsible in maintaining reserves with a view to expensive repairs and mindful that time flies. 55 years to go and no guarantee that there will in future be grants, or possibility of cheap loans, so it is prudent to put money aside.
"The foregoing illustrates some (not all) of the expenditures we have to meet. Let me finish by thanking our Clerk, Cathy Fleet. During my time (over 20 years? – nobody seems to remember!) on the Parish Council, the work of the Clerk, and associated things like auditing, have increased substantially. The clerk is paid in accordance with nationally agreed pay rates which in my view are not over-generous. In summary I believe that the PC is providing facilities that the villagers as a whole want. Yes, more could be done such as cleaning out bus shelters and general tidying around the village, but it would have to be paid for. My judgement is that we have things about right. I hope you agree; certainly over the years that has been the view of the village."
---
CDC says bonfire smoke is a threat to health
Cherwell District Council has asked people not to start bonfires during the current lockdown. The council has issued the following Important notice entitled COVID-19:
With the current Coronavirus pandemic many people are in their homes and cannot escape the smell of smoke if a neighbour chooses to have a bonfire. People must consider the health of others during these unique times. Coronavirus is a respiratory disease and people's breathing could be worsened due to smoke inhalation.
We appreciate that the waste recycling facilities are closed so we would strongly urge that appropriate garden waste is either composted where able/practical or disposed of using the brown bins provided. Any surplus waste is then stored for either the next brown bin collection or for when the waste recycling centres are back open.
Whilst there are no smoke control areas in this district and there are no laws against having occasional bonfires we are asking if people could also support their neighbours by not lighting bonfires while the pandemic continues. Smoke can pose a risk to people's health, so avoiding fires will reduce the chance of people having their airways affected and avoid further burden on the NHS.
We have powers to deal with smoke nuisance from any bonfire and for dark smoke offences on commercial and industrial premises.
There are no smoke control areas in this district and there are no laws against having bonfires. However it is an offence for the smoke, or the smell of the smoke, to cause a nuisance. Smoke from garden bonfires in a residential area can seriously affect the residential amenity and enjoyment of other premises.
For a bonfire to be a legal nuisance we would consider the following:
How much smoke is being created and does it affect nearby properties?
What is being burnt? – the type of material being burned affects how much smoke is being produced/ how noxious the fumes from the smoke are
How often do the bonfires occur? A single bonfire is unlikely to be a nuisance even though it may cause annoyance to one or more neighbours.
We ask that residents compost or recycle the material, however if there is no alternative to having a bonfire then the burning should be carried out when the weather conditions are suitable.
---
Parish Council Update
Last week we posted notices round the village, on the website, and on Facebook, asking people to get in touch if they needed help, or if they knew of people who needed help. We have had some response to this; and we have identified other people in the village who are vulnerable and need assistance either with shopping or meals. We realise that there may be more people who we don't know about; and there will certainly be more who need help in the coming weeks as people go into self-isolation.
We also have a list of people who have generously offered their services as volunteers to help in whatever way they can. We are sure we will need more volunteers as more people start to require help.
If you are able to volunteer in any way at all, please get in touch with:
Cathy Fleet at parishclerk.steepleaston@gmail.com or on 01869 347000 or 0798 939 8838.
If you need help with shopping or picking up medication, or you know someone who does, please get in touch with Richard MacAndrew at richardmacandrew.steepleaston@gmail.com or on 01869 347209.
If you know someone in an 'at risk' group, who would benefit from the new food delivery service, please get in touch with Charlotte Bartlett at charlottebartlett.steepleaston@gmail.com or on 01869 347347.
Tell us if you need help! Tell us if you can help!
---
Messages from Deddington Health Centre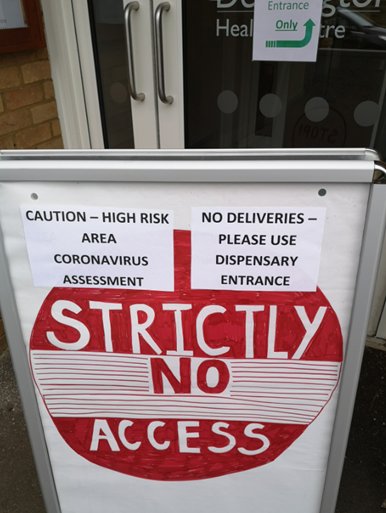 Due to the Coronavirus pandemic, there are likely to be a number of changes to how you access care over the next days and weeks. Now all same-day appointments will start with a telephone call. We are aiming to see as few patients face to face as possible to protect vulnerable patients and our staff. Rest assured we will do our very best to provide a high level service as usual. It will just be different for a while. Do not attend or call the surgery if you have a new cough or fever. Follow the advice here which will be updated regularly
https://www.nhs.uk/conditions/coronavirus-covid-19/
For the protection of our patients and staff we have divided our surgery into two zones. The main entrance is now out of bounds. Do not enter via this entrance. You will see the sign shown in the picture – please do not ignore it.
If you have an appointment or you are picking up a prescription, please go to the Dispensary entrance at the far end of the car park.
Thank you for helping us to keep our patients and staff safe.
---
Thanks to S&J for food deliveries in the village
S&J Cuisine have already stepped in at very short notice to help the Parish Council make sure the over 70s, vulnerable and self-isolating have meals delivered to their door during this uncertain time. Nearly 50 people are so far having three meals delivered to them every Wednesday and our warm and sincere thanks go to them for that.
If anyone else in this over-70s, vulnerable and self-isolating group would like more details about the scheme or to sign up, please contact Charlotte Bartlett on 01869 347347.
For anyone else not in this group but who would also like meals delivered in this lockdown period, S&J are happy to deliver to them also. 3 meals (main and pudding) delivered to the door for £15. Contact Jasmin on 07801 975210.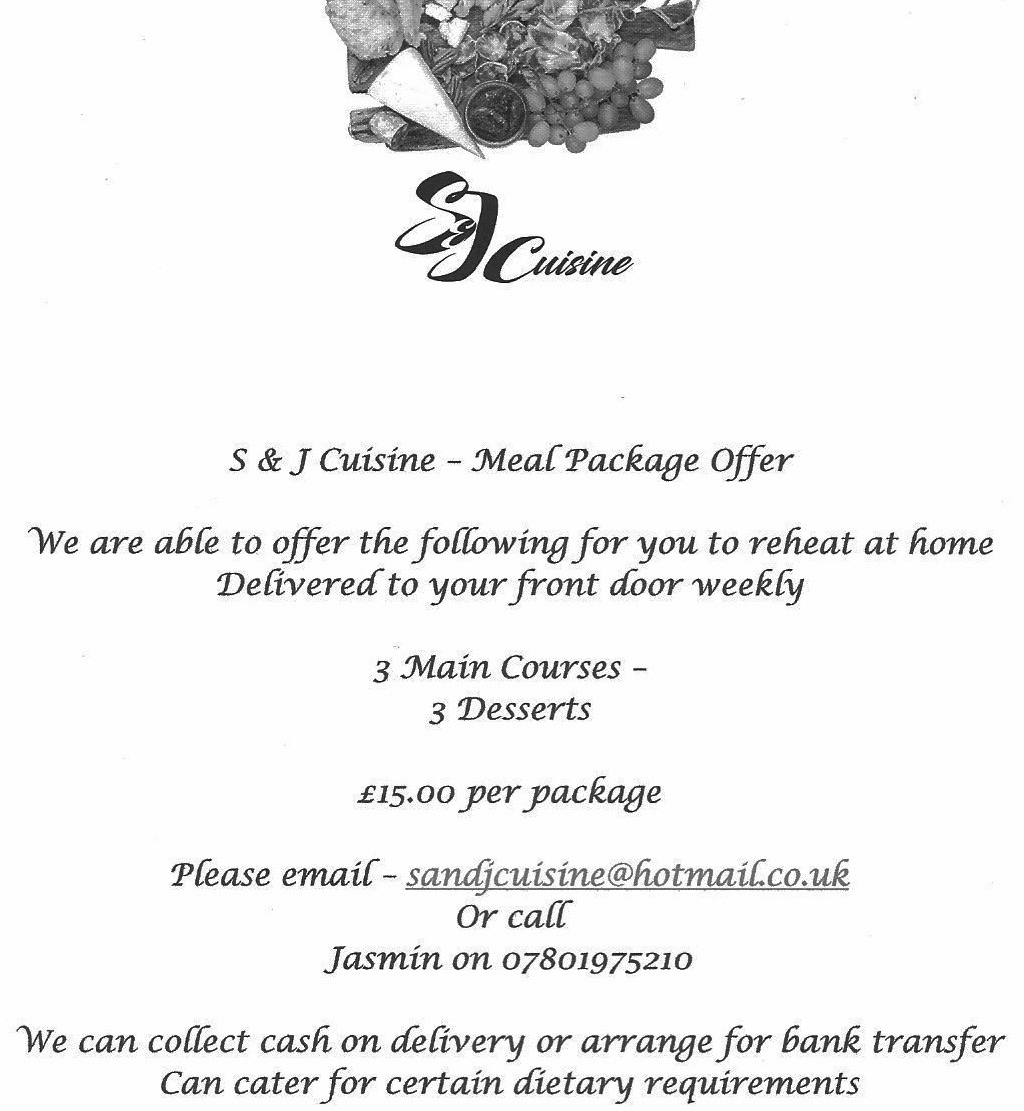 An Easter Message from the Rector
Rector Marcus Green writes:
Happy Easter! While the church building remains closed, I have put a short (under 15 minute) Easter Sunday service available on our website for everyone in the three villages of our Benefice. Either go to
www.sntchurch.com
or straight to
https://youtu.be/TvuflxUBbWU
In the Easter story, angels appeared to frightened disciples, telling them not to be afraid – Jesus wasn't locked in an empty tomb, but alive and risen, and with them wherever they went. God isn't locked in empty buildings today either, however special they are. God is with us wherever we are, hearing our prayers, and very clearly seen and felt in the love and care and friendship that is so precious in these days.
We can't gather together – but we can still celebrate. So let's do it! Happy Easter!
---
Temporary closure of Village Shop and Post Office
Sadly the Village Shop and Post Office have closed temporarily. The Parish Council has put measures in place to support those who will be affected by the closure. See below.
SHOP CLOSURE – A PARISH COUNCIL PERSPECTIVE
First we would like to thank Raj and Pari for keeping the shop open for as long as they have done in very difficult circumstances. They are well aware of how important the shop is to the village and have been doing their very best for us. To close it was an extremely difficult decision and not taken lightly.
The main and overriding reason for this temporary closure is that the shop is not a 'safe' place for anyone in terms of social distancing. Raj and Pari have tried all sorts of measures to make it work: having the till at the back of the shop, having a screen by the main till, card-only payments. But, the shop is very small and it is virtually impossible to keep 2 metres away from anyone else. They felt that this was compromising not only their health and that of the members of their families who work there, but also the health of their customers.
We appreciate that this move might cause stress to the vulnerable and the elderly. However, under current guidelines the vulnerable and the elderly should not be going out at all, let alone to the village shop. The Parish Council were aware from the outset that this particular group of people would need a lot of support during this crisis. That's why three weeks ago we put out a village-wide appeal for volunteers, and a request for those who needed help to let us know.
There has been an amazing response to the appeal. Over 50 people have already volunteered to help, and many of them are already running errands, shopping, and picking up medication for those people who are unable to leave their homes. The closure of the shop will obviously increase the workload on these people. We are hoping that 50 plus will be enough. But, if there are any more people who would like to volunteer, please get in touch. Similarly, if you are having difficulty, or you know of anyone who is, do let us know. We are here to help.
We are also aware that many people used the shop as a pick-up point for their prescriptions. We have been in touch with Deddington Health Centre about this. While the shop is closed, the Parish Council will arrange for your prescription to be delivered to your door. If you have any concerns or questions about this, please contact Anna Thatcher on 01869 340672 or 0797 156 1493 or annawhybrew35@hotmail.co.uk. This service will commence from this week: Thursday 9th April.
While we appreciate that the closure of the shop is of great concern, we are also mindful of the position that Raj and Pari find themselves in. It has been a difficult decision for them to make, but the Parish Council are supportive of that decision as being the right one, and the most responsible one in the circumstances. We trust that you will understand, and support them too; and we hope to see them back in Harris' Stores as soon as they feel able.
Steeple Aston Parish Council
---
Getting your prescriptions from Deddington Health Centre
If you usually collect your repeat prescription at the shop …
While the Post Office is closed, the Parish Council will arrange for a volunteer to deliver your prescription to your door. This is what you need to do:
Place your order in the usual way with Deddington Health Centre before midday on Monday. It is best if you can do this online. If you can't, leave your message on the Repeat Prescription phone line between 10 a.m. and 3 p.m. The number is 01869 338847.
Your prescription will be delivered to you on Thursday or Friday. If you have any concerns or questions about this, please contact Anna Thatcher on 01869 340672 or 0797 156 1493 or annawhybrew35@hotmail.co.uk.
If you usually collect your repeat prescription at Deddington Health Centre …
You can still do this; but, if you are self-isolating or not wanting to leave your home, the Parish Council can arrange for a volunteer to do it for you. This is what you need to do:
Place your order in the usual way with Deddington Health Centre before midday on Monday. It is best if you can do this online. If you can't, leave your message on the Repeat Prescription phone line between 10 and 3. The number is 01869 338847.
At the same time tell Katie or Mitch that you would like your prescription collected. Make sure you give them your name and address and a contact telephone phone number. Call them on 0781 276 8690 or email katiecrawshay@hotmail.co.uk.
They will collect your prescription on Friday, and deliver it to you on Friday or Saturday.
If you have a new or urgent prescription to collect from Deddington …
You can still collect this yourself. But if you cannot leave the house for any reason, call Richard MacAndrew on 01869 347209 or email richardmacandrew.steepleaston@gmail.com and we will arrange for a volunteer to collect it for you.
Steeple Aston Parish Council
---
Police warning after arrest for burglaries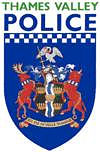 The police have warned villagers to be on alert after a series of burglaries and attempted break-ins resulted in the arrest of one man. Bur others are suspected of being involved.
Message from Thames Valley Police
Following a series of burglary offences in the Steeple Aston Area, detectives from our Priority Crime Team and uniformed officers from ICR Team 3 have arrested a 21yr old man on suspicion of burglary. That man has been released on bail whilst enquiries into a large amount of recovered property continues.
"Sadly some criminals will seek to take advantage of the current situation to commit crime, rest assured though that as busy as we may be protecting our community from the risk of COVID-19, we will always make time for the those who think they can commit burglary on our area.
"Please ensure that you are keeping garages and external outbuildings locked and secure, garden side gates bolted and make sure the doors and windows of your home are secure; even when you're indoors.
"Report any suspicious activity and we will always endeavour to respond quickly."
There have been several reports of burglary or attempted burglary starting on 29th March and continuing after the arrest. So more people may be involved. If you have any information including CCTV call 101 ref 43200100951.
Call 101 for anything suspicious, 999 if a crime is in progress.
---
Playground and church closed.
The village playground and the church are closed following the Prime Minister's announcement on Monday, 23rd March.
A message from the Parish Council said: "As a result of the Government announcement last night, the Parish Council have had to take the decision to close the playground and toilet in the interests of Health & Safety and to comply with instructions. No safety checks on the playground equipment will be carried out until the playground is able to be re-opened."
Steeple Aston church is now closed as well. The Rector, Rev Marcus Green said: "We received notification from the Bishop last night following the PM's broadcast. We have sadly closed all three of our buildings for the time being, but will be updating our Worship At Home video every weekend …..and also I am sending out three or four emails ("Rector's Ramblings") a week, and anyone who would like to be included on that list has only to ask me at steeplerector@hotmail.co.uk"
---

STEEPLE ASTON COMMUNITY EMERGENCY PLAN
We all know that we have Emergency Services who deal with most types of emergency, but a major incident may occur in our village when they could not reach us quickly (such as deep snow or a major incident elsewhere).
This means the Community needs an up to date plan to provide effective, immediate support to those involved in an emergency, including any who have been injured or displaced, as well as to support the Emergency Services when they do arrive.
As part of the Parish Council's Emergency Plan we need to keep an up to date list of expertise and resources within the village.
Please let the Parish Council know if you have any of the following skills:-
Paramedic / Doctor
Nurse, Retired Nurse / Midwife
Trained First Aider
Pharmacist/ Chemist
Radio Amateur
Electrician
Computer technician
Builder
Engineer
Vet
Farmer
Or if you have any of the following resources:-
Generator
Radios, walkie talkies
4 x 4 vehicle
Tractor and trailer
Van
Lifting Equipment
Minibus
Gas stoves/catering equipment
Chainsaw
Surface water pump
Wet Vac
Old-fashioned plug in telephone
PLEASE CONTACT: Cathy Fleet on parishclerk.steepleaston@gmail.com or 01869 347000 if you have any of these skills, resources or anything else you think would be useful in an emergency.
---
S4 bus has reduced timetable and OurBus Bartons Suspends Service
Following government advice to limit journeys, Stagecoach has announced a reduced bus timetable from Monday, 23rd March.
The S4 through Steeple Aston to Oxford and Banbury will run every 90 minutes. Download the new timetable here- and get more information and revised timetables for other bus services from their website. https://www.stagecoachbus.com/
And a message from Barton Buses:
"We are very sorry but in support of government policies to manage the Coronavirus pandemic, and the interests and safety of our passengers and drivers, we are cancelling all OurBus Services from the end of day on Friday March 20th until further notice
We recognise that for many of our passengers this may cause you difficulties in accessing shops and services; however a number of support mechanisms are being put in place by Parish Councils and other local community organisations."
---

Church services on hold – a message from the Rector
The archbishops have called on all Church of England parishes to pause public worship for a season during the COVID-19 infection, and so for the time being there will be no Sunday services. Full info from the Church of England can be found by clicking here.
So what do we do in Steeple Aston? Well, the church building will remain open daily for private prayer or reflection or for folk to come and find space for faith, hope and love.
I will be posting a short video resource, 'Worship at Home', every Sunday on the homepage of our church website, www.sntchurch.com . This is available for anybody who would like 15 minutes to pray, listen, seek God and feel connected to the community of faith in this place.
In addition, because community matters, I am sending out regular emails to everyone on our benefice email list. These have offers of help from across our three churches, a little news of others, and some encouragement and hope along the way. If anyone who isn't currently on that list would like to be – please let me know at steeplerector@hotmail.co.uk and I will gladly add you in. I am also (of course) available on the usual phone number, 340903.
And most of all, the church is here to care. The Church of England, as Archbishop Justin has said this week, is the church for England. We are here to serve everyone and anyone in any way needed. Sunday services may not be happening right now, but the church is far more than a weekly gathering on a Sunday morning. I hope I speak not only for myself but for the churchwardens, the PCC and every member of Steeple Aston Church when I say that (like everyone else) we don't really know how to respond to these days; except we promise to try and help the person next to us that needs help, and to receive the help given to us when we need it.
Revd Marcus Green, Rector
---
Information for those who have to self-isolate
Who to contact if you need help and advice
Parish Council – contact the Parish Clerk Cathy Fleet parishclerk.steepleaston@gmail.com or on 01869 347000 or 0798 939 8838
Volunteer Driver Service https://www.canosn.org.uk/covid-19-cherwell-local-response
Age UK free telephone support service https://www.ageuk.org.uk/oxfordshire/about-us/…/coronavirus/ or 01865 411 288
Citizens Advice https://www.citizensadvice.org.uk/health/coronavirus-what-it-means-for-you/
Turn2us, charity offering financial help and benefits advice https://www.turn2us.org.uk/
Local volunteers to contact if you need help
The Parish Council has a list of 54 volunteers, and they're actively managing support for those in need on aa daily basis. For more information contact the Parish Clerk, Cathy Fleet on 01869 347000/07989 398838. or email parishclerk.steepleaston@gmail.com
The following people volunteered directly to the website.
Gareth John garethdjohn@live.co.uk 07960131327
Amanda 07793 553150 and Paul Rodgers 07785 502605
Anna Thatcher 07971 561493
Elaine Kelly elainem.kelly@btinternet.com 01869 340449 (evenings & weekends)
Carl Tomlinson carltomlinson1967@gmail.com 07796 698664
Shirley Palmer s.e.palmer@btinternet.com 01869 347049
Local suppliers who will deliver to Steeple and Middle Aston
Of course our local village shop and Post Office stock a wide variety of goods, but if you want a delivery to your door, you could try these suppliers
North Aston Dairy for milk, meat http://northastondairy.blogspot.com/
North Aston Organics for veg http://www.northastonorganics.co.uk/
Forge House Bakery for bread https://forgehousebakery.com/
Eagles Fine Food in Deddington https://eaglesfinefood.co.uk/ free delivery on orders over £30
Milk and More https://www.milkandmore.co.uk/
Pete Goss Butchers https://www.petergossbutchers.co.uk/ free local delivery on orders over £10
Jericho Coffee Traders www.jct.coffee/ , freshly ground or whole coffee beans delivery
Get a 10% discount by using code HOMEBREWING2020 at checkout
Smiths Newsagents for daily newspaper deliveries http://www.smithsnewsagents.co.uk/,
---
Takeaway food
Several local pubs are offering takeaway food during the lockdown. So if you're getting fed up with cooking every night, give then a try. Feed is usually for collection although The Cinnamon Stick in MiddleBarton does do some deliveries for those who are vulnerable and self-isolating.
First of all our own Red Lion in Steeple Aston is offering a takeaway service from Tuesday to Saturday evenings. Pizza is available every night plus fish and chips on Tuesday, chicken wings and burgers on the other days. Drinks also available. The pizza menu is on their website. Place your order on the telephone from 5.00pm 01869 340225.
The White Horse at Duns Tew posts a new takeaway menu on their website every evening at 6.00pm. It also does Sunday lunch.
The Crown Inn at Church Enstone is doing takeaways on Thursday, Friday and Saturday evenings and Sunday lunchtime. Details on their Facebook page.
The Cinnamon Stick at Middle Barton is open for takeaway collection every evening between 6.00 and 9.00pm. Deliveries are available for the vulnerable and those who are self-isolating. Details, menus etc on their website.
---
Ideas for keeping cheerful and busy at home – with and without kids
Sustainable Steeple offers crafting kits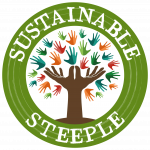 With many of us now stuck at home (working or not) and the likelihood of imminent school closures, finding fun things to occupy us will be increasingly important! We're in the process of putting together crafting kits for anyone (young or old) who would like to tap into their creative side over the coming weeks.
All of the kits will be made up of things donated to us as part of our ongoing campaign to recycle & reuse rather than throw things away.
Initial kits will be:
Card Making – including card blanks, colourful paper & card, various sticky card toppers/stickers/buttons and a sheet with some ideas
Collage Pictures – painted wood off-cuts with a variety of colourful papers and a sheet with some ideas.
Kits will be available from Saturday, 21st March and can either be picked up from the porch of Windyridge on Paines Hill or, if you aren't able to get out, delivered to you and left on your doorstep.
Any questions or ideas for other projects, please contact Amanda on 07793 553150 or amanda@sustainablesteeple.com
More Arts & Crafts
Based just down the road, literally, The Arty Crafty Place are putting together lots of ideas for creative block printing projects to keep us busy whilst we're 'social distancing'. A great way to keep the kids entertained – and indeed, for a bit of creative release from all the gloom for the rest of us!
Watching and listening
For anyone with young(ish) children looking to keep them entertained whilst we're more confined than normal, you can stream this West End production of
The Wind in the Willows
for free!
It is parents' responsibility to ensure their child's safety online whilst accessing these resources
Education Resources for Younger Kids
Primary school teacher, Josh Massey, has written a story to help young children (and adults!) who are scared by the current situation. You can download and read it here
https://www.oxfordowl.co.uk/for-home/ Free reading resources for preschool and primary children
https://www.twinkl.co.uk/resources/parents Worksheets and resources for primary age
http://www.primaryresources.co.uk Worksheets and resources for primary age
https://schoolhistory.co.uk/resources/type/free/ History resources for Secondary pupils
https://www.ks3maths.co.uk/worksheets.htm Maths work sheets for years 7-9
https://www.khanacademy.org free activities and worksheets for all ages
https://www.bbc.co.uk/cbeebies Activities and resources for preschool children
https://www.bbc.co.uk/cbeebies/radio Listening activities for younger children
https://listeningadventures.carnegiehall.org online activity about instruments of the orchestra
https://www.bbc.co.uk/bitesize activities and revision for all ages
https://www.natgeokids.com/uk/teacher-category/primary-resources/ activities and ideas for primary age children
http://www.primaryhomeworkhelp.co.uk/index.html resources grouped in topics for primary age
https://www.duolingo.com learn languages for free online or on an app
https://www.topmarks.co.uk subject based resources for primary children
https://www.prodigygame.com US grades, but good for primary age
https://www.nasa.gov/kidsclub/index.html activities for primary age
GCSEs, A Levels and University
https://revisionworld.com/gcse-revision GCSE revision resources
https://www.bbc.co.uk/bitesize/levels/z98jmp3 GCSE revision
https://www.educationquizzes.com/gcse/ GCSE
https://revisionworld.com/a2-level-level-revision revision guides for A level
https://wwwsenecalearning.com Free revision content for GCSE and A level. Paid access to higher lever material.
https://www.open.edu/openlearn/ Free taster courses aimed at those considering Open University
Other Educational
https://blockly.games learn computer programming skills for free
https://scratch.mit.edu creative computer programming
https://mysteryscience.com Free science lessons
https://www.bighistoryproject.com/home Aimed at secondary age
https://world-geography-games.com geography games
https://toytheater.com educational online games
https://www.dkfindout.com/uk/ activities and quizzes across covering many subjects
https://idea.org.uk Digital enterprise scheme you can complete online
https://www.crestawards.org science awards you can complete at home
https://norwichsciencefestival.co.uk/stemm-activities-at-home/ Norwich Science Festival STEM activities
https://www.ufuni.org/education resources about farming primary and secondary age children
Videos
https://www.youtube.com/user/crashcoursekids Youtube videos on many subjects
https://www.youtube.com/user/crashcourse as above but for older kids and grown ups
https://thekidshouldseethis.com wide range of cool educational videos
Creative
https://theimaginationtree.com Creative art and craft activities for preschool and primary children
https://www.redtedart.com easy arts and crafts ideas
https://artfulparent.com fun art activities
https://www.tinkercad.com all kinds of making
Non School Based Activities
https://www.bbc.co.uk/cbbc/joinin/about-blue-peter-badges many badges can be completed at home to be posted to Blue Peter
https://scouts.org.uk/beavers/activity-badges/
https://scouts.org.uk/cubs/activity-badges/
https://scouts.org.uk/scouts/activity-badges/
https://www.pawprintbadges.co.uk Free challenge packs and other downloads. Badges cost but are optional
https://www.nationaltrust.org.uk/50-things-to-do National Trust activities to do outside (many can be done in a garden)
http://www.nationaltrustcollections.org.uk/ National Trust online collections
Exercise and Wellbeing
Cosmic Kids Yoga for children https://www.youtube.com/user/CosmicKidsYoga
Joe Wicks, AKA The Body Coach, home workouts including 30 minute kids PE lessons at 9am each morning https://www.youtube.com/user/thebodycoach1
Virtual Tours
Take a tour of landmarks, museums and art galleries on your computer, tablet or phone
https://www.nationalgallery.org.uk/visiting/virtual-tours National Gallery
https://www.louvre.fr/en/visites-en-ligne The Louvre
https://artsandculture.google.com/partner/natural-history-museum Natural History Museum
https://artsandculture.google.com/partner/the-white-house The White House
https://artsandculture.google.com/project/versailles Versailles
https://www.salvador-dali.org/en/museums/dali-theatre-museum-in-figueres/visita-virtual/ Dali Museum
http://www.vatican.va/various/cappelle/index_sistina_en.htm Sistine Chapel
Entertainment
https://www.whatsonstage.com/london-theatre/news/stage-shows-musicals-opera-free-stream-online_51198.html list of theatre shows that you can watch online, some for free
https://archive.org free online books, movies and music
Religion
https://www.youtube.com/watch?v=BTuA6VF0daA&feature=youtu.be St Nicholas Church Worship online, updated weekly
Pastimes
Jigsaws
https://www.jigsawplanet.com
https://thejigsawpuzzles.com
Soduku
https://sudoku.com
https://puzzles.independent.co.uk/games/sudoku/
https://games.washingtonpost.com/games/sudoku/
Crosswords
https://www.theguardian.com/crosswords
https://puzzles.independent.co.uk/games/daily-crossword/
https://www.dictionary.com/e/crossword/
Chess
https://www.chess.com/play/computer
https://www.mathsisfun.com/games/chess.html
---
Getting out in the fresh air
Information on walks locally and further afield is given in the Leisure section of this website
From Monday, 23rd March Blenheim Palace & the Pleasure Gardens will be closed, but the Park will stay open for FREE from 10.00am until 4.00pm. See the Blenheim Palace website.
---