Steeple Aston celebrated the Platinum Jubilee in style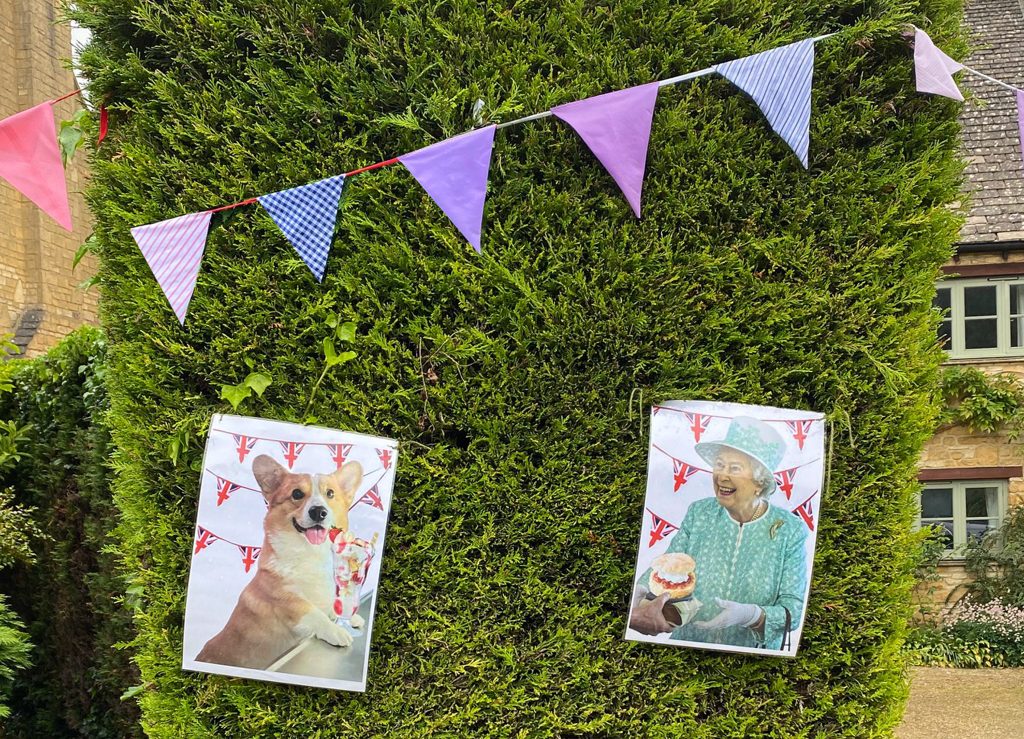 From the Jubilee Committee:
"Bunting packs flew off Paines Hill. Fingers got messy in print block workshops courtesy of the Arty Crafty Place. The Queen's Pants were decorated to adorn the Pre-School railings and The Toddler Group got their hands messy creating hand print bunting…and that was before we even reached the Platinum Jubilee Weekend.
"The weather may not have played ball, but it was amazing to see the village out and about. People created street parties, competed at the 'lite' version of the Whit Races, joined Sunday's concert and sold, bought (and drank) at Fete at the Gate. We discovered master bunt makers and amateur bakers, gardeners, musicians, artists and space enthusiasts.
"Hope you enjoy looking through the pictures. Watch this space as the Whit Races will return in better weather…and we also hear there are still some fantastic plants for sale on The Crescent."
Because of the wet weather the Whit Races, which had been revived after several years' absence, had to take place in the Village Hall this year. But that didn't stop the children and quite a few adults having lots of fun! Here are the winners!
Whit Races 2022 – Results
Egg & Spoon Race
Age 3-5
Age 6-7
Age 8+
1st
Oli Grainger
Seren Grainger
Amelia Bailey
2nd
Rufus Webb
Ottilie Maclean
Hattie Wright
3rd
Isobel Coysh
Rupert Hogg
Woody Wright
Handbags & Gladrags
Age 5-6
Age 8+
1st
Seren Grainger
Amelia Bailey
2nd
Rufus Webb
Charlie Wright
3rd
Rayna Markham
Hattie Wright
Frong Prince/Princess Race
Age 3-4
Age 5
Age 6
Age 7
1st
Chester Hogg
Rupert Hogg
Ottilie Maclean
Charlie Wright
2nd
Clemmie Baggallay
Rufus Webb
William Atkinson
Charlie Simpson
3rd
Henry Bonaria
Seren Grainger
Hattie Wright
3 Legged Race
Infants
Juniors
Adult & Child 1
Adult & Child 2
1st
Ottilie Maclean & Rupert Hogg
Hattie & Woody Wright
Sarah & Ava Obinna
Katherine & Isla Markham
2nd
Lottie & Clemmie Baggallay
Charlie Simpson & Amelia Bailey
Mark & Oli Grainger
Angharad Lloyd-Jones & Seren Grainger
3rd
Rufus Webb & Henry Bonaria
Steph & William Atkinson
And the WI's Make a Crown Competition was very popular, with around 50 visitors calling to their gazebo on South Side. Altogether 30 people made crowns. The winners were
Under 8 years old: Issy Coysh
8 – 14 years old: Amelia Bailey
Over 15 years old: Gareth John
Just click on a photo to enlarge and navigate using the arrows.
---
Gardens and Allotments raise over £2,000 for charity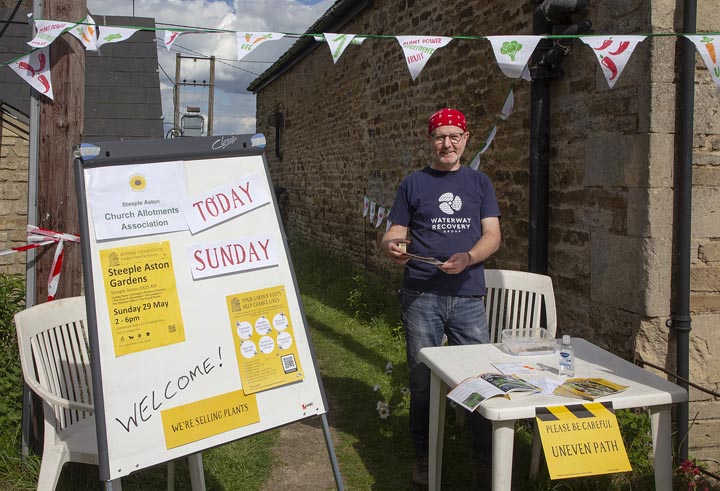 As part of the National Garden Scheme, Steeple Aston Open Gardens took place on the afternoon of Sunday, May 29th. This year the Church Allotments were open to visitors along with two gardens not seen last year. It was a welcome return for The Pound House and a first time opening for The Old Post Office.
Organiser Richard Preston reports:
On what turned out to be a fine and reasonably warm Sunday afternoon at the end of May, Steeple Aston opened its doors to seven gardens and not forgetting some wonderful teas at the Village Hall.
Thank you to all those who came to have a look around the gardens, who made cakes and helped serve teas, wash-up or help at garden gates and most importantly, the gardeners who allowed around 300 adults visit their gardens or allotments and raise funds for such amazing charities under the umbrella of the National Garden Scheme.
With a large contribution from the village hall management who managed the refreshments, Steeple Aston was able to send £2,383.00 to the NGS to assist with their many charities and assist people who are not so fortunate as ourselves.
It was so good of all the garden owners to open their garden and it was obvious to all visitors as to how much time and effort had gone into making their gardens so pristine for the open gardens. It was especially nice to welcome The Old Post Office who opened for the very first time and the Allotments for showing visitors what can be achieved in such a varied and professional manner.
I will just finish with one comment by one of the visitors which I think says a lot about our village. "Steeple Aston is such a welcoming village where everyone welcomes us with open arms, and I wish I lived here".
Thank-you everyone who contributed to another great village event.
For lots more photos by Nigel Francis, mainly of the allotments this year, please go to the Photo Gallery. Click on the first photo to enlarge, then use the arrows to move on.
---
Dr Radcliffe's passes OFSTED inspection with flying colours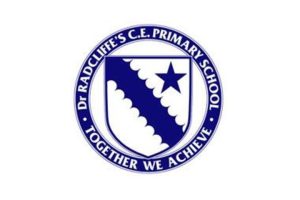 Dr Radcliffe's Primary School in Steeple Aston had its first OFSTED inspection in 15 years in March. All involved were delighted with the outcome.
Frances Brown, the Head teacher, and Lisa Boote, the Chair of Governors have written this account of the process and a very positive report from the inspectors:
After many years of waiting, the last full OFSTED inspection took place in 2007, Dr Radcliffe's CE Primary school was finally inspected by two Senior HMI inspectors on March 23rd and 24th. As a team everyone was prepared and had been preparing for months to maintain the standards that the whole school community has come to expect of us. But when you know a team of inspectors are coming to visit everyone goes into overdrive to ensure everyone is working as a team to show the Inspectors what a great school we are. The school team and governors deserve enormous congratulations for their professionalism, energy, and teamwork during the inspection.
The inspection was a very thorough process which looked at all aspects of the school, meetings were held with Frances Brown the Head Teacher, members of the Senior Leadership Team, teachers, office staff, pupils, and Governors. The overall judgment is that the school is good, with outstanding features. We are delighted that OFSTED has recognised so many strengths of our school.
The judgement is made up of 5 categories: Quality of Education, Behaviour and Attitudes, Personal Development, Leadership and Management and Early Years Provision. The inspectors looked at four curriculum areas in depth. These were early reading, maths, science, and art. Judgements about the school were made based on lesson observations and conversations with pupils, discussions with staff, governors, parents, ODST and the Diocese of Oxford.
The children were an integral part of the process with the inspectors continually asking their views and knowledge of the broader curriculum throughout the inspection. The inspectors were very impressed with how confidently the children were able to talk about all areas of the curriculum. We are immensely proud of the way they interacted with the inspectors.
We were particularly delighted that the two areas which were graded as 'outstanding' were Behaviour and Attitudes and Personal Development. We feel that this reflects the ethos of our school and the wide range of opportunities and wealth of cultural experiences the children have when they attend Dr Radcliffe's. As one of the inspectors himself expressed it: ' for the size of school Dr Radcliffe's is batting way above its weight'.
The report also reflects the children's commitment to diversity and fighting prejudice in all its forms, the care and kindness they display towards each other and their outstanding behaviour for learning. The school community and the loyalty and high regard which parents feel towards the school was also mentioned on more than one occasion.
Alongside the many positives, the Inspectors recommended three areas for action. These were to further improve the depth and challenge of the curriculum, to continue to develop the early years curriculum and to continue to focus on reading through Key Stage 2. These areas will now be included in our School Improvement Plan.
We are absolutely delighted with the report as are our Academy the Oxford Diocesan Trust who we joined in June 2017. Their Chief Executive Officer Anne Deller commented in her letter to parents:
'This is a very strong outcome! Leaders, governors and all the staff work very hard to offer an excellent education to pupils and all of us across ODST – the Academy Trust responsible for the school – are very proud of their achievements. Dr Radcliffe's became an academy in 2017, and this is the first time the academy school has been inspected. You will be aware that the school was previously inspected in 2007 and judged outstanding overall. Significant changes to the inspection handbook have taken place since then and there is no direct comparison between this 2022 grading and the one from 2007. I do want to pay tribute to the leadership and governance at the school – they really are offering your children an excellent education. As the report says: "Leadership is strong." I am particularly thrilled that the inspectors highlighted that "provision for pupils' personal development is superb." That's a really positive word for an Ofsted inspector to use in a report and it is absolutely spot on! It is also reassuring to have confirmed what we know – that the behaviour and attitudes of pupils and their personal development are both outstanding at your school; that "pupils behave extremely well, and bullying is incredibly rare;" that "teachers constantly seek to make learning interesting and relevant for pupils," and that "leaders make safeguarding a top priority." Many congratulations."
As a school team we will continue to work with the children, staff, parents, governors and ODST to maintain and improve the high standards which have already been achieved. And look forward to being at the heart of our community knowing that we have your support.
---
SAFC celebrates 125 years of village football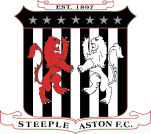 Steeple Aston Football Club has reached the grand old age of 125!
To mark the occasion, Oxfordshire Football Association awarded the club this special achievement certificate celebrating the commitment of players and members of Steeple Aston Football Club who have provided football to the local community from 1897 to 2022.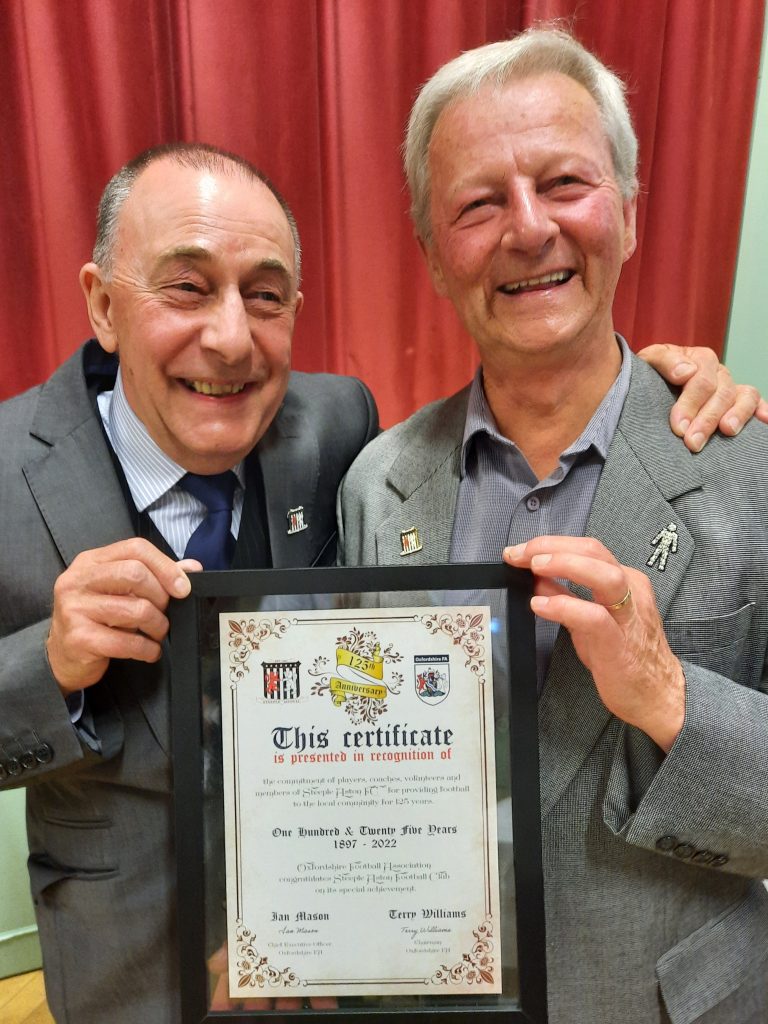 This photograph shows the certificate with two SAFC stalwarts. Alan Peckham, the Chairman, is on the left, Vice President Alan Brewer on the right. The certificate was presented by Pete Kerwin the Steeple Aston FC Manager on behalf of the Association at the end of season dinner presentation evening in the Village Hall at the end of April.
Peter Wild, the Secretary of Steeple Aston FC writes:
This year, Steeple Aston Football Club is proud to be celebrating its 125th Anniversary.
In our founding year of 1897, amongst other things, the Monarch (Queen Victoria) celebrated her Diamond Jubilee year, Country Life published it's first magazine and the National Trust acquired it's first coastal stretch at Tintagel in Cornwall.
Warfare was prevalent, as was disease and shortages of goods (no change there then!).
All of the above institutions still exist, as do we, albeit in differing circumstances. Some things do pass the test of time even though they may have to evolve in order to do so.
In honour of our longevity, the Oxfordshire Football Association have awarded us a certificate recognising the commitment of players, coaches, volunteers and members of Steeple Aston FC for providing football to the local community for 125 years.
The certificate will be framed and put on display at the Village Sports and Recreational Trust Clubhouse at Robinson's Close.
The club has had to evolve as demographic trends have meant that players from outside of the village are now also a part of the fabric. However, this has led to positive outcomes in terms of burnishing our reputation throughout Oxfordshire as a club that has a worthy ethos, excellent facilities and a commitment to fair play.
In recent times, our chairman has received a High Sheriff's award for community service and our manager was recognised by the Football Association for his outstanding efforts to sustain 'grassroots' football. As a club we have sponsored and supported other clubs in countries with less resources, and football club badge collectors worldwide frequently write to request our badge.
No-one knows what the future holds; however, we hope to continue to provide a club that will allow people to play football in the village now and in the future.
---
Stop Press We now have permission to include these photos of the children of Dr Radcliffe's School who took part in the concert for Ukraine. Thanks to Nigel Francis for these.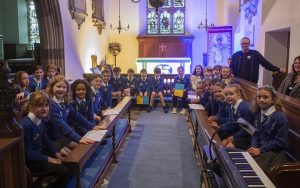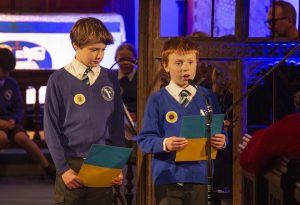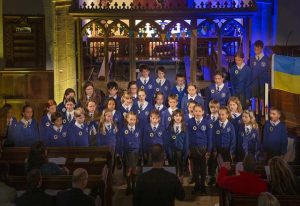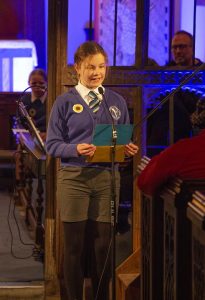 You can see these in a bigger size, along with all the other photos from the concert in the Photo Gallery. Full story of the concert and other events below.
---
Villagers support Ukraine with sell-out concert, donations and practical help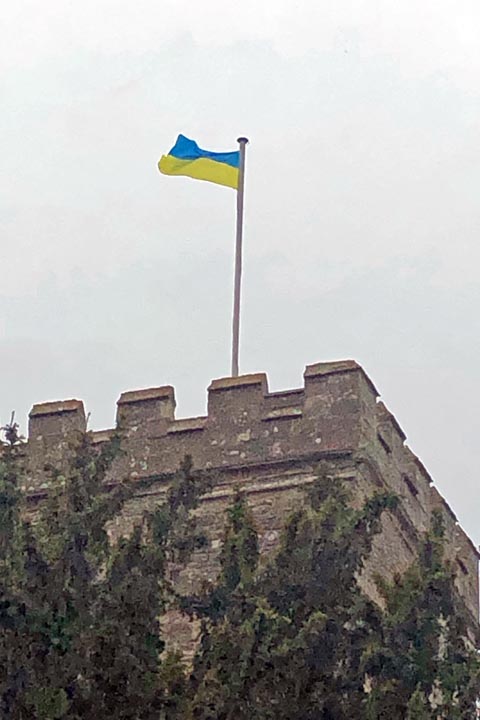 The Ukrainian flag flew from the church tower in Steeple Aston in late April. This was just one sign of the enthusiastic support in the village for the war-torn country and its citizens.
It marked the occasion of a sell-out Concert for Ukraine which raised over £6,000 in donations to the Red Cross and Unicef. In March there were collections in the Church for the Disasters Emergency Committee, and by a group of horse riders who rode round the village wearing blue and yellow to show support for Ukraine and raise money for World Horse Welfare's appeal for horses and owners there. And WI members responded enthusiastically to a request from Upper Heyford to fit out six homes for refugee families.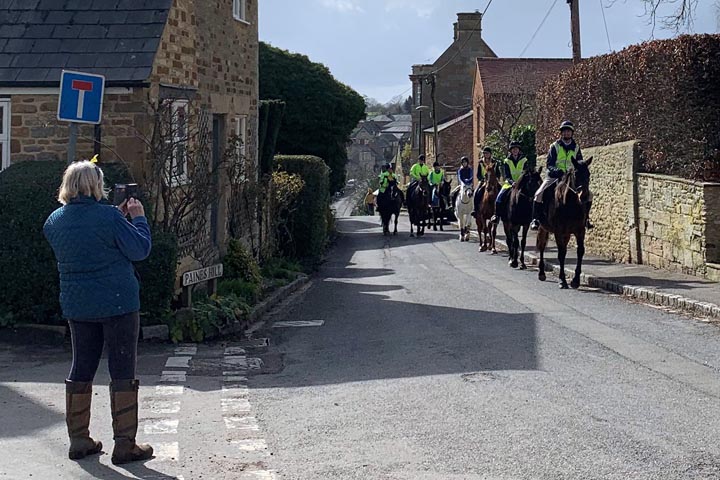 Villagers also provided practical support and friendship when two Ukrainian refugee families arrived in the village. Julia Whybrew was faced with providing a home for a family of four at very short notice. She said: "The family in my house have had friendship, food and limitless other help from many of you. A huge Thank You from us all, we have been overwhelmed by your generosity."
And Barbara Shooter, drove all the way to Poland to pick up her refugees. They had left home with hardly any possessions, so she set up a JustGiving page which raised over £600 within a couple of days so they could go shopping for clothes and other essentials.
Yuliia and her son Alex, who are staying with the Shooters, have been very grateful for the welcome and support they've received in the village. They took part in the Concert for Ukraine along with many local performers. Nicholas Cleobury, who organised and curated the concert, described them as "a galaxy of local talent."
It was a memorable occasion, described by attendees as joyful, uplifting and poignant with a wide ranging and varied programme.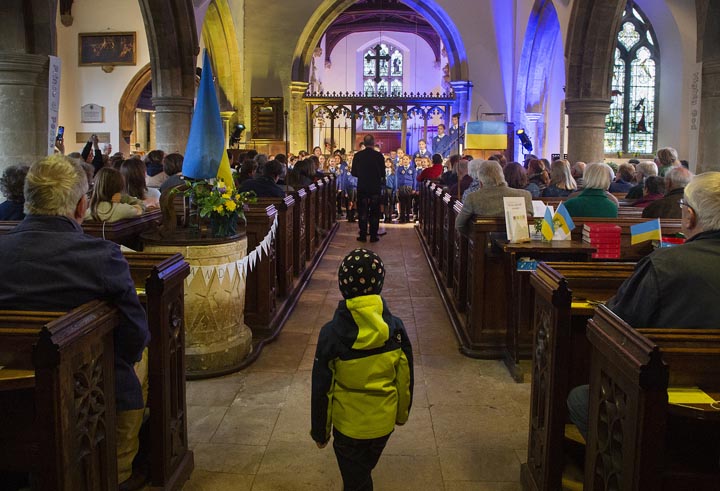 Nick said: "There were a Brass and Singing Quartet from North Aston, Eileen, Holly and Rebecca from Steeple, Maddy from Lower Heyford, international Australian star Helen from Bicester and the wonderful Dr Radcliffe's Choir, readers and bunting makers. The three audience participation pieces were the icing on the cake. Learning the Ukrainian National Anthem in five minutes, the spontaneous dancing by our Ukrainian friends and raising the roof with "You'll Never Walk Alone".
And it was a real community effort with lots of villagers involved in the organisation. Thanks to:
Curator/Organiser – Nicholas Cleobury
Concert Management – Heather Cleobury and Martin Dale
Ticket Manager – Margaret Bulleyment and thanks to the Village Shop
Programmes – Martin Dale and Cathy Lawday
Flowers – Chris Clarke, Ruth Dale, Harriet Higgins.
Lighting – Tony Simpson
Bell Ringing and Donation Buckets – Dorothy and Graham Clifton
Audio – Marcus Green
Budget and Charity arrangements – Philip Davies and James Darcy
Ukrainian Research/on the day help – Beverley Davies
Translations – Olia Martin, Ivanna Lyepyeyko and Juliia Rudnieva
Dr Radcliffe's School – Frances Brown and Guy Brigg
Catering – Barbara Shooter
General help from Ruth Dale, Eileen Baglin Jones and Lawrence White
Children from Dr Radcliffe's School joined in enthusiastically. Their readings and their choir's rendition of No Wars Will Stop Us Singing, under the direction of Deputy Head Guy Brigg, were much appreciated by the audience.
But we do have a wonderful selection of photos by Nigel Francis in the Photo Gallery.
And if you'd like to see all the photos Nigel took, and download copies for yourself, go to Nigel's website.
The JustGiving sites for the Red Cross and Unicef are staying open until the end of June. So you can still make a donation to:
https://www.justgiving.com/fundraising/AstonsConcertforUkraine
and
https://www.justgiving.com/fundraising/AstonsConcert-ForUkraine
---
Gigaclear apologises for 'unacceptable' Paines Hill situation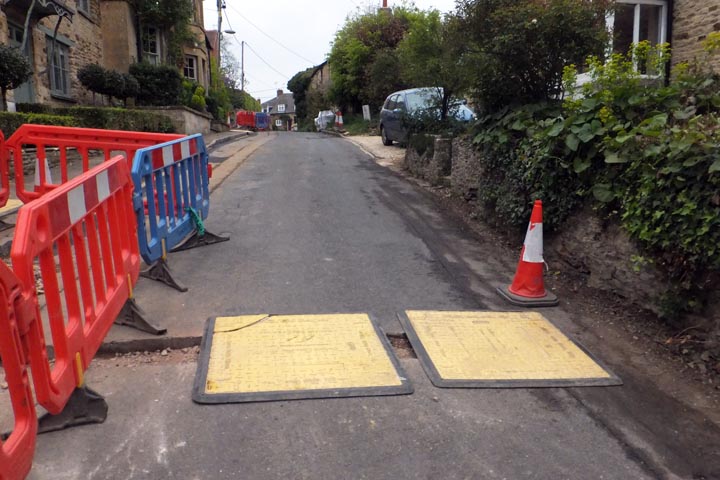 The rumble of dissatisfaction about the performance of Trench Cut, the contractors installing the full fibre network for Gigaclear in the village, turned to anger over the May Bank Holiday. There was real fear that there would be an accident on Paines Hill where a trench was left covered only in yellow boards designed for use on pavements not roads.
Now Ian Hughes-Williams, Senior Project Manager at Gigaclear has issued a statement apologising to all those affected. He said: "The work was carried out by one of our contractors to a standard that fell well below what we would consider acceptable.
"I take these instances very seriously and have spoken to the director of the company who accepts there were failings in its approach to the work and will ensure that supervisors are re-briefed to the correct standards. Additionally, I will be instructing the contractor not to do any further civils work in the area until all defect/remedial works are completed to the correct highway standards and the correct roadworks guarding equipment is available for future use."
The trench was outside Paul and Amanda Rodgers' home on Paines Hill, and they spent much of the Bank Holiday weekend replacing the boards which kept migrating down the road when vehicles drove over them.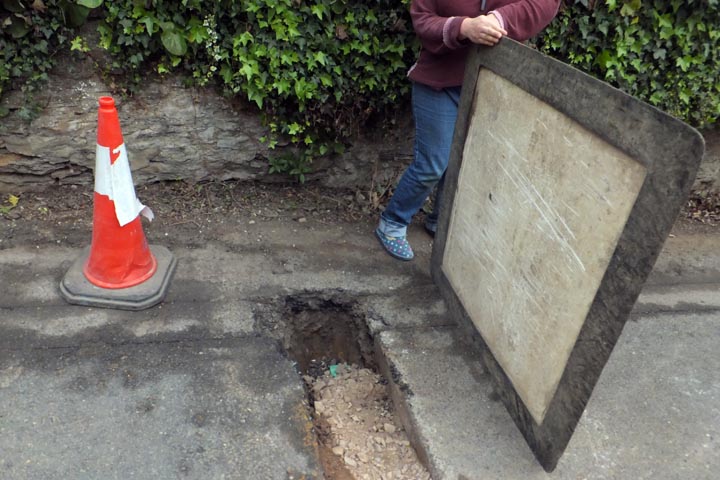 They also spent a long time trying to contact the companies involved and the Highways authorities. They couldn't reach either Gigaclear or their contractors on the phone and initially Oxfordshire County Council Highways denied responsibility.
Yoni Kinory, who also lives on Paines Hill and took these photos also spent time trying to contact the authorities. He was furious. He said, "They left the road in an extremely dangerous condition on the Bank Holiday weekend, having sworn they would make it safe before leaving. Instead, they covered the trench across the road with flimsy boards that say on them DO NOT USE ON ROADS and scarpered. This is a steep and twisting hill. Cars coming down the hill shift the boards and expose the trench, which is quite deep with sharp edges. Cyclists can only see boards (and the exposed trench) at the last moment."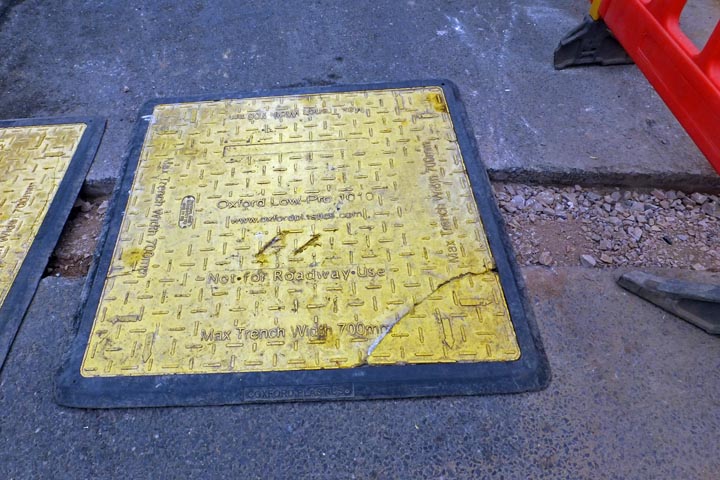 It was only on Monday night that the Out of Hours team from Highways eventually arrived. Amanda said, "They were not impressed by the situation – they did their best to make it safer by filling the big holes, moving signs and barriers – but they weren't able to fix the traffic lights that had stopped working."
This is only the latest in a long litany of complaints from residents about the Gigaclear project. The contractors are reported to have damaged flowerbeds, cut through a gas pipe and failed to make good their work in several places.
Now Gigaclear has instructed to its contractors to make good, perhaps these issues will be addressed.
Read the full statement from Gigaclear.
If you have queries or complaints, contact the Gigaclear Customer Operations team at networkbuildqueries@gigaclear.com or call 0370 774 0537.
---
Choose a tree for the Jubilee!
From the Parochial Church Council:
The Queen's Green Canopy (QGC) is a tree planting initiative to mark Her Majesty's Platinum Jubilee and invites people to "Plant a Tree for the Jubilee". Trees planted from October 2021 – December 2022 can be counted under the scheme and added virtually to a QGC map.
If you wish to read more about this and get involved by planting your own tree, then visit the website at https://queensgreencanopy.org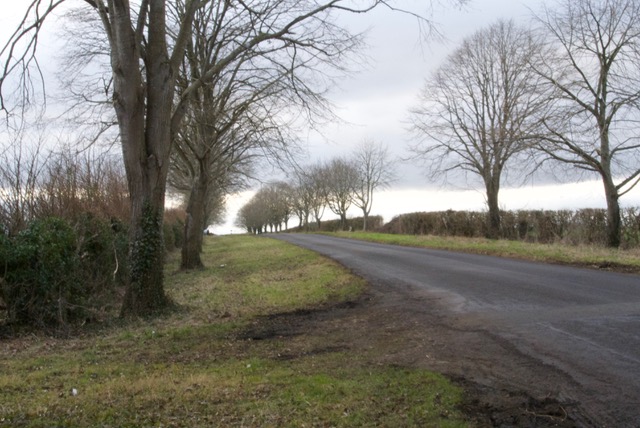 As a village, Steeple Aston has a tradition of planting trees for the Queen's Jubilees! The avenue of the appropriately named silver limes pictured above on the Sixty Foot approach to the village were planted for the Silver Jubilee in 1977.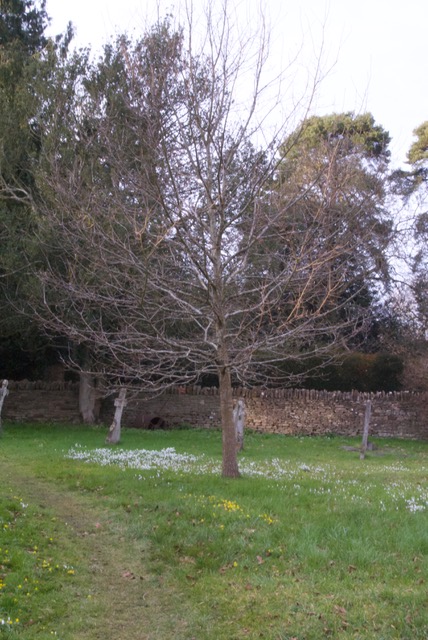 Then for the Diamond Jubilee, ten years ago, an oak tree was planted in the churchyard, accompanied by a Cumbrian green slate memorial stone which was commissioned by the Parish Council.
The PCC (Parochial Church Council) would like to continue the tradition and plant a tree in the churchyard for the Platinum Jubilee, especially since we have lost several trees in the last few years. We are somewhat limited by the need to obtain the church equivalent of planning permission for tree planting, so we are only looking at native species and have come up with the following shortlist:
Hornbeam (Carpinus betulus)
Rowan (Sorbus aucuparia)
Field Maple (acer campestre)
These would complement our existing trees (yews, hollies, copper beech, sycamore, oak, Scots Pine). We hope to plant the tree in the autumn.
Please vote for your favourite option by sending your choice to Shirley Palmer: s.e.palmer@btinternet.com
---