Parish Council explains this year's Council Tax increase 
As you will have seen from your recent Council Tax demand, Steeple Aston Parish Council asked for an increase of more than eight per cent in their share of the bill. This was by far the biggest percentage increase in local council charges with Cherwell District Council receiving no increase at all.
Parish Councillor Richard MacAndrew explains how the Parish Council spends our money, and the reasons for this year's increase. He writes:
"On behalf of the Parish Council here is a brief resumé of how we spend your money, how we budget, and an explanation of why this year it has been necessary to ask for an increase in funds. The precept we received last year from Cherwell District Council was £26,698. This year we requested an increase of £2,221.
"Council expenditure falls into two main categories: the practical and the administrative. The practical is what we do to keep village facilities up and running, tidy and safe. We aim to keep the administration costs to the minimum necessary to achieve this.
"On the administrative side, we have a qualified Parish Clerk, a vital member of the team who provides support and advice to the Council. She also implements many of the decisions that the council takes. Her salary, expenses and training cost £4,600 and comprise the major part of the Council's administrative expenses. The councillors receive no payment, and do not generally claim expenses.
"Other administrative requirements which the Council has to fulfil are: insurance (£2,000); external and internal financial audits (£350, a small increase of £50 over last year); and payroll services (£189). Training for councillors is also included here. The budget for this is £500.
"The single major increase in administrative costs is the election of councillors. 2017/2018 has seen four new councillors: two were co-opted at no cost to the Council; one was elected unopposed (cost to the Council £39); one was elected (cost to the Council £1,199). No allowance had been made for elections last year so the Council decided it was necessary to make provision in case there was a contested election in May.
"On the practical side of things, the Council has annual commitments such as the grass cutting around the village (£4,000); hedge trimming and weed spraying (£800); and repayment of the loan that was taken out to create the football pitch at Robinson's Close (£2,300). We are also responsible for the maintenance of various buildings, structures and places around the village: the village hall, the sports and recreation centre, the play area, pocket park, several hedges and verges, the toilets, bus shelters, the war memorial and street furniture.
"The budgets have remained the same as last year, except for two items. Our excellent play area, which draws in many parents and children from outside the village, is now over 10 years old. Some of the equipment is well-worn and in need of repair or replacement (for example, the netting on the mound). Since we do not receive any external funding for the play area, we have increased the budget for it by £600 to take this into account.
"The other item which has increased is Buildings Maintenance. As many of you are aware, there have been a number of incidents of vandalism in the village. Repairs over and above normal running costs have been needed especially in the Millennium Park toilet where a basin and some tiling were ripped off the wall. At the time of writing, someone has driven into the wall at the entrance to the Sports and Rec car park and left a dangerous crack in it. That will need repair; though, if possible, it will be claimed on insurance. It is also salutary to reflect that the roof on the Village Hall is now approximately 20 years into its anticipated 80 year life span. At current prices the next renewal is likely to cost £100,000. The Council therefore has a contingency budget for major capital expenditure.
"In listing the Council's duties and responsibilities, and explaining where and why we have made increases this year, we hope to assure parishioners that we are managing their affairs in a thoughtful and thrifty fashion, anticipating future necessary expenditure, whilst at the same time trying to extract best value for money for what we do."
A full copy of the Precept financial document is available from Cathy Fleet, the Parish Clerk.
---
Local district councillor re-elected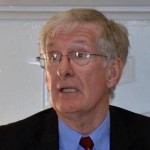 Conservative district councillor Mike Kerford-Byrnes was re-elected in the local elections on Thursday, May 3rd. There were no parish council elections as there were only six nominations for the seven vacancies.
The election result for the Deddington ward of Cherwell District Council was as follows:
| | | | |
| --- | --- | --- | --- |
| Candidate | Party | Votes | Elected |
| BLISS, Aaron James | Green | 317 | |
| DAVIS, Nigel Geoffrey | Liberal Democrat | 350 | |
| KERFORD-BYRNES, Mike | Conservative | 1637 | Elected |
| MURPHY, Annette | Labour | 597 | |
Out of an electorate of 6,340 potential voters, there were 2,910 ballot papers issued, giving a turnout of 39.78 per cent.
The six candidates for the Parish Council were all councillors already, and have now been re-elected unopposed. They are Charlotte Bartlett, Charlotte Clarke, Stuart Ferguson, Martin Lipson, Richard Macandrew and Graham Porcas. They will be able to co-opt a seventh councillor if they so wish.
The new Parish Council will be meeting on Monday, 14th May at 7.30pm, unusually in the Sports and Rec Building. They will also be holding the Annual Meeting and the Annual Parish Meeting at the same time. All villagers are welcome to attend for all or part of the evening.
---
It's a special first for John in the Spring Show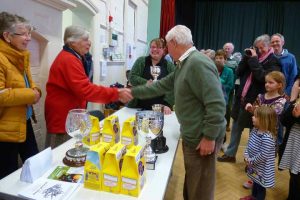 Steeple Aston Spring Show was quite an occasion for John Coley. Not only did he receive the Mead Vase for winning most points in the show, he also came top in the Horticultural Classes, winning the Duncan Cup. But the real surprise came when he shared first place in Cookery Classes, the first man ever to win in this competitive section. He is pictured here receiving congratulations from Hanny Nicholson. In the background holding the WI Cookery Cup is the other winning cook, Victoria Clifton.
The Annual Spring Show took place on Sunday, 25th March in the Village Hall. Richard Preston, Chairman of Steeple and Middle Aston Horticultural Society, reports:
"It was the first Sunday of Spring and on one of the few occasions this year, the sun came out and encouraged visitors to view the superb array of entries in the show. Overall the entries were down slightly on last year which is not surprising taking into consideration the lateness of the season.  However, 295 exhibits were entered by over 50 entrants providing a wonderful display of flowers, cookery, photography and crafts.
"The children's entries were plentiful and of an extremely high standard with Ruby Keates winning the Bedding Trophy for the best exhibit as judged by our visiting expert on the day. Ruby also won the under-fives section gaining most points in her age group.  The under-eight winner was Hector Wheeler-Nunneley and the under twelve section was won by Fearne Ward.  The under sixteen category was shared by Abbey Keates, James Martin and Jenny Marsden.
"Onto the flower section where competition was keen for The Duncan Cup, the winner being Mr John Coley who also won the WI Cookery Cup or at least shared it with Victoria Clifton. If my memory serves me correctly, this is the first time a male entrant has won this section where an array of jams, cakes, savouries and other delectable offerings makes up this highly competitive division.  Janet Coley won the Handicraft Cup and Sheila Ballard gained most points in the floral art division.  The winner of The Mead Vase, presented to the person winning the most points and entering a minimum of three divisions was Mr John Coley.
"To all winners, competitors and all those who came along in the afternoon to view this splendid display, thank you so much for supporting what is probably the oldest society in the village having started life back in the 1860's. Without your support this grand village tradition would not survive.
"Looking forward to the summer, and I think we are all doing that, the Annual Show will take place as usual on Robinson's Close and the Village Hall on August Bank Holiday Monday. The schedule is now available from me or you can view it online."
To see the full results of the Spring Show, please click here.
To see the Summer Show Schedule and download it, please click here.
For photos of the Show taken by the multi-talented John Coley, please click here.
And to see more photos of the show taken by Catherine Crook and set to music on Smilebox, please click here.
---
Neighbourhood Watch revived following anti-social behaviour
A new Neighbourhood Watch scheme has been set up in response to the recent spate of crime and anti-social behaviour in the village. The new coordinator Martin Brimacombe recently met with Thames Valley Police and they agreed that reviving the scheme would be of benefit the community
There was an attempt to relaunch the old Neighbourhood Watch scheme three years ago, but there weren't enough volunteers so it was decided to rely on the Thames Valley Alert scheme instead. Recent events though have meant that there has been an enthusiastic response to Martin's call for street representatives.
Martin moved to the village in July 2014 after a short spell in Upper Heyford. He had spent the previous 24 years in the British Army, much of time stationed at Bicester.
He said: "Moving into the village has been a great experience and an introduction to a quiet rural community for my family. We have been made to feel very welcome by the members of the community out and about and at the Red Lion.
"However over the last six months it has been a little unsettling after becoming one of the victims of a number of the increased criminal activities and anti-social behaviour issues.
"Having expressed my concerns to Thames Valley Police about the increased activity and the thought that someone or property will be injured or damaged, I was asked take on the role and responsibility of becoming the new Neighbourhood Watch Coordinator for the village."
The purpose of Steeple Aston Neighbourhood Watch is to promote good citizenship and greater public participation in the prevention and solution of crime so that effective liaison with the police and other partners can be achieved in order to promote reduced crime levels.
Martin says: "It's a little shameful that our village is now the highest in the surrounding area for criminal activity. Let's get as many people behind this and help make this a better place for us all to live in. Initially crime numbers will rise if everything's reported, but this will reduce once the activities cease.
"Criminal activity in the village will continue to cause problems with the villagers with anti social behaviour, theft, crime, criminal activity. It will continue to hurt all of our pockets financially with house insurance and motor insurance growing under the criminal postcode lottery."
The new Neighbourhood Watch scheme already has representatives in the following areas of the village: the Lower Heyford end of Heyford Road; The Crescent; Nizewell Head; Paines Hill; The Dickeridge (still to be confirmed); South Side/Jubilee Close; Water Lane; Shepherd's Hill; Fenway; Grange Park; Cow Lane and Northside. Parish Clerk Cathy Fleet will liaise with the Parish Council.
Martin says that if your street or area has not already been covered and you would like to come forward to nominate yourself as a street coordinator then, please email your details to him at the address below.
He says becoming a street coordinator doesn't involve too much, just informing your neighbours of events and developments in criminal-related activities and keeping an eye on one another and people who are vulnerable.
You can contact Martin at steepleastonneighbourhoodwatch@gmail.com
To find out more about Neighbourhood Watch in the village, how you can receive alerts and report crime, please click here.
---
Congratulations to Steeple Aston WI as it celebrates its centenary
To read an account of the celebrations on 13th March and see lots of wonderful pictures, please click here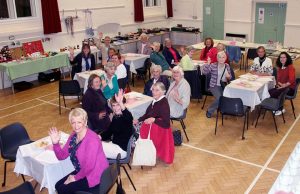 Steeple Aston Women's Institute, the oldest extant WI in Oxfordshire, is celebrating its centenary in style in March with a special programme of activities and speakers, including a surprise outing for members in June. Its centenary dinner took place on 13th March at the Village Hall.
The current WI President, Merrill Bayley looks back over the achievements of the last 100 years. She writes: "The earliest document we hold states that, towards the end of the great war in 1917, Mrs Vincent of Cedar Lodge Steeple Aston, called a meeting of the women in the village and told them of a new society called The Women's' Institute, which had just started in Anglesey North Wales 1915.
"Miss L G Worrell took the minutes of the first documented meeting held on March 21st 1918 and she subsequently became the first President. As a result this event has become our official birthday date. The records of the Oxfordshire Federation of Women's Institutes (OFWI) confirm this with a simple entry stating, "Steeple Aston WI – Formed in March 1918", whilst OFWI themselves were not formed until 1919.
The Minutes & Memory Books
"The minutes have been diligently kept with just a few gaps during WWII, which is pretty good going! We have a large collection of Minutes and Memory Books. The latter are beautifully covered with embroidered work created by various members over many years. These Memory Books hold souvenirs and photographs taken at events and meetings with various snippets of descriptive notes beside them.  We are continuing to compile these books, one per year, and now have an Archive Sub-Committee who have combed through all the old Memory Books, re-hinging and re-binding as necessary using acid free paper to ensure preservation, for perhaps the next 100 years?
What has Steeple Aston WI done for our Village?
"Never mind what the Romans did for Britain, what did Steeple Aston WI do for our village? During WWII our WI organised the ladies of the village to make-do and mend and collect vegetables and fruit for pickling and preserving. In order to carry out this incentive the Ministry of Food allocated the WI the extra sugar required. Our WI also knitted scarves and socks for members of the armed forces overseas.
"Since the war our WI has continued to undertake various projects within the village. For example, presenting embroidered hassocks to the Church, arranging to have a map of the village erected beside the bus stop on South Side and donating funds towards the replacement of the ancient Sycamore in the churchyard. We support many events in the village such as, running a stall at the Village Show selling jams, pickles, cakes and bric-a-brac. We present our Silver Jubilee Cup and our Coronation Bowl for both the Spring and Autumn shows.  We have also arranged for the planting of a tree on South Side with an accompanying plaque to commemorate the millennium as well as lobbying for and part funding better lighting outside the Village Hall.
"Each year we join with other village organisations to lay a wreath on the War Memorial.
Currently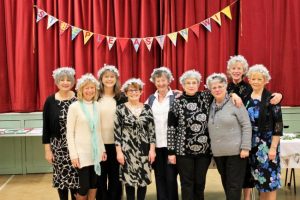 "We are 36 members strong, with four new members joining recently. Our members ages range from 40 – 90.   Our WI is run by a committee (pictured here) currently led by office holders, President: Merrill Bayley, Treasurer: Linda Needle, Secretary: Janice Kinory and Vice President: Mary Rushworth, ably assisted by Pauline Brock, Catherine Crook, Julie Hillier, Angie Allen and Priscilla Lange.
"Members have been contributing to our Centenary Fund for several years and for the past two years a sub-committee has steered the preparation and planning for 2018. A special programme of activities and speakers has been arranged for this milestone year, including a surprise outing for June. Invitations have been sent to our members and special guests for our centenary dinner celebration on 13th March 2018 at the Village Hall.
The Future
"The WI motto is 'Inspiring Women'. To this end we strive to enlighten, educate and usually entertain our members, to make new friends and connections through the wider WI community.  In keeping with new technologies we are embracing new methods of communication including Facebook and our own page on the Steeple Aston website. We continue to encourage all of our members to reach their own potential through the Steeple Aston Women's Institute."
To read an account of the celebrations on 13th March and see lots of wonderful pictures, please click here
---
Southside planning application withdrawn
The application for planning permission to build six homes on South Side opposite the entrance to Hill House has been withdrawn, at least for the time being.
The developer, Rectory Homes, withdrew its application on 15th February. This followed a number of objections from local residents, the Parish Council, the Mid Cherwell Neighbourhood Plan Forum and the Highway Authority
In general, neither the Parish Council nor other commentators are hostile to some development on this site. But there are major objections to the scheme proposed. The Parish Council listed the three main ones:
Housing mix: the proposal is for six houses of four bedrooms. There is however a clear need locally for a mix of house sizes, including some with smaller number of bedrooms…..
Safe pedestrian access: walking into the village with no footpath – especially in darkness – is dangerous, and difficult to solve where the road narrows at the Red Lion.
Safe vehicular access: the new road junction for the development will exacerbate an already dangerous stretch of road unless measures are taken to improve safety. Both speeding and limited visibility on the bend here have caused several near misses for traffic using the Hill House lane used by about 20 cars serving various dwellings.
It is possible that a revised plan may be submitted at a later stage. A message from Amy Atkins of Rectory Homes is published on the Cherwell District Council planning website. In it, she confirms the withdrawal of the current application and writes to the planning department "I look forward to working with you in the near future to overcome the concerns of the site."
---
District Council publishes MCNP plan for public consultation
The Mid-Cherwell Neighbourhood Plan (MCNP) has now been published for public consultation by Cherwell District Council. Following the consultation the Plan will be independently examined by an external Examiner.
The Plan proposal comprises the following documents:
The proposed neighbourhood development plan: Mid-Cherwell Neighbourhood Plan and MCNP Appendices (Submission Version) March 2018)
A map identifying the area to which the proposed neighbourhood development plan relates
A consultation statement: MCNP Consultation Statement (Submission Version) March 2018
A basic conditions statement – MCNP Basic Conditions Statement (Submission Version) March 2018
Below is a Public Notice providing details of where the documents are available for viewing and how to make representations. The consultation closes on Tuesday, 19th June.

Cherwell District Council
Public Notice
Publication of Plan Proposal
Mid-Cherwell Neighbourhood Plan 2018 – 2031
Neighbourhood Planning (General) Regulations 2012 (as amended)
Regulation 16
Mid-Cherwell Neighbourhood Plan Forum has prepared the Mid-Cherwell Neighbourhood Development Plan for the Mid-Cherwell Neighbourhood Plan Area on behalf of eleven parishes including Heyford Park. The Plan proposes planning policies to be used in the determination of planning applications within the Neighbourhood Plan Area.
Cherwell District Council is undertaking public consultation on the draft (Submission) Plan. The draft Plan and supporting documents are available for public comment from Friday 4 May to Tuesday 19 June 2018 and are available on-line at https://www.cherwell.gov.uk/planningpolicyconsultation
Hard copies are available to view at the locations below and during the following opening hours: 
Cherwell District Council Offices, Bodicote House, Bodicote, Banbury OX15 4AA. Monday to Friday 8.45am-5.15pm
Deddington Library, Horse Fair, Deddington, OX15 0SH. Monday 2pm-5pm and 5.30pm-7pm, Wednesday 9.30am-1pm, Thursday 2pm-5pm and 5.30pm -7pm, Saturday 9.30am-1pm
Bicester LinkPoint, Franklins House, Wesley Lane, Bicester, OX26 6JU Monday to Friday 8.45am (10am Wednesday) to 5.15pm
Bicester Library, Franklins House, Wesley Lane, Bicester, OX26 6JU
Monday 9.30am – 7pm, Tuesday 9.30am-5pm, Wednesday and Thursday 9.30am – 7pm, Friday 9.30am – 5pm, Saturday 9am – 4.30pm
Kidlington Library, Ron Groves House, 23 Oxford Road, Kidlington, OX5 2BP. Monday 9.30am-5pm, Tuesday 9.30am-7pm, Wednesday 9.30am-1pm, Thursday 9.30am-5pm, Friday 9.30am-7pm, Saturday 9am-4.30pm
Kidlington Link Point, Exeter Hall, Oxford Road, Kidlington, Oxon, OX5 1AB. Monday to Friday 8.45am (10am Wednesday) to 5.15pm
The Community Centre and Cafe, Heyford Park, 52 Camp Road, Upper Heyford, OX25 5HD. Monday to Friday 7am – 7pm, Saturday 8am – 2pm, and Sunday 9am – 1pm
The Fox and Hounds, Main Road, Ardley OX27 7PE Tuesday 12pm-3pm and 5.30pm-11pm, Wednesday, Thursday, Friday and Saturday 12pm -11pm, Sundays 12pm -10pm 
The Bell Inn, Market Square, Lower Heyford, OX25 5NY Mondays to Thursday 12pm-3pm and 5pm-10pm, Friday and Saturday 12pm – 11pm, Sundays.12pm -10.30pm
St Olave's Church, North Street, Fritwell, OX27 7QW Mondays to Sundays 9am to 7pm
The White Lion, Fritwell Road, Fewcott, Bicester OX27 7NZ Monday, Wednesday and Thursday 4pm – 10pm, Friday 11am – 2pm and 4pm-12pm, Saturday 12pm-11pm and Sunday 12pm-8pm.
St James Church, Church Street, Somerton, OX25 6LN Monday to Sunday 9am to 7pm
The Barley Mow, Somerton Road, Upper Heyford, Bicester, Oxfordshire, OX25 5LB Wednesday to Sunday 12pm – 2pm, and Monday to Sunday 6pm – 11pm
The Yurt at Nicholsons, The Park, North Aston OX25 6HL 8.30am – 4.30pm Monday to Saturday
Kirtlington Stores, Post Office and Cafe, 1 Troy Lane, Kirtlington OX5 3HA Monday to Saturday 6.30am to 7pm and Sunday 9am to 1pm
Village History Centre, the Village Hall, Fir Lane, Steeple Aston, OX25 4SF Saturday 10.00am to 12pm
Middleton Stoney All Saints, Middleton Park, Middleton Stoney, Bicester, OX25 4AW Monday to Sunday 10am – 4pm
Red Lion, South Side, Steeple Aston, OX25 4RY Monday to Friday 12pm to 3pm and 5.30 to 11pm, Saturday 12pm – 11pm and Sunday 12pm – 5pm 
Additional copies of the Plan are also available from the Parish Councils at:
Ardley with Fewcott Parish Council; Duns Tew Parish Council; Fritwell Parish Council; Kirtlington Parish Council; Lower Heyford Parish Council; Middle Aston Parish Meeting; Middleton Stoney Parish Council; North Aston Parish Meeting; Somerton Parish Council; Steeple Aston Parish Council; Upper Heyford Parish Council 
The contact details for Parish Councils are available at the link below: http://modgov.cherwell.gov.uk/mgParishCouncilDetails.aspx 
How to make representations
Any person or organisation may comment on the Plan or supporting documents. Response forms are available at the locations above and can be downloaded from Cherwell District Council's website (via the link above) and sent by email to PlanningPolicyConsultation@cherwell-dc.gov.uk or post to Planning Policy and Growth Strategy Team, Cherwell District Council Offices, Bodicote House, Bodicote, Banbury OX15 4AA 
Representations received after 5pm on Tuesday 19 June 2018 may not be considered.
Please note that all representations will be publicly available and will be forwarded for consideration to the person appointed to carry out an examination of the Plan.
If you would like to be notified of the Council's decision to make (adopt) the neighbourhood development plan, please state this in your representation. Further information is available on line at https://www.cherwell.gov.uk/planningpolicyconsultation
YVONNE REES, CHIEF EXECUTIVE