Platinum Jubilee & 70th Birthday Tea Party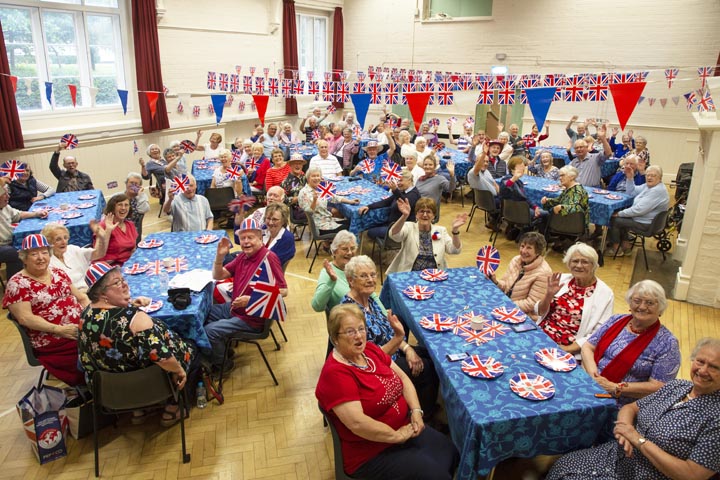 There is so much going on with The Valentine Club at present but on the 3rd June, the club celebrated, not only our Queen's Platinum Jubilee but also the 70th year of our club. Seventy-three members congregated in the Village Hall during the afternoon to enjoy a wonderful "high tea" and most importantly, each other's company.
A massive thanks must go to The Midcounties Coop and especially the Deddington store for providing us with a grant of £150 which in turn purchased all the food and a bit more. And not forgetting a superb committee who decked the Village Hall with bunting, flags, balloons and just about anything else you could think of and this was left in situ for the use by the village on Sunday 5th June in the case of inclement weather conditions on Robinson's Close.
You can see what the club is up-to by visiting our own website on www.valentineclub.wixsite.com/aston or keep up to date by looking on this website, or simply call me on 01869 340512.
Richard Preston – Group Organiser – Richard.preston5@btopenworld.com
More photos of the tea taken by Nigel Francis can be seen in the Photo Gallery. Just click on the first image to enlarge,then navigate using the arrows.
More information about the club is on the Valentine Club page.
---
Christmas Dinner 2021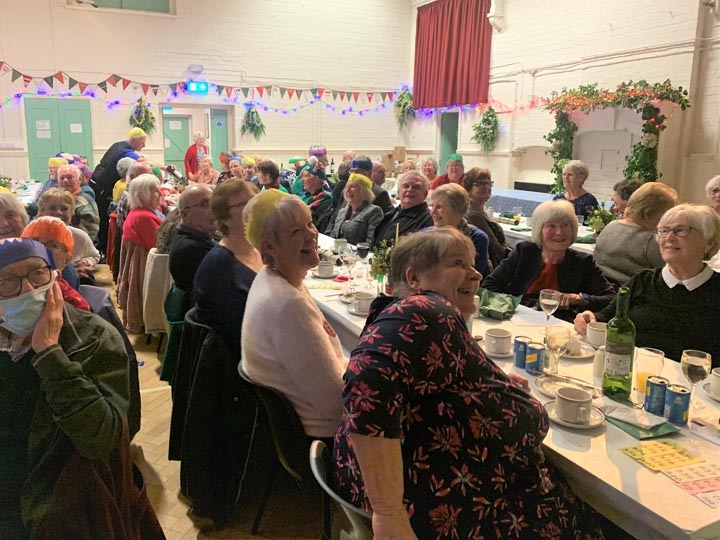 Organiser Richard Preston writes:
Life still goes on at The Valentine Club! Tuesday 14th December might not mean much to the vast majority but for 75 "seniors", that is those over 60 years young, it was time to take a lateral flow test, and join in the fun at the Village Hall for the annual Valentine Club Christmas dinner. And what a superb meal it was supplied by S & J Cuisine accompanied by sherry, wine, soft drinks, and a giant size cheese board. Not forgetting the most magnificent raffle you have ever seen. And if you were not fortunate enough to win a raffle prize, then Home Instead very kindly donated a prize for every member who came to the dinner.
To help us all celebrate the festive season we were entertained by Bruce Thompson, known in many circles as "The One-Man Band". Bruce was a winner multiple times on both Opportunity Knocks and New Faces and has since toured the world entertaining audiences all over and now, here he was at Steeple Aston. We think that a club member called Kevin might be ready to step into Bruce's shoes as one of the photos of the dinner demonstrates!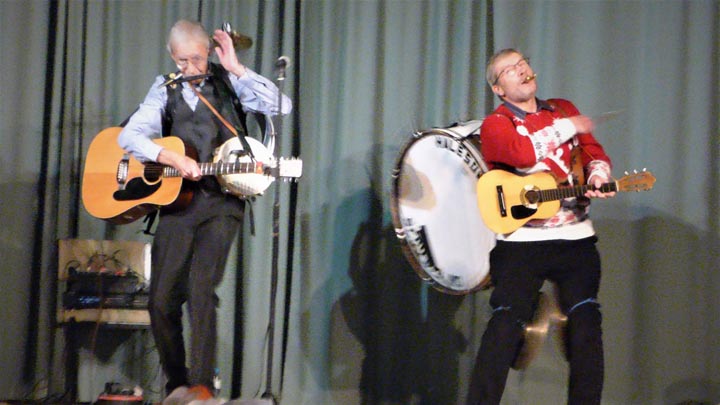 The past 20 months or so have been stressful for everyone and unfortunately, the pandemic is far from over, but life still goes on as our members demonstrated. Let us hope that 2022 brings with it some normality to life and we will be able to fulfil the amazing programme of events that the club has to offer.
More information about the club is on the Valentine Club page.
More photos of the dinner along with other Christmas celebrations in the village are in the Photo Gallery.
---
Christmas Dinner 2019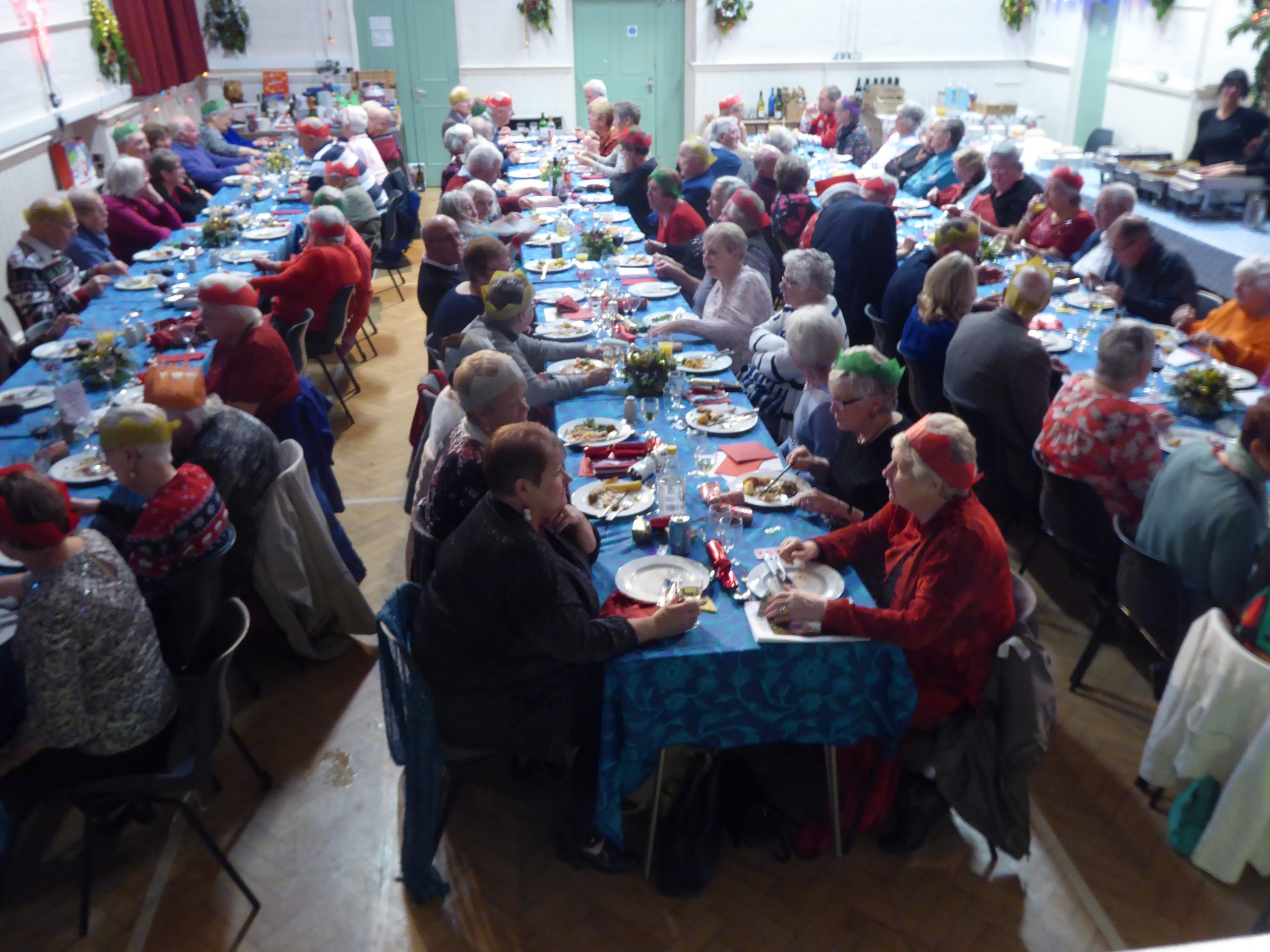 Chairman Richard Preston reports: "The Valentine Club finished another successful year off with their Christmas dinner on the 17th December in the Village Hall.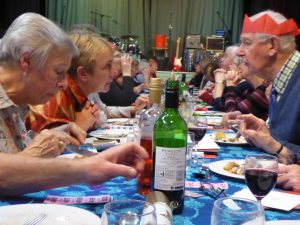 "A superb meal was provided for 88 members and guests by S & J Cuisine accompanied by copious amounts of wine and soft drinks and great entertainment. The hall looked festive with all the lights and decorations thanks to the Village Hall committee with special thanks to Alan and Barbara and table centre decorations by Daphne. As has become the custom over many years, members were greeted with a glass of Sherry before taking their places for the afternoon's festivities.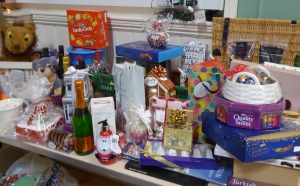 "There was an enormous raffle with the star prize of a hamper valued at over £70 and won by John Gordon.
Entertainment was provided by Chuckletruck, a four-piece showband that has appeared all over the country and supported some very high-profile stars and what little room there was for dancing was filled with those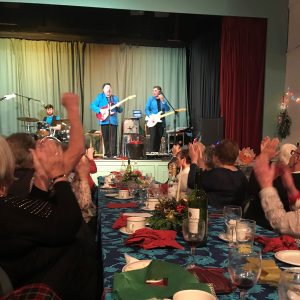 reinvented teenagers. Not forgetting the follow-up act that can't be kept off the stage and is well known around the village and the golfing circuits as Alan Brewer.
"It is at this time of the year when I have a chance to thank all the wonderful team that makes this club such a success. Rose, Becky and Angie come monthly to serve teas and wash up and of course, this would not be required if it were not for the generosity of the members for providing cakes and sandwiches for those meetings. A special mention to Joy and Carol for managing the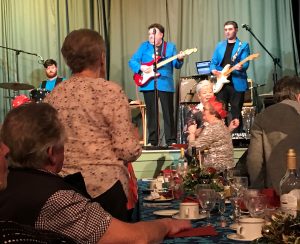 raffle which throughout the year makes close on a £1,000 for the club. To Barbara for managing the kitchen and Alan for just about anything else. Most of all, I would like to thank the members as they are such a friendly and helpful bunch and make my task as group organiser so much more enjoyable.
"Our next meeting in the New Year is on the 21st January staring at 2.30pm when we will learn all about "Dogs for the hearing". If anyone is thinking of joining this group, this is an ideal time as the annual membership is just £10 and we already have seven varied and exciting coach trips organised as-well as a superb mix of entertainers and speakers for the regular meetings. If you would like to join us, all you need to do is turn up to any of our meetings and you have reached the ripe old age of 60 years young."
For more information, give Richard a call on 01869 340512 or email Richard.preston5@btopenworld.com
---
Valentines see out the year in style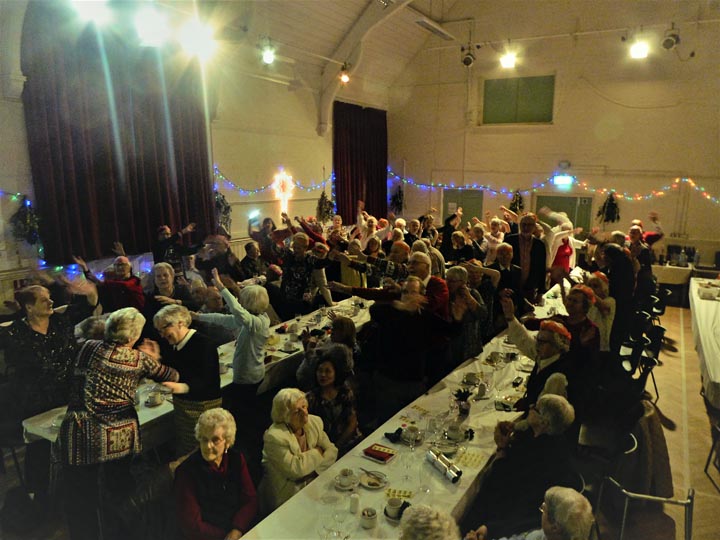 Chairman Richard Preston writes: "After another successful year of monthly meetings and numerous coach trips, The Valentine Club finished off the year with a superb Christmas dinner a week before Christmas Day.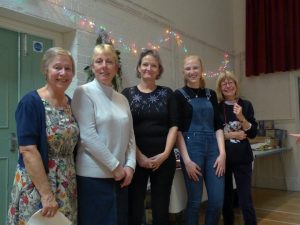 "The Village Hall was the venue for 82 members and some happy helpers (pictured here) to congregate for the last time in 2018 where they all enjoyed a super, two-course meal prepared by S & J Cuisine and accompanied by cheese and biscuits and enough wine to drown a small boat!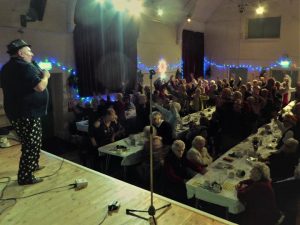 "Our entertainment this year came in the form of Micky John Bull, a well-established singer and comedian from Bristol who delivered some songs from the "greats" in the music business and a few impressions which probably, only Micky could get away with. As a "warm-up act" our very own Alan gave a slightly different version of "These are a few of my favourite things" accompanied by Carol and Richard.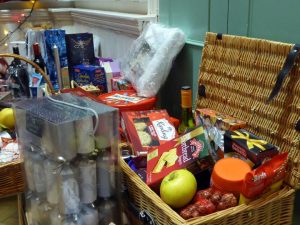 "To complete the party, we had what must be one of the biggest raffles in history, thanks to members generosity and to take home, the programme for next year. This can be viewed here, or on The Valentine Club's own website – https://valentineclub.wixsite.com/aston – where you will find more photos of the Christmas dinner and more information about the club."
For more information about this group, give Richard a call on 01869 340512 or email Richard.preston5@btopenworld.com
---
Valentine Club's October Report
First and foremost, I would like to thank everyone who very kindly supported The Valentine Club on Saturday 13th October at the annual jumble sale. Whether you gave items for sale, bought some bargains in the afternoon, or helped in any way, THANK-YOU! The crowds came from far and wide including Drayton, near Abingdon, Milcombe, Banbury, Bicester and of course, lots of support from our own village. We made over £900 profit which will make such a difference to the club, allowing us to secure some high-quality speakers and entertainers next year and subsidising some of the coach trips we organise and of course, not forgetting the Christmas dinner.
Our trip to Whitchurch Silk Mill and Bombay Sapphire at the end of September was everything we could have hoped for including the super weather. If anyone has a few hours to spare, I would recommend a visit to Whitchurch Silk Mill as it is set in a glorious location by the River Test and is well worth the journey.
By time you read this we will have been to Denbies Vineyard in Surrey and enjoyed another wonderful meal and undoubtedly sampled a glass or two of English wine.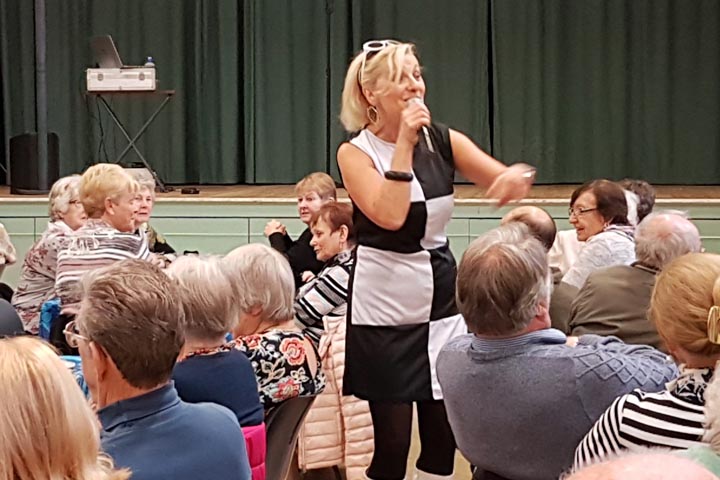 Our entertainer for October was Kerry Jean who sang with such enthusiasm music we all know from the 60's and made a wonderful accompaniment to some delicious home-made teas and excellent company. Her rendition of Tina Turner's classic hit, "Proud Mary" was so full of energy I hope she had an uneventful journey back to Leicester to allow her to time to recover!
For our November meeting on Tuesday 20th we meet at the earlier time of 1.30pm for our second helping of fish-and-chips for the year and after that, a quiz, so let us hope the fish encourages the old grey-matter to come up with some good answers.
For more information about the club give me a call or go onto our very own website at. https://valentineclub.wixsite.com/aston where you can view the forthcoming programme, catch up with news from the club and see photos of the club's activities.
Richard Preston – 01869 340512 or email richard.preston5@btopenworld.com
---
Valentine's new website and 2018 programme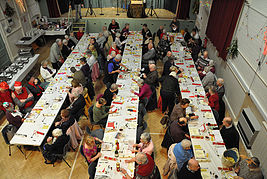 The Valentine Club joins the 21st century with the construction of its own website https://valentineclub.wixsite.com/aston This is all thanks to a wonderful volunteer in the village, William Riman from Northside, who is working towards his Duke of Edinburgh Gold Award and has been very involved in the workings of The Valentine Club over the past month or so.
The club started off the new year with two versions of Cinderella. The first being a visit to Milton Keynes theatre on the 3rd January where we saw Brian Conley and Gok Wan and their interpretation of this old-established pantomime. Then on the 9th January we were once again invited to Dr Radcliffe's school for their very own version of the same pantomime. The visit to the school is a great example of 'intergenerational' communication between the young and not-so-young members of our community. Many thanks to the school for inviting us and providing a superb tea.
Our first meeting welcomes Patrick Fitzgibbon to the club to enlighten us on his experiences with Unipart and The Mafia. This is the start of what must only be described as a very ambitious programme of events for the club in 2018 with eight coach trips and a very diverse range of speakers and entertainers.
Life begins at 60 so if you want any further information on what we do, have a look on our website or give me a call on 01869 340512.
Richard Preston – Club Chairman (for lack of a better description)
To see the club's 2018 programme, please click here.
---
Henley River Trip – June 2017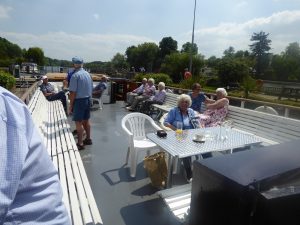 Chairman Richard Preston writes: "So far, we have had a busy year with trips to Littlecote Manor in Berkshire, a visit to Milton Keynes to see Mama Mia, a boat trip from Henley on The River Thames and information and entertainment each month ranging from community safety to ventriloquism. We still have four more coach trips this year and have already booked up for a return to Milton Keynes to see Cinderella in pantomime next January.
"Membership is still running at around 100 over 60's and we are managing to keep the finances alive with our monthly raffles and sales table and of course, not forgetting the annual jumble sale in October.
"Our trip on The Waterman, a river cruiser we hired entirely for the club, was a great success not only because we were afloat for four hours but the sun shone all the time and the buffet on board was fabulous. This is just one example of what a club of our size can achieve, allowing members to do something which otherwise might not have been possible."
For more photos of the river trip, please click here
---
Christmas Dinner 2016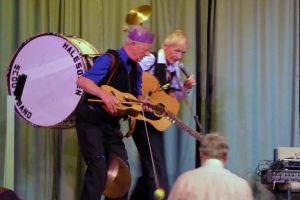 Chairman Richard Preston writes: "I think it would be fair to say that the Valentine Club finished off the year with a bang, not just the cymbals that Alan was wearing around his ankles (see the photo) but as the final event of the club's calendar. About 80 members were able to enjoy a wonderful Christmas meal in the village hall curtesy of S & J Cuisine accompanied by cheese and biscuits, wine, sherry and one of the biggest raffles you would ever see.
"We were entertained by Bruce Thompson's one-man-band who has appeared all over the world with the likes of Bruce Forsyth, Les Dawson and The Two Ronnies. He started off his act by saying that we were one of the youngest audiences he has played to since leaving the SAGA cruise line. Not sure if that was a compliment or not but it was taken in the best possible manner!
"Our programme for 2017 includes eight coach trips ranging from a cruise down The Thames to a visit to an historic house, accompanied by a meal of course. We have visiting speakers covering all sorts of topics to entertainers such as ventriloquists, guitarists and comedians so lots to look forward to in the new year.
"Getting older may be a bit of a nuisance but whilst travelling down that path we are going to enjoy ourselves! For more information about this band of over 60's please contact me on 01869 340512 or email Richard.preston5@btopenworld.com "
To see more photos, please click here
---
The Valentine Club visits Rousham for tea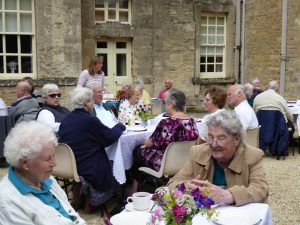 Chairman Richard Preston writes: ""The Valentine Club was blessed with one of the few sunny days this year when we visited Rousham Gardens for our June meeting. Thanks to Anne Starling and her helpers, 61 members enjoyed a superb tea in the courtyard to Rousham House and the opportunity to spend an hour or so meandering amongst the amazing displays of roses, herbaceous borders and all things that make Rousham such a glorious location."
For more photos, please click here.
June 2016
---
The Valentine Club visits Longleat lions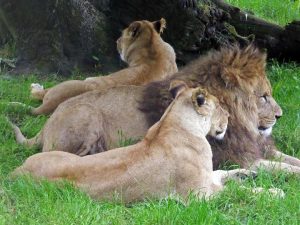 Richard Preston reports: "The theme for June is definitely LIONS with members of The Valentine Club. After a trip to London's West End to see The Lion King at The Lyceum Theatre after a superb meal at a restaurant on The Strand, it was time to see the real thing.
"On a warm, dry Thursday we all set off by coach to Longleat to see if the real lions could be found. We were not to be disappointed as out came the entire pride to say "hello".
"Longleat is not just about wild animals as the house is splendid and by taking the boat journey on the lake we were able to feed the sea-lions and see a very ancient gorilla on his own island. Life begins at 60!"
To see more photos, please click here.
June 2016