This section gives details of the great variety of arts and entertainments available within reach of Steeple Aston. It includes theatre, music, literature and talks, art galleries and cinemas.
If you have somewhere you would like to recommend for inclusion in this section, please email editor@steepleaston.org.uk.
---
Theatre
Steeple Aston Village Hall
A range of drama and music is performed in the Village Hall. Some events are by local performers and others are by visiting artists who tour the country.
Access: ramped access to the Village Hall
Parking: in the Village Hall car park
Website: www.steepleaston.org.uk/villagehall.htm
Tel: 01869 340423
018969 340485
01869 340512
---
Chipping Norton Theatre, Spring Street, Chipping Norton

An intimate theatre in a former Salvation Army chapel, it has now won several awards for regional theatre. It offers plays by visiting companies, one-person shows, dance performances, music and films as well as a highly-rated traditional pantomime each Christmas.
The theatre also runs workshops in theatre skills for 8 year olds and above during half terms and the school holidays as well as writing classes for adults.
There is an art gallery with works both for show and for sale, and a bar.
Access: they cater for disabilities but check with the theatre first.
Parking: in nearby streets, in the market square, or the long stay car park off the A44, New Street.
Website: www.chippingnortontheatre.co.uk
Tel: 01608 642350
---
The Mill Arts Centre, Spiceball Park Banbury.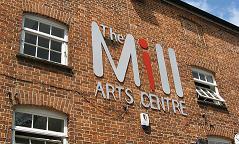 You can see plays in the 200-seat theatre at the Arts Centre (it is the home of the Banbury Players) as well as dance and musical performances.
They run a range of theatre workshops for those aged 4-18 years old, and a variety of dance workshops in the sprung floor dance studio for 2½-18 years.
There are also classes for adults in art, craft, dance, singing, musical instruments and writing in the art and workshop studio. The Arts Centre also offers yoga classes.
There's an exhibition foyer, a bar and a café with a lunch menu.
Access: they welcome disabled patrons and can cater for those with special needs.
Parking: pay and display car parks next to the Mill but you're advised to arrive early.
Website: www.themillartscentre.co.uk
Tel: 01295 279002 (box office)
01295 252050 (café and general enquiries)
---
The New Theatre, George Street, Oxford
This is Oxford's biggest theatre. It is part of the Ambassador group of theatres. At the New Theatre, you can see shows by visiting national and international soloists and groups. The performances cover a wide range: rock and pop groups and soloists, musicals, comedy shows ballet and opera.
Access: ramped access in the theatre. Disabled parking in New Inn Hall Street, St. Michael's Street and Beaumont Street. For further advice, phone 01865 320770.
Parking: Park and Ride from Water Eaton or Pear Tree. Otherwise, metered parking in St. Giles or in Gloucester Green Car Park.
Website: https://www.atgtickets.com/venues/new-theatre-oxford/
Tel: 0844 8717615
---
The Oxford Playhouse, Beaumont Street, Oxford
The Playhouse is an independent theatre which has strong links to the University of Oxford. The Playhouse offers drama, music, dance and comedy as well as a long established pantomime every Christmas. The performers in all fields are often well known names from UK and overseas. There are also performances by the University's Dramatic Society. The Playhouse takes some of its performances on tour and also offers workshops and training for young artists.
There is a Bar upstairs and in the foyer where you can also get snacks through the day.
The Playhouse also runs the next door Burton Taylor Studio which is an intimate 50-seat stage for student, professional, community and children's productions.
Access: contact them on 01865 305334. Disabled parking in Beaumont Street and nearby St. Giles
Parking: Park and Ride from Water Eaton or Pear Tree. Otherwise, metered parking in St. Giles or in Gloucester Green Car Park.
Website: www.oxfordplayhouse.com
Tel: 01865 305305
---
The North Wall Arts Centre, South Parade, Oxford
The theatre is in the grounds of St Edwards School and is built over their former swimming pool. It now provides a comfortable and intimate auditorium. Performances range from plays, to recitals, solo artists and speakers.
The Art Gallery on the ground floor is open from 11.00 – 16.00 daily and till curtain up on performance nights. In the building there are also a dance and a drama studio.
Access: one small step or ramped access 30 metres away. Space for four wheelchairs in the theatre.
Parking: most nearby streets are metered, but there are two public car parks in Summertown or you can Park and Ride at Water Eaton or Pear Tree.
Website: www.thenorthwall.com
Tel: 01865 319450
---
The Pegasus Theatre, Magdalen Road, Oxford
The theatre offers a broad spectrum of drama, dance and production workshops for young people aged 6 – 19 years old. They put on performances at a range of venues in Oxford.
Website: www.pegasustheatre.org.uk
Tel: 01865 722851
01865 305305 (Tickets Oxford)
---
The Creation Theatre
The Creation Theatre specialises in site-specific productions in a number of venues, often outdoors in the summer. For the last few winters it has staged performances in a mirror tent at the MINI Plant Oxford in Cowley. See their website for details of this and other venues.
A range of drama clubs for young people aged 5-16. Coaching is by professional actors and there are regular performances of works of classic children's literature or Shakespeare.
Access: Call in advance for assistance
Website: www.creationtheatre.co.uk
Tel: 01865 766266 (box office)
01865 761393 (general enquiries).
---
The Watermill Theatre, Bagnor near Newbury (just off the A34)
Situated in the grounds of an old watermill, the intimate theatre is set in scenic gardens next to the river. It offers plays by visiting companies and artists as well as its own 'Young Company.'
During the year, there are play-readings and theatre workshops for adults. Over the summer holidays, there is a range of theatre workshops for those aged between eight and 20.
You can have dinner in the restaurant before or after the show or you can just go and have lunch there. They also provide cream teas in the garden by the river during the summer.
Access: 90% accessibility for wheelchairs. Contact the theatre first.
Parking: for 60 cars next to the theatre.
Website: www.watermill.org.uk
Tel: 01635 45834 (admin)
01635 46044 (box office)
---
The Warwick Arts Centre, University of Warwick, Gibbet Hill Road, Coventry.
This in an extensive arts centre, which has over 300,000 visitors to more than 2,000 events each year. It is three miles from Coventry City Centre and you can reach it by the M40 and M42. The Arts Centre offers plays, films, music (soloists, groups, pop, jazz, classical), comedy, dance and visual arts. There is also a Café Bar.
Access: lifts at most venues.
Parking: free on the university car parks (see website for details)
Website: www.warwickartscentre.co.uk
Tel: 024 7652 4524
---
Music
Steeple Aston Choral Society
The local choral society usually puts on three concerts a year in the Village Hall or the church. Details of forthcoming concerts can be found in the What's On section of this website.
For more information about the society, please click here.
---
Woodstock Music Society
Founded in 1975, it has now grown to a mixed choir of 90 amateur singers with its own amateur orchestra. The leader of the orchestra is a professional musician as are the soloists at the concerts of classical music. Concerts are held three times a year in the church of St. Mary Magdalene in Woodstock. Every summer the choir goes on tour to Europe or elsewhere in England to rehearse and then perform.
'A stunning performance' (Oxford Times, 2009). 'A committed and heartfelt performance' ( Oxford Times, 2008).
Access: the church is accessible for wheelchair users but there are single steps to negotiate.
Parking: in the adjacent street or market place, or the car park in Hensington Road.
Website: www.woodstockmusic.info
---
Music in Adderbury
This chamber music group was established in 1986. As well as giving performances in Adderbury parish church, the group performs in Holywell Music Rooms and the Sheldonian Theatre in Oxford, They also travel and record all over UK and Europe. They are often joined by other visiting groups.
Concerts are held in Adderbury church on Sunday evenings usually at 7.45pm. You can usually buy tickets at the door before the performance.
'Living in Adderbury must be like living in Salzburg or Bayreuth' (Oxford Times).
Access: steps up to the church from the street
Parking: in streets near Adderbury church
Website: https://www.musicinadderbury.com/
Tel: 07711 606996
---
Kidlington Amateur Operatic Society (KAOS)
The society currently has around 100 members and was founded in 1977. It gives three performances a year of musicals and operettas. The performances are usually in Gosford Hill School or in St. Mary's parish church, Kidlington. The Society sees itself very much as part of the Kidlington community and also raises money through its performances for local, national and international charities.
Parking: at Gosford Hill school or near the church
Website: http://www.kaos.news/
---
Bicester Choral and Operatic Society
The Society performs musicals, operetta and gives concerts in Bicester churches and Bicester Community School. From 1961 onwards, several local village choirs joined together to form the one society. You can buy tickets from SH Jones, Wine Merchant, Sheep Street, Bicester.
Parking: public car parks in the centre of Bicester
Website: www.bcoswesing.org.uk
---
Music at Oxford

This is where to look if you want an overview of what's happening in the classical music scene in Oxford. They have a comprehensive list of major classical music events in Oxford at venues such as the Sheldonian, Holywell Music Room, Christ Church Cathedral, Jacqueline du Pré Music Building and Keble College. You can also book your tickets through them online or by telephone.
Website: www.musicatoxford.com
Tel: 01865 242865
---
City of Oxford Orchestra
This is an orchestra of professional musicians drawn mostly from Oxford. They perform regularly in the Sheldonian Theatre and occasionally at other venues in Oxford. Their Summer Festival of baroque music attracts visitors from all over the world. At times, during the year, they give concerts with choirs of local young people.
Website: www.cityofoxfordorchestra.co.uk
---
Oxford University Musical Society (OUMS)
OUMS was founded in 1867 and is at the heart of the university's musical activities. Under its 'umbrella' you can find the University of Oxford's University Orchestra, Philharmonia, Sinfonietta, Chamber Orchestra, String Ensemble, Wind Orchestra, Big Band, Brass Band and Student Chorus.
There is always a termly concert, often in the Sheldonian Theatre. At other times, these groups play in a range of colleges at the University. There are also some lunchtime concerts and recitals as well as some coffee concerts in various colleges and venues within the University.
Website: www.oums.org
---
Oxford Bach Choir
Founded in 1896, this 200-voice ensemble is one of the UK's best known amateur choirs. From 1997 until 2015 it's chief conductor was Nicholas Cleobury who lives in Steeple Aston. The choir gives three or four performances each year and most of these are in the Sheldonian Theatre.
Website: www.oxfordbachchoir.org/
---
Coffee Concerts, Holywell Music Rooms, Holywell Street, Oxford
Begun in 1986, the Coffee Concerts offer chamber music performed by renowned UK and international performers. The Holywell Music Room was the first-ever concert hall to be built in Europe and the acoustics for chamber music are excellent. Performances are almost every Sunday at 11.15am. Coffee is served from 10.30am before and after each concert at the nearby Kings Arms, and before each performance at the Turf Tavern and Garden Vaults if you show them your concert ticket.
Website: www.coffeeconcerts.com
---
Music in the Abbey, Dorchester-on-Thames
The Orchestra of St. John's and its choir consist of freelance musicians and have been giving concerts of classical music in Dorchester Abbey since 1967. They attract some of UK's top soloists such as Dame Felicity Lott. In addition to the concerts in the Abbey, they also perform in other venues around the country and in London. They also work with disadvantaged groups such as those with autism and dementia. Every summer for the past eleven years, they have put on a Music Festival.
Access: some steps up to the Abbey. Ask for advice
Parking: in nearby streets.
Website: www.osj.org.uk
---
Garsington Opera at Wormsley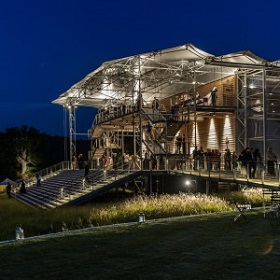 Garsington Opera gives performances during June and the first half of July in a spectacular Opera Pavilion, which sits within the rolling landscape of the Chiltern Hills.
There is a programme of at least three operas each year, often including a Mozart opera. It also champions less-known works and has staged a number of British premieres including Haydn's Orlando Paladino, Vivaldi's L'Olimpiade, and Rossini's Armida, L'equivoco stravagante and Maometto secondo.
The 2016 programme includes Tchaikovsky's most famous opera, Eugene Onegin and Rossini's L'italiana in Alger along with Idomeneo, Mozart's early masterpiece. In addition, Garsington Opera will collaborate with the dance company, Rambert, on a joint project, Haydn's The Creation..
Garsington Opera performances have taken place since 1989 when they were started by the late Leonard Ingrams and his wife, the owners of the Garsington Manor near Oxford. Following Leonard's death, Garsington Opera moved to the Wormsley Estate, home of the Getty family, in 2011.
Wormsley is a 2500-acre estate and 18th century country house set in the Chiltern Hills near Stokenchurch. Complete with lake and deer park, it is an English country estate on a grand scale sheltered by wooded slopes.
If you arrive early you can visit the Walled Garden, the famous Cricket Ground and the Opera Garden. You can have afternoon tea before the performance, and can take or order a picnic to enjoy in the garden during the long interval, or you can reserve a meal in the restaurant.
Access: Seats accessible with very few stairs or a lift can be reserved at the time of booking. Tickets for wheelchair spaces must be booked in advance and a parking permit will be issued. Telephone the Box Office on 01865 361636.
Parking: Picnic Field
Website: www.garsingtonopera.org
---
Longborough Festival Opera, Longborough, nr.Moreton-in-the-Marsh
This 500-seat theatre is built in the grounds of a private house with a view over the Evenlode valley. Three operas are performed every year during June and July by visiting artists and orchestras. The operas start early (6.30 p.m.) to allow for a 90-minute interval in which you can picnic in the grounds, dine in the restaurant or choose from the buffet in a marquee. Longborough also run educational workshops for Years 12 and 13.
Access: ask for advice
Parking: in the grounds
Website: www.lfo.org.uk
---
The Stables Theatre, Stockwell Lane, Wavendon, Milton Keynes
The theatre is in the grounds of the home of Dame Cleo Lane and Sir John Dankworth. It was built with the aim of breaking down the barriers between different kinds of music and of making music of all kinds available to people from all backgrounds. At the Stables you can hear jazz, folk, swing, and ballads among others. There's also a café, which offers light meals and pre-performance dining.
Access: ask for advice
Parking: large car park next to the theatre
Website: www.stables.org
---
Fairport's Cropredy Convention, nr. Banbury.
This three-day festival of folk and folk rock has been running every year in August for nearly 40 years. Now 20,000 visitors, the young and not-so-young, attend. Many of them camp on the campsites nearby. Fairport Convention perform as do numerous visiting bands and artists.
Access: ask for advice
Parking: on site
Website: www.fairportconvention.com
---
Cornbury Music Festival
This festival (known to some as Poshstock) was first held in 2004 and now attracts 10,000+ visitors of all ages each year in July. It describes itself as a country fair with a rock 'n' roll twist', and is proud of being civilised and family friendly.
The festival used to be set in the grounds of the estate of Lord and Lady Rotherwick, near Charlbury. But it has now moved closer to Steeple Aston, and is held on the Great Tew Estate.
In addition to the music, there is comedy, a children's zone with circus tent, therapists and healers, street performers and arts and crafts stalls. There is also a wide range of good quality food.
Access: wheelchair viewing platform and disabled campsite
Parking: on site
Website: www.cornburyfestival.com
---
Literature and Talks
Blenheim Palace Festival of Literature, Film and Music
This festival is held in Blenheim Palace and other venues in Woodstock every October over four days. It offers speakers on a wide range of topics taken from literature, history, politics and also art and gardening. You can listen to debates, interviews and lectures in the Orangery or India Room in the palace. You also have free entry to the grounds and palace on some of the festival days. Food is available at the palace restaurant where you can sit out on the terrace, or at any of the pubs and hotels in Woodstock. There is also a Festival Dinner held one evening in the Great Hall.
Access: no problem at the palace. Three other venues in Woodstock may be difficult
Parking: on site at the palace; public car park in Hensington Road in Woodstock for other venues.
Website: http://blenheimpalaceliteraryfestival.com/
---
Cheltenham Literary Festival
This festival, founded in 1949, claims to be the oldest literature festival in the world. It runs for ten days every October and is held in Cheltenham Town Hall and a marquee next door. The festival is packed with speakers and authors from the fields of literature, journalism, politics, history, medicine and many more. Some events are lectures, others are debates and others take the form of interviews.
Access: can be approached on level ground across through the marquee
Parking: in public car parks and nearby streets.
Website: www.cheltenhamfestivals.com/literature
---
Chipping Norton Literary Festival
This four-day festival is held towards the end of April each year. Festival events take place at Chipping Norton Theatre and a number of other venues around the town.
Before the festival there are a number of events for young people and adults including competitions and workshops. There is also a Short Story Competition. Many authors visit schools in the area to give workshops.
Details about accessibility for each venue and parking are on the website.
Website: www.chiplitfest.com
---
Oxford Literary Festival
This nine-day festival takes place in March or April each year. Festival events mostly take place around two hubs – the Blackwell's Marquee, next to the Sheldonian Theatre, Bodleian Library and Weston Library, and Worcester College, in Walton Street.
There are leading writers and speakers from the fields of literature, politics, history and others with lectures, debates, panel discussions and interviews. A Festival Dinner is held at the Randolph Hotel.
Access: All venues have disabled access. Wheelchair spaces can be booked online and include a place for a carer.
Parking: Park and Ride recommended. Otherwise metered on-street parking or public car parks in Oxford (the nearest is Westgate).
Website: www.oxfordliteraryfestival.org
---
U3A
Are you over 50 and no longer employed? Then you might consider joining the U3A ( University of the Third Age). The U3A is a charity with over a quarter of a million members in UK as well as overseas branches. The aim is to go on learning while enjoying social contacts and meeting new people.
The Woodstock U3A branch meets for a Speaker Meeting every first Tuesday of the month in the Marlborough School, Woodstock. Topics range widely over history, science, travel, ecology and many more.
Individual Special Interest Groups meet regularly and cover interests such as literature, science, music, art, walking and many more.
No qualifications are required – just a desire to learn and meet friends. Membership fees are £20 for a year which includes all meetings and special interest groups. Or you can come along as a visitor for just £2 to see if the U3A is for you.
Contact: www.u3asites.org.uk/Woodstock
---
Woodstock Bookshop, 23 Oxford Street, Woodstock
A series of informal talks throughout the year by authors and publishers. Speakers have included Susan Hill, William Fiennes and Prue Leith. Talks start at 7.30pm and cost £4 which includes a glass of wine or juice and is redeemable against a book bought at the talk.
Access: street level
Parking: on street or in nearby Hensington Road car park near the library.
Website: www.woodstockbookshop.co.uk
Telephone: 01993 812760
---
Wootton Talks
These talks were started in Wootton, near Woodstock, to raise funds for a new Village Hall. In relaxed, informal surroundings in the current wooden village hall, you can hear some excellent speakers and enjoy a glass of wine, all for £8. Past speakers include Sir Geoffrey Howe, Jon Snow and Baroness Greenfield.
Access: two steps up to the village hall
Parking: in nearby streets
Website: www.woottontalks.co.uk
---
Art Galleries
NB Many local museums are listed in the Outings with Kids section of the website.
Iona House Gallery, High Street, Woodstock
Iona House Gallery is an established, highly respected art gallery, showcasing quality and affordable art from both renowned artists and new rising talent. It specialises in English, Scottish and Russian Art, and raises funds for charity.
Over 300 pieces are on view at any one time including paintings, photography, sculpture, ceramics, wood, glass and jewellery, with a framing service also available.
Website: www.ionahousegallery.org
---
Kelmscott Manor, nr Lechlade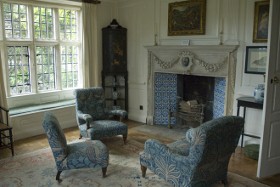 Set on the banks of the River Thames, Kelmscott Manor was the summer home of William Morris, which he co-owned with the Pre-Raphaelite painter Dante Gabriel Rossetti. It contains an outstanding collection of the possessions and works of Morris, his family and associates (Benson, Burne-Jones, Rossetti and Webb amongst them), including furniture, original textiles, pictures, carpets, ceramics and metalwork.
Check the website for opening hours, which are quite restricted.
Access: Wheelchair access to the gardens, shop, restaurant and ground floor of the Manor. Disabled toilet facilities. A wheelchair is available.
Parking: The car park is a 10 minute walk from the Manor, situated close to the church and signposted. Disabled parking and a drop-off point are available at the Manor.
Website: www.kelmscottmanor.org.uk
---
Modern Art Oxford
The largest gallery devoted to modern and contemporary art in the South East is located at 30 Pembroke Street in Oxford. Founded in 1965, the gallery has a national and international reputation for the quality of its exhibitions and accompanying community and education programme. All exhibitions are free.
It has a café, a shop and an events programme,which includes talks, discussions, contemporary music and film nights.
Access: Lift to all floors.
Parking: Park and Ride recommended, the nearest carpark in Westgate.
Website: www.modernartoxford.org.uk
---
Christ Church Picture Gallery, Oxford
Christ Church is unique among Oxford colleges in possessing an important collection of Old Master paintings and drawings. The collection is strong in Italian art from the 14th to the 18th centuries and has works by Tintoretto and Veronese as well as works by notable northern painters such as Van Dyck and Frans Hals. The gallery holds regular exhibitions and events in addition ot the permanent collection.
To visit the Picture Gallery without visiting the rest of the college, you can enter through Canterbury Gate off Oriel Square (from King Edward Street), only a couple of minutes' walk from the High Street.
Access: the Picture Gallery is not accessible to wheelchair users as it is reached by a narrowflight of stone steps. For further information, please contact the Curator on 01865 276172.
Parking: Park and Ride recommended, nearest car park is Westgate.
Website: www.chch.ox.ac.uk, then go to Picture Gallery
---
Ashmolean Museum of Art and Archaeology, Oxford
The Ashmolean is Britain's oldest public museum and dates back to 1683. Located in Beaumont Street, Oxford, it has recently undergone a £61m redevelopment which has doubled its gallery space. It now has 39 new galleries, including 4 temporary exhibition galleries, a new education centre, state-of-the-art conservation studios, and Oxford's first rooftop restaurant.
For details of the enormous range of art and artefacts on show, look at the website.
Access: There are ramps with handrails on either side of the main steps. Wheelchairs are available in the shop for visitors' use free of charge
Parking: Park and Ride recommended, or park in St Giles or Gloucester Green carpark.
Website: www.ashmolean.org
---
Compton Verney, Warwickshire
Compton Verney offers a unique opportunity to view art in the setting of a Grade 1 listed Robert Adam mansion located in 120 acres of spectacular parkland. Compton Verney houses six permanent collections, including the largest collection of Folk Art in the UK, and has a rolling programme of temporary exhibitions. It also has a café and a shop.
Compton Verney is located north-west of Banbury, about six miles from Junction 12 on the M40.
Access: There is a ramp to the main gallery and lift access to all floors.
Parking: There is a large car park – or you can catch a bus from Banbury.
Website: www.comptonverney.org.uk
---
Cinemas
Banbury
There is a small Odeon cinema in Horsefair, Banbury. For details and listings go to www.odeon.co.uk/cinemas/banbury.
---
Bicester
There is a seven screen Vue cinema at Pioneer Square in Bicester. Parking is free for three hours with a validated cinema ticket. For details, listings and to buy tickets go to https://www.myvue.com/cinema/bicester/whats-on
---
Chipping Norton
There are frequent (but not daily) film showings at the theatre in Chipping Norton. For details of the forthcoming programme go to www.chippingnortontheatre.co.uk.
---
Oxford
There are two Odeon cinemas in Oxford, one is in Magdalen Street and one in George Street. For details and listings go to www.odeon.co.uk.
There is also a multi-screen Vue cinema in Grenoble Road, next to the football stadium. For details and listings, go to www.myvue.com/cinema/oxford/whats-on
Also in Oxford are the Phoenix Picturehouse, which is in Walton Street, Jericho, see www.picturehouses.com/cinema/Phoenix_Picturehouse ; the Ultimate Picture Palace is in Jeune Street, just off the Cowley Road, see www.uppcinema.com and the Curzon cinema is in the Westgate Centre, see www.curzoncinemas.com/oxford/info
---
Witney
There is a multi-screen Cineworld cinema in Marriotts Walk, Witney. For details and listings go to www.cineworld.co.uk/cinemas/witney.