2017
The Chairman reflects………
We have finished our society games for this 2017 season so I have put together a little of what it's all been about.
Golf can best be defined as an endless series of tragedies obscured by the occasional miracle, followed by a good bottle of beer.
Golf you hit down to make the ball go up. You swing left and the ball goes right. The lowest score wins, on top of that, the winner buys the drinks.
Golf if you find you do not mind playing in the rain, snow, even during a hurricane, here's a valuable tip…  your life is in trouble!
Golfers who try to make everything perfect before taking the shot rarely make a perfect shot.
A 'gimme' can best be defined as an agreement between two golfers… neither of whom can putt very well.
Golf's an interesting thing… It no matter how badly you play, it's always possible to get worse.
Golf's a hard game to figure.  One day you'll go out and slice it and shank it, hit into all the bunkers and miss every green.  The next day you go out and for no reason at all your game really stinks!
If your best shots are the practice swing and the 'gimme putt', you might wish to reconsider this game.

Golf is the only sport where the most feared opponent is you.

Golf is like marriage, If you take yourself too seriously it won't work, and both are expensive.
The best wood in most amateurs' bags is the pencil.
Best wishes from all in the Golf Society.
Alan Brewer, Chairman
---
Final 2017 meeting at North Oxford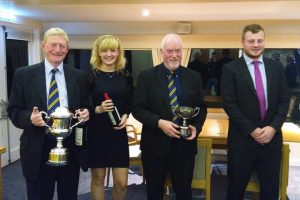 SAGS final meeting of the year was held at the North Oxford Golf Club. Twenty members and guests took part on this bright sunny day which was reflected in the higher scores achieved.
Pictured above holding the Chairman's Cup is next year's Captain Brian Kay, alongside is Becca Smith winning the Ladies Prize, this season's Captain Tony Peck holding the Hogs Back Trophy and George Kay standing in for his brother Paul who won the G.P.K. Insurance Cup.
Our thanks go out to our secretaries Chris Cooper and Mike Brown for their hard work. They are busy booking next year's venues so why not come and join us in 2018.
WINNERS
 
 
 
 
 
 
 
 
 
 
Hogs Back Trophy
 
Winner
Tony Peck
 
 
 
Runner-up
Brian Kay
 
G.P.K. Insurance Cup
 
Winner
Paul Kay
 
 
 
 
Runner-up
Tony Peck
Chairmans Cup
 
Winner
Brian Kay
 
Longest Drive
 
Tony Giles
 
 
Nearest the Pin
 
Geordie Mawson
 
 Best wishes
Alan Brewer, SAGS Chairman
---
SAGS v Exiles at The Cotswold Club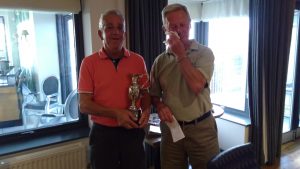 On  Sunday 17th September our annual SAGS v Exiles/nomads match at The Cotswold Club, Chipping Norton. Twenty-three "Golfers" contested the match on a beautiful sunny day on a well presented and challenging course. However, unfortunately due to some SAGS members not achieving their true potential and one no show, we LOST. Despite this minor setback, we had a great day with good food and enjoying wonderful company capped with all the wrong people winning the raffle (as usual).
Results as follows: SAGS combined stableford scores 271 points Exiles/nomads 283. Honours went to Richard Edmonds 35 points for the Exiles/nomads, Alan Brewer 33 points SAGS. Longest drive on the 13th Paul Bradshaw, Nearest pin on the 3rd Neil Powles, I feel he should also have had the longest drive as he drove up from Devon that same morning, on the 15th Craig Bedding. I would just like to point out that they were all Exiles/nomads winners,  There were no birdie 2's, that money went into the raffle and blow me down, they won that as well. Hence the handkerchief in the photograph.
With The Cotswold Club at almost 750 feet above sea level I shall be taking my team out for some high altitude training prior to our rematch next September. Neil Powles is seen here receiving the Dennis Neville Memorial Trophy. Sorry Dennis, next year I promise!!
There will be a report next month on our last golf outing of the season at North Oxford. The Kay's clean up again, mind you there are four of them.
Alan Brewer, SAGS Chairman
---
Captain's Day at Stratford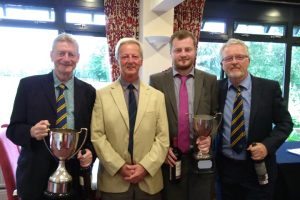 Another very successful meeting at Stratford-on-Avon Golf Club for our Captain's Day, weather was good, course in wonderful condition and hospitality was excellent. The Kay boys took the honours with Brian (Dad) winning the May Fu Two Trophy and his son George taking the Captain's Trophy. Lawrence Cole won longest drive and Mike Brown (not featured in photo) nearest the pin. Overall a very enjoyable day.
Our final meeting is at North Oxford on Friday 13th October. This is a beautiful parkland course of 5,800 yards, very tight in places with many trees to negotiate. You have to think your way around this short course if you want to score well.
Why not dust off those clubs and join us, you would be made very welcome. Contact Chris on 01869 347173 or myself on 01869 340423.
"I'd give up golf if I didn't have so many sweaters" Bob Hope.
Alan Brewer,  SAGS Chairman
---
Forthcoming matches
Tony Pecks Captain's Day will be played at Stratford on Friday, August 25th. All welcome.
Chairman Alan Brewer writes:
"Our next meeting is at The Cotswolds Club Chipping Norton. This is an annual event sponsored by Andy Neville for the Exiles (retired cricketers) in memory of his father Dennis, who was a member at Chippy and a long standing supporter of SAGS. The match is played in a very good spirit, we tend to mix and match depending on numbers but generally about 24 turn out.
"The date is Sunday, 17th September teeing off at 12:36pm. If you would like to play in this match please contact me on 01869 340423. Arrive at 11.00 am for bacon baps and coffee, play 18 holes followed by a one plate meal, many prizes to be had. All this for £35 at the weekend, can't be bad.
"Golf is all about if's and putts."
---
7 July: The Burford Golf Club
Chairman Alan Brewer writes:
"On the 7th July Steeple Aston Golf Society spent another day in paradise at The Burford Golf Club, This is one of those venues that you know will not disappoint.
"The weather helped with some low scores coming in for the Jubilee Cup which was won by Tony Giles 42 points playing off 10 now cut to 8. Runner up Bill Sandhu 37 points off 20, cut 1 shot. Longest drive our captain Tony Peck, Nearest the pin Geoff Clarkson and the only birdie 2 sinking a 30 foot putt Chris Cooper.
"Next venue Friday 25th August at Stratford for our Captain's Day, all welcome."
---
9 June: Wrag Barn Golf Club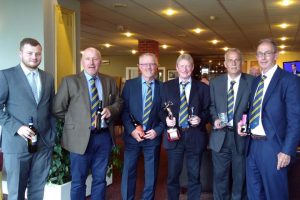 Chairman Alan Brewer writes:
" A wonderful sunny day playing on a lovely well laid out course that was in superb condition. It challenged the best. A thoroughly enjoyable day.
The winners, pictured here, were:
Winner – Brian Kay (36points) (Handicap – 12)
Runner Up – Tony Giles (35points) (Handicap – 10)
Longest Drive – Lawrence Cole
Nearest Pin – Chris Drake
Guest Prize – George Kay
Our next meeting is at Burford, this a very popular parkland venue, on Friday, 7th July. If you would like to join us contact either myself Alan, on 01869 340423 or our secretary Chris Cooper, on 01869 347173."
---
12 May: Wychwood Golf Club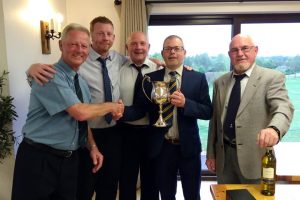 Steeple Aston Golf Society had its first meeting of the season on the 12th May at The Wychwood Golf Club; 21 of us met at midday for bacon baps and coffee with anticipation to the playing order and the revised handicaps.
Now it's not rained for 40 days and 40 nights, well it made up for it along with hailstones.
This reflected on the poor scores returned by half the field, no doubt hoping for another couple of shots to be given back on their handicap, (no chance).
Before we got to the prize giving, Wychwood provided us with a sumptuous carvery and a choice of six puds.
Honours board – nearest the pin on the 6th, Geoff Clarkson, Geoff also got a two, the only one of the day so he picked up all the 2's money. Longest drive on the 16th, Martin Kay, somewhere around 280 yards. Martin also won the guest prize with 38 points playing off 19.  Members of SAGS were playing for the late Richard Cardew Challenge Trophy, runner up on count back with 35 points Eric Blincoe playing off 25 and in first place 35 points Paul Needle off 12, well played Paul.
Our next meeting is at Wrag Barn on the 9th June this is a great course, have a look at it on the website and if this whets your appetite for a round of golf, give me a call, you will be made very welcome.
Asked why he had a new putter Tommy Bolt replied "Because the other one didn't float"
Alan Brewer (Chair)
01869 340423
---
Steeple Aston Golf Society 2017 Applications
Dear Fellow Golfer
After a cold and wet winter it is time to think of warm summer days on the golf course, playing with good friends and enjoying the banter.  In other words, it's time to re-join the Steeple Aston Golf Society!
Firstly I'm sure that we would all like to thank Frank for the tremendous job he has done as Secretary over the past 16 years which has been hugely appreciated by everyone.
Secondly, last year's Captain Paul Buck had a great year and we wish to thank him for his tenure and welcome this year's Captain Tony Peck.  Good luck Tony.
The details of the dates and venues for 2017 are:-
12th May:                         Wychwood Golf Club (18 Holes)
9th June:                           Wrag Barn (18 Holes)
7th July:                            Burford Golf Club (18 Holes)
August:                            Captain's Day (Date / Venue to be confirmed)
17th September:               SAGS v Exiles – The Cotswold
13th October:                    North Oxford (18 holes)
All venues will cost around the £45.00 mark, although one of our favourite courses, Burford, has significantly increased its prices and will be the dearest at £50. Exact costs will be shown on individual invitation sheets.
If you are aware of a new golfer wishing to join SAGS (a friend, relative or even an old member thinking about returning and of any gender), please ask for an application form and return it to Chris at the address below. Although it is best to use the steepleastongs@gmail.com email for all correspondence,
Chris Cooper
Combe Pyne, Water Lane, Steeple Aston, OX25 4SB
Tel:  01869 347173   Mobile: 07803 750442
Email:  chris777.cooper@btinternet.com
Happy Golfing!
Alan Brewer (chair)
---
2016
13 May: Wychwood Golf Club
Our first match of the season was held at The Wychwood G.C. Lyneham where 18 of us enjoyed this well maintained golf course followed by a carvery and a choice of four puds.
Lawrence Cole retained the trophy scoring 35 points and in second place Brian Kay scored 33 points. Jim Nicholls was nearest the pin 6th, longest drive 14th Stuart Allen, and second shot nearest pin 18th Tony Giles.
Our next meeting is taking place at The Springs, Wallingford on the 10th June, we meet up at 12 noon for bacon bap & coffee, play 18 holes stableford followed by a two course meal and prizes.
If anyone would like to join this fun group of golfers irrespective of handicap then please contact Alan Brewer, the Chair, on 01869 340423.
---
10 June: The Springs Golf Club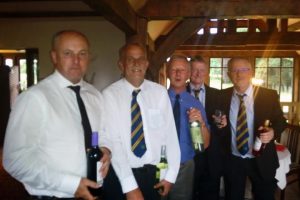 Steeple Aston Golf Society returned to The Springs near Wallingford after a couple of years' break, and we returned to find the course in excellent condition. This could be down to the new management team.
Most of the 22 players which included four guests enjoyed the day albeit some lost a few balls in the ponds and lakes around the course.
Captain Paul Buck presented the prizes to the following:- Birdie 2's Lawrence Cole & Bill Sandhu. Nearest the pin 8th hole Brian Kay. Nearest the pin 2nd shot 17th Lawrence Cole. Longest drive 12th Paul Buck. Guest winner Russel Rowells 42 points off 17 now cut to 13 if he plays with us again. Runner up Alan Brewer 37 points off 15 cut 1 shot to 14. Winner of the Cardale Challenge Trophy Brian Kay 38 points off 13 now cut to 11.
The winners pictured here (l to r) are: Russel Rowells, Paul Buck, Alan Brewer, Brian Kay and Lawrence Cole.
July's meeting is at Burford on the 8th, if you would like to join us please call Alan Brewer, the Chair, on 01869 340423 or Secretary Frank Damm 01869 347269.
---
8 July: Burford Golf Club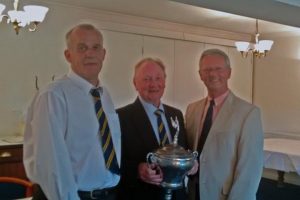 Burford is one of those courses that you know what you are going to get in the way of fast greens, manicured fairways and a good meal at the end of the day.
The winners are as follows:
Nearest the pin with the second shot on the 13th – Robbie Robinson
Nearest the pin 11th – Brian Kay
Longest drive 9th – Bill Sandhu
Guest winner – Mary Phipps 35 points playing off 15
Runner up – Brian Phipps 34 points playing off 5.
In the photo above are Captain Paul Buck and Chairman Alan Brewer presenting the Jubilee Trophy to Geordie Mawson with 36 points playing off 20. Very well done.
Our next fixture is on the 18th September at the Cotswold Club. This is the match against the Exile Cricketers who give us golfers a good run for our money.
If this fixture whets your appetite for a game then please contact me on 01869 340423 or our Secretary Frank on 01869 347269.
Happy Golfing
Alan Brewer
---
Looking forward to September's  matches
There is no fixture in August. The match against cricketing exiles on 18th September is now fully booked with 32 players itching to get on the first tee at the Cotswold Club, playing for the Dennis Neville Memorial Trophy.
Captain Paul Buck has chosen Stratford on Avon Golf Club for his Captain's Day which will be well attended, however we can always find you a place if you are reading this and would like to play this fantastic golf course. Please call me on 01869 340423.
May all your 3 footers be gimmes
Alan Brewer
---
18 September: SAGS v SACC "Nomads" (Cotswolds Club, Chipping Norton)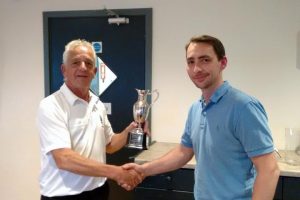 Steeple Aston Golf Society v Steeple Aston Cricket Club "Nomads" previously named as "exiles" played the annual golf match for the "Dennis Neville Memorial Trophy" at the newly named Cotswold Club Chipping Norton on a bright, warm, windless, Sunday afternoon with no excuses and we got stuffed!! 6 1/2 to a 1/2. Sorry Dennis.
Now whether it was the new format of Texas Scramble that the Nomads insisted on playing, or the ringers that were introduced due to a couple of no shows, or just the inability of the golfers on the day. I would like to think that it  wasn't the latter but just in case, I have sacked the lot of them!!
The picture above shows Nomads captain Neil Powels receiving the trophy from Andy Neville, plus, below  a view from the 5th two tiered green looking back up this par 5.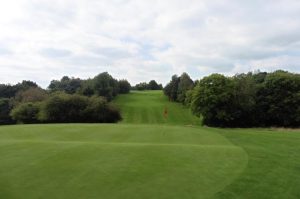 Joking aside, it was a cracking day with some great golf played at this magnificent course. You can always tell what sort of day it has been by the banter,  laughter & noise in the club house whilst we were having our meal.
The prizes were shared for nearest the pins on all par 3's & the two longest drives.
The raffle prizes kindly donated by our sponsor Andy Neville, SAGS & the Nomads were also equally shared rounding off with a donation to a Young Dementia Charity.
The Nomads team (how many names do you recognise) from your school & cricketing days led by Neil, Scott & Dave Powels, Mark & Neil Brewer, Andy & Craig Bedding, Simon Burwell, Alex Damm, Richard "I thought it was a 1:30 start" Edmonds, plus friends. Well done lads and just to let you know I am working on a new format for next year.
Alan Brewer, Chair
(I got the half with my partner Vaughan Billings after Mark & Andy hit their second shots out of bounds into the car park, oops)