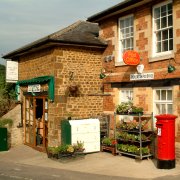 For opening hours, please click here
Less than a hundred years ago, Steeple Aston boasted three grocery shops, two butchers and several other specialist stores. Now, we count ourselves very lucky to have just one – our own Village Shop and Post Office.
The building, which dates from 1840, was originally a pub called the Wheatsheaf. Apparently, it developed a reputation for drunkenness and noise and was eventually closed down for "unruliness", after a fight between two customers egged on by all the others.
It has been a shop ever since and was owned and run by the Harris family for the first thirty years of the 20th century. Hence it still has the name Harris Stores. The shop amalgamated with the Post Office in the late 1930s.
Located on the corner of Southside and Paines Hill, the shop is at the centre of the village – and at the centre of village life. For many residents a visit to the local shop is part of their daily routine. As well as being convenient for shopping, it also provides an opportunity to meet friends and catch up with village gossip.
The shop has had several owners since the original Harris family. In 2002, it was purchased by Andrew and Sharon Peace who undertook extensive renovation and reorganisation.
They expanded the range of goods and services on offer in response to customer demand. As well as a very wide range of groceries, the shop now stocks fresh meat from a Banbury butcher, local organic free-range eggs and freshly baked bread and rolls. Fresh fruit and vegetables are also available, and in the spring and summer you can buy a range of bedding plants.
In addition to the Post Office services, you can also buy a lottery ticket, send your clothes for dry cleaning and draw out cash from your bank account. And if you're planning an evening in, you can rent a DVD, buy a bottle of wine and find something delicious to pop in the oven.
The shop was sold in March 2008 to Ponnuthurai Kularajakaran, better known to all as Raj. He comes from Croydon, but his family is originally from Sri Lanka. He runs the shop with his cousin Pari and Pari's son Prash, and the family live above the shop in a self-contained flat.
They know that the village shop needs to supply its community if it is to survive. They are very keen that their customers let them know if there are any new goods or services they can provide.
Contact details
Ponnuthurai Kularajakaran (Raj)
Harris Stores and Post Office,
Southside, Steeple Aston
OX25 4RR
Telephone
Shop 01869 340201
Email raj4878@hotmail.com
Opening hours
Shop
Monday to Saturday 7.30am – 7.30pm
Sunday 8.00am – 6.00pm
Post Office
Monday to Friday 9.00am – 4.00pm
Saturday 9.00am – 12.30pm
Last postal collections
Monday to Friday 4.00pm
Saturday 9.15am