APRIL
Red Lion reopens for drinks in April, new tenants arrive in May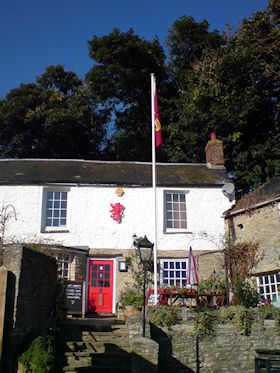 Steeple Aston's Red Lion pub reopened in April for outside drinking only in accordance with government guidelines.
The pub opened Tuesday, 13th April for drinks only outside. Opening hours for the time being are Tuesday to Saturday 5.30-11.00pm, Sunday 12-6.00pm. They are no longer serving food.
However, the current tenants Aidan and Kegan Madden are to leave the pub on 4th May. The brothers, who took over from Mel and Sarah Phipps in late 2019, have had a difficult year like most people in the hospitality industry.
The pub's owners Hook Norton Brewery have been advertising for new tenants and hope to have them in place by the time pubs are allowed to fully open on 17th May.
Edwin Pope, the Operations Manager at Hook Norton Brewery, said: "The Maddens are leaving in early May and I have been actively recruiting for their replacement. There has been a lot of interest and I am in the final stages of selecting a tenant.
"I fully expect the site to be open in time for lifting of internal restrictions on May 17th."
---
Prince Philip
A further message from the Rector, Revd Marcus Green:
On Thursday evening 15th April at 9.00pm there will be a short service of prayer to remember Prince Philip, the Duke of Edinburgh, in Steeple Aston Church. The service will offer a time to gather and to reflect during these national days of mourning, and is open to anyone who would like to come – no need to book.
Please do wear a face covering, and (if possible) arrive at the same time as others with whom you would like to be seated.
The church is also open every day for those who wish to take their own time to pause and pray. Many of us have been personally affected by grief over the last year, and the emotions of these days can take us by surprise. Our church is here to offer both peace and hope to all of us, as we are reminded of God's eternal love in this Easter season.
There is more, including a link to the Church of England's online condolences book on the church website.
---
Revised plans for chicken sheds go to council
Developers have put in a new application for planning permission to build business units at the chicken sheds – Hatch End Old Poultry Farm between Steeple and Middle Aston.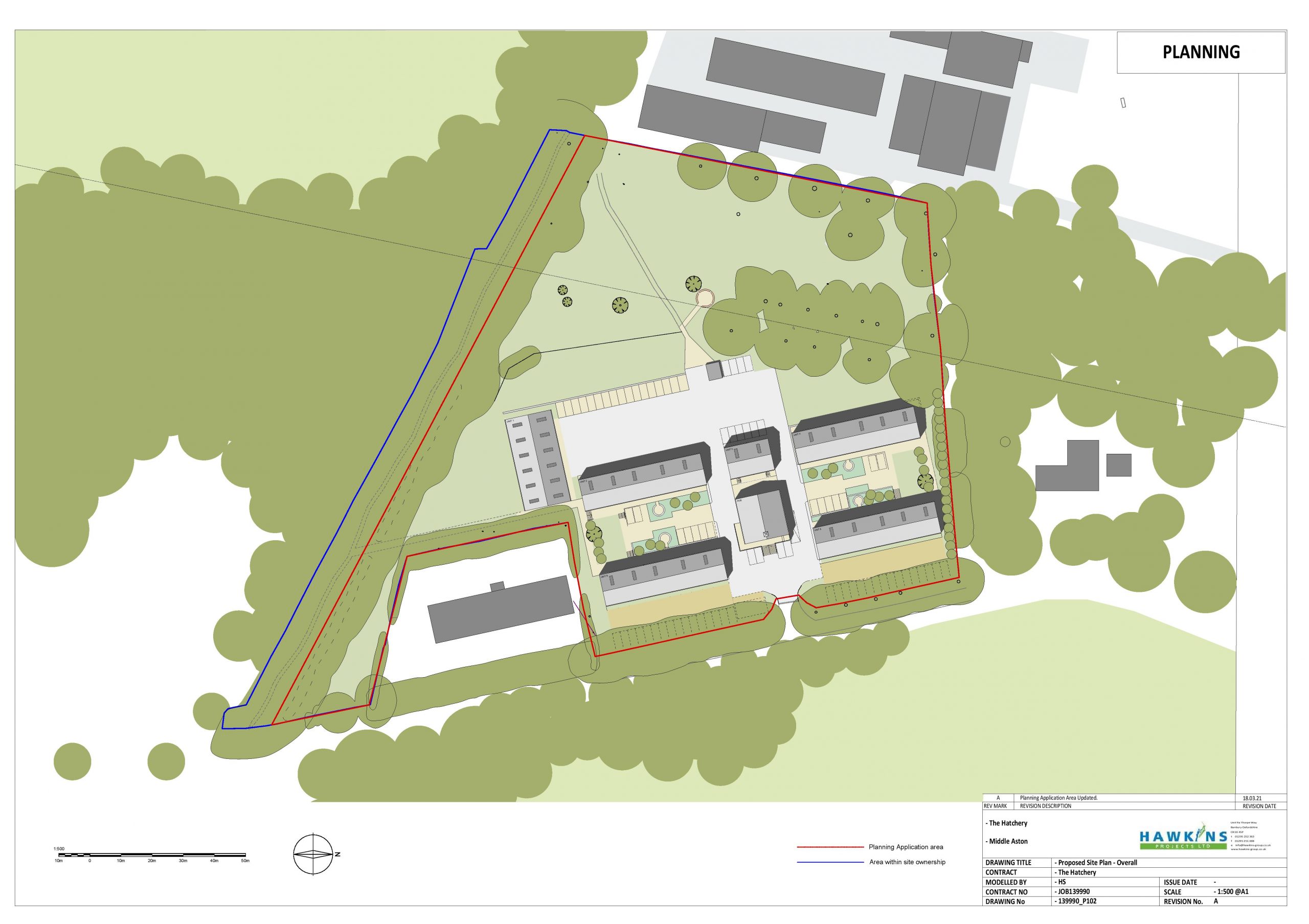 The developers, Middle Aston Ltd, say they have amended their proposals to take into account matters that were raised during the course of their previous application, which was eventually withdrawn. Last year's proposal year to build 29 units on the site met with strong opposition from residents in Steeple and Middle Aston.
At a Zoom Parish Council meeting on Monday, 15th June attended by more than 15 villagers, all opposed to the scheme, Steeple Aston councillors voted unanimously to object to the plans. Middle Aston Parish also objected to the scale and design of the original plan and voiced concern about road safety, as did many others. Mid-Cherwell Neighbourhood Plan Forum also put in detailed objections along with a large number of villagers, the governors of Dr Radcliffe's School and Revd Marcus Green, The Rector of Steeple Aston.
The developers say that their research confirms that, despite the pandemic, there is a demand for commercial accommodation of this type in North Oxfordshire. They have reconsidered their original plans in the light of the comments and objections received.
In this new proposal:
the existing 2,246m2 of commercial floorspace is replaced with 2,215m2 of commercial floorspace. So the scheme is of a similar scale to the existing buildings and much reduced from the previous scheme.
The number of units has been reduced from 29 to 24, and the number of car parking spaces from 97 to 79.
The design and scale of the buildings has been revised to address comments that were made about the height of the buildings and their impact on the character and appearance of the area. The proposed buildings will be single storey with heights ranging between 4.1m and 5.5m compared with 6.5m for the previous scheme.
Oxfordshire County Council as highways authority raised no objection to the previous scheme and the current scheme will have reduced highways impacts.
The developers conclude that the revised plan "has been sensitively designed to fit with the rural surroundings and is considered to have a positive impact on the character and appearance of the adjacent conservation area when compared with the existing buildings and overall site appearance.
"The proposed scheme overcomes previous objections through a design which is more akin to the existing development and of appropriate materials thus resulting in little or no harm to the character and appearance of the area. Notably, the proposed scheme results in a reduced floor area when compared to the existing development and significantly less than the previously submitted scheme."
The application will be considered by Cherwell District Council's Planning Committee, probably in June. Before that Steeple Aston Parish Council, Middle Aston Parish and others will want to look carefully at the new plans.
You can see the detailed plans and make a comment if you wish on the Cherwell District Council website. The application number is 21/01123/F and the deadline for comments is 7th May.
---
FEBRUARY
Two councillors required as Charlotte resigns
There are now two vacancies on Steeple Aston Parish Council following the resignation this month of Charlotte Bartlett. Graham Porcas resigned from the council last November, and his vacancy has still not been filled.

Charlotte joined the council three years ago. She has been busy since lockdown last March coordinating the S&J Cuisine meal deliveries in the village. She has kindly agreed to continue in this role. S&J have delivered more than 3,000 meals to villagers in Steeple and Middle Aston since last March. Charlotte has said that anyone can still contact her on charlottebartlett.steepleaston@gmail.com if they have any enquiries about meal deliveries.
Charlotte will also continue to be active in the village as Advertising Manager for Steeple Aston Life and supporting Sustainable Steeple.
The Parish Council is now seeking to fill both these vacancies. If you are interested, please contact the Parish Clerk, Cathy Fleet, on 01869 347000 or 07989 398838, or email her at parishclerk.steepleaston@gmail.com.
---
Covid vaccination message for over-70s from surgery
Message from Deddington Health Centre sent on 8th February:
If you are in one of the 4 groups below and have not booked your 1st covid vaccine and would like to do so please call us urgently on 01869 338611.
Residents in a care home for older adults and staff working in care homes for older adults
All those 80 years of age and over and frontline health and social care workers
All those 75 years of age and over
All those 70 years of age and over and clinically extremely vulnerable individuals (not including pregnant women and those under 16 years of age)
There's more information on the health centre's website
---
Robert steps up as new SAL co-editor
The March edition of Steeple Aston Life will have a new editor. Robert Scott has stepped in to fill the vacancy created by the departure of Becca Coker, and will edit the next few copies of the magazine while Angela Smith is on maternity leave.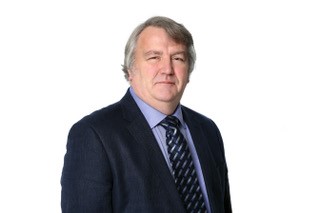 Robert has lived in the village for just over 30 years and has spent most of his working life running his own publishing company, so is very well equipped to take on this editorial role.
Born near Lincoln, Robert spent much of his early life in Nottingham where he studied graphic design and photography. His first job was working on photography magazines for Robert Maxwell's Pergamon Press at Headington Hill Hall, now part of Oxford Brookes University.
When Practical Photography magazine was bought from Maxwell by its Peterborough printer, Robert moved there. He eventually became editor of the magazine, but in 1982 decided to strike out on his own and set up Robert Scott Publishing Ltd.
Working for himself, he realised he could live anywhere he liked, so decided to return to Oxfordshire. He found a home in North Side, Steeple Aston and offices for the company in Tackley, where it remains to this day.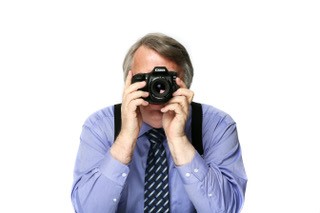 The company's main publication is EOS magazine, a quarterly subscription magazine for Canon camera users. But over the years the business has expanded and now has a website with a busy forum and a digital edition of the magazine. It also runs training courses and publishes books.
Four years ago, Robert sold the company as a management buyout. He has continued to work on the magazine as a freelance Consultant Editor. Now working from home and having given up his management responsibilities, he looks forwards to getting more involved in village life by taking on the SAL editorship.
In fact, his links with SAL go back a long way as he was a member of the committee back in the early 90s. He was also involved in Steeple Aston Village Archive Trust (SAVA) helping with the publication of their early books.
In 2018 and 2019, Robert opened his garden as part of the NGS Open Gardens scheme. He's hoping to do so again if the event is able to go ahead on June 20th. If it does, there will be lots to keep him busy in the garden over the next few months. But meanwhile he wants to concentrate on ensuring a smooth transition at SAL. He will welcome all contributions from villagers – written pieces and photos – just email Robert on editorsalife@gmail.
---
OurBus Bartons provides vaccine transport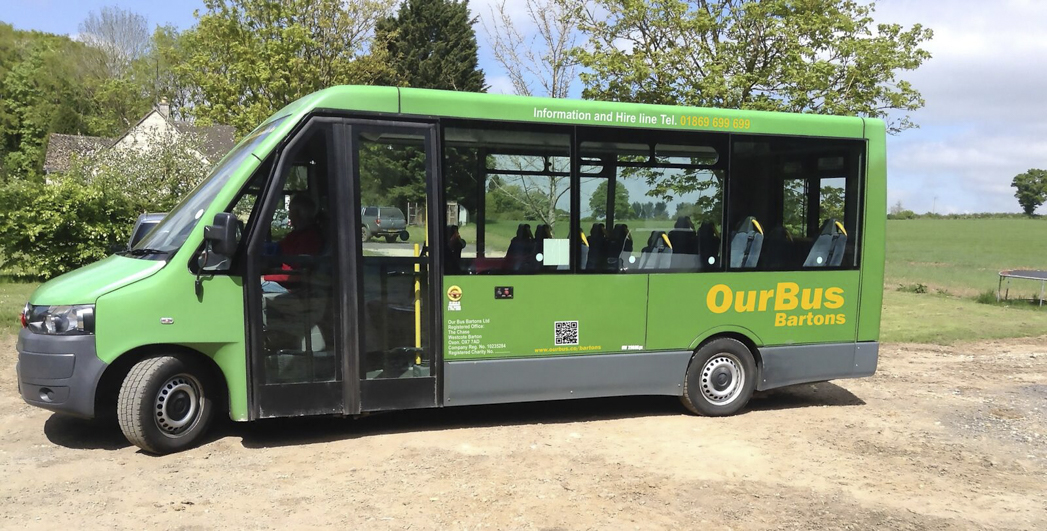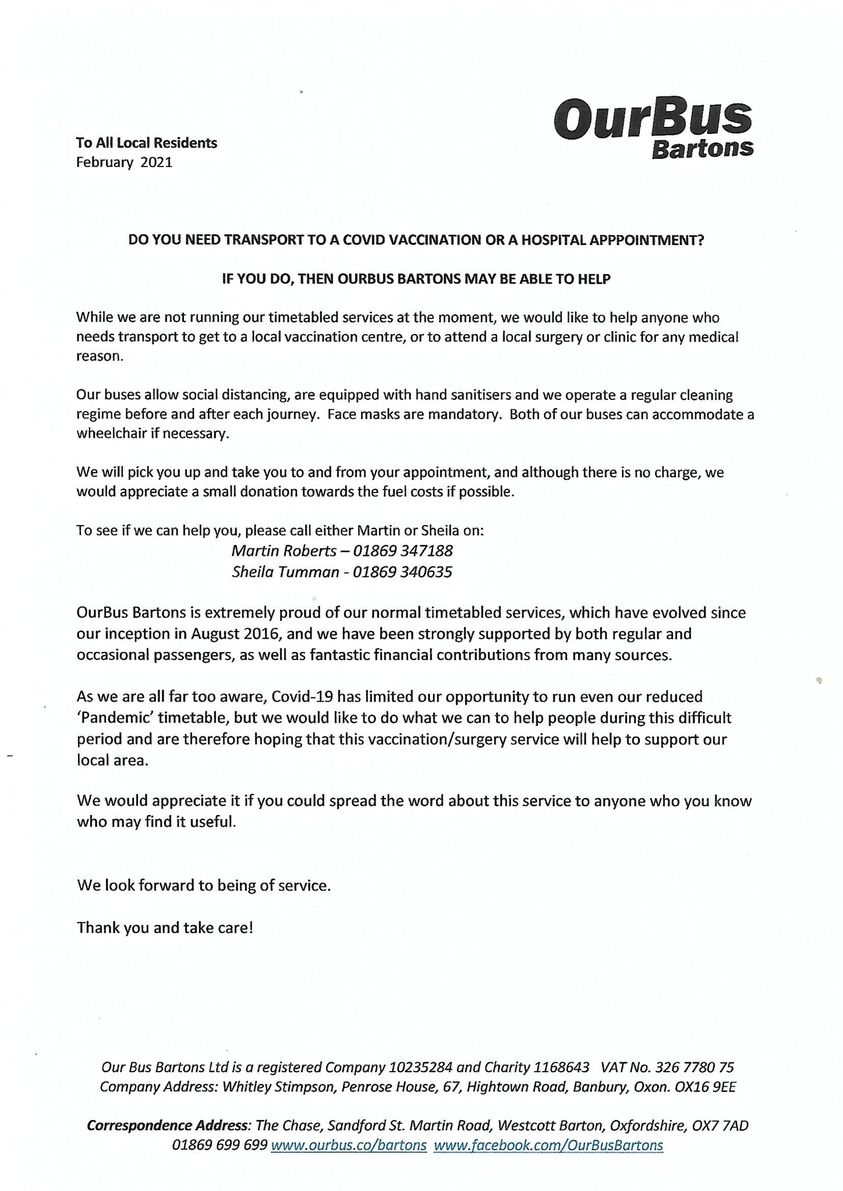 ---
JANUARY
Neighbourhood Plan is a success says annual report
Mid-Cherwell Neighbourhood Plan has been described as having "real clout" after its first annual report shows a successful record in 2019/20.
Steeple Aston Parish Councillor Martin Lipson, who is Chair of the MCNP Forum, writes in the report that some Neighbourhood Plans in Oxfordshire are having trouble getting their policies recognised. He says we are fortunate that in Cherwell we appear – so far – to have planning officers who, although hard-pressed, have been largely diligent and amenable to the role of Neighbourhood Plans.
This observation is born out by the MCNP's 'success rate'. Outcomes that aligned with their policies in those that were analysed above was 89 per cent The Forum members have been kept busy though, as every member parish had at least one planning application to which the MCNP Forum submitted comments.
The report will be considered by the 11 local parish councils covered by the plan. Duns Tew Parish Council has already examined it and they liked what they saw. They said "The MCNP Annual Report was on our Agenda at the PC meeting last night and the feedback was: 'A commendably brief annual review that shows that the MCNP has real clout'. The parish councillors also asked to pass on their thanks and appreciation for all the hard work you do."
More information can be found in the full report.
---
Appeal lodged against refusal of Beeches plan
Adrian Shooter, the owner of the The Beeches in Heyford Road, Steeple Aston, has lodged an appeal against the refusal of planning permission to build houses on the site.
The appeal is for the building of up to eight dwellings on the site, down from the 10 which were refused most recently. Three previous applications, which were refused or withdrawn had been for eight homes.
It is thought that the number was increased to 10 to ensure that the application was considered by committee rather than being delegated to an officer. However, in November last year, Cherwell District Council's Planning Committee voted to accept their planning officer's recommendation to reject the application.
The officer's report stated that: "The proposed development would not make effective and efficient use of land and would significantly encroach into the countryside beyond the built-up limits of Steeple Aston; contrary to the housing strategy of the Development Plan for the area, for which it has not been demonstrated that there is a justified need. In its proposed location the development would therefore be an unjustified and unsustainable form of development."
Steeple Aston Parish Council had decided by a majority not to object to the application. However, the Mid-Cherwell Neighbourhood Plan Forum had several objections.
In their appeal, Framptons Town Planning, on behalf of Mr Shooter asked for the application to go to a public inquiry. They wrote: "It is considered that there is a material difference in planning judgement between ourselves and the planning officer. This material difference, in our view, relates to a proper interpretation of policy. It is an error of law to not interpret policy properly.
"In consideration of this view, it is considered that the best way to test the interpretation of policy is through a Public Inquiry and cross examination of the relevant criteria attached to policy."
The Planning Inspectorate have refused this request, so the appeal will be conducted through a written procedure, though an Inspector will visit the site. There will be an opportunity for those who were consulted on the original application to make further comments. The deadline is 11th February.
Framptons argue that "the proposal is one that clearly should be permitted. It comprises in a modest and appropriate scale of development, on previously developed land."
They say that the planning authority" has failed to have proper regard not only to the terms of the application but a proper interpretation and application of policy and which has led to the refusal of a sustainable development which would make efficient use of brownfield land."
A decision on the appeal is expected in March. Details of the original application and the appeal can be found on Cherwell District Council's website.