There are plenty of places for visitors to stay in and around Steeple and Middle Aston. Within the villages there are two B&Bs, and a large hotel. Within ten miles there are numerous hotels, guesthouses and B&Bs.
In Steeple and Middle Aston
Old Toms Bed & Breakfast
A comfortable and spacious Double/Twin Studio room, in a converted barn. Ensuite with own access. Quiet location with parking and garden.
Contact
Mrs. Mary Lloyd
Old Toms
Northside
Steeple Aston
OX25 4SE
Tel: 01869 340212
Email: oldthatchedtom@gmail.com
---
Westfield Farm Mews – The Annex
A self-contained annex, available for self-catering, minimum stay two nights..
For details and prices, please contact the owner.
Contact
Julie Hillier
3 Westfield Farm Mews
Fenway
Steeple Aston
OX25 4SS
Tel: 01869 349185 or 07740 794386
Email: j.hillier3@hotmail.com
---
The Holt Hotel
The Holt Hotel at Hopcroft's Holt is a traditional coaching inn on the Oxford to Banbury Road, just a mile from the centre of Steeple Aston. Dating back to the 15th century, it started with just six bedrooms, but has been extended and refurbished over the years and now has 86 ensuite bedrooms.
A notorious highwayman, Claude Du Vall, frequented the inn, and his ghost is said to still haunt the hotel today. The hotel has conference facilities for up to 160 delegates and banqueting for up to 260 guests. It also has a licence to conduct civil weddings, so these days you'll find businessmen and wedding guests staying here mixing with visitors from the village and the local area.
There is also the Claude Du Vall Restaurant which features an a la carte menu on Friday and Saturday evenings and a Sunday carvery. The relaxed Highwayman Bar serves an extensive bar menu featuring fresh locally sourced produce, and local beer; the bar also has a pool table.
Contact
The Holt Hotel
Nr Steeple Aston
Oxford Road
OX25 5QQ
Tel: 01869 340259
Email:info@holthotel.co.uk
Website: www.holthotel.co.uk
---
Middle Aston House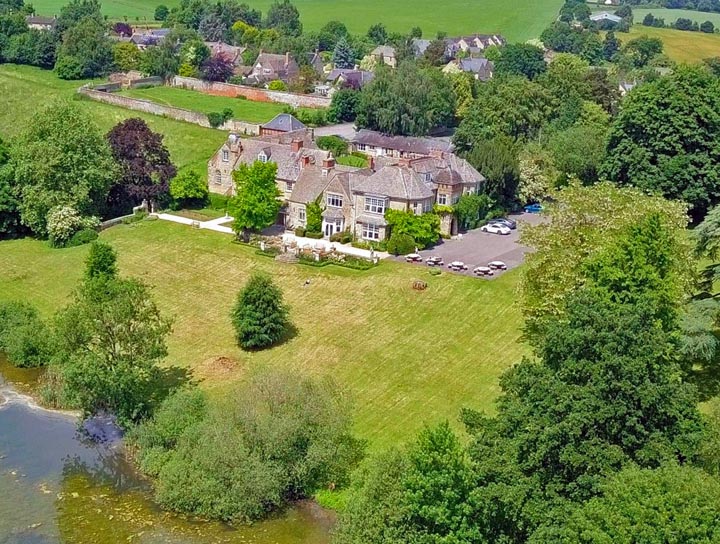 Middle Aston House has a long uninterrupted history of owners dating back nearly 1000 years to the Domesday Book. Although much of the current house is Victorian and most of the original Medieval manor house is buried under the front lawns, there remains plenty of evidence of the Tudor manorial home now incorporated into the main building.
Situated between the villages of Middle Aston and Steeple Aston, the house and 20 acres of gardens, mature woodland and lake provide a welcome relaxing retreat from the hustle and bustle of 21st Century daily life. Middle Aston House is now an independently and privately owned meeting, functions, and wedding venue open to both corporate and leisure guests throughout the year.
They are open for Bed and Breakfast seven days a week. There's free parking and complimentary wi-fi.
Contact
Jenny Soria
Middle Aston House
Middle Aston
Bicester
Oxfordshire
OX25 5PT
Tel: 01869 340361
Email: enquiries@middleastonhouse.com
Website: www.middleastonhouse.com
---
Accommodation nearby
White Horse Inn, Duns Tew
Just a couple of miles from Steeple Aston, this traditional coaching inn has eight rooms.
Contact
The White Horse
Daisey Hill
Duns Tew
OX25 6JW
Tel: 01869 340272
Website: http://www.dunstewwhitehorse.co.uk/
The village of Deddington is four miles north of Steeple Aston on the Oxford to Banbury Road. It has a hotel and a number of other accommodation options. Details are given on the Deddington village website.
---
More information
The Oxfordshire Cotswolds website has plenty of information on local hotels, B&Bs and self-catering cottages as well as local caravan and campsites.
The official tourist website for Oxfordshire has details of all sorts of places to stay in the area. This includes hotels, B&Bs, farmhouses and self-catering cottages.