---
On this page you can place small advertisements for people required in a voluntary or paid capacity, and for items wanted or for sale. This service is provided free of charge only to individuals living in Steeple and Middle Aston or nearby. It is not available to businesses, which can be included in the Local Directory if they are based in the village or provide goods and services to the village.
To place an advert, please email editor@steepleaston.org.uk. Remember to include either a phone number or an email address. Adverts will normally stay on the site for a maximum of one month.
If you'd like to recycle your goods or give them away for free, you can advertise them on www.freecycle.org which has branches in the Cherwell Valley, Bicester and Banbury.
---
Heather's piano and singing lessons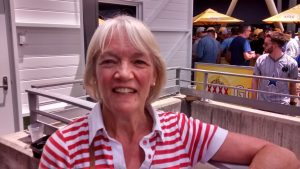 Heather Cleobury has returned from three and a half years in Australia to take up her piano and singing teaching again at home in Steeple Aston. Beginners are particularly welcome.
For more details and information please email heathercleobury@btinternet.com
---
Home Caregivers required
The North Oxfordshire branch of Home Instead is looking to recruit more caregivers. The homecare provider, based in Deddington, offers a range of non-medical services to help seniors and their families feel secure, confident and happy in their own homes.
They say: "Do you like cake? 76 year old Mary does. We have a lot of clients like Mary that would like someone to have a slice of cake and a cup of tea with. If you have a kind, caring nature this is the job for you. Great rates of pay and flexible hours."
For contact details and to find out more about Home Instead, please click here.
---
Joseph Wilkins' Birdseye View
Copies of the Joseph Wilkins' Birdseye View of the village which featured on the cover of the 500th edition of Steeple Aston Life are available to buy from the Bodleian Library.
A 10″x 8″ printed image costs £22.80, or you can buy a digital scan by email for £27.24. The website for downloading the form to apply for these is: www.bodleian.ox.ac.uk/bodley/using-this-library/imaging_services.
You will need to quote the shelf reference "Dep. a. 48, fol. 3", and to state that the purchase is only for private use.
---
SAVA book on Farming in Steeple and Middle Aston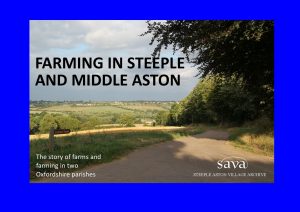 SAVA has published its latest book, which accompanied the November 2018 exhibition of the same name.
It is full of information about the history of farms and the practice of farming here from the time of Enclosure right up to the present day. There is also a look at the future.
Priced £9.95 plus p&p it can be purchased from SAVA's website at www.steepleastonarchive.org.uk or by visiting the Village History Centre every Saturday morning from 10.00 till 12.00.
Also available from SAVA
Other books available from SAVA are:
The History of Steeple Aston Church
Our Village School – the history of Dr. Radcliffe's School
Steeple Aston and the USAF at Upper Heyford
The Steeple Aston Enclosure Map
The Gardens of Steeple Aston – 150 years of village gardening
Steeple Aston Through the Lens -150 years of photography of village life
The development of Steeple and Middle Aston – understanding our houses through the centuries
Village Personalities
Business and Trade in Steeple Aston
Steeple Aston at War
SAVA also has available CDs and DVDs:
Steeple Aston Book Collection: Three rare histories about the village by the Reverend C.C.Brookes and William Wing have been scanned to a CD.
DVD of 460 editions of Steeple Aston Life 1973 – 2011
Gazetteer of Houses: A full listing of every house and other buildings of significance in the two villages, Steeple and Middle Aston
101 Photographs of Steeple Aston: photographs from the SAVA archive on a CD.
For details of all these and more go to the SAVA website: www.steepleastonarchive.org.uk