Tony Cross Memorial Football Match

Passing on a huge THANK YOU to everybody associated with making Tony's Memorial match such a special day. There are too many people to thank individually but rest assured everybody's kindness and generosity has been extraordinary.
I know Tony would have been super proud and full of emotion seeing everybody coming together in the village, enjoying themselves, having a drink and raising money for such a worthy cause.
So far we've collectively raised over £700 for Katharine House Hospice.
Once again thanks to every single one of you.
Best wishes
The Cross & Brewer family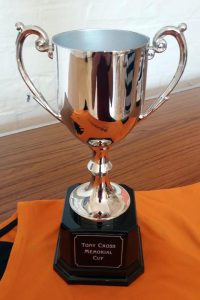 ---
Potholes – a message from the Parish Council
The potholes in the Beeches have been the subject of considerable discussion between Steeple Aston Parish Council and Oxfordshire County Council Highways Department over recent weeks. The Parish Council is pressing for a long term solution to the problem.
The potholes seem to be largely caused by water that wells up from the road and runs down it. Any repair is soon washed away or, if it holds, a new pothole appears nearby. Obviously the continual repair work has left the road in a bumpy state but there is little point in a complete resurfacing until the underlying problem has been dealt with. In the meantime, we may have to continue with temporary repairs to keep the road usable.
Highways have already agreed to flush out and inspect the current drainage system along the road. This will be a first step to assessing what further work may need to be done to divert the water away from or under the road and thus stop new potholes developing. Any work scheduled here will take time so please be patient.
Potholes here and anywhere else in the parish can now be reported directly to the Parish Council by emailing parishclerk.steepleaston@gmail.com. One of our councillors is fully trained to inspect and report on potholes. He has direct access into the FixMyStreet system and potholes reported by him will be dealt more quickly. You may already have noticed improvements in a number of places in the village: Fir Lane, for example.
There are regular updates on the situation at meetings of the Parish Council. These are held on the third Monday of every month (except in August and December) at 7.30 p.m. in the Committee Room of the Village Hall. Members of the public are always welcome.
April 2019
---
Three-week Heyford Bridge closure
Repair works to  Heyford Bridge will mean that the whole of of Station Road, Heyford, the B4030, will be closed from Monday, 24th June up to and including Friday,12th July. The works will be carried out between the hours of 7.00am and 5.00pm.
There will be exemptions for police, fire and ambulance services and for the works and for access to premises which are only accessible from the closed section of road.
The alternative route for traffic affected by the closure is via A4260 Oxford Road-A4260 New Street-A4260 Banbury Road-B4100 Aynho Road-B4031 -A43-A41-B4030 and vice versa.
Further information may be obtained by contacting Ahmed Farah – email Ahmed.Farah@Oxfordshire.gov.uk or call 07812 237 627.
---
Village Hall AGM
The Annual General Meeting of the Steeple Aston Village Hall management committee was held on the 13th May 2019. There were no members of the public in attendance. The full committee is listed below, showing which group they represent.
Barbara Brewer Tuesday Badminton   (Chair)
Margaret Bulleyment Choral society            (Secretary)
John White (Treasurer)
Janine Beckwith Thursday Badminton
Deborah Morris Village Rep
Margaret Mason Arts Programme Co-ordinator
Esther Brown         WI
Torquil McLusky Scouts / Cubs / Beavers
Amanda Rodgers Village Rep
Chris Clarke PCC
Martin Lipson Archive
Richard Preston Valentine Club
Cathy Fleet Parish Council
Rose McCready Garden Club
In the next few months the committee will be deciding on a programme of events for the forthcoming year. If there is a specific event you would like to see in the programme or if you have any new ideas, please contact me or any committee member.
Barbara Brewer, Chair
<hr
Spring Flower Show 2019
This year's show took place on Sunday, 17th March in the Village Hall. The Steeple Aston and Middle Aston Horticultural Society was pleased to report a record number of entries this year. To see the results please click here.
A popular innovation at this year's  show was an Emoji Quiz. See if you can guess which London landmarks these are. Answers below.
Answers
1) Madame Tussauds
2) Abbey Road
3) Piccadilly Circus
4) Battersea Cats and Dogs Home
5) Olympic Park
6) Kings Cross Station
7) 1 Canada Square
8) Walkie Talkie
9) Elephant and Castle
10) Waterloo Station
11) Oxford Street
12) National Maritime Museum
13) Serpentine
14) Portabello Road
15) Imperial War Museum
16) Royal Exchange
17) Barbican
18) Cutty Sark
19) Crossrail Place (the shopping centre with a garden on top of Canary Wharf Crossrail)
20) Dorchester Hotel

---
Red Lion's winter of fundraising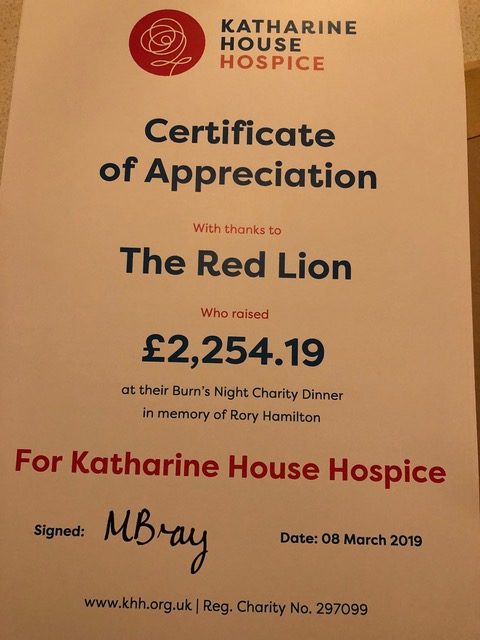 Visitors to Steeple Aston's Red Lion have been busy raising funds for charity as well as eating and drinking. Publican Mel Phipps says, "The certificate above is "the icing on the cake" following a winter of fundraising. The total raised over the winter is as follows:
RNLI collection box £34.28
Poppy Appeal following a Veterans gathering on Remembrance Sunday £81
Crisis at Christmas homeless charity donated by our Quiz teams £112.72
Christmas Tree Remembrance Ribbons £38.60 (donated to Katharine House)
Christmas Lunch charity auction in memory of Steve Bell £455 (Katharine House).
---
New website for local villages
A new website has been launched to promote local community events and local businesses into neighbouring villages. It's called 'Village Voice UK'.
The intention of Village Voice UK is to enable a ripple of local notices to extend outside the immediate boundaries of each village – more easily to inform neighbouring villagers of neighbouring events. It currently covers the villages of Eynsham, Islip, Kidlington, Kirtlington, Tackley and Steeple Aston.
It is free of charge to advertise any upcoming community event taking place in Steeple or Middle Aston to which it may be appropriate to attract further attendance from neighbouring villages. Such neighbouring events can be included in the site's What's On calendar for 2019 and also in the Poster Parade, which advertises specific events.
Local businesses may publicise their services on Village Voice UK and local companies should contact the organiser directly to arrange their advertisement.
The website is https://www.villagevoice.uk
The organiser Louise Lloyd can be contacted on info@villagevoice.uk
---
Update from Bicester Rural Neighbourhood Policing Team – December 2018
Between the 12th and 26th November for Op Ranger, a rural crime initiative, the rural team have been visiting local businesses and farms to offer crime prevention advice and provide a visible presence.
Now we are creeping into the winter months, it is time to review the security of your property. Things to do include; fitting lighting in dark or hidden entrances and outdoor areas. Use timer lights indoors when you are out. Lock everything that you possibly can and don't leave bins near fences or gates.  Don't keep valuable items near windows, make a list of these and take photos of them.
Please remember that if you see absolutely anything suspicious, please call us. The police will really appreciate your call. Look out for car registration numbers, person descriptions, direction of travel and anything else that you think may be relevant. Your call may help prevent a crime taking place. Call 101 if it isn't an emergency and 999 if there is a threat to life or a crime in progress.
There have recently been reports of rogue traders carrying out garden maintenance and roof repairs etc. Please be vigilant and look out for yourself and neighbours. If you are concerned then please call us.
Courier fraud is also on the increase at the moment, this is when you're called by someone pretending to be from your bank or building society and convinced to tell them your card details over the phone. They arrange for a courier to pick up your card to take it away for evidence or to have it destroyed. In reality, the card is collected by the fraudsters to withdraw money from your account. If you receive a call like this then call action fraud on 0300 123 2040.
Please sign up to Thames Valley Alert. This will enable you to receive emails from the police with crime updates, witness appeals and crime prevention advice. The link is https://www.thamesvalleyalert.co.uk/pages/1177/1/Available_sites.html
The next Rural Community Forum is on 20th February 2019 at Fringford Village Hall from 7.00pm.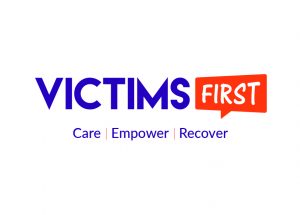 Help for victims of crime or abuse
Being a victim or a witness of a crime can be an emotional and difficult time.
Victims First provides free emotional and practical support to all victims and witnesses of crime or abuse, as well as family members of victims. It is available across Berkshire, Buckinghamshire and Oxfordshire and can provide help regardless of whether or not the crime has been reported to the police.
A Victims First Officer can discuss any emotional or practical needs you may have and work with you to put a tailored support plan in place. This could involve referring you to a specialist service such as services for victims of sexual violence and domestic abuse.
The type of assistance available includes telephone and face to face support, advocacy including help to access other services such as sexual health clinics, drug and alcohol services and legal services, support through the criminal justice system (if you have reported the crime to the police) and therapeutic counselling.
A Young Victims Service is also available to anyone under 18 and works with young people to help them cope with the effects of crime.
To speak to a Victims First Officer about any of the services and to receive support please call 0300 1234 148.
You can also find more information or make a referral for support online at www.victims-first.org.uk
---
Live Well in Oxfordshire
Oxfordshire County Council has an online directory of over 2,000 (and growing) support services across the county to help residents live better.
Live Well Oxfordshire has been developed by Oxfordshire County Council in partnership with Age UK Oxfordshire and Affinity Works. The directory has been designed to bring together information about groups and organisations offering services for adults with a variety of needs in one place.
It includes categories such as looking after someone, keeping fit and well, finding a care home, help with life events and many more.
To go to the directory, please click here.
---
Speed monitoring and parking
The Parish Council has received several complaints about both speeding and bad parking near the school, the pre-school and in the rest of the village.
If you have concerns about speeding in the village, would like to nominate any locations for a Speedwatch Survey or would be prepared to help carry one out, please contact Charlotte Bartlett (01869 347347 or charlottebartlett.steepleaston@gmail.com)
Please always park considerately. You should not park partially or wholly on pavements or yellow lines and zigzags, as this can be extremely dangerous.  Thames Valley Police will be informed of persistent offenders.
The Parish Council.
October 2018
---
 Summer Show results and photos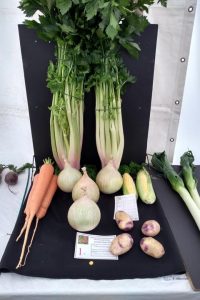 Steeple and Middle Aston Horticultural Society held its 127th Annual Show on Bank Holiday Monday, 27th August. The winner of the Walker Cup for Show Champion was Daphne Preston and the winner of the Children's Cup was Bea Owen. For the full results, please click here, and for photos, please click here.
Richard Preston, the Chairman of the Horticultural Society writes: "What is it about Steeple and Middle Aston?  When asked to do something special the villages never seem to disappoint, and this was certainly true of the 127th Annual Flower Show held on a fine and warm August Bank Holiday Monday.  In one of the driest and hottest summers for many years, when the gardens have been placed under extreme pressure, the marquee was full of amazing produce and according to the judges, of the very highest quality.  According to gate receipts there were around 700 people on the field at some stage and this includes all those younger members of our community who are not charged an entry fee.  The show itself saw some 770 exhibits which is around the high average for our show, which goes to confirm that Steeple and Middle Aston do indeed have the biggest and best traditional flower show in Oxfordshire!
"As Chairman of The Horticultural Society which puts on this event I cannot thank my hard working and enthusiastic committee enough for their contribution in making this such a wonderful village event for all to enjoy.  But a special mention must go to all those wonderful people who helped on the day that have no connection to the Horticultural Society but gave their time to steward or help on the teas and especially to those who helped run the various stalls on the field or helped on the gate.
"Then there is the fantastic fun dog show so efficiently arranged by The Edwards family and helpers.  Dogs catching sausages and negotiating an obstacle course is not only challenging for the dogs but provides endless entertainment for the large crowd watching the proceedings.
"The show costs around £2,500 to put on with the cost of a marquee and the hire of the venues and prize money etc. and as provisional figures suggest, we will have covered those costs so a massive thanks to everyone who supported the event and maybe next year it will be bigger and better than ever.
"For those of you who are interested in how the society functions or possibly would like to be more involved, we have our AGM on Wednesday 12th September in the Village Hall Committee Room at 7.30pm.  Everyone is welcome to attend and give us ideas of how we can improve on the two shows that we hold each year."
To see the full results, please click here.
To see lots of photos, courtesy of the Mulcahys and Catherine Crook, please click here
---
Steeple Aston Church Fete report

The fete organiser, Martin Dale, reports on a sunny and successful day:
Well! Didn't we have a fete?! What a day! I think all of us in the team could feel the buzz and spirit of the day very early in the morning of the 30th June. I myself went up to the field quite early thinking I would get a few things done quietly before people started descending on Robinson's Field! Ha! I should have known better and got there at 7.00am like Graham Clifton. By 8.45am the place was teaming and of course, despite the best laid plans of mice and men there were the inevitable questions – "Where does this go?" "Where do you want this?" one after another. But that's great, it was all in good heart and great enthusiasm thanks to Lawrence White and his team.
And talking of teams – I cannot thank enough the fantastic team of people who have been working on the fete since before Christmas 2017 – Graham and Lawrence as already mentioned; Shirley Palmer, Rachel Blair, Rebecca Hoare, Mary White, Drew Brown and Gareth John (a team in their own right). But I also want to thank literally about a hundred or more other kind folk who gave their time to running stalls more successfully than ever before. You are all stars!!
Revd Marcus started the afternoon with thanksgiving for the weather and the way the event came together – well "Amen" to that! The Famous 3 who opened the fete were Graham, Lawrence and Dorothy. Why? Well, between them they have 107 years of helping organise the fete and we wanted to celebrate that – what they don't know isn't worth knowing – a great opening! It was a brilliant display and so colourful with loads to do, and some really lovely and exciting new ventures….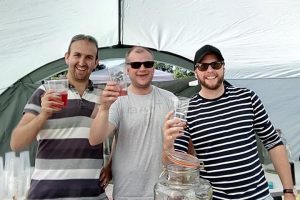 In the Arena our friends the Silver Band as ever played magnificently and it was exciting to have the Spotlight School of Dance and their Director Suzi Hambidge giving a demonstration. Within our own stalls we welcomed some great new ideas which proved amazingly apposite! A Beer and Pimms Stall. My goodness was I glad of it about 3/4 of the way through the afternoon. I think we all had a good time there as this photo shows! Here they are enjoying their wares. Actually I took this photo with a nice cool Pimms in my hand as well! As you can see – a very happy team here – I wonder why!
Also new – thank you to Annabel who bravely offered pony rides which were very popular. Her poor pony had to be retired after about an hour because of the heat but he did bravely and well deserves his extra sugar lump!
Something really new this year and, we have to admit, an experiment for all of us – especially those who took up the challenge – was the invitation to as many of the village clubs and societies as felt able to put on a display stall with the distinct aim of showing what an amazing village community we are and also to encourage folk to join their societies. So from the WI – a wonderful display – and our Horticultural and Garden Clubs with their colourful displays, to Beekeepers, Anglers and Walkers. I am personally so grateful because you all enhanced our Fete enormously. North Oxfordshire Drama, our own Choir and Players and indeed Spotlight Dance gave us a performing arts corner. Then, quite out of the blue we found ourselves being approached by people from outside with stalls ranging from Home Instead – an International Dementia Care organisation to "Lifestyle" – a Well Being Organisation run by local resident Esther Howe. Wonderful!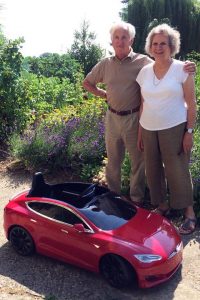 The Prize Draw organised as ever so perfectly by Dorothy Clifton was amazing and the prizes just super ranging from a Child's Ride in Tesla Car to meals at the Red Lion, a trip round Upper Heyford Aerodrome plus many others. The Tesla car was won by Mr and Mrs Richard Burton, pictured here, who were thrilled and tell us that they've never won anything before in 20 years and that this will be thoroughly enjoyed by their grandchildren.
And so it goes on – of course we had our stalwarts:- the car show, great rides in vintage and Tesla cars; amazing teas and cake  in the hall; the gift stall; soft drinks which just ran out (well I don't think that was a surprise). Fiona (Brown Owl) with icecreams did a roaring trade and offered as well extra delicious North Aston Dairy Ice Cream. Despite it being a very non plant time with all this heat nonetheless our plant stall did as well as ever. Thanks to May and her team for that. And so it goes on. Thank you to all those who did all the games: bouncy castle, horse racing, coconut shy, Aunt Sally and skittles and, of course not forgetting the children's stalls , in two places this year with dragon games and face painting and loads of other things for the children. The bottle stall was as successful as ever – taking nearly £650, a big thank you to all who spent time collecting and running the stall.
And to cap everything how can we thank enough all of you wonderful village folk who made this afternoon such a wonderful community event by just being there and having a great afternoon. Financially we are so grateful to you – the overall amount made came to nearly £5,000 (some £4,600 profit after costs). This was a record – but the true record was the day itself; the Village; the Church; our Societies; and us, our Community here in this small part of Oxfordshire. Thank you all again from the depths of my heart
Martin Dale
July 2018
For lots more photos taken by Catherine Crook, please click here.
---
News from the Sports & Rec
Not everyone in Steeple Aston knows what the building next to the Village Hall and the Pre-school is… This is the Sports and Recreation Trust: we look after the changing rooms and the meeting hall and are also responsible for the Recreation Field.
The Field is where the football pitch and cricket nets are and where last month we all enjoyed the fantastic firework display. As well as sports, the field is also used for many of those annual events that really bring the village together like the Horticultural Show, Church Fete, and Whit Races.  The meeting hall is where many clubs and societies meet every week.  We work closely with the Village Hall, Parish Council and Church but have very much our own identity.  In particular we try to concentrate on helping sports related groups and those that focus on young people.
The Sports & Rec has things happening most days but it is a smaller and less formal space than the Village Hall so well suited to children's parties and smaller events up to 30 people and has a kitchen and a licenced bar. We can also work with the Village Hall to host joint events for 100 or so people.
We have the following regular groups, as well as parties and other events:
Monday morning 10am (every other week) – Home Education Group
Tuesday morning, 10am, Mindfulness
Tuesday night, 7pm Scouts (and we are hoping to start Cubs again soon)
Wednesday night, 6pm, Brownies
Thursday morning, 9am, Baby and Toddler group (term times)
Most Saturday afternoons in season, Steeple Aston Football Club
Most Sunday afternoons in season Junior Football.
The Sports & Rec is a busy place but we do have slots available and are happy to look at special rates for village groups. Please contact Katie Rushworth (Booking Agent) on 01869 340196.
You can find contact details for all the clubs and societies in the Clubs and Societies section section or contact Torquil McLusky, Chairman, (347914) or Chris Cooper, Treasurer, (347173).
---
Your village needs you!
Do you have some time to spare to help our community? We are looking for people to help out with repairs and maintenance of amenities in the village, particularly around the play facilities at Robinson's Close.
The next things on the list are yellow line repainting and mending a wooden bench in the pagoda. If you think you can help out, now or in future, please contact the Parish Clerk, myself or any member of the Parish Council.
Thank you,
Charlotte Clarke on behalf of Steeple Aston Parish Council
parishclerk.steepleaston@gmail.com
---
Community First Responders needed
Alan Brewer, Community First Responder writes:
Community responders are trained, equipped volunteers that answer emergency medical calls in their local communities and initiate treatment while the ambulance is on route. We are not a substitute for the ambulance but a complement to it,we also provide reassurance – the sight of the hi-viz jacket lets them know that help is near and often reduces stress.
It was discovered that if a series of events took place in a set sequence, a heart attack victim has a greater chance of survival.
Early access – this is getting to the patient as quickly as possible (to get help).
Early resuscitation – starting CPR to those patients who require it (to buy time).
Early Defibrillation – delivering an electric shock with a defibrillator to those patients in cardiac arrest (to restart heart).
Early advanced life support – the skills that Paramedics and Doctors have (to stabilise).
Over 350,000 people in the UK suffer heart attacks each year.
160,000 people die as a result of heart attacks each year.
Eighty-five per cent of victims have the potential to survive. The chances of survival decrease by ten per cent for every minute that treatment is delayed.
In addition as trained volunteers, community responders help patients suffering from breathing problems, severe bleeding, diabetic emergencies and unconscious casualties, all of which will benefit from early treatment.
Our aim is to preserve life, prevent the patient's condition from worsening and promote recovery.
At present here in Steeple we have five trained Responders and two Defibrillators, this is voluntary, putting in 20 hours a month that suits you. Due to changes in life style, work and other activities three of our responders will be leaving us after many years of serving the community.
You must be able to drive and have your own car, no blue lights I'm afraid, your aim is to get to the patient with in eight minutes of receiving the call from the emergency dispatcher.
Now, if this is something you have been thinking about doing for your community then please get in touch with me on 01869 340423.
---
Adderbury Community Food Market
The market is held every second Thursday of the month from 6.00pm to 8.00pm at The Institute, The Green, Adderbury OX17 3NE.
You will find a wide range of local producers selling meat, poultry, eggs, savouries, vegetables, cakes & tarts, honey, coffee, gin & liqueurs, preserves and lots more. Guest stalls provide monthly variety. There is a bar and hot food to eat in or take away.
This is a not-for-profit community project. For more information go to www.market.adderbury.org
---
Community Education at the Marlborough School Woodstock
The Marlborough School  offers an extensive programme of courses for adults. There are weekly courses and 1-day and 2-day weekend workshops. Many subjects are available at several levels – beginners, improvers etc.
Subjects range from tai chi, Pilates and yoga to singing, calligraphy and various art, language and computer courses.
To browse the courses available or download the latest brochure, go to www.marlborough.oxon.sch.uk/community/
To request a printed brochure and to book a place ring 01993 813592 or email comed.4560@marlborough.oxon.sch.uk
---
Essential repairs grant available
Cherwell District Council is offering an essential repairs grant to help vulnerable people, which covers, for example:
. Replacing a defective door or window
. Roof repairs
. Minor electrical works
You may be eligible if you meet the following criteria:
1. You have owned your home for at least three years and
2. You are eligible for a means tested benefit, and /or a tax credit with a household income below a set level and
3. You are over 60 years of age or in receipt of child benefit for a child living with you.
For more details contact:
Private Sector Housing Team
Cherwell District Council
Bodicote House
Bodicote
OX15 4AA
Tel. 01295 227004 or visit www.cherwell.gov.uk
---
Calling all parents and grandparents
• Are you a good listener?
• Do you enjoy being with young children?
• Could you spare 2 – 3 hours per week?
• Would you be interested in becoming a volunteer with Home-Start?
• Volunteering provides excellent experience for a CV
Home-Start Oxford and Bicester is a local charity which supports families with at least one child under five years of age. They have been doing so for over 20 years and in that time have been a lifeline to thousands of families in need.
Their volunteers offer regular support, friendship and practical help to local families under stress in their own homes, helping to prevent family crisis and breakdown.
For more information please contact Sarah Harvey on 01869 349990, email her on sarah@homestart-oxford.org.uk or view their website: http://www.home-startoxford.org.uk
---
CAB Caseworker Help for disabled & vulnerable
Are you living with a hard to manage mental or physical condition?
Do you need some help to cope?
Our Specialist Caseworker can visit you at home, offer a full welfare benefits eligibility check, and help you to access other relevant support services within your community.
Contact us if you:
Are under 60 years old, and
Live in Oxfordshire, and
Have limited ability to get around on your own, and
Need support to continue to live independently
To discuss your requirements in complete confidence, please leave a message with your name and contact number for Lynn on 01608 646990
---
Have YOU ever thought about FOSTERING?

There is a recognised shortage of 10,000 Foster Carers in the UK. PACT, founded in 1911, is also known as the Oxford Diocesan Council for Social Work inc. We are a registered charity working to improve life chances for children. The focus of our work is within Berkshire, Oxfordshire and Buckinghamshire and aims to build and strengthen families.
We are an approved Adoption and Fostering Agency. We have a history of finding safe, loving families for children in care. Here are a few facts about Fostering:
1. Did you know you don't have to be married to become a Foster Carer?
2. You don't have to have children already although you do need to have experience of caring for children.
3. Did you know you get paid a Fostering Allowance of £335.70 a week to be a Foster Carer which is tax free and won't affect any other benefits?
4. Most of the children who need fostering are known as 'hard to place' children, they will usually be 8+ years of age.
Fostering is a hard but very rewarding job. If you think you might have what it takes to become a Permanent Foster Carer or you want to find out more then contact PACT now on 0800 731 1845 e-mail fostering@pactcharity.org
---
Katherine House Hospice Lottery
Support your local hospice lottery for just £1 a week.
Over £100,000 is raised every year.
Every week there is a first prize of £1,000 plus:
2 x £100 prizes
2 x £50 prizes
5 x £20 prizes
10 x £10 prizes
Contact
Fundraising and Lottery Office
Katharine House Hospice
East End
Adderbury
Banbury
OX17 3NL
Tel: 01295 816484
Email : fundraising@khh.org.uk
Or download an application form from their website: www.khh.org.uk
Registered Charity No. 297099