SAVA asks for your memories of the coronavirus lockdown
Steeple Aston Village Archive Trust is asking villagers to contribute their thoughts and experiences during the current lockdown as a record for future generations. Their message below suggests some of the questions you might like to consider.
Would you like to contribute to a record of this unique time?
The current coronavirus pandemic continues to have a profound effect on us all in so many ways, and is likely to do so for some time to come. SAVA wants to assemble a snapshot of this unprecedented time, and would like to ask for your help in sharing some of your experiences and thoughts as a lasting record for future generations.
If you are interested in contributing, please find below some possible (although not exhaustive) points that you may wish to consider. We would also welcome any photos.
What has been your experience during the Covid-19 Lockdown?
Describe in 5 words how you have felt during the lockdown?
Have you had to adjust your working arrangements, such as working from home? If so, what technology has assisted/hampered your ability to do so?
If you are employed in providing an 'essential' service, what has been your experience on the front line?
How have you filled your free time during the lockdown?
How did you get exercise? For example, have you explored the village and surrounding area more than usual?
Have you been aware of any environmental changes as a result of less traffic/people? If so, what are they?
What has been your experience within the village community? Have you had more/less contact with your neighbours? Examples of acts of support and kindness?
Are you home-schooling your children, and if so how is it going?
What has been your biggest challenge during lockdown?
What/who have you missed the most during this period?
What, if anything, do you think you have learned during this crisis?
Are there any changes you have made during lockdown, that you hope to continue?
Please email replies to: steepleastonarchive@gmail.com or for a postal address call 01869 347046
Many thanks from Steeple Aston Village Archive.
There's more information about SAVA on their page in the Clubs & Societies section.
---
Northside closure in July
Oxfordshire County Council Highways Department will be closing part of Northside for five working days from Wednesday, 29th July. This is to sort out the water problem opposite Barcheston House.
The alternative route for traffic affected by the closure is via Water Lane westbound on Fenway to crossroads with A4260 Oxford Road take left southbound on Oxford Road. On the junction Oxford Road with South Side take left eastbound onto South Side to the junction with Paines Hill. Take left on Paines Hill northbound to the junction with North Side and vice versa.
This drawing shows the extent of the closure and the alternative routes for traffic,
Further information regarding the works may be obtained by contacting Artur Mielczarek,Highways and Drainage , Oxfordshire County Council on 0345 310 11 11 or 07586479073.
---
Steeple Aston Parish Council
Steeple Aston Parish Council has a vacancy for a parish councillor. If you are interested in joining the parish council and making a difference within your community, please contact me and I will be pleased to give you more information.
Cathy Fleet
Parish Clerk
Email: parishclerk.steepleaston@gmail.com
Phone: 01869 347000
Mobile : 07989 398838
---
Old computers, new uses
If anyone has an old computer that they would normally be going to get rid of, please consider letting someone in the village use it to help stay in touch with friends and family during lockdown.
One is required immediately to help keep the weekly Red Lion pub quiz running, but there may well be others who could benefit from having one.
Please call Graham Porcas on 01869 347240 if you have one (no Macs please).
---
Spring Show cancelled, but here's a photographic feast!
A message from Richard Preston, Chairman of The Astons Horticultural Society:
The Spring Show had to be cancelled this year, but it doesn't mean Spring has not sprung.
Spring is here no matter what else the world has to throw at us.
To help brighten a time when normally we would all be out enjoying the parks and gardens, here are few photos from our garden along with a picture of the TWIDDLE-MUFFS provided by some of the show's prospective entrants that will be winging their way to the dementia ward at the John Radcliffe.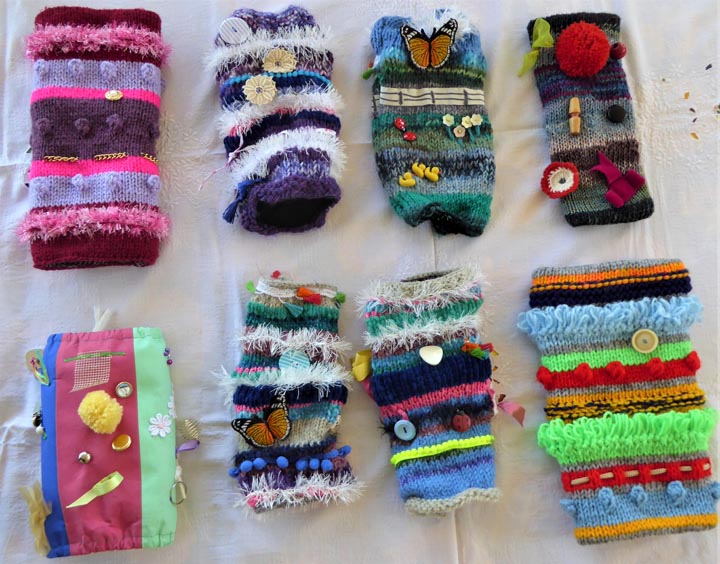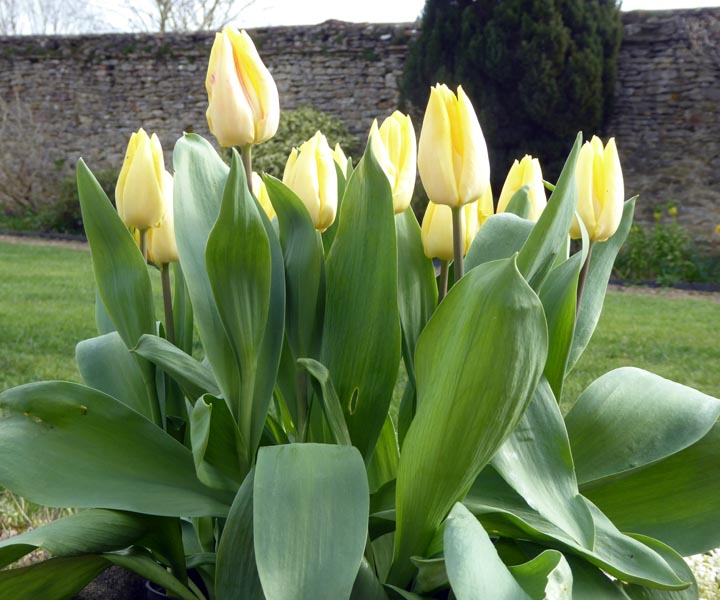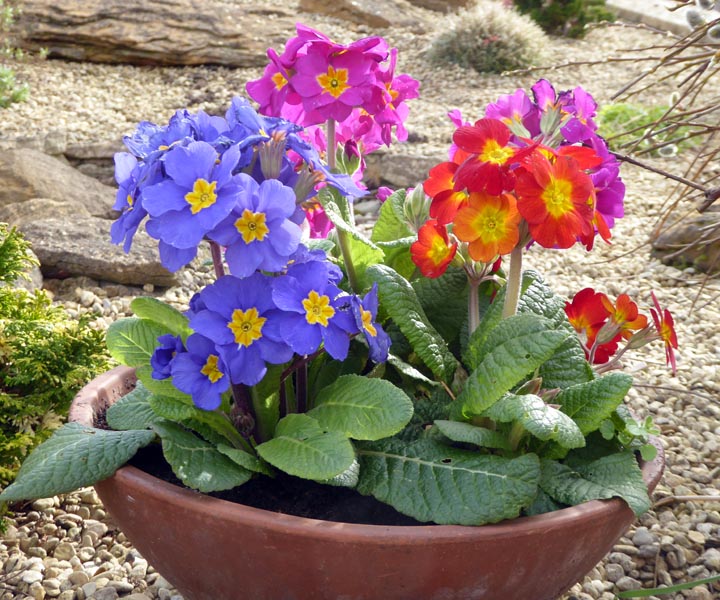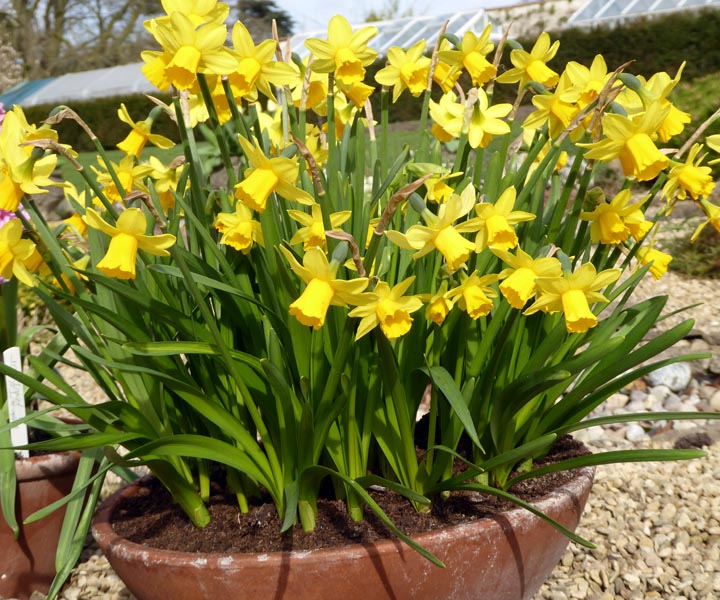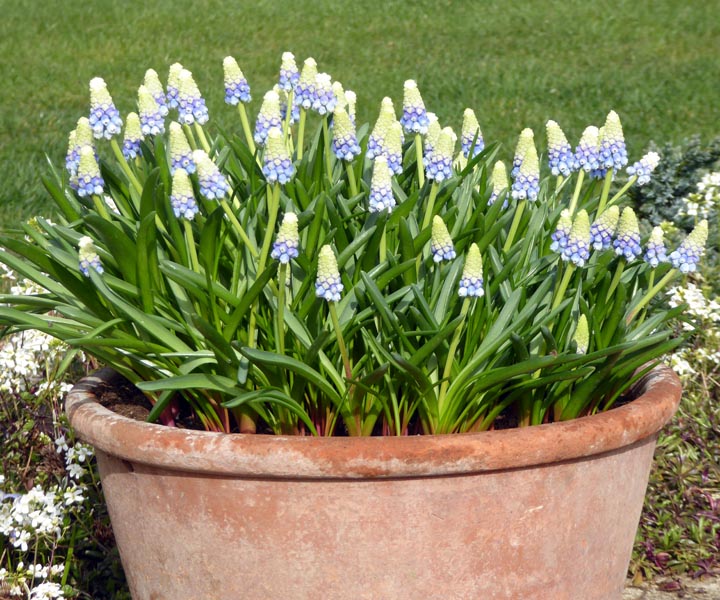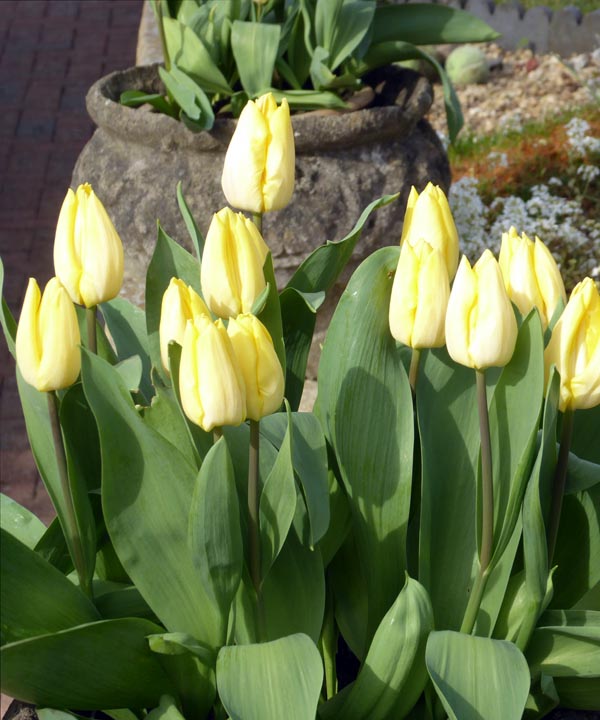 Keep safe everyone and keep gardening.
You can contact Richard on 01869 340512 or email richard.preston5@btopenworld.com
---
After the cancellation of the Spring Show on 29th March. John Coley sent five photos of some of his entries. He suggests that others could contribute photos as well, to create a virtual Spring Show. Please send your photos to editor@steepleaston.org.uk
John's photos are here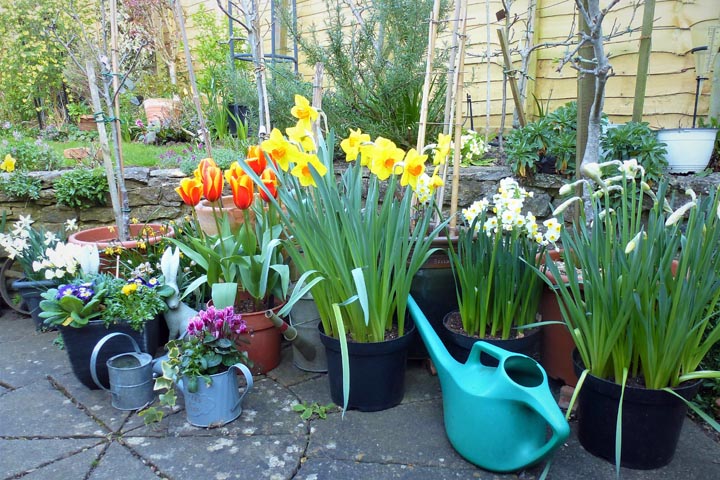 ---
Don't give a dog a bad name!
We'd just like you to know that almost all the fouling on our village streets comes from wild animals. After all, we do live in the country! We've investigated this issue thoroughly with the help of Cherwell Council's dog warden. So, please, don't always blame the dogs and dog walkers in the village. It's probably not them messing up our streets. It's most likely foxes. Or maybe badgers or muntjac.
What should you do if you see some poo?
Please just pick it up in a suitable plastic bag and pop it in a street-side bin or a green bin. Bags are available free from the Village Shop. Dog walkers often pick up scat that their dogs are not responsible for. Give them a hand. You will be helping to keep the village clean and you may stop someone putting their foot in it.
And if you do see a dog walker not picking up?
We think this is unlikely, but if you do … report it to the dog warden at https://www.cherwellandsouthnorthants.gov.uk/xfp/form/347?council=cdc or on 01295 227007. He will take action against anyone found not picking up.
Thank you.
Steeple Aston Parish Council
---
March's Crafternoon Tea & Pop Up Café – the first of many!
We had a great time at the first Sustainable Steeple Crafternoon Tea on Sunday 8th March. Held in conjunction with the new monthly Pop Up Café, run by the Village Hall Committee, there was crafting and cake galore!
I'm not sure whether it was the lure of Daphne's cakes or the chance to get creative with our collaging and decoupage frames but had plenty of visitors across the afternoon and Christopher's book stall added a further level of interest.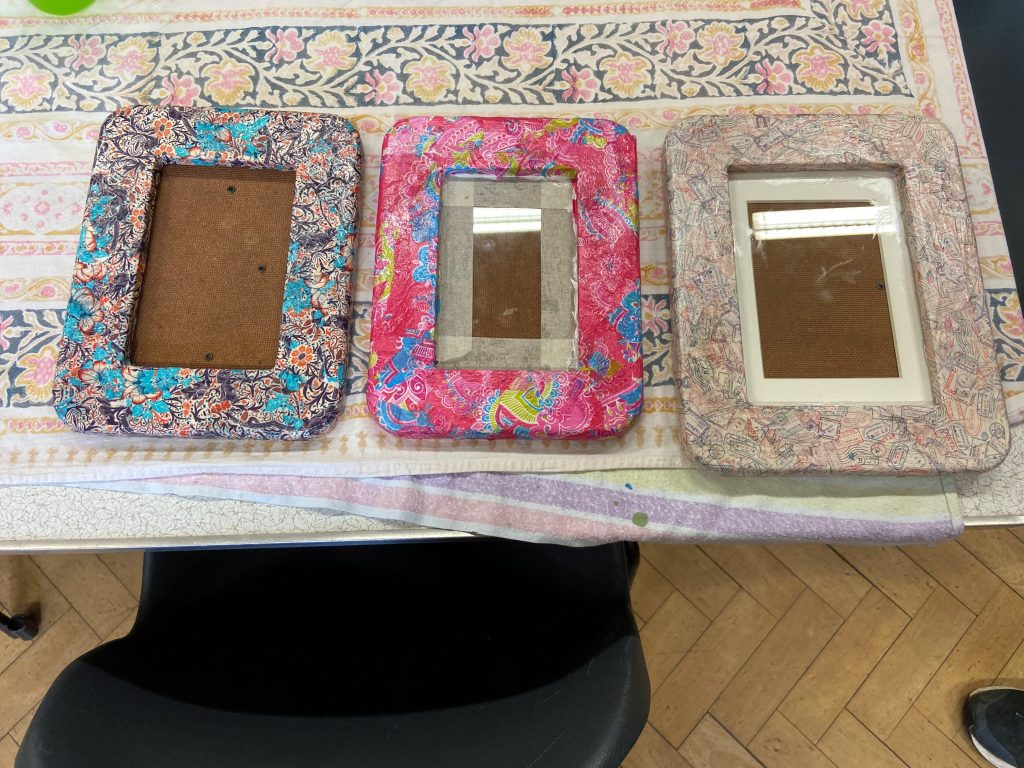 Several of us had brought our own projects, but much of the fun was provided by our younger crafters (and visiting Texan) who wonderfully embellished old picture frames (previously destined for the tip) with decoupage and turned old wood off cuts into pieces of collage art. As you'll see from the pictures, we had some budding artists in our midst.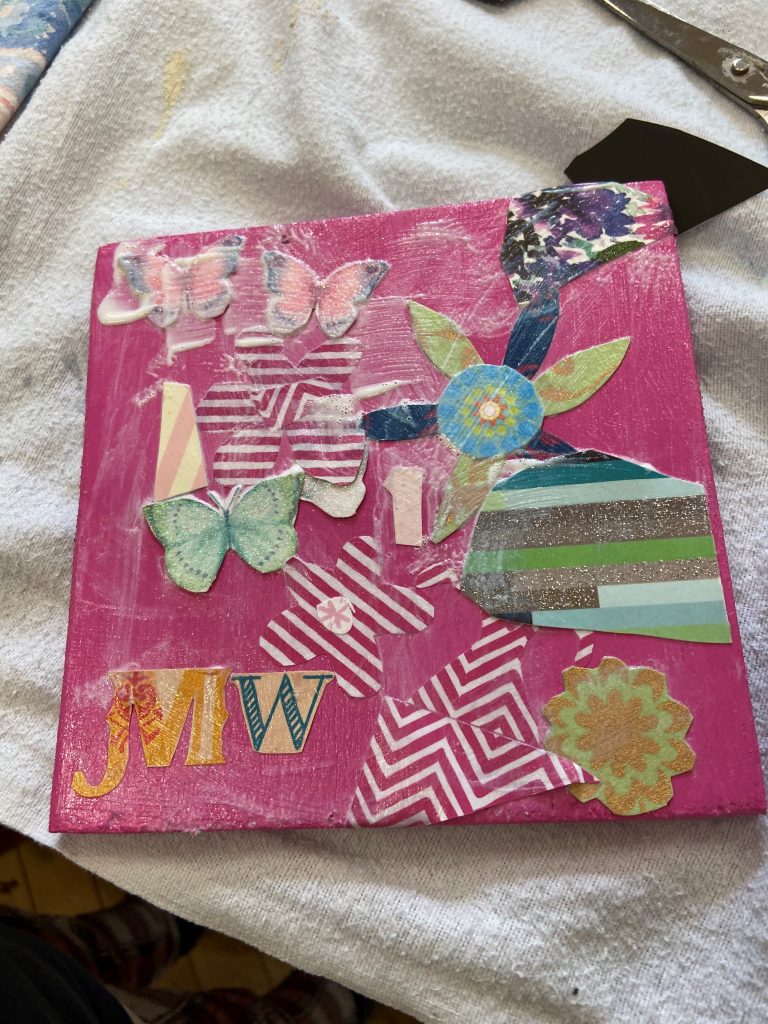 Those who didn't craft, enjoyed great conversation and even better cake!
We were intending to meet again on 5th April and then 3rd May, however, we have taken the difficult decision not to go ahead with either Crafternoon Tea or the Pop Up Café on these dates, due to the ongoing Coronavirus situation. However, we will be back in the summer!
In the meantime, watch this space for an imminent Sustainable Steeple announcement regarding the first project we'll be funding with the near £2000 that we have raised so far. Thanks again to everyone who has donated items for up-cycling so far!
For more information, please contact Amanda Rodgers on 07793 553150 or amanda@sustainablesteeple.com.
---
Potholes Reminder
Just a reminder that Steeple Aston has a FixMyStreet SuperUser. This means we have a fast track method of getting potholes filled as long as they meet the relevant criteria in terms of size, depth etc., and they are within the 30 mile an hour limit.
If you report a pothole direct to the Parish Clerk (parishclerk.steepleaston@gmail.com or 01869 347000), she will pass on the details to our SuperUser, who can contact the Highways contractors, without going through FixMyStreet. The system has been in place for a while now and works well.
The Parish Council
---
An invitation to a Pop-up Meal in Somerton
People from Steeple Aston and other villages are invited to join locals in Somerton Village Hall for a meal. The Pop-up restaurant has been running there for about a year offering a regular Veggie Thursday every month. Now there will be quarterly three course meals including meat on offer starting on Mother's Day.
Alisa Stef, the organiser, says: "This is about getting community together over food, drinks and music (at times live music, as we always have an instrument and a mic available)
"I love cooking all sorts of dishes. With the veggie Thursday though, I want to encourage people to eat at least one vegetarian meal a week or a month. This is a great way of doing that by showing people that a veggie meal is way more cheaper and as delicious. Plus in the summer people tend to give me their allotment surplus.
"It's been working very well and the turnout is around 30 people on the night, mostly regulars from Somerton.
"The new Pop-ups that also have meat on the menu are starting this year on Mother's Day and I'm planning to host it on a quarterly basis. This is mostly a response to people wanting the meat dishes as well. We would love to invite people from other villages and expand our community."
Here are further details including dates, prices and menus for Veggie Thursdays and Mother's Day lunch plus three-course dinners later in the year.
---
Calling all model railway fans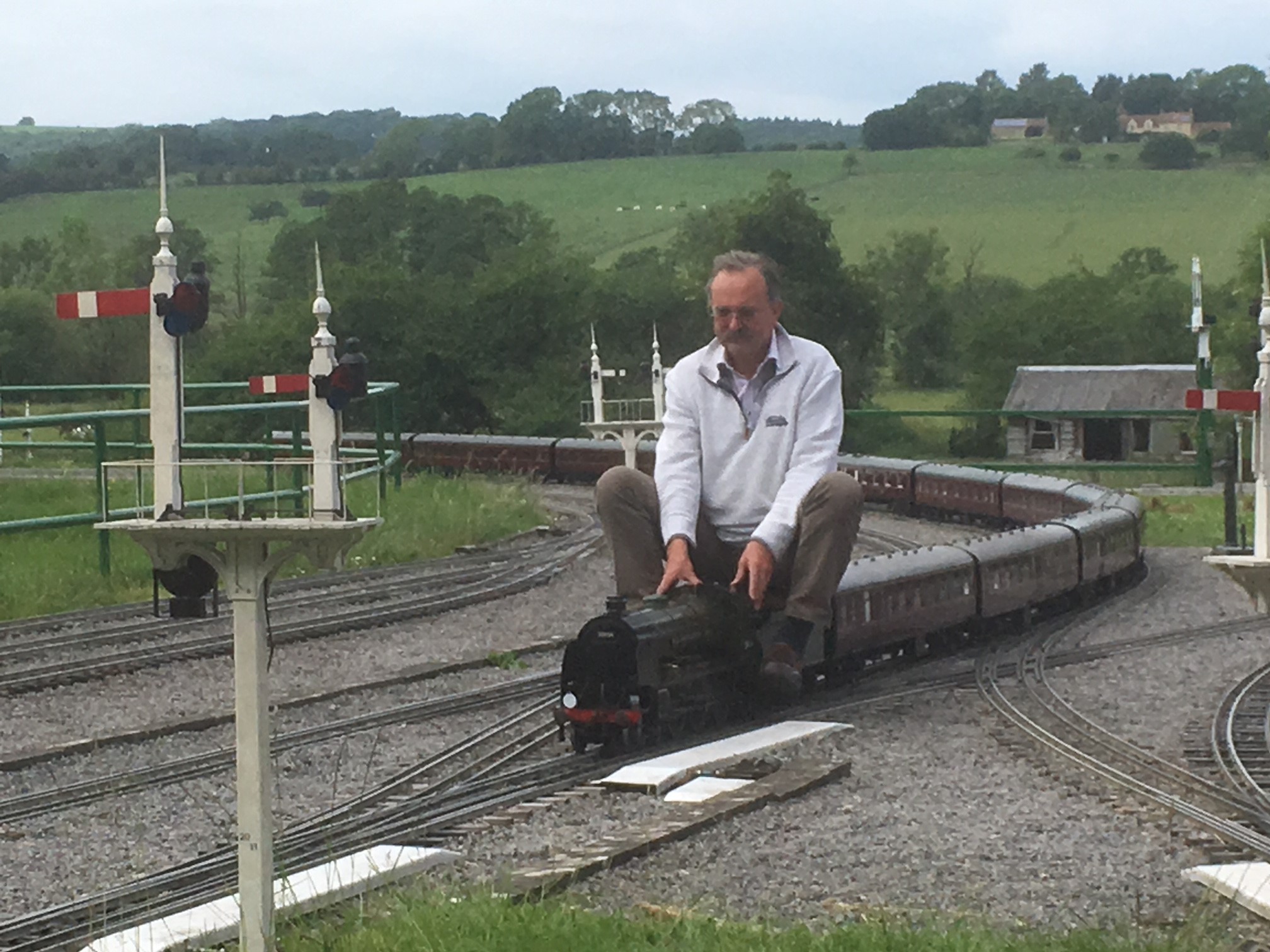 After the article in last month's Steeple Aston Life about Graham Porcas and his passion for model railways, he has heard from several other like-minded enthusiasts in the village.
Graham says: "I have had a lot of interest from various people expressing interest in model railways in Steeple Aston. Several people have approached me to ask if they could come and see what I do which I am happy to arrange.
"Although my main passion is larger scale as shown in the photo I also enjoy the smaller scales; G1, 00, etc. and gather there may be quite a few other enthusiasts in the village who might like to make contact. We could maybe start by setting up a WhatsApp group."
The photo above is of Graham playing on a train (not his) at his favourite track, Gilling Miniature Railway in Yorkshire, 'a really fantastic place' he says.
If you're interested, please contact Graham by email at grahamporcas@btconnect.com
<hr
A Big Thank You from the Valentine Club
A huge thank you to all those wonderful people who kindly supported the Valentine's Annual Jumble Sale on Saturday 12th October. I don't think I have ever seen so much stuff piled so high on the Village Hall tables in my life. The pictures below show the scene before and after the sale opened.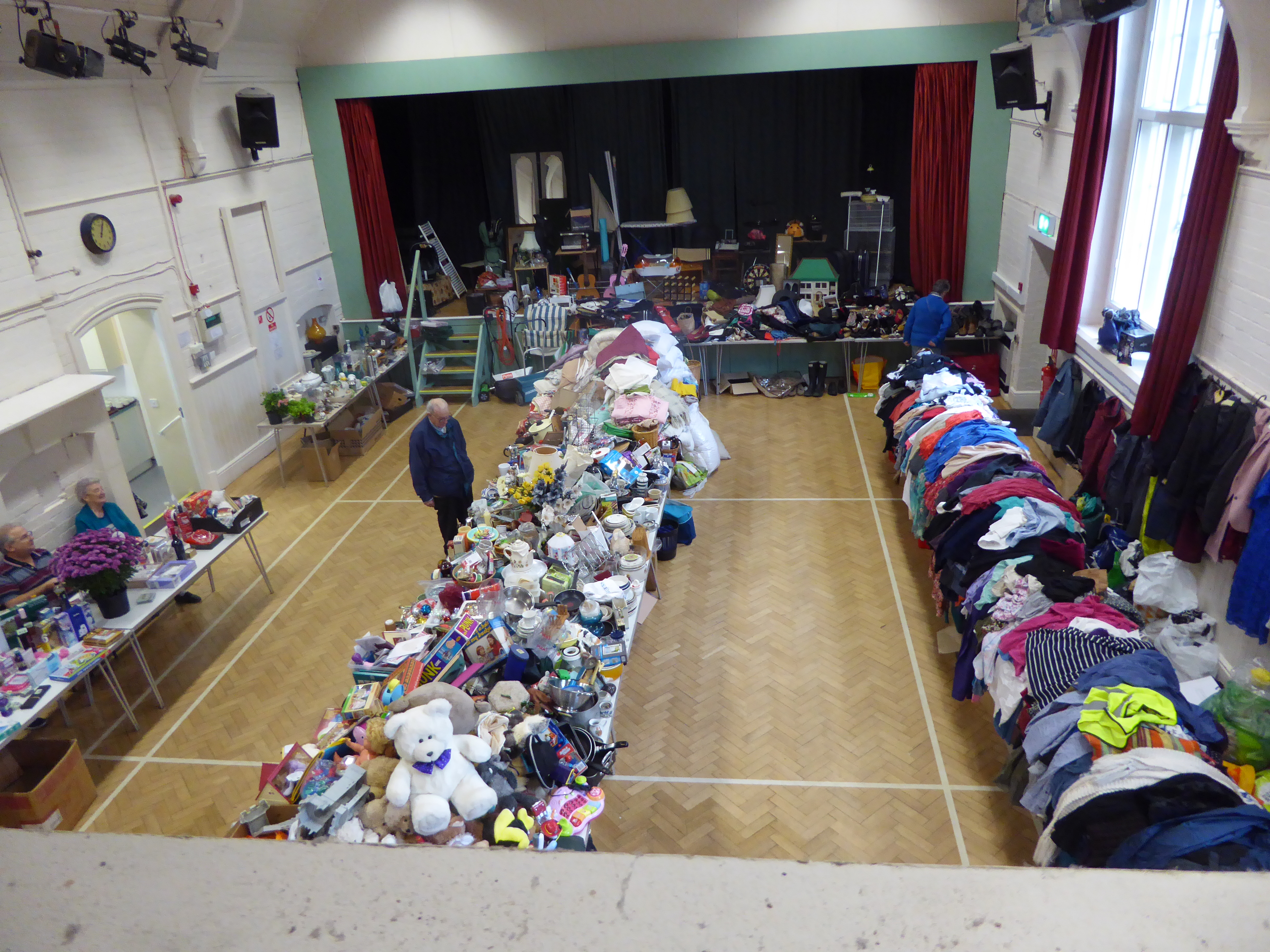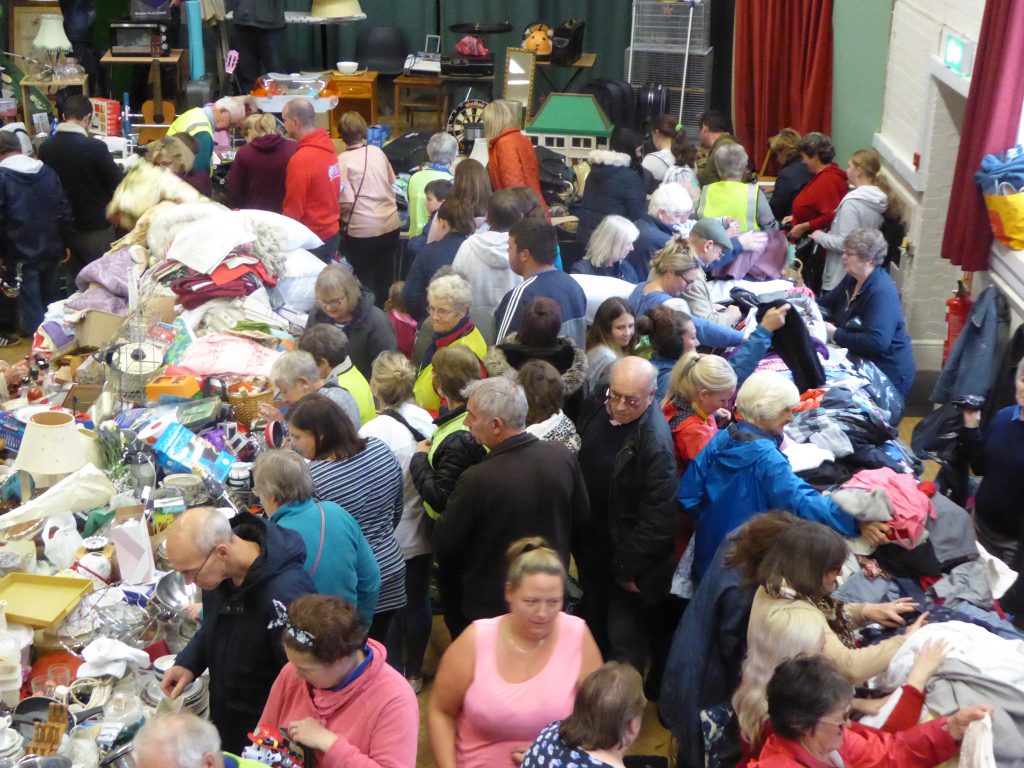 Thanks to the hard work and commitment of our members and their families who worked tirelessly on the Saturday, we made an astonishing £1,065.40 towards the club's funds. This in turn will ensure we attract the best possible speakers and entertainers for next year's programme and of course help towards the cost of our Christmas dinner which is the culmination of another successful year with the club. Thank you everyone who supported us in any way. It is very much appreciated by all our members.
Richard Preston – Valentine Club Organiser
---
Sustainable Steeple
Thank you!
Thanks to the 'unwanted' objects donated by so many people from the village (and beyond), we have raised an initial £1500 which can now be used for local community projects.
Your help
We'd love your ideas on how we might start to put the funds we raise to good use locally. Some ideas that have already been shared with us include:
* Setting up a Library of Things
* Organising regular upcycling/repair workshops
* Wider greening initiatives – tree planting, bat/bee/bird boxes, wilding…
Please email amanda@sustainablesteeple.com or call on 07793 553150
We'd also love you to keep donating! Old cotton/linen bedding, fabric remnants and wooden items are particularly upcyclable!
What next?
Aside from continuing to trade at local markets, selling upcycled items via various sites and actively applying for wider funding, we are in the process of setting up regular monthly 'Crafternoon Tea' sessions – more info coming soon!
www.sustainablesteeple.com
January 2020
---
Established as a Community Interest Company (CIC), Sustainable Steeple is an engagement project with the purpose of ensuring that Steeple Aston is a sustainable community.
Sustainable Community
'A sustainable community manages its human, natural, and financial capital to meet current needs while ensuring that adequate resources are available for future generations' and are the 'foundation of a peaceful and healthy planet' (Institute for Sustainable Communities­).
We translate this into:
Economy

supporting and encouraging local business
local jobs for local people
access to good transport links and communications

Environment

protection and enhancement of local ecosystems and biodiversity
maximum feasible reduction, reuse and recycling of waste

Social and cultural

broad range of social and cultural activities
protection and enhancement of public spaces and historical resources
safety from crime
respect and tolerance
encouraging community spirit and sense of belonging
access to quality services; public, private, voluntary and community

Housing and built environment

sense of place
quality design and build
affordable and appropriate to residents

Leadership, community engagement and responsibility

Equal opportunity for all individuals to participate in and influence decisions that affect their lives in the community
With an active Parish Council and many well-established societies/associations, there are a lot of areas where Steeple Aston scores well, but in other areas it feels like there's more we could do. Our first project, 'Second Chances', is about becoming more environmentally conscious and providing practical support for 'green' initiatives, as well as creating new social opportunities and the prospect of local employment in the future.
Second Chances is an up-cycling project in which we want to take unwanted/broken items, refresh and re-purpose them before selling them on through a variety of channels to create a fund that is available for community-based projects. Items are sold via:
a regular stall at Deddington Farmer's Market (4th Saturday of each month);
village events such as the Church Fete and the upcoming Horticultural Show;
local stores;
Facebook Marketplace;
our own Facebook page and website
Getting involved
There are lots of ways to get involved. You can donate items for up-cycling, volunteer your time to help up-cycle and/or sell our items, or you can get involved in our upcoming events.
Steeple Aston's Rubbish Weekend (28th and 29th September)
Marking the end of National Recycling Week, and taking place in and around the Village Hall, there will be:
up-cycling workshops for bicycles, clothes, fabric, furniture, jewellery and wood;
a repair café, with experts on hand to help you mend your broken items;
a swap shop, where you can trade in your clothes, accessories, and shoes for shiny new (for you anyway) ones for nothing;
a recycled market, where you can meet a variety of makers who up-cycle everything from glass bottles to old metal grates; a great opportunity to start your Christmas shopping early;
a whole host of 'rubbish' games for all the family and more
Harvest Supper (28th September)
We're teaming up with the Church for the annual Harvest Supper to deliver a dinner that celebrates the abundance of harvest by ensuring that none of it goes to waste. The supper will be made from foods that would otherwise have gone to waste (think windfall apples, that one left over potato at the end of the bag…) and any leftovers will be parcelled up and given to those in need.
Keeping up-to-date
We'll keep you updated as to progress through SAL, the village website and Facebook group and the Sustainable Steeple Facebook page and website which have just launched. Alternatively, you can contact me on 07793 553150 or amanda@sustainablesteeple.com.
Amanda Rodgers
---
The 128th Annual Flower Show
Richard Preston, Chairman of the Steeple Aston and Middle Aston Horticultural Society reports:
August Bank Holiday is synonymous with possibly one of the major events in the village's calendar and this year we celebrated our 128th Annual Show. The first one recorded was in 1869 in The Dew Diaries and I must admit, I feel I have been to most of them!
Just like the Church Fete, we experienced record temperatures on Robinson's Close and this meant that the ice-cream van actually sold out before leaving the field. As always, hundreds (estimated 800) of visitors came to see the amazing produce, cookery, photographs and handicraft in the marquee and not forgetting the numerous entries from the children who never cease to amaze us all with their craft skills and enthusiasm.
This year entries were around 850, which is close to a record and well above the average with what the judges described as 'exceptional' quality exhibits throughout the show. On the field were various stalls and attractions and the Fun Dog Show which this year was managed by Dogs for Good who did an amazing job considering the intense heat. We are very grateful to Harts Veterinary Centre for their continued sponsorship of the Fun Dog Show. Teas in the Village Hall were as busy as ever providing visitors with much needed refreshment after the hustle and bustle of the marquee.
The show is the culmination of some hard work by a very small and slightly older age group than might be expected, and without them there would be no show. Also, our most enormous thanks go out to the families that simply turn up on the day and help us out by stewarding or manning the gate or stalls during the afternoon.
But even more importantly, there would be no show without the exhibitors who support this age-old tradition and keep the village alive. I must add at this point that there were many new exhibitors making this one of the best supported shows in recent years. There are, as always, winners of trophies and prize money and well deserved they are, but the real winners are the people who support the show every year by entering something or simply coming along to the show in the afternoon.
We, the committee, are desperate for new committee members and our AGM (it only last about 30 minutes) is in the Village Hall Committee Room on Wednesday 11th September at 7.30pm. There are never more than four meetings a year! Steeple and Middle Aston undoubtedly produce the biggest and best traditional flower show to be found in North Oxfordshire and probably further afield and it is down in no small amount to the fact that we try to keep abreast of the changing times and interests within our community. To do this we need and will always listen, to new ideas from people who are as keen as the existing committee to ensure this show carries on for another 128 years. If you feel you can join our committee or contribute ideas or help on the day of the show, please let me or any committee member know or simply turn up at the AGM.
Thank you everyone for your support at this year's show.
To see the full show results, please click here.
Thank you to Mick Bonwick and Catherine Crook who took lot of lovely photos. To see them, please click here.
---
Steeple Aston Church Fete Report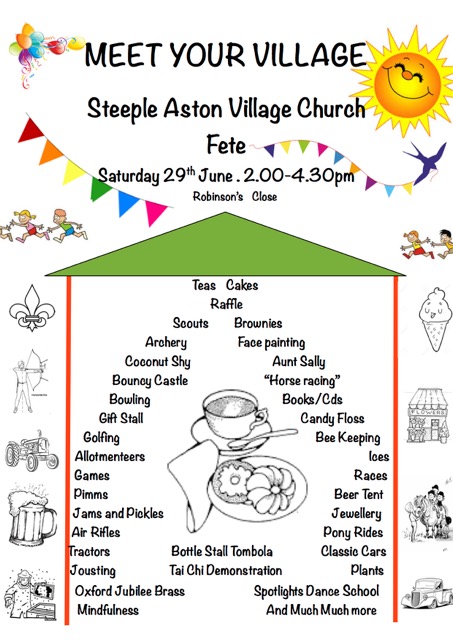 Fete organiser Martin Dale reports:
Our stalwart committee has worked tirelessly throughout the year to produce a fete that truly reflects the expansive nature of our thinking. Last year's fete was a great success and we realised that the potential for an even bigger and better fete was still there.
Thus it was that two of us: Bridget Lewis and I found ourselves at 6.20am on the great day carefully marking out two arenas and the places round the field where the stalls and games would go. This sounds a simple task but all of us had worked a great deal to encourage an expansion in the number of stall holders so that both church and village were represented as one community without treading on each other's toes!
By 9.30am through the good offices of Lawrence White and his band of helpers and Graham Clifton the field was already looking like a fete. Our idea this year was to place all the stalls and games in a large oval round the field so that the public would be encouraged to walk all round and thus see every stall. In principle this worked but it proved quite a hike in what turned out to be just about the hottest day of the year! Even whilst we were clearing away at 5.00pm the temperature was 35 degrees!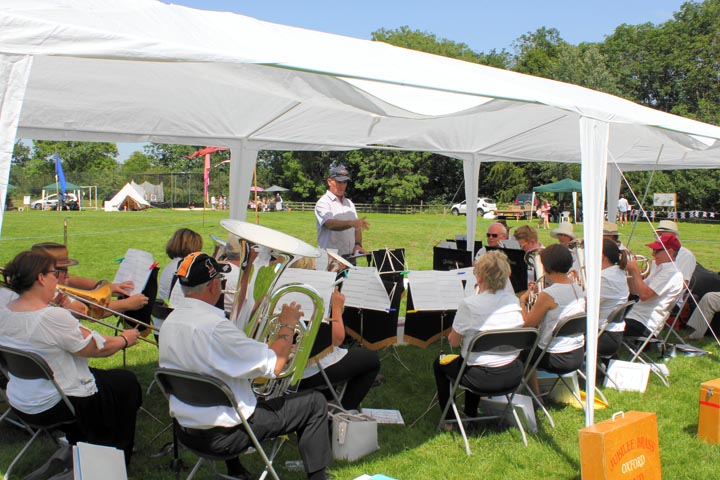 2.00pm saw Rev Marcus Green open the fete and folk started to enjoy the event. As ever we had asked the Oxford Jubilee Brass (pictured above) to entertain us which they did brilliantly .This was followed by a new venture – a demonstration by a Tai Chi group led by Martin Edwards. It proved very popular and a number of us thoroughly enjoyed having a go at it ourselves. Tai Chi has properties which are health giving.
Our other Arena was supposed to house community style events such as Children's races , manfully organised by Anna Thatcher who normally runs the Whit Races. However, the heat beat us. Not only was Anna suffering from heat stroke even before she arrived, and wisely decided she could not carry on but also none of the children approached felt that they could cope with energetic things that day. Very understandable I think!
Ted Atkins humorous PA announcements led us round the fields and so…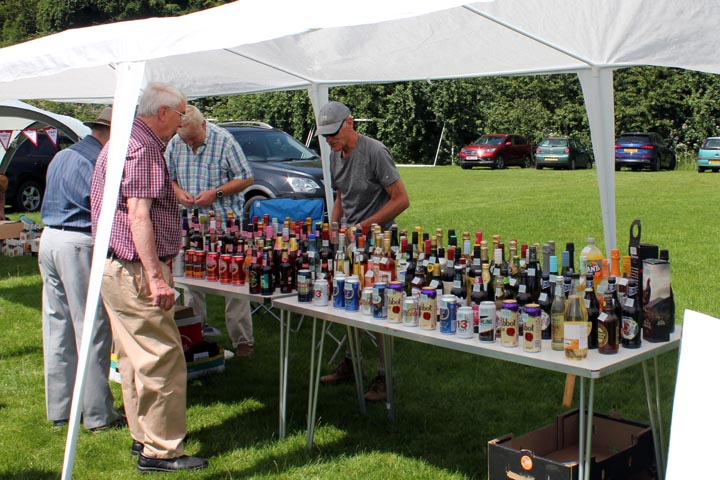 By contrast the ice creams and the beer tent were doing a roaring trade. I myself was more than grateful for my pint of Hookey halfway through the afternoon. The bottle stall/ tombola looked like an off license (see above) and I won a bottle for the first time I can remember! Our gifts stall was very colourful and did well; I was persuaded to have some Candy Floss (first one in fifty years!); Aunt Sally; Bowling; and Coconut Shy were as popular as ever.
New stalls were welcomed : Office Fairy; Sustainable Steeple and Indian Block printing (fascinating – if you missed it do go to the Old Poultry Farm Middle Aston and Visit the Arty craft Studio there). Our lovely stalls of Jewellery; Children's games; and the Brownies were very popular, and where would we be without the second hand Book Stall run, as ever, and throughout the year both in the Red Lion and at Deddington Market, by Christopher Compston. Continuing round the field brought us to a great display of working with wild honey bees and Paul Honigman; Tiddly Pommes Apple juice – all single variety juices collected locally; and Clare McLusky's Mindfulness tent which was a new a interesting venture – every time I passed it there were plenty of folk inside.
But for me, one of the joys of the day was to welcome our very own Scout Troop who offered a marvellous event, namely archery using fabulous bows, which they set up in the cricket nets with much extra padding. I'm proud to say that, having been shown what to do by Torquil McLusky I even managed to hit the target (not a bulls eye – but hey!) And then on to another skilful occupation namely the Air Rifle range, something that defines our fete. It's always there and there are always queues at Graham Clifton's carefully set up area.
Finally – where would we be without the display of classic and vintage cars , which I noticed many more people than usual really inspecting. Lovely iconic machines much loved by their owners and really appreciated by us – thank you. And at the end – a trip in the super old vintage car of Michael Elder – a famous family name in the field.
My thanks as ever go to the team which ran the raffle so successfully led by Shirley Palmer, the also stalwart Lindy and Colin Woodhouse for manfully organising the Gate. Pop across the car park and , not only could you visit the SAVA History room but also, and very importantly on such a hot day enter the coolness of the Village Hall and enjoy Teas, Sandwiches and Cakes arranged by ace cake maker Eileen Baglin Jones and Caroline Compston – then because they're so delicious buy a cake to take home from Jean Atkins and Ruth Dale's cake stall. My heartfelt thanks as always go out to the team which worked with me throughout the year: and all the super people who helped on the day!
Bridget Lewis; Shirley Palmer; Mary Williams; Rachel Marsden; Graham Clifton; Ray Clarke; Gareth John and Lawrence White.
For lots more photos taken on the day by Catherine Crook, please click here.
---
Local lottery to support Valentine Club
Steeple Aston's Valentine Club is one of the good causes to be supported by a new lottery launched by Cherwell District Council. The Valentine Club, for the over 60s, has been around since the 1950s and is one of the most popular and successful clubs in the village.
Tickets for the lottery cost £1 per week. Each ticket has a 1 in 50 chance to win a prize each week, with a top prize of £25,000! The council says that's a better chance of winning than the National Lottery or the Health Lottery.
Each ticket will consist of 6 numbers and each number will be between 0 and 9. There will be a draw every Saturday night when a 6 digit winning combination will be picked. Prizes will be given to players with tickets that match the first or last 2-6 numbers from the winning combination. Match all 6 and you win the JACKPOT!
The lottery will benefit local residents with 50p per ticket going to the chosen good cause and another 10p to other local good causes.
Valentine Club Chairman Richard Preston says, "This will be a wonderful way of raising much needed funds for our village group."
To find out more about the lottery and to buy a ticket to support the Valentine Club, please click here.
To find out more about the Valentine Club and see its programme for the coming months, please click here.
---
Tony Cross Memorial Football Match

Passing on a huge THANK YOU to everybody associated with making Tony's Memorial match such a special day. There are too many people to thank individually but rest assured everybody's kindness and generosity has been extraordinary.
I know Tony would have been super proud and full of emotion seeing everybody coming together in the village, enjoying themselves, having a drink and raising money for such a worthy cause.
So far we've collectively raised £1,000 for Katharine House Hospice.
Once again thanks to every single one of you.
Best wishes
The Cross & Brewer family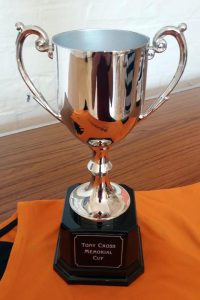 ---
Village Hall AGM
The Annual General Meeting of the Steeple Aston Village Hall management committee was held by teleconferencing on the 4th May 2020. The full committee is listed below, showing which group they represent.
Barbara Brewer Tuesday Badminton (Chair)
Margaret Bulleyment Choral Society (Secretary)
John White (Treasurer)
Janine Beckwith Thursday Badminton
Deborah Morris Village Rep
Arts Programme Co-ordinator TBC
Esther Brown WI
Torquil McLusky Scouts / Cubs / Beavers
Amanda Rodgers Village Rep
Chris Clarke PCC
Stuart Cummins Archive
Richard Preston Valentine Club
Cathy Fleet Parish Council
Rose McCready Garden Club
In the next few months the committee will be deciding on a programme of events for the forthcoming year. If there is a specific event you would like to see in the programme or if you have any new ideas, please contact Barbara Brewer (alanbrewer747@btinternet.com) or any committee member.
New website for local villages
A new website has been launched to promote local community events and local businesses into neighbouring villages. It's called 'Village Voice UK'.
The intention of Village Voice UK is to enable a ripple of local notices to extend outside the immediate boundaries of each village – more easily to inform neighbouring villagers of neighbouring events. It currently covers the villages of Eynsham, Islip, Kidlington, Kirtlington, Tackley and Steeple Aston.
It is free of charge to advertise any upcoming community event taking place in Steeple or Middle Aston to which it may be appropriate to attract further attendance from neighbouring villages. Such neighbouring events can be included in the site's What's On calendar for 2019 and also in the Poster Parade, which advertises specific events.
Local businesses may publicise their services on Village Voice UK and local companies should contact the organiser directly to arrange their advertisement.
The website is https://www.villagevoice.uk
The organiser Louise Lloyd can be contacted on info@villagevoice.uk
---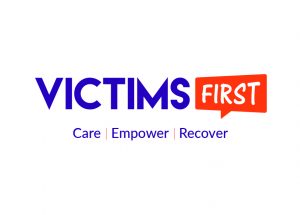 Help for victims of crime or abuse
Being a victim or a witness of a crime can be an emotional and difficult time.
Victims First provides free emotional and practical support to all victims and witnesses of crime or abuse, as well as family members of victims. It is available across Berkshire, Buckinghamshire and Oxfordshire and can provide help regardless of whether or not the crime has been reported to the police.
A Victims First Officer can discuss any emotional or practical needs you may have and work with you to put a tailored support plan in place. This could involve referring you to a specialist service such as services for victims of sexual violence and domestic abuse.
The type of assistance available includes telephone and face to face support, advocacy including help to access other services such as sexual health clinics, drug and alcohol services and legal services, support through the criminal justice system (if you have reported the crime to the police) and therapeutic counselling.
A Young Victims Service is also available to anyone under 18 and works with young people to help them cope with the effects of crime.
To speak to a Victims First Officer about any of the services and to receive support please call 0300 1234 148.
You can also find more information or make a referral for support online at www.victims-first.org.uk
---
Live Well in Oxfordshire
Oxfordshire County Council has an online directory of over 2,000 (and growing) support services across the county to help residents live better.
Live Well Oxfordshire has been developed by Oxfordshire County Council in partnership with Age UK Oxfordshire and Affinity Works. The directory has been designed to bring together information about groups and organisations offering services for adults with a variety of needs in one place.
It includes categories such as looking after someone, keeping fit and well, finding a care home, help with life events and many more.
To go to the directory, please click here.
---
Speed monitoring and parking
The Parish Council has received several complaints about both speeding and bad parking near the school, the pre-school and in the rest of the village.
If you have concerns about speeding in the village, would like to nominate any locations for a Speedwatch Survey or would be prepared to help carry one out, please contact Charlotte Bartlett (01869 347347 or charlottebartlett.steepleaston@gmail.com)
Please always park considerately. You should not park partially or wholly on pavements or yellow lines and zigzags, as this can be extremely dangerous. Thames Valley Police will be informed of persistent offenders.
The Parish Council
---
News from the Sports & Rec
Not everyone in Steeple Aston knows what the building next to the Village Hall and the Pre-school is… This is the Sports and Recreation Trust: we look after the changing rooms and the meeting hall and are also responsible for the Recreation Field.
The Field is where the football pitch and cricket nets are and where last month we all enjoyed the fantastic firework display. As well as sports, the field is also used for many of those annual events that really bring the village together like the Horticultural Show, Church Fete, and Whit Races. The meeting hall is where many clubs and societies meet every week. We work closely with the Village Hall, Parish Council and Church but have very much our own identity. In particular we try to concentrate on helping sports related groups and those that focus on young people.
The Sports & Rec has things happening most days but it is a smaller and less formal space than the Village Hall so well suited to children's parties and smaller events up to 30 people and has a kitchen and a licenced bar. We can also work with the Village Hall to host joint events for 100 or so people.
We have the following regular groups, as well as parties and other events:
Monday morning 10am (every other week) – Home Education Group
Tuesday morning, 10am, Mindfulness
Tuesday night, 7pm Scouts (and we are hoping to start Cubs again soon)
Wednesday night, 6pm, Brownies
Thursday morning, 9am, Baby and Toddler group (term times)
Most Saturday afternoons in season, Steeple Aston Football Club
Most Sunday afternoons in season Junior Football.
The Sports & Rec is a busy place but we do have slots available and are happy to look at special rates for village groups. Please contact Katie Rushworth (Booking Agent) on 01869 340196.
You can find contact details for all the clubs and societies in the Clubs and Societies section section or contact Torquil McLusky, Chairman, (347914) or Chris Cooper, Treasurer, (347173).
---
Your village needs you!
Do you have some time to spare to help our community? We are looking for people to help out with repairs and maintenance of amenities in the village, particularly around the play facilities at Robinson's Close.
The next things on the list are yellow line repainting and mending a wooden bench in the pagoda. If you think you can help out, now or in future, please contact the Parish Clerk, myself or any member of the Parish Council.
Thank you,
Charlotte Clarke on behalf of Steeple Aston Parish Council
parishclerk.steepleaston@gmail.com
---
Community First Responders needed
Alan Brewer, Community First Responder writes:
Community responders are trained, equipped volunteers that answer emergency medical calls in their local communities and initiate treatment while the ambulance is on route. We are not a substitute for the ambulance but a complement to it,we also provide reassurance – the sight of the hi-viz jacket lets them know that help is near and often reduces stress.
It was discovered that if a series of events took place in a set sequence, a heart attack victim has a greater chance of survival.
Early access – this is getting to the patient as quickly as possible (to get help).
Early resuscitation – starting CPR to those patients who require it (to buy time).
Early Defibrillation – delivering an electric shock with a defibrillator to those patients in cardiac arrest (to restart heart).
Early advanced life support – the skills that Paramedics and Doctors have (to stabilise).
Over 350,000 people in the UK suffer heart attacks each year.
160,000 people die as a result of heart attacks each year.
Eighty-five per cent of victims have the potential to survive. The chances of survival decrease by ten per cent for every minute that treatment is delayed.
In addition as trained volunteers, community responders help patients suffering from breathing problems, severe bleeding, diabetic emergencies and unconscious casualties, all of which will benefit from early treatment.
Our aim is to preserve life, prevent the patient's condition from worsening and promote recovery.
At present here in Steeple we have five trained Responders and two Defibrillators, this is voluntary, putting in 20 hours a month that suits you. Due to changes in life style, work and other activities three of our responders will be leaving us after many years of serving the community.
You must be able to drive and have your own car, no blue lights I'm afraid, your aim is to get to the patient with in eight minutes of receiving the call from the emergency dispatcher.
Now, if this is something you have been thinking about doing for your community then please get in touch with me on 01869 340423.
---
Adderbury Community Food Market
The market is held every second Thursday of the month from 6.00pm to 8.00pm at The Institute, The Green, Adderbury OX17 3NE.
You will find a wide range of local producers selling meat, poultry, eggs, savouries, vegetables, cakes & tarts, honey, coffee, gin & liqueurs, preserves and lots more. Guest stalls provide monthly variety. There is a bar and hot food to eat in or take away.
This is a not-for-profit community project. For more information go to www.market.adderbury.org
---
Community Education at the Marlborough School Woodstock
The Marlborough School offers an extensive programme of courses for adults. There are weekly courses and 1-day and 2-day weekend workshops. Many subjects are available at several levels – beginners, improvers etc.
Subjects range from tai chi, Pilates and yoga to singing, calligraphy and various art, language and computer courses.
To browse the courses available or download the latest brochure, go to www.marlborough.oxon.sch.uk/community/
To request a printed brochure and to book a place ring 01993 813592 or email comed.4560@marlborough.oxon.sch.uk
---
Essential repairs grant available
Cherwell District Council is offering an essential repairs grant to help vulnerable people, which covers, for example:
. Replacing a defective door or window
. Roof repairs
. Minor electrical works
You may be eligible if you meet the following criteria:
1. You have owned your home for at least three years and
2. You are eligible for a means tested benefit, and /or a tax credit with a household income below a set level and
3. You are over 60 years of age or in receipt of child benefit for a child living with you.
For more details contact:
Private Sector Housing Team
Cherwell District Council
Bodicote House
Bodicote
OX15 4AA
Tel. 01295 227004 or visit www.cherwell.gov.uk
---
Calling all parents and grandparents
• Are you a good listener?
• Do you enjoy being with young children?
• Could you spare 2 – 3 hours per week?
• Would you be interested in becoming a volunteer with Home-Start?
• Volunteering provides excellent experience for a CV
Home-Start Oxford and Bicester is a local charity which supports families with at least one child under five years of age. They have been doing so for over 20 years and in that time have been a lifeline to thousands of families in need.
Their volunteers offer regular support, friendship and practical help to local families under stress in their own homes, helping to prevent family crisis and breakdown.
For more information please contact Sarah Harvey on 01869 349990, email her on sarah@homestart-oxford.org.uk or view their website: http://www.home-startoxford.org.uk
---
CAB Caseworker Help for disabled & vulnerable
Are you living with a hard to manage mental or physical condition?
Do you need some help to cope?
Our Specialist Caseworker can visit you at home, offer a full welfare benefits eligibility check, and help you to access other relevant support services within your community.
Contact us if you:
Are under 60 years old, and
Live in Oxfordshire, and
Have limited ability to get around on your own, and
Need support to continue to live independently
To discuss your requirements in complete confidence, please leave a message with your name and contact number for Lynn on 01608 646990
---
Have YOU ever thought about FOSTERING?

There is a recognised shortage of 10,000 Foster Carers in the UK. PACT, founded in 1911, is also known as the Oxford Diocesan Council for Social Work inc. We are a registered charity working to improve life chances for children. The focus of our work is within Berkshire, Oxfordshire and Buckinghamshire and aims to build and strengthen families.
We are an approved Adoption and Fostering Agency. We have a history of finding safe, loving families for children in care. Here are a few facts about Fostering:
1. Did you know you don't have to be married to become a Foster Carer?
2. You don't have to have children already although you do need to have experience of caring for children.
3. Did you know you get paid a Fostering Allowance of £335.70 a week to be a Foster Carer which is tax free and won't affect any other benefits?
4. Most of the children who need fostering are known as 'hard to place' children, they will usually be 8+ years of age.
Fostering is a hard but very rewarding job. If you think you might have what it takes to become a Permanent Foster Carer or you want to find out more then contact PACT now on 0800 731 1845 e-mail fostering@pactcharity.org
---
Katherine House Hospice Lottery
Support your local hospice lottery for just £1 a week.
Over £100,000 is raised every year.
Every week there is a first prize of £1,000 plus:
2 x £100 prizes
2 x £50 prizes
5 x £20 prizes
10 x £10 prizes
Contact
Fundraising and Lottery Office
Katharine House Hospice
East End
Adderbury
Banbury
OX17 3NL
Tel: 01295 816484
Email : fundraising@khh.org.uk
Or download an application form from their website: www.khh.org.uk
Registered Charity No. 297099