Steeple Aston Church Bellringers
The aim of the Steeple Aston Church Bellringers is to ring the Church bells on Sundays and for other services such as weddings. They meet in Steeple Aston Church tower for practice every Tuesday at 7.30pm and also on Sundays half an hour before the service.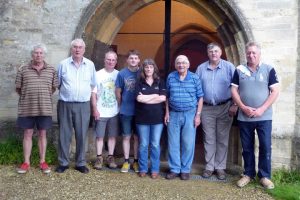 They also ring the bells on special occasions. Following their successful ringing of a quarter peal to mark the Queen's 90th birthday on April 21st 2016, Steeple Aston Bell ringers and friends took on the much more arduous task of ringing a full peal for her official birthday on Sunday, 12th June 2016.
The ringers taking part, pictured here, were (l to r): Lawrence White (SA), Malcolm Hensher (SA), Michael Austin (Hook Norton), Daniel Austin (Hook Norton), Sally Austin (Hook Norton), Alan Griffin (Bloxham), Graham Clifton (conductor) (SA), Nicholas Powell (SA).
The Bellringers are a very sociable group and welcome visitors. They also have many social events through the year. Anyone over the age of 10 is welcome to join the group. The only proviso is that you must be able to climb the stairs.
There is no fee to pay but when you are able to handle a bell you may become a member of the Oxford Diocesan Guild of Church Bell Ringers, for which an annual subscription is £9. If you are interested in joining, either give Graham a call to discuss ringing or just turn up on a practice night and have a try.
Contact
Graham Clifton, Church Tower Captain
Tel: 01869 347273
Email: gjclifton@btinternet.com
Website: https://steepleastonbellringers.com/
---
Steeple Aston Handbell Ringers
The main purpose of the Handbell Ringers is to play Christmas carols door-to-door round Steeple and Middle Aston in the two weeks leading up to Christmas. They choose a different charity to collect for every year.
They meet to practise on Sunday evenings at 7.30pm in a member's house. Meetings start in September if they have been asked to entertain for a given function, but in late October if they are just practising carols.
The handbells are the property of the parish church and it is traditional that handbell ringers are church bell ringers as well. Anyone over the age of 10 is welcome to join the group. You don't necessarily have to be able to read music as they play by numbers.
Membership is free. If you are interested in joining the Handbell Ringers, contact Sally or Graham.
Contact
Sally Cooper, Handbell Captain
Tel: 01869 347173
---
Steeple Aston Choral Society
Honorary Patron – Heather Cleobury
Steeple Aston Choral Society was founded over thirty years ago for local singers of all abilities. It is very fortunate to have Paul Badley, a professional solo and ensemble singer and teacher, as its Director, and Paul Herrington, a teacher, composer and arranger, as its accompanist.
It is also honoured to have another local professional musician, Heather Cleobury, as its Honorary Patron.
Currently, the Society has about thirty members who perform three concerts a year in either the Village Hall, or the Church.
The autumn and spring concerts are usually standard choral works, while the summer 'party' concert also features light music.
Concert rehearsals are on Mondays from 7.45-9.45 in the Village Hall. Anyone who enjoys socialising and music making with others, is welcome. There are no auditions – just come along and join in.
For more information on concerts and membership go to their Facebook page .
Contacts
Ann Livings, Chair
Tel: 01869 233518
Email: elizabethlivings@gmail.com
Margaret Bulleyment, Secretary
Tel: 01869 347346
Email: jbulleyment@waitrose.com
Facebook: www.facebook.com/steepleastonchoralsociety/
---
SACS CONCERT SUNDAY 21 NOVEMBER 2021
Steeple Aston Choral Society is very pleased to announce that it will be performing its postponed Beethoven Anniversary Concert (now Belated Beethoven Anniversary) on 21 November 2021.
The special guest for this concert, originally planned for November 2020, is Dr. Paul Whittaker OBE, a profoundly deaf musician who will be performing on the piano and organ and also signing other pieces of music in the concert.
The evening will be a wonderful mixture of Beethoven's choral and instrumental music – Creation's Hymn; Hallelujah (from The Mount of Olives) and other works for choir; vocal solos from professional singers, Paul Badley (SACS director) and Angela Kazimierczuk; organ and trumpet solos and several very familiar pieces by Beethoven, arranged for maximum 'I know that' enjoyment.
As if that's not enough, the evening ends with the whole ensemble – oboe, violins, viola, cello, trumpet organ and choir – performing a setting of the Gloria, composed especially for SACS and this occasion, by Paul Herrington (SACS accompanist/composer/arranger) who has been instrumental (pun intended) in arranging this whole concert.
It will be an evening not to be missed, but unfortunately the whole ensemble does not fit into Steeple Aston Church, under the present conditions. However, SACS has been incredibly fortunate in being allowed to perform in Witney Methodist Church, at 6.30 on Sunday 21 November.
Bearing in mind that our concerts are usually booked with two years notice, not two months and that there are many other important requirements like a decent organ that have to be met, SACS is incredibly lucky to be able to perform at all, never mind in such a well-equipped, welcoming and conveniently placed venue (a few yards walk from the main Witney/Waitrose car park, off Witan Way.)
We can offer you an uplifting and memorable evening, so do please join us and most importantly, bring any friends who experience hearing difficulties, as this concert is for everyone.
Tickets for the concert are £10.00 (Under 16s free) and can be obtained from –
– Margaret Bulleyment jbulleyment@waitrose.com or 01869 347346 (Steeple Aston) or
– St. Andrews Bookshop, 31 High St, Witney, 01993 709429 (Witney)
Workshops
Dr. Paul Whittaker and his sister, Rev. Mary Whittaker, a church of Scotland minister who is also profoundly deaf, will be visiting Oxfordshire on Saturday 9 October and will be leading two workshops at St. Peter's Church, Wootton, near Abingdon, for any interested deaf, hard of hearing, or hearing, people.
2.00-3.15 – a session for children of Junior and Senior School ages (Learn some songs and SIGN them)
3.45-5.15 – a session for adults (Being Deaf; BSL; Songs and Signing; Q and A)
Children's Workshop – £2.50 Adults – £5.00 (Pay on the day)
Please email Paul Herrington to confirm attendance – pamadama1948@gmail.com
Further information from Margaret Bulleyment, SACS Secretary (details above)