December 2009
Steeple Aston Christmas cards for sale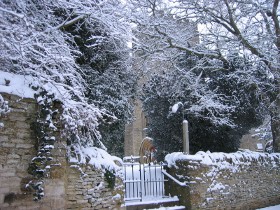 Packets of Christmas cards showing this photo of the church in the snow last February are on sale in Steeple Aston.
You can buy them at the Village Shop and in the two pubs, the White Lion and the Red Lion or by emailing editor@steepleaston.org.uk.
The cards, which were commissioned by the website committee with support from the Parish Council, are available in packs of eight with envelopes at a cost of £5. Profits from the sale will go to village projects.
There are also packs of eight notecards available in the shop showing two each of four views of Steeple Aston through the seasons at the same price.
---
"Village Personalities" remembered in exhibition
If you wanted to refresh your memory and learn something new about well known characters from the village, then the exhibition put on by SAVA, Steeple Aston's Village Archive committee on November 14 and 15 was the place to be.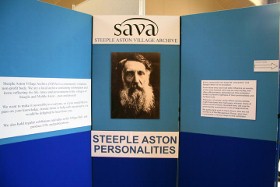 Familiar faces and names from the recent past included John Walton, Connie Franks (the video of her famous Channel 4 programme made it feel as if she was still among us), Joan Steel, Charlie Preston, Arthur Wadham, Iris Murdoch and Canon Michael Hayter.
There were photographs of all of them and write-ups by family members or friends who had known them well. Visitors to the exhibition in the Village Hall were nodding and smiling as the images triggered personal memories.
SAVA had also carried out exhaustive research into figures further into our past such as Vivian Pearson (former Head Teacher at Dr Radcliffe's), Thomas Davis, Harold Grant (Scoutmaster) and even our very own highwayman at Hopcroft's Holt, Claude du Vall (1643 – 1670).
One SAVA member, in the course of her research, found herself perched on a chair and several hassocks in a Worcestershire church in order to make a brass rubbing of the effigy of Sir William Lechmere, a nineteenth century resident of Hill House.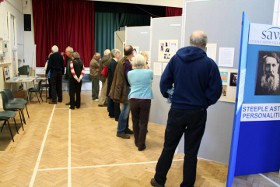 The biography of Walter Moberly, another nineteenth century resident and an explorer, was unearthed by following up correspondence from a researcher in Canada. And how many of us knew that Edward Eyre of the Grange gave his name to Lake Eyre in Southern Australia and was a focus of national outrage back in England?
It takes almost a year to prepare for an exhibition – and this was SAVA's seventh for Steeple Aston. Once again, the layout and presentation were to professional standard and added to the enjoyment.
The contents of the exhibition are digitised and SAVA will be publishing a book of the exhibition next year. If you can think of anyone who should be included in the book who may have been overlooked, please contact SAVA's chair: Martin Lipson on 01869 347046.
Books on two previous exhibitions, Business and Trade and Steeple Aston at War are still available, for more details please click here.
---
Toddler play area is now open
The new toddler play area in Fir Lane is now open and available for use, following a successful safety inspection. The area is designed and fitted out with an age range of 0 – 6 year olds in mind. Good progress is now also being made on the senior play-space which is expected to open in early December.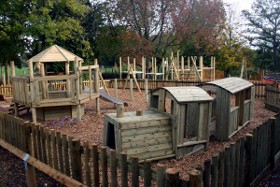 Parish Council Vice-Chairman, Richard Preston said, "The inspection of the toddler play area was done by a ROSPA inspector who considered it to be most imaginative and of the highest quality construction. Within a minute of the inspection being completed there were five youngsters playing enthusiastically on the new equipment, and within the hour I counted 20 youngsters and some very happy parents enjoying themselves.
"The senior part of the play-space, supported by Oxfordshire County Council's Playbuilder Grant, is progressing well and is looking more and more exciting as each day passes. If you have not puzzled it out already, there is a mound with a tunnel, lots of raised platforms around the trees and a tree house in addition to the aerial runway, swings and slides and a climbing wall.
"The contractor, Trevor Stewart has devised a very clever water-play feature that will become apparent very shortly and some of the planting has started to enhance the area and provide more play experiences."
The council is expecting confirmation that a further grant of £10,000 has been received from Oxfordshire County Council's 'Aiming High Capital Grant' for improving access and the quality of the play experience for children with disabilities. This will fund the reorganisation of the access paths to make them accessible by wheelchair, and the installation of a small trampoline at ground level.
Richard says, "We know that many of you expected the play-space to be completed by now, but it must be remembered that our contractor is a one-man-band and is constructing everything on-site and not out of a catalogue. Trevor is always happy to answer any of your questions and we are sure that you will all be more than happy with the final product as will your children, grandchildren and the generations to follow."
For further information please do not hesitate to contact Richard Preston on 01869 340512.
---
November 2009
New owners apply for change of use at air base
A new development company, Dorchester Holdings, has taken over ownership of the former US air force base at Upper Heyford, and applied for planning permission to change the existing military accommodation into private housing.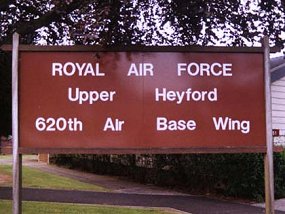 The future of the base has been under discussion for some years now and there is still little progress on a long-term solution. Piecemeal approval has been given for a number of short-term commercial activities on the site, the majority based on temporary planning approval covering five years. Also many of the houses are being used.
The previous owners of the site, the North Oxfordshire Consortium (NOC) applied for planning permission to develop part of the site for 1,075 dwellings and related social and commercial use. This was in November 2007. But because of its complexity and ramifications the application has not been decided. There were appeals about the lack of decisions, though these appeals have been withdrawn.
The site has now been taken over by Dorchester Holdings and they are going ahead with a full application for change of use from military accommodation to private housing and associated community facilities south of Camp Road. This includes the housing on Carswell Circle and Chestnut Drive, most of which is now occupied.
Steeple Aston Parish Council requested that approval should only be granted as a temporary permission as the future of the whole site is still being considered. Whilst the Parish Council has sympathy for residents who would like to have the planning situation resolved they still feel it is important that a solution for the USAF Upper Heyford site is determined as a whole. At the moment the application is still 'pending consideration'.
The planning application is number 09/01254/F and for its details click here.
Twenty three local Parish Councils wrote to the planning authority, Cherwell District Council, explaining why they were concerned by the proposals.
For the full text of the Parish Council's response, please click here
This document is in pdf format and requires Adobe reader, if you do not have Adobe reader it can be downloaded from Adobe by clicking here
---
Village youth club goes wireless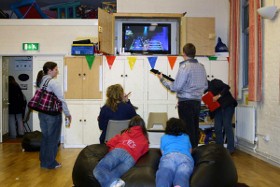 Members of Steeple Aston Youth Club are enjoying lots of new activities following the purchase of a Wii, which can be used for playing a variety of games and a popular "virtual" guitar and drum set, pictured in action here.
Soon they will also have a floodlight to enable them to play games outside on the multi-use games area (MUGA) throughout the winter. The Parish Council recently agreed that the club would be allowed to put a temporary portable light on the MUGA on youth club nights only, as long as it points away from nearby housing.
The Youth Club, which has around thirty members, meets every Thursday evening at the Sport and Recreation Centre. It is working closely with Oxfordshire Association of Young People to gain funding for more activities for young people in the county.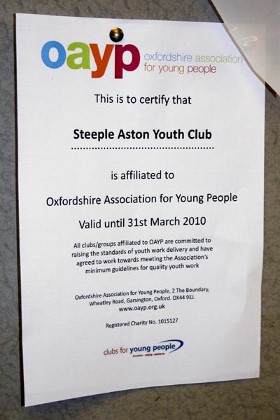 Members of the Steeple Aston club are involved in the OAYP's Youth Activities Committee which is currently applying for grants to enable them to enjoy activities such as rock climbing, ice-skating, football, fishing and ten pin bowling. The young people have to apply for the grants themselves, so they have been busy preparing their presentation with the OAYP representatives.
With help from some local teenagers, OAYP has already received a £32,500 grant to buy a minibus. This will be available for all 49 affiliated youth clubs in Oxfordshire to use at no cost.
Paul Lawrence, the Director of OAYP said, "There are two problems for young people who want to participate in these sort of activities. One is transport and the other is cost. We've already solved the transport problem with our new minibus. Now we are applying for a grant so we can subsidise the costs for them."
Paul is also helping Deborah Smith, Chairman of Steeple Aston Youth Club, to apply for grants to help with staffing and other running costs for the local club.
Deborah said, "It is very difficult for us to get adult volunteers to come regularly and help at the club. We have some sixth formers who have returned to the club to help out. We currently pay one of them out of our depleting funds. We are looking to get money to cover that. The other sixth form volunteers are there to gain experience."
If you are interested in either joining the Youth Club, or helping out with their activities do contact Deborah. For contact details and more about the club, please click here.
For more photos, please click here.
---
Church clock will continue its nightly chimes
Steeple Aston church clock will continue to chime throughout the night, despite the request from an insomniac villager that it be silenced to help her sleep.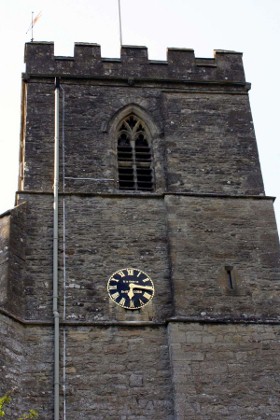 But the Parochial Church Council, sympathetic to her request, has agreed on a compromise proposal. They will insulate the western louvre of the bell tower to reduce the sound of the chimes in the direction of the sufferer's house.
Churchwardens David Armitage and Malcolm Hensher had asked villagers for their views on whether the chimes should be stopped at night. The request stirred up strong feelings, and a lot of interest with reports on BBC Radio Oxford and in the Banbury Guardian, which described a "village ding-dong" over the issue.
Around 80 people felt so strongly about the chimes that they made their views known to the churchwardens by letter, email, telephone or personal contact. The churchwardens reported to the PCC that the majority of responses indicated unhappiness with the idea of the strike being silenced, while sympathising with the person instigating the request.
The request was discussed at length for the second time at a PCC meeting in September. The churchwardens say, "A charitable resolution was sought at lengthby the PCC towards a non-divisive decision.
"A compromise proposal was made, and adopted, that the west-facing louvre of the bell tower be sound-insulated to reduce thesoundof the bell being struck by the clock hammer through that louvre. This would be effected as soon as possible. It washoped such action would go some way to improve matters for the party concerned."
---
Baby and Toddler Group show off their new equipment
Steeple Aston Baby and Toddler Group opened their doors to all comers in September to show off the new equipment they have bought with the help of Grassroots Grants.
The group meets weekly on Thursday mornings in the Sport and Recreation Centre. They put together this report on their New Toy Showcase.
"Thanks to Grassroots Grants, Steeple Aston Baby and Toddler Group has been able to purchase some lovely new toys and equipment in order to broaden our appeal, in particular to the younger members of the community.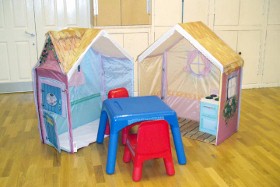 A new playhouse, table and chairs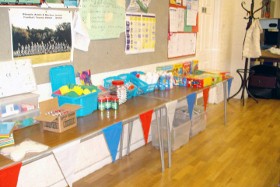 A display of new craft materials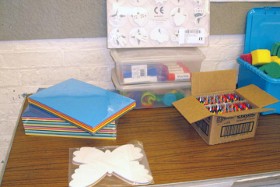 Materials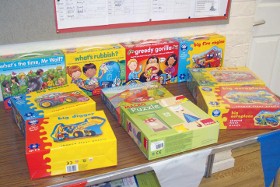 New jigsaws and games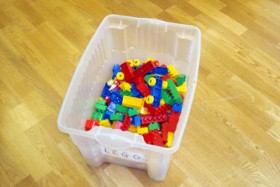 A huge box of Lego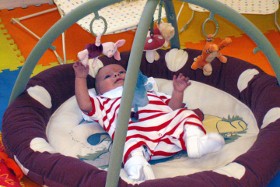 Our youngest member tries out the new play gym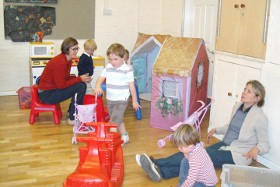 The boys loved the new playhouse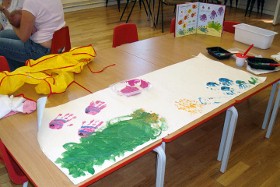 We tested out the new paints by creating an underwater scene using handprints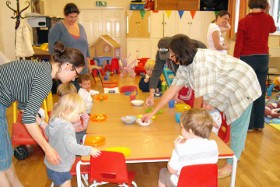 Snack time is always chaotic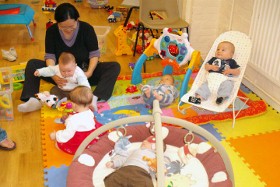 Our younger members try out the new baby toys
Thank you Grassroots from everyone at Steeple Aston Baby and Toddler Group"
For more details about the group please click here.
---
Local Freecycle becomes Freegle
Like many other Freecycle groups in the UK, the Cherwell Valley recycling group is no longer affiliated to the Freecycle network. Instead it has become Cherwell Valley Freegle.
This move follows a dispute with the US-owned Freecycle, which is run under USA law. The British arm of the network, UK Freecycle, felt that several of the rules couldn't be applied to their members and was restricting the growth of the UK groups.
The moderator of the Cherwell Valley group, Lori explains, "A compromise couldn't be reached so it was decided that the UK groups would voluntarily go independent and form our own umbrella organisation which would be run as a co-operative. Freegle was then born.
"As I was the Cherwell Valley group owner I felt that other than the brand name, Freecycle wasn't adding anything to the group so I simply changed the name of our group and effectively all our 674 members went with it. 176 out of 500 Freecycle groups have moved over in the past week."
Freegle has the same aims as Freecycle – to keep reusable items out of landfill by offering them free to other local people.
The new Cherwell Valley Freegle covers Somerton, Fritwell, North Aston, Middle Aston, Steeple Aston, Upper Heyford, Lower Heyford, Rousham, Caulcott, Steeple Barton, Middle Barton, Duns Tew, Deddington and surrounding areas.
For more information on the local group, please go to their website http://groups.yahoo.com/group/Cherwell_Valley_Freegle/
The Freegle website gives details of other groups in the country, see www.ilovefreegle.org.
---
Cricket captain retires with team on a "performance high"
Steeple Aston's Cricket Club's Peter Higgins describes his last match as captain as a "performance high" for the team, despite eventually losing by nine runs.
Peter has retired after three years in the post. The new cricket captain for 2010 will be Jon Scotchbrook, and the new vice-captain is Jay Spires.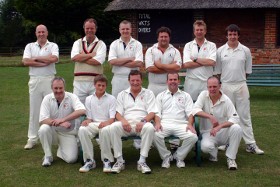 Peter is pictured here with the team he led out for the last time in August. They are:back row (l to r): Phil Reay, Harvey, Kevin Osborne, Ryan O'Sullivan, Dave Powles,Jay Spiresfront row (l to r): David Stewart, Jock Shepherd, Peter Higgins (captain), Tom Maxwell, Raj.
At the end of a successful season, having won seven out of the nine games played so far, they faced a team from the BBC for their final match. They always have hard-fought games against the BBC and this one was no different, according to Peter.
The BBC batted first and scored 223 for 4. Peter opened the batting for Steeple Aston with David Powles and they put on 110 for the first wicket. He scored 58 runs and David 59, and several other team members also put in good batting performances. But sadly victory was just beyond their grasp.
In his captain's report, Peter writes: "We went down by nine runs, but it had been a brilliant match, to which the whole team had contributed.
It was a great way for me to end three years of captaincy and I am delighted to pass on the mantle to Jon (captain) and Jay (vice-captain). I shall of course be happy to carry on with the cricketing admin!"
The season's achievements will be celebrated at the SACC Awards Dinner on Saturday 7th November in the Village Hall. It is open to anyone in the village and is a celebration of the year's individual achievements as well as of village cricket itself.
Tickets cost £20 each and include a three-course dinner with wine. They are available from Peter (01869 347493), Jay Spires (01869 347611) or Jon Scotchbrook (01869 340805).
To read Peter's full report of the last two matches of the season, please click here.
---
October 2009
Summer fundraiser revives party tradition
A fundraiser for Steeple Aston Pre-School attracted enthusiastic support from villagers, and revived the tradition of holding a party in the Flower Show marquee over the August Bank holiday.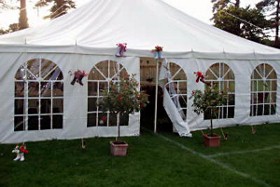 The Summer Night Out was attended by 100 people,who brought along theirown picnics to the marquee in Robinsons Close on Saturday, 29th August.After they had eaten, they danced to the sounds ofThe Limitations,a cover band from Oxford.
The event was organised by Steeple Aston Pre-School staff, Ann Buswell and Helen Cooper. A profit of £446 was made for the Pre-School. It also helped the Horticultural Society, as the cost of putting up the marquee was shared.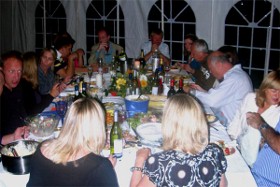 Helen said, "The party went really well. A huge thank you to Richard Preston for his expert advice, and to all others who helped to make it such a successful event.
"We're certainly planning to do it again next year, keep Saturday, 28th August 2010 free!"
The revival of the party tradition was suggested by Richard Preston, Chairman of the Horticultural Society in a post on this website's Forum. He explained that the marquee stood empty over the weekend. He had been involved in organising parties in the past, but now wanted to find some younger people to take on the task. It looks like he has succeeded!
---
Search is on for new Parish Clerk
Sue Lee, Steeple Aston's Parish Clerk has resigned. She is leaving the village to take up the post of Town Clerk at Wadebridge in Cornwall. Now the search is on to find a replacement for her as quickly as possible.
There will be lots of other parish councils looking for a new clerk too because Sue performs the same role for Eynsham, Dun's Tew and Barford St John & St Michael. She also used to be clerk of Lower Heyford and Caversfield parish councils but resigned from those two in the last few months.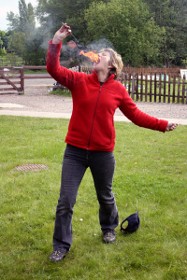 As you can see from this photo, she also has lots of other interesting skills – in this case she's practising her fire-breathing!
At their recent meeting, Parish Councillors expressed their regret at Sue's departure after nearly three years in the post, but they wished her well in her new role. One of them said, "I don't quite know what we'll do without you."
Announcing Sue's resignation, the chairman, Margaret Mason wrote, "This will be a new challenge and a proper use of her talents. We will miss her but we wish her all the best in her new and exciting job.
"Now we need to find a new Clerk. We will be looking for someone whoenjoys being at the centre of the life of the community, is an excellent communicator face to face and in writing, knows the locality well, and preferably lives close by."
The new clerk needs to be in place by 1st November. And the hope is that he or she will be appointed by the middle of October so there can be a handover period. The closing date for applications is October 9th.
If you're thinking of applying, and would like to know more about the job, you can contact either Sue on 01869 347652, email sue@steeple.eclipse.co.uk or Margaret on 01869 340485, email mem@akitanet.co.uk.
To see the full text of Margaret's announcement and the job advert, please click here.
---
Council requests help in an emergency
Steeple Aston Parish Council is asking villagers to volunteer their skills and equipment for use in an emergency caused by, for example, severe weather conditions, a sustained loss of gas or electricity services, a major road traffic accident or, of course, a flu pandemic.
The Parish Council is drawing up an Emergency Plan, which will enable the local community to react quickly and effectively. Part of the Plan will include volunteers with specialist skills and/or equipment who could be called on during the short period before the emergency services arrive.
This is part of an initiative by Oxfordshire County Council, in alliance with the four District Councils. They are encouraging and supporting parishes to have their own Emergency Plans in case of disasters.
Villagers are asked if they could help with any of the following:
Skills
Medical (doctor, nurse, trained to use defibrillator)
Fire fighting
Policing
Military
Equipment
Mobile heating, lighting and cooking equipment
Generators
Mechanical pumps
Drinkable well water
Chain saws
4 x 4 vehicles
Tractors, trailers, ropes
If you could offer any of these, please contact Margaret Mason on 01869 340485, email mem@akitanet.co.uk, or Clare McKinley on 01869 347168, email claremckinley@aol.com.
Meanwhile, for more information about the swine flu pandemic, please click here.
---
Summer Show now "the biggest in the county"
Entries for the Summer Horticultural Show increased dramatically this year, making it the biggest show in the county according to Richard Preston, the Chairman of the Steeple Aston and Middle Aston Horticultural Society.
There were 929 entries this year, the second largest entry in the show's 118-year history. Richard said, "There were lots of new exhibitors from Steeple Aston and the surrounding villages, which is very pleasing. We have also worked closely with the local allotment holders.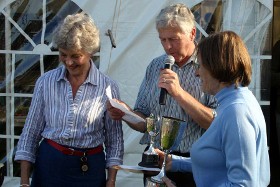 "We estimate that over 800 people attended the show during the afternoon. I'm sure this is now the largest show in Oxfordshire."
Richard, who was this year's Show Champion, is pictured here with Sheila Side, the Society's President and Julia Whybrew, the Show Secretary, presented with the Hayter Cup, which she retained against very stiff competition and the Lee Cup for mis-shapen vegetables.
Sheila Side was distributing the prizes for the last time as she is retiring as President of the Horticultural Society this year. She was delighted to see the number of entries for the show had increased so much.
She said "That gives us hope for a great future for the show. But everything depends on the committee who work tremendously hard throughout the year. Many thanks to them and to all the others who have helped out on the day – the judges, the stall holders and of course the ladies who provide the teas."
Other cup winners included Daphne Preston, who retained the Wadham Cup and won the George Alder Memorial Cup with her husband Richard. Richard won the Walker Cup for most points in the show as well as several other cups and medals.
Roderick Nicolson retained the Lilley Cup for the best exhibit of roses, and Gwen Stone retained the Rose Lilley Memorial Trophy for the best foliage arrangement. Victoria Clifton won the Coronation Bowl for cookery and wine and Eleanor Jolley retained the Gladys Stevens Memorial Cup for Handicraft.
Margaret Mason won the Scott Cup for the best Floral Art arrangement. Chris Cypher won the Beehive Cup for the person with the most points who has never won a cup before.
The children's cups were won by Christopher Bedding (senior), Harry Tomkins (junior), Alfie Comer (under 9s) and Hannah McLoone (under sixes).
The Steeple Aston Turner prize was won by Dorothy Clifton, with her representation of the fourth pedestal topped by a very ancient teddy bear and entitled Lost Youth.
Fruit, flowers and vegetables were auctioned off after the show. Those who couldn't wait until then could buy their supplies from the Steeple Aston Church Allotments Association stall. This new association had a stall at the show for the first time this year and was doing a roaring trade.
Other attractions included Karluk Siberian Huskies, a bouncy castle, bowling, shooting and jousting, a handicraft and other stalls and a raffle. Teas and homemade cakes were served in the Village Hall.
The Horticultural Society is still looking for new members to join its committee. If you are interested, come along to their meeting on Wednesday 23rd September at 8.00pm in the committee room of the Village Hall, or phone Richard Preston on 01869 340512.
For the full results, please click here.
For lots of photos, please click here.
---
Budding young photographer triumphs over all
Ten-year-old Louisa Getley won the Jean Stone Trophy for the best photograph in this year's Summer Show, beating all the experienced adults, including the couple who have been teaching her how to take better photos.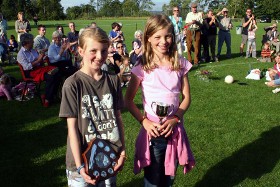 She also shared the Children's Photography Cup, which was presented for the first time this year, with her sister Anna and Yolanda Martin. The two sisters are pictured here.
Both Louisa and Anna, from DunsTew, attended all four sessions of the Junior Photography Workshop run by John and Janet Coley earlier this year. In all nine children attended the workshop for ten to sixteen-year-olds and many of them won prizes in the competition, much to their tutors' satisfaction.
Although Louisa beat the Coleys to best in show with her close-up photo of a bee on a flower, John Coley did win the adult's Photography Cup this year, beating his wife Janet, the previous holder.
To see more photos, including all three of the winning photos in the junior section, please click here.
---
September 2009
'Movies on the Move' comes to Steeple Aston
The Village Hall is set to become a cinema, with a professional showing of a popular film once every other month on a Sunday evening from the end of this month.
Steeple Aston is one of the three lucky villages to join Chipping Norton Theatre's travelling film club, 'Movies on the Move', courtesy of a grant from Cherwell District Council.
The grant, which has enabled the theatre to widen their project into the Cherwell District, pays for part of the cost for the first year, making it possible to charge a very reasonable ticket price.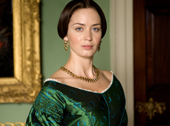 The six films for the first season will all be up to date family films. The first, on Sunday 27th September at 7.00pm, will be 'The Young Victoria' with Emily Blunt, pictured here, in the title role.
This film offers drama, romance and political intrigue, with an outstanding British cast and a starring role for Blenheim Palace where much of the filming took place. All tickets will be £5.00 on the door.
Margaret Mason of the Village Hall Committee explained, "Many people have said that it would be great to be able to see good films without travelling to town, now is the chance! This season will be a test run, if it proves really popular it could become a permanent event.
"There will also be a chance for villagers to join in selecting the next series of films with the Theatre. Some villages have formed film clubs, some village hall committees have promoted the films themselves."
The second film will be shown on Sunday November 29th at 7.00pm, and will be 'A Bunch of Amateurs'. This is a comedy starring Burt Reynolds, Derek Jacobi and Imelda Staunton in which a sleazy Hollywood agent tricks one of his clients, a faded action star, into playing King Lear in an amateur charity production in England.
---
Young Thomas leads in the top dog
A five-year old dog handler beat all the adults and older children to the top prize at the popular Fun Dog Show on Bank Holiday Monday in Steeple Aston.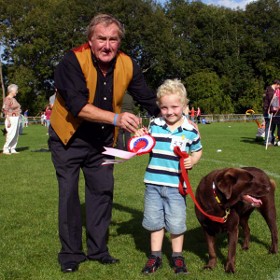 Thomas Evans from Middle Aston is pictured here with Millie, a chocolate Labrador who won the trophy for Dog of the Day. With him is Malcolm Butler, the local judge who had the difficult task of choosing a winner from among the 60-plus dogs that entered the competition.
The show, which runs alongside the Flower Show, is sponsored by The Hart Veterinary Centre in Bicester. They provided rosettes for the winners and runners up and a trophy for the Dog of the Day, who is selected from the winners of the five classes.
The five classes were:
Agility (over the jumps)
Best child handler under 16 years of age
The dog with the best trick
Veterans (over six years old)
Dog the judge would most like to take home.
For more photos of the show and all the class winners, please click here.
---
Villagers disagree over request to silence church clock
Opinion is divided in the village over a proposal to silence the church clock during the hours of darkness.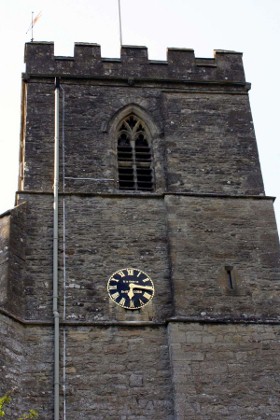 A Steeple Aston resident who lives near the church has asked if the clock chimes can be
turned off at night as she suffers from insomnia.
The Parochial Church Council discussed the request at length at their last meeting. As the clock can be heard all over the village, they decided to ask residents for their views. The only problem is that residents don't seem to agree.
A recent article in the Banbury Guardian showed that although people were sympathetic to the request, they do like to hear the clock at night and would miss it if it were silenced. The clock was sent away for regilding recently, and many people said they missed the familiar chimes.
Stopping the clock striking at night is possible, but only with an adaptation to the clock mechanism and permission from the Diocese. Chimes at North Aston church have already been stopped at night following a complaint, but in that case there is a house very close to the church.
The PCC meets again on September 18th to make their decision. If you want to have your say before they meet, please contact the churchwardens David Armitage at Markhams, Middle Aston, 01869 347029 or Malcolm Henscher, 37 Grange Park, Steeple Aston 01869 340873.
---
Old play area cleared to make way for new
The children's play area in Fir Lane has been a favourite with parents and children for 16 years. Now it is being cleared to make way for a new improved version.
Work started on the clearance of the site on 20th July in preparation for the installation of some exciting new equipment, a separate play space for toddlers and an expanded area for primary age children and upwards. To see a ground plan of the new play-space, please click here.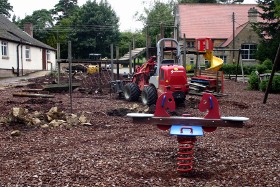 Steeple Aston Parish Council Vice-Chairman Richard Preston, who has led the project, said, "Please be aware that heavy machinery will be working throughout the summer holidays and there will be a temporary loss of play facilities whilst these works are in progress.
"The contractor will do his utmost to minimise any disruption and the Parish Council would like to apologise in advance for the inconvenience and loss of facilities whilst these works are in progress, but we are sure the new play-space will more than compensate."
The new play-space is to cost close on £70,000. It has been made possible thanks to funding from Oxfordshire County Council's "Playbuilder" fund, Trust for Oxfordshire's Environment (TOE) and, subject to confirmation, Cherwell District Council.
Richard Preston added: "Thanks to considerable input by many of the children of the village and the surrounding area a design has been compiled to include as many of the 'requests' as possible.
"The new play-space is breaking away from the established play-areas that are fenced and have the regulation swings and slide. Ours will encourage imaginative play with more challenges, but still comply with health and safety requirements expected in the 21st century.
"When we held our consultation day back in the winter some very imaginative ideas came forward including rocket launchers and water canons. These were decided as being a bit too risky, but other ideas such as the use of water and aerial runways have been included in the design.
"Tree houses were also requested along with a fort and these too have been included. You will still find the swings and slides but with a far more exciting experience included as designs have moved on since the existing play-area was installed.
"A big thank you must be expressed to all the youngsters who completed questionnaires, sent in drawings and ideas and have helped to make this exciting project possible. Also, a big thank you to the small but committed working party that made this happen."
---
Villagers advised to prepare for swine flu
Villagers throughout Oxfordshire are being advised to set up a network of "flu friends" to help them in the case of a swine flu pandemic.
Oxfordshire Primary Care Trust (PCT) has contacted parish councils asking them to "cascade" information to villagers about the importance of preparing for a possible flu pandemic.
There were 52 confirmed cases of swine flu in the county on 6th July, but clearly the Trust is concerned there may be many more in future. If you think you have the flu it is important that you stay at home, so a "flu friend" is essential to collect medicine and other supplies for you.
If you have flu symptoms, the current advice is to contact the National Pandemic Flu Service. Its dedicated website is www.direct.gov.uk/pandemicflu. There people can check their symptoms and get a unique number which will give them access to antivirals, such as Tamiflu, if necessary. There is also an Oxfordshire Swine Flu Helpline, 0845 202012. Contact your GP if:
– you have a serious underlying illness
– you are pregnant
– you have a sick child under one year old
– your condition suddenly gets much worse
– your condition is still getting worse after seven days (or five days for a child).
Oxfordshire PCT has issued the following announcement on its website:
"Swine flu may become a pandemic in the UK over the coming months, so now is the time to choose your 'flu friend'. The national swine flu information leaflet that was delivered to households across the county in May makes reference to people setting up a network of 'flu friends'.
"A 'flu friend' can be relatives, neighbours or friends who will collect medicines, food and other supplies for you if you get swine flu, so that you do not have to leave home. Preventing people who may be suffering from swine flu from having to go outdoors will help restrict the potential spread of flu to others.
"It is a good idea for each person to identify up to five 'flu friends' as if your flu friend is also ill or unavailable then they cannot help you, but having at least one is very important.
A 'flu friend' form is now available to help the public record their personal flu friend(s) information and to keep in a safe place in case they are ill. In addition you could consider becoming a 'flu friend' to a neighbour who may live alone, family members that might need help, or offer yourself as a 'flu friend' through networks that may be set up by local organisations, such as churches or parish councils.
Anna Hinton, Principal in Health Protection, from NHS Oxfordshire said:
"Now is the time to identify a network of flu friends. There is no way of telling who will catch the flu, so it is important to be aware and to plan ahead. If you are ill with swine flu it is important that you do not go out because you might spread the illness to others. Ask a flu friend to go out for you."
What to do now:
Identify your 'flu friend(s)' and check that they are happy to help you.
Complete the flu friend form now and keep it in a safe place e.g. on the fridge or by the phone.
Make sure you know where your ID (see list of options on the 'flu friend' form) is located in case your flu friend needs to collect medicines for you.
Think about neighbours who may live alone or family members that might need help and offer to be their 'flu friend'
If we all follow the simple rule of CATCH IT, BIN IT, KILL IT, we can help reduce the spread of colds, flu and other viruses. We all have an important role to play in preventing ourselves, our families and others from spreading germs.
The messages of CATCH, IT, BIN IT, KILL IT are simple:
CATCH IT Germs spread easily. Always carry tissues and use them to catch your cough or sneeze.
BIN IT Germs can live for some time on tissues. Dispose of them as soon as possible.
KILL IT Hands can transfer germs to any surface you touch such as door handles and telephones, so clean your hands as soon as you can
Further Information:
A Flu Friends Q & A, news of the latest numbers of cases in the county, and other useful information are all available on www.oxfordshirepct.nhs.uk
For the latest national information on swine flu visit the NHS Choices or NHS Direct websites at www.nhs.uk or www.nhsdirect.nhs.uk or call the National Swine flu information line on08001513513.NHS Direct can be contacted on 08454647.
---
Falling tree breaks village power lines
Many villagers woke to find they were without electricity on the morning of Sunday, 19th July after a willow tree fell on power lines in Paines Hill.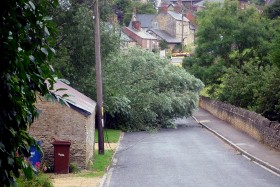 As this photo shows, the willow fell across the road, breaking the lines. The power went off in homes in Paines Hill, Southside and other nearby streets at 6.45am.
The electricity company was quickly on the case, with contractors arriving around 8.00am to remove the tree. The lines were reconnected and power restored soon after midday.
Janet Coley, who was out early with her camera, said "It was a very quick response from the electricity company, and they removed the willow in no time at all. I thought they were brilliant."
To see more of Janet's pictures showing the men at work, please click here.
---
Dancing in My Dreams enthusiastically reviewed
The recent performance of Dancing in My Dreams by the Oxfordshire Theatre Company in the Village Hall didn't attract a very large audience. This was a pity in the view of Jan Liberadzki of North Aston who has written an enthusiastic review of the play in the hope of encouraging more people see OTC productions,
Jan said "This production followed Rivers Up which was put on by this Company earlier this year, which was also an outstanding production with innovative set design and lighting. We are indeed very fortunate to have such high-quality theatre, which really does merit better audience numbers. If we want them to come back, then we really must show our support and appreciation.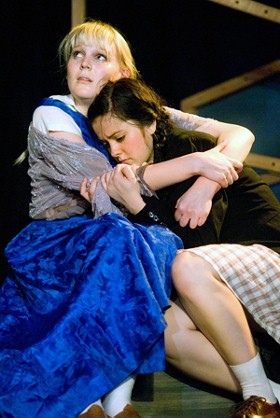 "The Oxfordshire Theatre Company is celebrating its 30th anniversary this year, and has further productions later this year and in March and April of next year. I can only highly recommend you come and see them."
If you missed out on the performance, there may be a chance to see it elsewhere in the Autumn. For more information and details of future producitons, please visit the OTC website at www.oxfordshiretheatrecompany.co.uk.
Jan's review starts : "In 1939 a mother and her two children arrived in Steeple Aston, evacuees from the London Blitz. They were initially offered stables as their new home, but fortunately a teacher at the school took pity on them and offered them accommodation in her cottage, where they remained for the rest of the war.
"This story came to light after Dancing In My Dreams, which was put on by the Oxfordshire Theatre Company in the Village Hall. The play tells the story of three children, Kathleen, her sister Christina and Monica, and their experiences on being evacuated from London to be resettled somewhere safe in the country, and how they are met with prejudice and suspicion by those who had been asked to provide them shelter.
"The cast of five performed 13 parts between them on a sparse but highly evocative set laid out in front of the main stage of the Hall. This set the scenes for the childrens' lives in London before they were evacuated, the train journey, and their new life in the family cottage of Jack, Freda and their daughter Pamela, and the surrounding countryside. The pace was fast, with musical and dance numbers taken from American musical theatre and films of the time, all unaccompanied, providing a background cultural commentary.
"Scenes changed quickly, requiring many costume changes, some quite extravagant for the Busby Berkely musical numbers, all done with amazing speed, keeping the action and the narrative moving forward. This was indeed a very slick production. The acting was compelling, with the cast drawing you in to their characters. Katrina Gibson, splendid as the spiteful Pamela, and in another scene, Kathleen's mother. Debbie Leigh-Simmons, playing Kathleen's sister and Freda, the troubled mother of the family. Lois Unwin as Kathleen's newfound friend Monica whose parents had been killed in the Blitz. Jonathan Metcalf, the only male member of the cast, played roles as Jack and a German fighter pilot, who between them bring about the eventual reunion of Kathleen, played by Laura Cocoracchio, with her mother and sister. Excellent, poignant acting requiring a high degree of versatility on the part of the actors that brought credibility to each of their diverse characters."
---
Last chance to contribute to Parish Plan
Now is your last chance to contribute to the Steeple Aston Parish Plan. If you haven't yet filled in a questionnaire you can get one from the village shop. It needs to be completed and returned by the 14th August, or the end of the month at the latest.
A Parish Plan is a way of setting priorities based on what members of the community want for their village, not what the parish or district councils may decide on their behalf. People who were in Steeple Aston in 1993 may remember the Village Appraisal, which had a similar aim.
Based on the information gained from the maximum number of people in the village, a concise action plan is drawn up which prioritises the issues raised by members of the community. The parish and district councils then work together to tackle these issues.
This year's exercise is being organised by the Parish Plan Steering Group. Every household in the village should, by now, have received a questionnaire from a member of the group. They hope that you have completed it and that it will have been collected from you during July.
They say, "If, by any chance, you have not received a questionnaire, you can collect one from the shop, or phone Julia Whybrew on 01869 347850. And if you are still waiting for someone to collect, again contact Julia or return it to the shop. We would like all the questionnaires back by August 14th wherever possible, with an absolute deadline of the end of August.
Now comes the tough task of collating all the answers on the questionnaires and discovering what are the major priorities for the village. We hope to have a draft Parish Plan before the end of the year. Thanks to everyone for their support."
---
"Turner Prize" returns to Summer Show
The Steeple Aston "Turner Prize" is returning to the Summer Show this year.The £10 prize will be awarded to the entry judged to be the most amusing – apparently, artistic merit is irrelevant.
Chairman of the Steeple and Middle Aston Horticultural Society, Richard Preston says:" The prize is really taking the Mick of the official "Turner Prize" and will be judged on ingenuity and a sense of humour."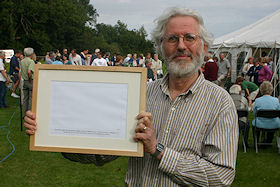 The competition ran for the first time in 2007 when the theme was "1,000 years of Oxfordshire" to mark the county's millennium. It was won by Yoni Kinory, pictured here with his framed picture of an all-white scene, described as:
"Deep Snow under Pale Sky Between Steeple Aston and Middle Aston, 11 in the Forenoon, 8 February 1257".
As well as laughing at the Turner prize entries, visitors should find plenty to enjoy at the 118th Flower Show, to be held on Bank Holiday Monday, 31st August in Robinsons Close starting at 2.00pm.
Richard said, "We are expecting the most side-shows and stalls ever seen at our show, along with the ever-popular dog show and the famous flower show teas! It is also hoped that there will be some support from the newly formed Allotment Association."
"To make the show a success when other shows around the county are closing, we need entries and for the first time ever the committee has decided to abolish any membership fee, thus you only pay for the entries.
"If anyone needs a schedule they can download it from the website or collect a copy from the shop or myself. The committee is there to help and advise on the submissionof entries, and I personally would be happy to give any prospective entrant any tips I might have."
Please get as many completedentry forms back to Richard or Julia Whybrew by Thursday 27th August with the entry money. You can contact Richard on 01869340512, email richard.preston5@btopenworld.com or at Primrose Cottage, North Side, Julia on 01869 347850, email juliawhybrew@btinternet.com or at Grangelea. Grange Park.
To download a schedule, please click here.
To download an entry form, please click here.
---
August 2009
Concert pays tribute to brave US pilot
Steeple Aston paid its own special tribute to a brave American pilot, thought to have saved many lives in the village, at a concert to celebrate US Independence Day, the Fourth of July.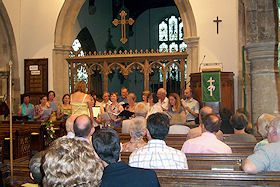 Members of Steeple Aston Choral Society treated the audience in the church to a programme, which ranged from settings of music written by early settlers in America through to more recent favourites such as 'Anything Goes'. The conductor was Gillian Warson with Dennis Flynn on the piano. Joanna and Philip Warson performed solos, which included 'Moon River' and 'Hey, Mr Tambourine Man.'
The key feature of the evening was an account read by Edwina Kinch in which she remembered the incident of May 1969 when Major Robert Sipes of the U.S Air Force based at nearby Upper Heyford chose to save the lives of the children of Steeple Aston and in doing so, lost his own life.
Major Sipes' aircraft failed while taking off from the base and, instead of bailing out, he stayed with the aircraft until it crashed in nearby Folly Field instead of onto Dr. Radcliffe's School.
There is a memorial plaque to Major Sipes in the church and Edwina said that there is also a plaque to him in the airport at Jackson, Tennessee, which is named after him. There is a leaflet in the church from the US about a memorial service held there too.
The choir sang Samuel Barbour's 'Let Down the Bars of Death' as a tribute to Major Sipes.
Prompted by this tribute, BBC Radio Oxford told the story of Major Sipes to a wider audience. It ran on BBC Oxford's breakfast and evening radio programmes, and included a live interview with John Ray, formerly of Brasenose Farm, who was working only yards away when the plane crashed in his field and exploded.
Chairman of the Choral Society, Derek Hopwood, also revealed that the choir had been filmed by the BBC in rehearsal earlier in the day. A film telling the story of the concert and the tribute to Major Sipes was shown on BBC South Today on July 6th.
To see the film, please click here.
---
Allotment Association formed to obtain water
Steeple Aston allotment holders have formed an association to ty and provide a water supply for the site as soon as possible.
Allotment holders have struggled to grow their fruit, flowers and vegetables on the church allotments for around 100 years without access to anything but rainwater. Now the newly-formed Steeple Aston Church Allotment Association is hoping to get a grant to enable them to bring water to the site at last.
The first step was a General Meeting of allotment holders and interested parties, which was held in the Sport and Recreation Centre on 15 May, to discuss the possibility of obtaining a water supply for thesite.
24 people attended the meeting, including most allotment holders and two members of the Parish Council, who had offered their advice and expertise to help them obtain a grant to pay for the water supply.
The consensus of the meeting was that a water supply is necessary for the future of the allotments and that an association should be formed to enable applications for grants to achieve this.
An interim committee was elected. They are: Chairperson – Jennifer Hallam, Secretary – Betty Smith, Treasurer – Angela Gray, committee members: Maurice O'Connor, Tim Heathcote, Rebecca Sutton, Rose McCready and Peter Kohn.
Two interim committee meetings have since been held and the types of water supply and the grants availableare being been explored.
A second General Meeting was held on 20th June when the constitution for the Allotment Association was adopted. The interim committee was re-elected to serve for one year.
As the allotments belong to the church, communication with the diocese and their agents has begun to clarify their position and it is hoped that an agreement will be reached to allow the Association to apply for grants to obtain the much-needed water supply.
After the General Meeting on 20th June a BBQ was held on the allotments and a good time was had by all.
Three members of the committee visited have also the Deddington allotments, and picked up some useful tips on running an association and allotment site.
---
Garden Club goes on 'magical' outing
Steeple Aston Garden Club's visit to Lady Aird's garden at Grange Farm in Evenlode in June was described as a magical outing for all concerned.
Julia Whybrew reports that almost every club member was there. The weather was perfect and the garden even more so.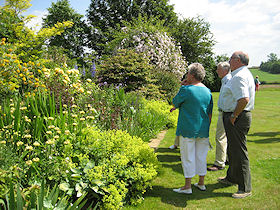 She writes: "Although the garden was clearly well planned the impression it gave was of informality and calm. It was full of wonderful roses, with a superb 'Himalayan Musk', which is in the background in this picture. It was about 15ft tall and is growing up a huge metal frame.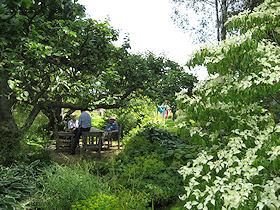 "The house is covered in roses and leading from it there is a large lawn with a long herbaceous border leading to a water garden and ancient apple trees. There is also a sunken garden, a yew circle, a vegetable garden and shady tranquil places to sit.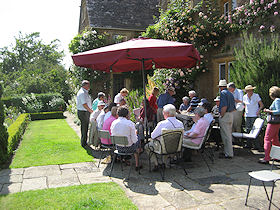 "The visitors got hot and weary wandering round this perfect garden and were rejuvenated with tea and delicious home-made cakes.
"It would be difficult to exaggerate the pleasure of the afternoon and if you missed it you can go anytime by ringing the owner, Lady Aird. She opens the garden from May to July, by appointment, in aid of the National Gardens Scheme. She said she would be delighted if the Garden Club members or their friends wished to return for another visit. You can contact her on 01608 650607."
---
July 2009
Meeting considers a village future without oil
How would Steeple Aston fare when the world runs out of oil? This was the theme for discussion when twenty adults and three teenagers met on Friday, June 5th in the Sport and Recreation building.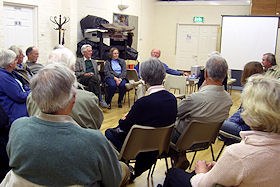 First of all they watched a film called How Cuba Survived Peak Oil, which told the story of how Cubans survived after 1991 when the collapse of the USSR meant the end of imports of oil, chemicals and medicines. Cuba's isolation was further increased by subsequent US embargoes.
The film showed how Cubans had to turn to organic agriculture, not for ideological reasons but through necessity. They developed urban farms and gardens, regenerating the soil damaged by years of chemical fertilisers with compost and inter-planting crops to reduce pests. Their philosophy involved great emphasis on co-operation between people and placed a high value on farmers who became among the best-paid workers in the country.
Colin Tudge, a local author who has written 'Feeding People is Easy' then spoke on the dangers of UK's current reliance on imports. He believed the Cuban experience could be a model for this country before the oil runs out.
In the ensuing discussion, the audience agreed that we are not yet in a crisis situation such as that faced by the Cubans, but we are fortunate to have time to adjust during the decline of oil.
Some likely effects on Steeple Aston and other village communities would be the increased localisation of produce, and the need for everyone to learn new skills. We would need to live more locally and develop stronger community ties. We would need to grow our own food as much as possible (and benefit from the exercise and satisfaction). The current demand for the church allotments where there is already a waiting list suggests that a lot of us are thinking along Cuban lines already!
The discussion then moved on to the international Transition Town movement, based here in the UK, which is addressing this issue all over the developed world. The transition in question is from a high carbon to a low carbon economy.
There are lots of Transition Towns in the country now – but no villages. Could Steeple Aston be a Transition Village? Locally grown food, non-fossil sources of energy and car sharing would seem to be the starting points.
If you were unable to attend and would like to know more, you could have a look at the website www.transitiontowns.org. Or give Mike McKinley a call on 01869 347168 or e-mail mikemckinley7777@aol.com.
---
Villagers to get their say on future plans
Villagers are now to be asked to complete a questionnaire giving their views on how Steeple Aston should develop over the next 10 to 15 years.
It was 16 years ago that the Village Appraisal identified the aspects of Steeple Aston life that the villagers wanted to keep the same, and the things they would like to see altered. This year, the Appraisal is being brought up to date giving villagers their say once again on the future of the village.
A pilot survey has been completed already and questionnaires from 24 households have been analysed. These showed that villagers are largely very content with the state of the village and like living here.
However, many respondents thought improvements could be made in some areas. On the basis of the pilot responses, and these may not turn out to be representative of the whole village, there were a number of suggestions. The issue mentioned most frequently was traffic going too fast, but there was minimal agreement on what to do about it.
Other comments were less divisive. For example it looks as if there would be support for a film club and language classes, for asking the Parish Council to follow up turning off the street lights in the middle of the night and for asking the Deddington Health Surgery to consider including an NHS dentist if the surgery is redeveloped.
One person suggested that the recycling facilities at Robinsons Close should be extended to cover batteries, bulbs etc and he offered to transport this once a month to the recycling centre at Ardley.
The questionnaire will be circulated throughout the village during June, and collected before the holiday season starts in earnest at the end of July.
---
Grandchildren continue Whit Races tradition
Toddlers, teenagers, parents, grandparents and family dogs gathered outside the White Lion to enjoy the annual Whit Races on a sunny Bank Holiday Monday, May 25.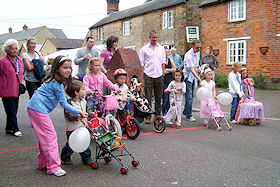 This Steeple Aston tradition has been around a very long time. There were grandparents this year who brought along their grandchildren to take part in the same races they had run so many years before.
The bystanders cheered and yelled encouragement at the fit and not-quite-so-fit who bravely took part in the customary contests. These included the best-decorated baby buggy, running races, egg and spoon and three-legged races and round-the-village-relays. The tug-of- war in the Dickredge field provided the grand finale.
Medals were presented to all who came first or second and there was even a trophy for the person who had won nothing at all – as encouragement for next year.
This year, the games were organised by Dorothy Willat and her team: Jan Lester-George, Andy Beswick, Caroline McGrath, Karen Adriaanse, Tina Fergusson and Sheila Wood. The competitions were judged and the prizes awarded by Parish Councillor Marian Tinder.
The Scouts provided a plentiful raffle and the Tuesday Fellowship Group produced an irresistible array of cakes in the White Lion from which the sale proceeds will go to the Homeless in Banbury and the Special Care Baby Unit at the Horton Hospital, Banbury.
The event was rounded off by a very welcome pig roast at the White Lion.
For more photos, please click here.
For the full results, please click here.
---
New bus timetables come into operation
Several new bus services for Steeple Aston will be up and running from Sunday 31st May.
There will be a new Sunday and Bank Holiday service between Oxford and Banbury, and on weekdays an extra early morning service will run between Steeple Aston and Banbury.
In addition villagers will be able to get a shopper bus to Chipping Norton on Wednesdays and Saturdays.
These changes follow a consultation by Oxfordshire County Council, which will fund the changes. It already subsidises bus services to the village.
The new Sunday daytime service on the 59 route will be limited to four journeys in each direction between Oxford and Banbury
The additional early morning service will leave Steeple Aston at 7.29am, arriving in Banbury at 8.07am, Mondays to Fridays. The first southbound journey, which leaves Steeple Aston at 7.18am and arrives in Oxford at 8.05am, will continue for the time being until at least December 2009, but is subject to review by the County Council.
To see the new 59 route timetable, please go to: www.stagecoachbus.com/oxfordshire.
The Chipping Norton shopping service is run by Heyfordian Travel, and they haven't yet updated their website, www.heyfordian.travel/bus_services, so the new timetable is reproduced below.
---
Council wins £45,000 grant for play area
Steeple Aston Parish Council has been allocated a £45,000 grant towards providing a bigger and better children's play area in the village.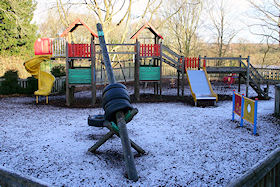 The grant, which comes through Oxfordshire County Council's Playbuilder Scheme, will enable the Parish Council to provide a new and extended play-space to replace the existing, 16-year-old play area in Fir Lane, pictured here.
The council was one of eleven successful applicants out of a total of 32 requests for funding in this financial year and Howie Watkins, the Playbuilder Development Officer, acknowledged that all applications were of a high quality.
Councillors are also awaiting results from Cherwell District Council and The Trust for Oxfordshire's Environment who operates the landfill tax credits funding, following their requests for grant funding to complete the entire project.
Richard Preston, Vice Chairman of the Parish Council, leads the working party on the on the project. He said, "This is very exciting for us all, but especially for the small but dedicated team who worked hard during all the consultation period and design and grant-application stage.
"During the early summer months the Parish Council will finalise the design working in close partnership with Mr. Watkins and Oxfordshire Playing Fields Association.
"Hopefully work will commence later this year. We will of course keep the village informed of progress and any possible disruption to the area."
If anyone has any questions they would like to ask please contact Richard Preston on 01869 340512 or any member of the Parish Council.
---
June 2009
Moonwalkers succeed in raising charity cash
Parish Councillor Marian Trinder and her daughter Jasmine, succeeded in walking an overnight marathon on the London Moonwalk to raise money for breast cancer charities.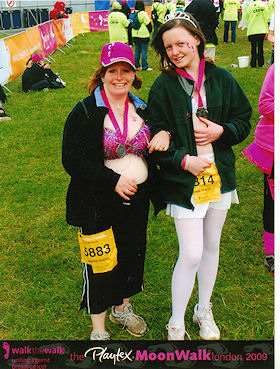 They are pictured here with the medals they received for completing the walk, which took them 10 hours in all.
Another Parish Councillor, Dorothy Willatt completed 20 miles of the 26.2-mile course.
The Playtex Moonwalk, which took place on 16th May starts and ends in Hyde Park. Because they are raising money for breast cancer charities, the tradition is that all walkers wear decorated bras.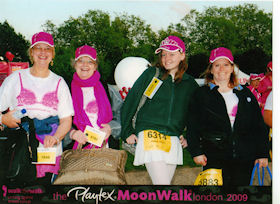 This picture shows (from l to r) Dorothy's sister Cora, Dorothy, Jasmine and Marian arriving at Playtex City in Hyde Park to start their walk.
Marian, who has done the walk several times before said, "I`m a very, veryproud mummy! Jasmine, at 13, did amazingly well. The distance is a lot further than you imagine and made harder when walked overnight when your brain and body are telling you that you should be in bed.
"Dorothy did extremely well too and made it to the 20 mile mark before her knees gave out. I was a very proud friendof a very valiant effort when her knees had been playing up and giving a lot of pain from 13 miles but she made it on for a further seven miles. She fully deserved the medal given to her from me."
Between them Marian, Jasmine and Dorothy have raised over £500 for breast cancer charities so far, but you can still make a contribution if you'd like to by going to www.bmycharity.com/mariantrinder, www.bmycharity.com/jasminetrinder or www.bmycharity.com/dorothywillatt.
---
Open gardens day raises over £1,000 despite rain
250 visitors enjoyed the opportunity to view the wide variety of plants and design in the five village gardens opened under the National Gardens Scheme on Sunday 17 May.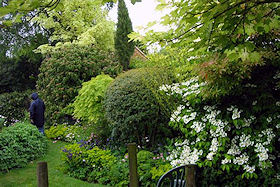 Roderick Nicholson, the organiser of the event, was delighted with the number of stalwart people who came, despite the poor weather forecast and the downpours that did arrive in the latter part of the afternoon.
More than £1,100 was raised for NGS charities from the garden visits. In addition, a sum of £228 was added to this total – a 50 per cent contribution from the Village Hall Committee of the money received from teas provided in the Village Hall.
The organisers expressed their thanks to everyone who worked so hard to make this day such a success.
The gardens which opened were at Willow Cottage, The Longbyre, Kralingen, Acacia Cottage, Primrose Cottage and Touchwood.
For more photos, please click here.
---
Successful plant sale at Dr Radcliffes School
The plant sale at the school on 10 May was very successful and amid glorious weather it raised a grand total of £976. The friends stall raised £180 and Brenda and Bob Bickley's nature club stall raised £130. The arts and crafts stall made £35 and the raffle, with prizes donated by stall holders and some National Trust houses raised just over £100.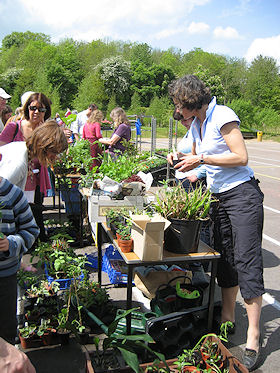 There were delicious freshly made pizzas with cooks from the early morning making the dough and putting on fresh seasonal toppings. There was lots for the children to do and the atmosphere was extremely friendly with many people, who do not normally have any reason to go to the school, turning up.
The plant sale was the idea of Kate Bradley and masterminded this year by Samantha Henney, ably assisted by The Friends of Dr Radcliffes. This year there were many of the same stall holders as in previous years and, as before, they gave raffle prizes and donations. The plant sale has been such a success that it is likely that, in its present form, it will now join the regular calendar of school events.
---
Parish Councillors do the Moonwalk
Steeple Aston parish councillors Marian Trinder and Dorothy Willatt are going to walk the marathon Moonwalk in London to raise money for breast cancer charities.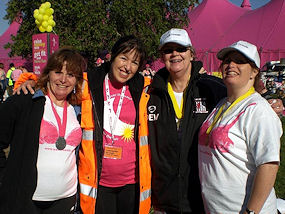 Marian has done the night time walk before but for Dorothy it's the first time. She managed a Half Moon last year, but this time is going for the full marathon distance of 26.2 miles. They will be joined by Marian's daughter Jasmine, who is also doing the walk for the first time.
The Playtex Moonwalk takes place on Saturday 16th May and starts and finishes in London's Hyde Park. As they are walking for breast cancer charities the tradition is for all walkers to wear decorated bras.
You can find out more about the Moonwalk and sponsor Marian by going to her website, www.bmycharity.com/mariantrinder you can also sponsor Jasmine www.bmycharity/jasminetrinder.
---
Chimes start again as clock returns
The familiar sound of the Steeple Aston church clock chiming the hour is back again – and the clock itself is back in its place looking much brighter than before.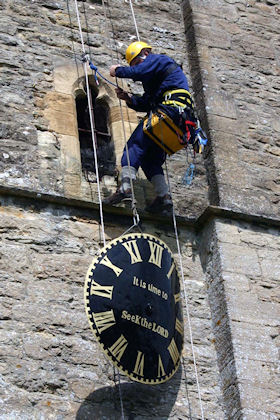 The clock face and hands were taken away for regilding – and while they were away the chimes were stopped. Now the newly regilded clock has been returned to its rightful place on the church tower.
The clock face was put back in position using a bosun's chair from the top of the tower. A representative from the Cumbria Clock Company, which specialises in work on church clocks, removed the clock face at the end of March. He took it away so that the experts could do the restoration work, and then replaced it nearly a month later.
The cost of the regilding was met by two legacies recently left to the church and a grant from the Parish Council.
For more photos of the replacement of the clock and its earlier removal, please click here.
---
May 2009
New practice pitch means 'serious' training for village cricketers
For the first time this year, Steeple Aston's cricketers have their own all-weather net – and club captain Peter Higgins has announced: "We will be practising seriously for the new season."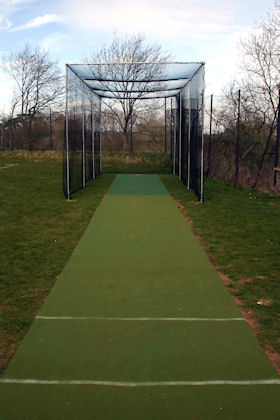 Funds for the practice facility at Robinsons Close were raised through a National Lottery grant, a bequest from someone who wanted cricket to be played in the village and a raffle at the club's annual awards dinner.
Full-scale practice sessions begin on 23rd April at 6.30 pm and will then take place every Thursday during the season.
Peter Higgins said: "Some of you may think that 2009 will be about the Ashes Test Series, but we in Steeple Aston know that it is all about beating Great Tew for the fourth time in a row.
"I'm not saying we are the Manchester United of the village cricket world in North Oxfordshire, but we did have an 89% win rate last year. The only problem is – how do we maintain that record?
"The most important factor, arguably, is practice. So I am delighted to say that Steeple Aston Cricket Club now has its own practice facility and we will be practising seriously for the new season."
Peter told the club's AGM he had decided to serve as captain for only one more season. He will hand over in 2010 to Jon Scotchbrook.
And the club already has a new president, Nicholas Cleobury, a keen cricket fan and member of the Lords Taverners. He takes over from the retiring president, Roderick Nicholson.
For the Cricket Club's section of the website, which includes the full text of Peter Higgins's report, minutes of the AGM and details of forthcoming fixtures, please click here.
---
New team to run Whit Races
A new team has volunteered to take over the running of the traditional Steeple Aston Whit Races.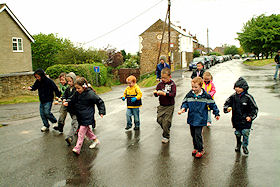 When Paul and Jan Hotston, who have run the races for several years, said they were leaving the village, it looked as if the Whit Races might be in trouble. Now Dorothy Willatt and the White Lion team, along with Caroline McGrath and the Scouts have come to the rescue and offered to take over running them.
The races always take place on Whit Bank Holiday Monday at the end of May. The event is a link with the past and a community gathering, aimed at encouraging both enjoyment and friendly competition.
Village roads are closed temporarily while young and old compete in running and other races, such as last year's egg and spoon race pictured here. Even the rain didn't deter the enthusiastic competitors! Last year there was also a tug of war, a barbecue, stalls, a raffle and a tombola.
---
Wild Waste Bus to visit Steeple Aston
A double decker bus is a pretty unusual sight in Steeple Aston, but one that runs on vegetable oil is even odder.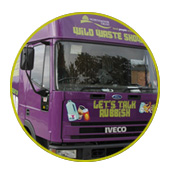 The Wild Waste Bus from the Northmoor Trust really does run on vegetable oil, and it is going to visit Dr Radcliffe's Primary School in May as part of the Eco-Schools project.
The fully equipped bus will come to the school with two experienced education officers who run interactive workshops for all primary age pupils. The visit will give local children a chance to explore issues of waste, landfill, recycling and composting and to do craft activities using recycled materials.
The Wild Waste Bus will be visiting the school on Thursday, 7th May. It will be parked in Robinson's Close, so of necessity it will restrict parking there for other vehicles between 9 30.am and 3.00pm.
---
Neighbourhood Watch to be relaunched in village
Roger Needle, who has just taken over as the coordinator for Neighbourhood Watch in Steeple Aston, is hoping to attract new interest from villagers at a meeting in May, and increase the coverage of the scheme.
Roger also acts a liaison for Cherwell District Neighbourhood Watch at the Thames Valley Neighbourhood Watch Association. Here he was recently told about a new police initiative called community messaging, which enables people who don't want to be part of a formal Neighbourhood Watch scheme to receive free crime alerts by email or telephone.
In addition, Roger has recently replaced Richard Preston as our representative on the Neighbourhood Action Group, or NAG, aimed at improving communication between local communities, the police and other agencies. In all 38 villages are represented on the group which meets every six weeks.
Roger said, "Members of the NAG are asked to do an annual assessment of 20 houses in their village. This means asking people about their concerns and their perception of the local police. So quite soon I may be knocking on your door with my questionnaire. The police have already visited the village to do their share of the Rural Bicester Neighbourhood Management Public Survey 2009."
Roger has taken on these new roles following his recent retirement from St Hilda's College, Oxford. Before working there he had a long career in the motor industry. He and his wife Linda moved to Steeple Aston from Kidlington 35 years ago, and were surprised to find that the Needle family had much older links with the village, owning property and land in Harrisville Lane, where they live, and Jubilee Close.
He is looking forward to the relaunch of the local Neighbourhood Watch scheme at the meeting, which will be held on 14th May at 7.30pm in the Village Hall. The local Neighbourhood Officer WPC Caroline Brown will be there along with Deborah Tonks, the Regional Watch Co-ordinator.
Anyone interested, who would like to receive more information and a Free Welcome Pack is very welcome to attend. If you have any questions before the meeting you can contact Deborah on 01295 754611 or Roger on 01869 340028.
For more information about Neighbourhood Watch, local police and the NAG and their contact details, please click here.
---
New parish councillor appointed
Marian Trinder is the successful candidate chosen by the members of Steeple Aston Parish Council to join them as a councillor.
A surprised and delighted Marian said: "This is a very good time to be joining the council as there's a lot going on. I'm very excited at the prospect, but will have plenty to learn. "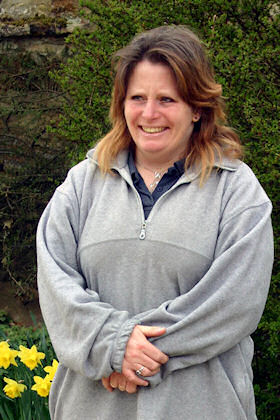 Marian has been co-opted on to the Council following the resignation of Paul Hotston. She will serve until the next election in May 2010.
Marian has lived in Steeple Aston since February 2003. She comes originally from the West Country, but moved to Oxfordshire at the age of 19 and fell in love with this area. She said, " I was brought up in a village and wanted to live in a friendly, close-knit community like Steeple Aston. It is a lovely environment for bringing up children."
After time spent in Steeple Barton and Kidlington, she and her husband Dave managed to buy a house in Nizewell Head. They live there with their three children Jasmine 13, Natalie 11, Philip 8 and what she describes as a "menagerie" of animals.
Marian has always loved animals and is a qualified veterinary nurse. But her current job involves looking after people rather than animals. She is the "lollipop lady" at Dr Radcliffe's School, and she works part-time in the school kitchen.
Marian is also an Assistant Guider with the 1st Deddington Guides, and has just completed her Girlguiding UK Leadership Qualification.
Her other main activity is walking. And she'll be doing a lot of that over the next few weeks in preparation for her third MoonWalk in May. The MoonWalk is the same length as a marathon – 26.2 miles – and is held to raise money for breast cancer charities. Last year Marian did the London walk with her twin sister Heather and another parish councillor, Dorothy Willatt. This year her daughter Jasmine is joining them.
With her interest in walking, and her job as a crossing patrol officer, Marian says one of her concerns as a parish councillor is likely to be traffic issues. "The traffic is very bad around the school when parents are dropping off and collecting their children" she said, "I would like to encourage more people in the village to walk, especially to and from the school."
---
April 2009
Village gets a spring clean up
Around 30 volunteers of all ages turned out to give the village a thorough litter blitz on the last weekend in March. Altogether they managed to pick up around 16 bags of litter with just a couple of hours work.
There were two working parties. On Saturday, Richard Preston, Vice-chairman of the Parish Council led a group that met at Heyford Road. Then on Sunday morning, Margaret Mason, the Parish Council Chairman led a group starting at Sixtyfoot.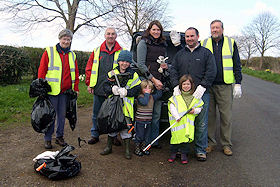 Pictured here are some of the Sunday group with their litter-picking equipment.
Margaret said " I had 16 volunteers all told on Sunday morning, several very enthusiastic and efficient children included. The yellow jackets and grippers were a big incentive.
"We collected eight or nine bags. The rubbish included some bits of traffic cones and a couple of tidily hidden bags full of picnic rubbish, but not as much as in past years, not so various and certainly fewer cans and takeaway rubbish."
The spring clean up is an initiative that comes through Cherwell District Council. They promote a litter blitz throughout the district each March. The Parish Council picks a weekend, and the CDC supplies the rubbish bags, gloves, grippers and yellow jackets. They also collect the rubbish afterwards from a central collecting point.
---
History of local business is published
A new book called "Business and trade – 300 years of commerce in Steeple Aston" has been published by Steeple Aston Village Archive Trust (SAVA).
SAVA held a very successful Exhibition on this theme in the Village Hall in November 2007. The book based on the Exhibition is now on sale.
The book has 53 pages with colour photos, and costs £6.00. Some photos from the book and from other Exhibitions can also be reproduced for a modest cost.
To order your copy or photos, please contact Martin Lipson on 01869 347046 or Pamela Waite, 01869 347042.
For more information about SAVA, please click here.
---
Council agrees on play space proposal
Steeple Aston Parish Council has agreed the outline of a new plan for upgrading the play space in Fir Lane. The proposal, which is still subject to finding sufficient funding, is to have an enclosed area for toddlers and a separate, more exciting area for older children.
Richard Preston, the vice-chairman of the Parish Council has been heading a working party to look in to the future of the play space. They invited villagers young and old to a meeting to look at the options available and give their views on what was needed.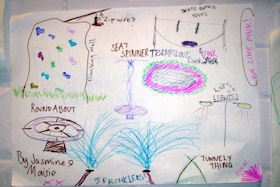 He said, "A big thank you to all those who came to the Village Hall on Sunday 1st February to give us your thoughts and ideas on any new play provision that might be possible in the village. The suggestions varied from tunnels to climbing ropes, rocket launchers to water cannons. Not all of these are possible but many of them are, even if not quite to the design as portrayed by some of the illustrations handed in by the enthusiastic youngsters.
"The outcome of the extensive consultation process has provided us with a clear objective. First, to create an area specifically aimed at toddlers to six year olds. It will need to be fenced with easy access for pushchairs and provide lots of opportunities for imaginative play. This can be formed from the top half of the existing play-area after all the present equipment is removed.
"The second stage will be to provide an exciting play space for older children where an element of adventure can be included. To do this we need to extend from the existing area into the parkland adjacent where we can use the natural contours of the land and the vegetation already there.
Within this area we would like to provide a zip wire, possibly better known as an aerial runway, some raised platforms, a tunnel, fitness equipment and of course some swings and a slide. It might be possible to plant bamboo or similar to provide a different experience of play space and there has been the mention of water!"
The working party are now consulting closely with a playground designer to come up with a scheme that will meet as many of the requests as possible within the site available and the various constraints imposed.
Richard explained, "We talk of 'play space' as opposed to 'play-area'. The reason for this is because we want to get away from the boring old play-areas where you will find just a swing and a slide and bring back play as it used to be where the imagination and exploration of young people's minds and bodies can be achieved to full potential."
A limited amount of funding that has been put aside over the years by the Parish Council, but the vast majority will have to come from grant funding organisations. Richard said, "We are in the process of applying for funding from a number of such organisations and are competing for an ever-decreasing pot of money, so fingers crossed. If successful, by this time next year we could have the best play space for miles around."
Councillors also discussed what could be done if none, or only part, of the grant applications were successful. If no extra funding was forthcoming the existing equipment would be refurbished as necessary and the new proposals would have to wait for a better economic climate. They also considered whether the proposals would have long-term implications for running costs.
For more information or if you want to be involved, please contact Richard on 01869 340512 , Janet on 01869 347882 or any parish councillor.
---
Spring Show attracts more visitors, cooks and children
The Steeple Aston Spring Show attracted more visitors than last year. There were also 20 per cent more entries in the cookery classes and children's entries were up 16 per cent.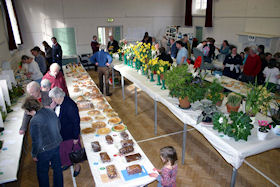 But the organisers blamed the recent snowy weather for a reduction in entries for the horticultural and flower arranging classes.
The most entries as usual were for the limerick class, in fact this is so popular every year that the organisers are planning to publish a booklet of Steeple Aston limericks when they have enough.
This year entrants were asked to complete a limerick starting "There once was a man with a hunch… The winning entry came from Julia Whybrew and went:
There once was a man with a hunch
That all was not right with his lunch.
He put sugar on jelly,
Which was bad for his belly,
But it did give a wonderful crunch.
In the children's classes, competition was particularly intense among the under 8s with the decorated eggs having the most entries. Among the popular cookery classes, it was the cheese scones and the marmalade that were hardest fought.
The prizes were present by Edwina Kinch. The overall winner with most points in show was Daphne Preston, who also won the Duncan Cup for the Horticultural Classes. Other cup winners included Vicky Clifton for cookery, Helen Cooper for flower arranging, Joan Fonge for Handicrafts and Thalia White, who won the Children's Cup.
Julia Whybrew, who is also one of the organisers, said, "The teas, as usual were popular and delicious. The Show could not take place without a huge effort from the contestants, the judges and the committee, including some younger recruits and their families. So a huge thank you to everybody and we hope to see you all at the Summer Show."
For the full show results, please click here.
For more photos, please click here.
---
Increase in parish precept kept to a minimum
Steeple Aston Parish Council has agreed an increase of only £125 in the precept for the year 2009/10. This gives an increase of 0.8 per cent on a Band D property.
The Chairman of the Parish Council, Margaret Mason, explains what the precept is and how it is spent. She writes:
"If you pay council tax in Steeple Aston, you will know that a portion of that tax comes back to the Parish Council for the Council to use for village purposes. This is the precept, which the Parish Council sets each January.
This money is spent directly within the village, for the benefit of the village. Last year, 2008/9, the precept amounted to £20,600. This year, 2009/10, we have managed to keep the precept pretty well the same, £20,725.
The village has a tax base of 417 houses, one more than last year so the precept for a band D property amounts to £49.70, an increase of just 0.8 per cent. With this money a lot of things get done in the village, you may like to know a bit more about what these things are.
The largest amount is still for repayment of the loan the PC took to finance our part of the costs of the Sport and Recreation project, which provided new pitches and a refurbished Sport and Recreation Centre at Robinsons Close.
Partnership funding means that we often are able to achieve grants around ten times or more the amount of the percentage we provide, something we have successfully done since for the MUGA and new facilities adjacent to the Play Area. A great deal of grant and lottery money has flowed into the village in the last few years and we will continue to look for grants to finance future projects.
Next comes insurance. This mainly covers buildings insurance for the Village Hall, Sport and Recreation building and the surrounding area including the Play area and MUGA. It also covers public liability insurance.
Grass cutting and village maintenance are also large items. We have an excellent contract for grass cutting and maintenance and are happy that a good job is being done at a reasonable price.
The Parish Clerk's wages are defined by the Association of Local Councils. I think you would all agree that she would be excellent value if she were paid double! The parish running costs are minimal, £315 last year. Not many offices run so economically and there is an ever-increasing cascade of paperwork. The councillors themselves cost you nothing other than the very occasional petrol claim and book of stamps.
We contribute to the maintenance of the churchyard, to transport to the Deddington Health Centre and to SAVA, SAL and Steeple Aston Online. This year we are also contributing towards the re-gilding of the church clock.
We keep an ongoing Buildings Maintenance Contingency fund, which keeps the Village Hall, Sport and Recreation building and Play Area in good repair, (the regular inspection and minor maintenance of the Play Area is done by volunteers). We have put aside some extra funds this year as we hope to be able to do a major re-furbishment to the Play Area shortly.
The annual audit, which we are obliged to have done by the Audit Commission, will again cost £400. These are the major ongoing costs, litter bins, elections, poppy wreaths etc. add to this.
The Parish accounts are public documents, if you come to the AGM in May you will be given a copy, otherwise you can ask for a copy from the Clerk.
I hope that this interests you, and you feel that you get good value for your contribution to the village; that is what we aim for and think that mostly we achieve."
---
Police warn of increased thefts
Local police have seen increases in thefts from heating oil tanks, and of number plates in the area. They are asking villagers to make sure they report all these thefts, and to consider extra security measures for heating oil tanks.
WPC Caroline Brown, the local neighbourhood specialist officer from Thames Valley Police says, "We have receivedtwo more reports of theft from heating oil tanks on the rural sector. Please can you consider extra security measures to prevent such thefts.
"Most of the tanks attacked have been clearly visible from the road making them an easy target, consideration should be given to locking the caps and to screening their visibility from the road. Another consideration would be for outside security lighting around the area of the tank.
"Please could you take extra note of vehicles who you believe may be delivering heating oil as it is possible that the offenders are using a similar looking vehicle to steal it. If you see anything suspicious then please make a note of the vehicles index number and alert the police.
"I have also been made aware offurther incidents that have not been reported to police so please be extra vigilant."
The other crime that has increased recently in the rural sector is theft of numberplates from vehicles. WPC Brown emphasises that if you become a victim of such a crime, it is important that you report it to the police as these plates are being put on other cars and used in crime.
She says, "Also if you report your index plates stolen thena marker will be placed on the Police National Computer and if such a vehicle passes through one of the many mobile number plate recognition cameras located all around the country then an activation will alert police to where the vehicle is."
If you see anything suspicious, then please report it immediately on either the emergency number 999 (if you believe that an offence is taking place at the time) or the general number 0845 8505505 or email bicesterruralneighbourhood@thamesvalley.pnn.police.uk.
---
March 2009
Lots of interest in Parish Council post
Three people have already expressed an interest in filling the current vacancy on Steeple Aston Parish Council. But there is still time for more villagers to put their name forward, as the closing date for applications is Friday, 6th March.
The council will choose between the candidates at their next meeting, which has been rescheduled from 16th to 23rd March so that all the councillors can attend.
Steeple Aston is looking for a new parish councillor following the resignation of Paul Hotston, who is leaving the area.
Parish Council Chairman Margaret Mason said, "Paul has been a councillor for many years and not only will the Parish Council miss him, he and Jan have masterminded the Whit Races, and very many of the Players' productions have relied on his lighting expertise. Thank you for everything Paul, and we wish you both good luck in Cumbria."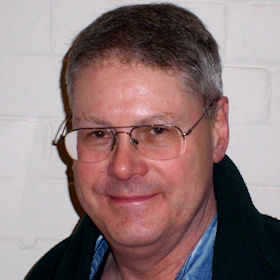 Now the search is on for someone to take Paul's place. Notices were posted around the village and on the website to see if villagers would request a by-election. As there was no such request, the Parish Council has to co-opt a new member within 90 days.
Co-option is a system by which the existing councillors decide amongst themselves who they believe would best fill the vacancy. They may approach individuals if they wish and suggest that they might like to put their name forward or any parishioner, may suggest themselves for the Council. The present councillors must then decide, if necessary by a vote, who will fill the vacancy.
Margaret said, "If you think you might like to become a Parish Councillor we need to know!"
"Parish Council meetings are held 10 times each year, with the occasional extra meeting. It is, I hope, not too big a commitment and it is interesting, worthwhile and has a real impact on your village.
At present, new play area facilities are being planned, we are negotiating for a new site of affordable housing and an emergency plan for the village has to be prepared. In addition there are more routine subjects such as setting a precept, village maintenance, planning applications etc. A parish councillor may also be asked to represent Steeple Aston at other meetings; the parish liaises with the District Council on a regular basis."
If you are interested please contact: Sue Lee, Parish Clerk, 19 Bradshaw Close, Steeple Aston or email sue@steeple.eclipse.co.uk before 6th March. There is no application form, but a brief note about yourself and your interest in the village and Parish Council would help.
If you would like to know more about the Council and what is involved do talk to Sue or any Parish Councillor, who will be happy to tell you more about it.
---
Winners and losers get prizes at Quiz Night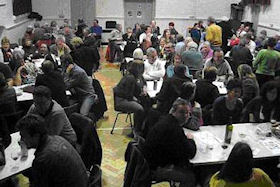 The spirit of competition and whispered consultations filled the Village Hall at the annual Steeple Aston Quiz Night on Saturday, January 31.
Fifteen groups of eight players each huddled round tables racking their brains to answer the questions set by Quiz Masters Ted and Julia Whybrew. They succeeded in challenging the players to just the right level in history, geography, sport, literature, politics, music and other areas.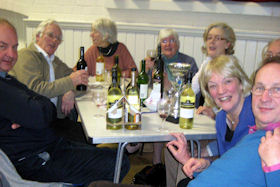 In the end, it was the Choral Society team, led by the Cleobury's, and pictured here who won the coveted trophy and a bottle of wine each. In the spirit of the evening, the group with the lowest score were also rewarded with bottles of wine.
Quiz master, Julia Whybrew adds, "The annual quiz can best be described, from the point of view of the question masters, as Steeple Aston's annual commemoration of bear baiting. There were five questions where the question masters were wrong, partly wrong or had an ambiguous question. There was another question where one of the golfers, unjustly as it happens, decided they were wrong. The barracking could probably be heard at the other side of the village.
"The question masters did not know that a parr was a newly hatched salmon that grows into a smelt, they got in a muddle between Eros and Aphrodite and had to be reminded that there were two, rather than one, American politician who became Governors of California after starting out as film stars. Einstein had them a bit confused as well.
"However the question master remained remarkably calm and no one seemed to mind when he stated firmly that he was right whether or not this was actually true."
You can see how you would rate in the quiz. To see the questions and answers, please click here.
---
"Misleading" Third World donations leaflet reappears
Once again the company calling itself Helpmates Limited have been putting leaflets through doors in the village asking for donations for the Third World.
Helpmates leafleted the village back in November last year. Parish Councillor John Coley raised the alarm then, saying that the leaflets may be misleading.
The leaflet from Helpmates Limited asks for donations of clothing for the third world. Although it says on the leaflet that Helpmates is a commercial organisation, Councillor Coley thinks villagers may be misled in to thinking it is a charity.
He explained that Helpmates Limited is not a charity collector. It is a commercial organisation, which sells the donations it receives to others in poorer countries to make a profit for itself.
He says, "I suggest that no-one puts anything into a bag, and they may realise there's nothing worth taking away, and leave the village alone."
Helpmates are not doing anything illegal, but other communities have found that if people respond to them they find themselves leafleted over and over again. In Oxfordshire, the Headington News website reports that Helpmates and other similar companies have targeted their area 28 times since December 2006.
They say Helpmates is one of many commercial firms that constantly bombard Headington with leaflets asking for donations of clothing for third-world countries. They give a limited company number (linked below to their company details) that could easily be interpreted as a registered charity number; but in fact they sell these clothes to the poor for the sole purpose of making a profit for themselves.
For more information on the problem in Headington, go to: www.headington.org.uk/news/items/clothes_collection.htm
Some MPs are concerned as well. They held a debate on bogus charity collections in 2007. The Liberal Democrat MP for East Dunbartonshire, Jo Swinson has campaigned against bogus charities and Helpmates in particular. You can find out more on her website: www.joswinson.org.uk/news/000330/watch_out_for_fake_charities.html
---
February 2009
Villagers choose their favourite pudding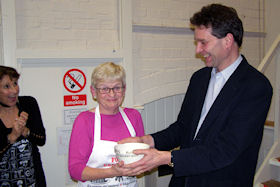 Steeple Aston's favourite pudding is a Winter Crumble made by Mary Williams. A delighted Mary is pictured here receiving her prize from the Rector, Revd. Stephen M'Caw.
Villagers voted for the best pudding at what is being referred to as Steeple Aston's first pudding evening, which took place on Friday 23rd January in the Village Hall.
The idea was simple. The eight ladies pictured below, who all enjoy cooking, got together and agreed to make one pudding each. Every diner would then be asked to try all eight puddings and to vote on their favourite.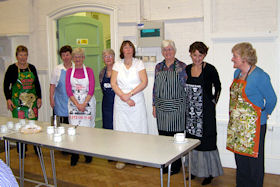 One of the organisers, Dorothy Clifton said, "It was no problem to sell the 60 tickets, for once the advertising warning that 'tickets are selling fast' was really true. The event raised an amazing £477 for church funds."
All the recipes are available in a booklet now on sale at the White Lion."
---
Primary school opens on Monday after two-day closure
Steeple Aston's primary school opened on Monday, after two day's closure because of heavy snow. But there is concern that more bad weather might cause further disruption later this week.
The decision on whether to close the school is taken early each morning by the Headteacher, Frances Brown and Chair of the Governors, Lise Boote, following an inspection by the school caretaker, Bob Bickley.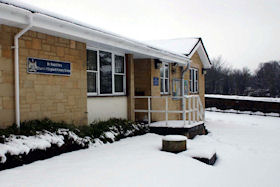 News of the closure is then communicated to teachers and parents through a series of cascading phone calls – the class telephone trees – as well as through Fox FM radio, BBC Radio Oxford and the school website.
Lise Boote said, "This is not a decision we take lightly. Dr Radcliffe's stayed open at the beginning of last week when many other local schools were shut. But on Thursday and Friday we were concerned that teachers, including the Head, who live outside the village would not be able to get to school.
"It was good that parents were able to spend time with their children on those two days, but we were desperate to open the school again on Monday."
At the beginning of last week, Steeple Aston escaped the worst of the snow experienced elsewhere in the country, but on Thursday morning villagers woke to find several inches had fallen.
It's thought to be the worst spell of wintry weather in the village since 1991. Public transport was badly affected with the local bus service suspended, and several motorists got into trouble trying to leave the village along Fenway.
However, lots of villagers were out and about, with children particularly enjoying their day off from school. Richard and Betty Smith also braved the elements and managed to deliver meals on wheels around the village as usual.
Several more inches of snow fell in the village on Friday morning, with the forecasters warning of icy conditions over the weekend following severe overnight frost.
Cherwell District Council has cancelled next week's collection of brown bin garden waste. The council will be giving priority to refuse and recycling bins after all collections in the district had to be postponed on Thursday and Friday because of the weather.
The village looked very picturesque in the snow. We are starting a collection of snowy photos for the website gallery. If you have photos of the village in the snow you'd like to share with others, please email them to editor@steepleaston.org.uk.
To see our photos so far, please click here.
---
New faces for neighbourhood police
The Bicester Rural Neighbourhood Police team has welcomed two new members this month as they start to plan activities for 2009.
Sgt Scott Evans arrived at the beginning of January. He has joined the team from West Oxfordshire where he has been the neighbourhood sergeant. He replaces Sgt Dave Hibbert who left in June.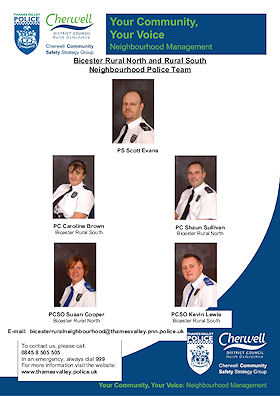 This month they also welcome PCSO Kevin Lewis who joins from the Banbury rural team. He replaces PCSO Louise Penfold who transferred to a neighbourhood team at Banbury.
WPC Caroline Brown says, "Our new team members bring with them a wealth of experience in policing rural areas and are great additions to the team."
One existing member of the team, PC Shaun Sullivan has been off sick for some time with a fractured heel. Now he has returned to work on restricted duties until the end of the month when he hopes to be back patrolling the area once again.
WPC Brown explained that the team is putting together a diary of events for 2009. She said, "If you have a village event that you think we could attend or should be aware of, events such as village fetes, bonfire evenings or Christmas events then please let us know so we can plan them into our calendar.
"The more notice we have, the more chance there is we can attend. At Christmas we were receiving requests to assist with events the evening that the event was taking place. Unfortunately were unable to assist as all the team were off duty and had either worked days or were day off. If we have notice then we may be able to change shifts to accommodate."
You can contact her either by e-mail (caroline.brown@thamesvalley.pnn.police.uk ) or the Neighbourhood email which is bicesterruralneighbourhood@thamesvalley.pnn.police.uk or if you do not have email then ring08458505505 and ask for WPC Brown's voicemail.
To read the full text of WPC Brown's January update, please click here.
---
Medicines delayed by snow are now in shop
There was a delay in the delivery of medicines from Deddington Health Centre to the village last week, and there was some concern that people might run out of their medication.
Those that have not been picked up from the Health Centre have now arrived, and can be collected from the village shop as usual. At the moment the Health Centre cannot say when the next delivery will be, so villagers should phone to find out.
Transport in general has been disrupted by the snow and drivers have been having trouble parking on icy slopes. Some residents of Bradshaw Close, for example are having to park on South Side.
Extra cars parked on the main thoroughfares is making driving more hazardous. Villagers are reminded that there are salt and grit bins around the village for their use. Some of them have hardly been touched so far. If there is a slippery surface near you, please use the salt and grit to make life easier for all.
Many villagers are already caring for elderly neighbours by phoning each day to check they are alright, offering to do their shopping for them or clearing paths. With further heavy snow expected, it is worth remembering that some people may have difficulty getting about even on foot.
The village looked very picturesque in the snow. We are starting a collection of snowy photos for the website gallery. If you have photos of the village in the snow you'd like to share with others, please email them to editor@steepleaston.org.uk.
To see our photos so far, please click here.
---
Affordable housing still under consideration
Steeple Aston Parish Council is continuing to consider whether the need for eight to ten affordable homes can be met within the boundaries of the village.
In this context,the council is working alongside two departments within Cherwell District Council, the Oxfordshire Rural Community Council (ORCC) and a housing association.However, following the council's January meeting, there is as yet nothing further to report on this.
A survey of Steeple Aston residents in February 2008 suggested there is a significant need for more affordable housing in the village – and strong support in the community for the building of such homes.
Questionnaires were sent to every household in the village by ORCC, and replies were received from nearly half. The survey showed that at least 50 people have already left the village due to a lack of affordable housing. It estimates there is a need for as many as 18 homes at affordable rents and up to eight homes for shared ownership, where the occupiers buy a percentage of the property on a mortgage and pay rent on the remainder.
More than 70 per cent of those who responded to the survey said that they would definitely support a small development of affordable homes for people with a genuine connection to the village.
In a report on the survey results, ORCC's Rural Housing Enabler, Nicky Ball, said:
"I would recommend that the Parish Council does proceed in supporting a Rural Exception Site development within the village. The total number of homes to be built should be a reflection of the need identified in this survey report, the current level of need recorded on the District Council's Housing Register and the number of homes that the Parish Council feels would be an appropriate number to build in the parish."
---
January 2009
Emergency plan to be prepared for Steeple Aston
A plan is to be drawn up to help Steeple Aston cope with a serious emergency, such as a flu pandemic.
The Parish Council has set up a sub-committee to prepare a draft of the plan which will be then discussed by the full council in March.
Members of the sub-committee will be Clare McKinley, Richard Preston and John Coley. They have been asked to consider how the village should respond to a range of possible scenarios from a medical emergency to a gas explosion.
The document will be no more than four pages long and will include recommendations on how information might be communicated to local residents quickly and effectively.
---
Parents, children asked for views on play area
Steeple Aston Parish Council is asking villagers and their children for their views on the redesign of the popular children's play area in Fir Lane.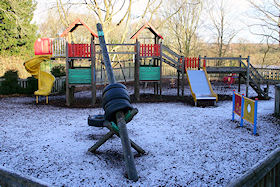 The council has set up a group to consider the wide variety of options available to update the play area, which is now 16-years-old and starting to show its age. It is hoped to have new equipment in place by the autumn.
They are holding an open meeting on Sunday, 1st February between 2.00 and 4.00pm in the Village Hall. Anyone who is interested (not just parents and children) is welcome to come along.
Howie Watkins, Playbuilder Development Officer for Oxfordshire County Council will be there to give a presentation on the Playbuilder scheme. There will also be other play experts on hand to answer questions.
Parish Council Vice-chairman, Richard Preston says: "The possibilities are immense and could bring a whole new conception of "play" into being here in Steeple Aston. Please make the effort to come with the children and have a look at our ideas and put your thoughts into this exciting scheme."
Tea, soft drinks and biscuits will be available.
If you have any questions contact Richard on 01869 340512
---
St Cecilia's concert raises over £900 for church
On the evening of St Cecilia's Day 22 November, Nicholas Cleobury directed a very successful concert in Steeple Aston church. The concert raised the spirits of the packed audience, as well as raising more than £900 for church funds.
St Cecilia is the patron saint of music and musicians, and thetheme of the concert was the power of music.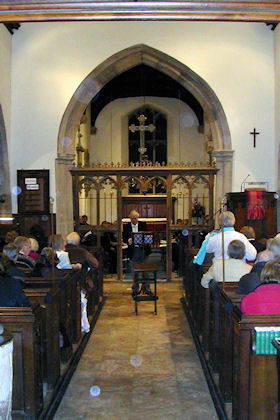 The evening, introduced by Nicholas, demonstrateda wealth of local talent. Amongst a full programme, Fiona Ritchie played a wonderfully evocative piece called Blues for Gilbert on the vibraphone and Dorothy Willattgave a show-stopping rendition of The Holy City plus a medley from The Sound of Music.
Visiting soprano from Henley,Catherine Conwaysang Handel's Ode for St Cecilia's Day accompanied by Colin Chambers on the flute. The Steeple Aston Singers performed Stanford's The Blue Bird and several folk songs, rounding off the evening with Britten's arrangement of the Suffolk folk song Oliver Cromwell.
The programme included readings on the musical theme including W.H. Auden's The Composer and an amusing piece called The Alto's Lament. During the interval, Jane and David Stewart provided an excellent selection of refreshments and wine.
The Parochial Church Council would like to thank everyone who contributed to the success of the event. Overall, it was, in John Dryden's words an evening of "heav'nly harmony", plus lots of humour.
---
Dr Radcliffe's artists win cash prizes
Children from Dr Radcliffe's School have won all the prizes in the website's Steeple Aston Youth Art and Design Competition.
A £10 prize was on offer to youngsters in each of three age groups who sent in a picture called "What I like best about Steeple Aston". Altogether there were 41 entries to the competition, with the youngest entrant being only 23 months old.
The three age groups were: up to seven, eight to eleven and 12 to 16. Unfortunately, there were no entries from the oldest age group, so it was decided that their £10 prize should be divided between the two runners-up in the other groups.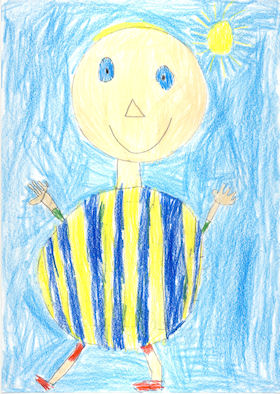 The £10 winner in the youngest age group was Ben Stacey with his picture of "My Friend Matthew", pictured here. Second was Jessica Willis with her picture "The Church", and she will win £5.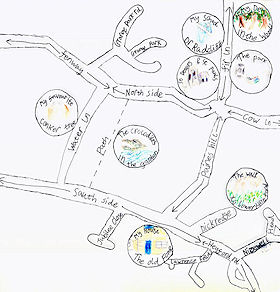 The over-seven £10 prizewinner is Gregor Rae with his picture entitled simply "What I like best about Steeple Aston". Amy Osman's "Steeple Aston Fete" was second, and she will also win £5. The winners will receive their prizes through the post.
The entries were judged by Peter Waite, the local multimedia artist whose work appears on the front of Steeple Aston Life. Peter is the retired Principal of Berkshire College of Art and Design.
He said he judged the artwork on four criteria:
The feeling of the piece – how well it conveys the subject
The composition within the shape
The execution and the use of colour
The relative age of the artist.
We asked him to choose the top five from each category to showcase on the website. He said that in the youngest age group it was difficult to choose the first five – one or two others came close. He added, "Of those not chosen, all had the merit of a sense of enjoyment of painting and drawing – not to mention collage! Long may it last!"
Thank you to all of you who took part in the competition, and to your teachers and parents too.
All the winning pictures and Peter's comments on them can be seen in the Steeple Aston Youth section of the website, please click here.
And you can get an even better view of the pictures if you look in the Media Gallery, please click here.
---
Parish Council responds to request for information on bus use
Parish Councillors have asked the county council to retain all existing bus services and to consider more buses for Steeple Aston in the future.
The councillors discussed local bus services at their recent meeting in response to a consultation on subsidised buses by Oxfordshire County Council.
They were most concerned that there should be no reduction in existing services. It was agreed that they would press for the Friday bus to Bicester to be retained. In addition councillors stressed the importance of the 7.15pm bus from Oxford as a means of getting home from work.
They asked for consideration to be given for an extension from the village to the Middle Barton Tuesday bus to Chipping Norton.
They also found that there is some demand for Sunday buses, especially for retail workers. However, it was thought that one or two buses in each direction on Sundays might not get used proportionately as much as a fuller Sunday bus service.
Councillors also heard that the last 'train' from Oxford on a Saturday evening is a bus service instead. The driver is meant only to drop off people at the stations the train would have stopped at. The result is that the bus won't drop off at the villages he passes through on the way.
One Councillor suggested that the train/bus service could become a hybrid, with the driver allowed to drop off at bus stops on the route as well as at the stations. This pragmatic proposal was welcomed and it was noted that he had raised this possibility with First Great Western and the County Council.
The consultation period ends soon. Any information that would help the case for the retention or introduction of these bus services should be sent to the Parish Clerk, Sue Lee at 19 Bradshaw Close, Steeple Aston or email sue@steeple.eclipse.co.uk by 15 December.
---
War brings people together
This strange irony was nowhere more evident than in Steeple Aston Village Hall, where well over 100 people visited Steeple Aston Village Archive's (SAVA's) latest exhibition over the weekend of 15/16th November.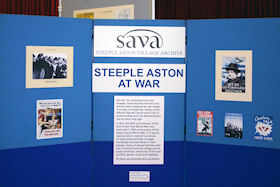 Entitled "Steeple Aston at War", the displays featured many local people who had taken part in the two World Wars, as heroes or land girls, as members of the Home Guard or the WI, and in many other capacities.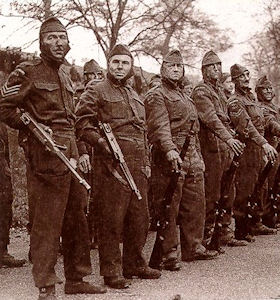 Groups of visitors talked about their reminiscences and offered still more memories. In many cases visitors stayed talking, with the backdrop of Glenn Miller's music, for more than an hour.
Many local people had contributed to the stories, images and recollections of events that made up the exhibition, and some had lent their medals, tin hats and other artefacts steeped in those far-off times.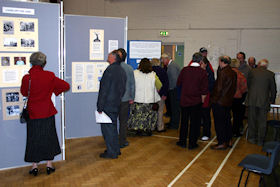 And yet there were also visitors from further afield, well outside Oxfordshire in some cases, who had come back to piece together what they could of the stories of families whose roots were in the village at that time.
SAVA Chairman Martin Lipson said, "We are grateful to everyone who contributed to and visited the exhibition. It is intended that an on-line version will be produced and made available on SAVA's website (to which a link is provided from this one), although this will take some months."
For more information about SAVA, go to www.steepleastonarchive.org.uk
---
Dancing as well as singing at this year's Wassail Evening
Steeple Aston's Wassail Evening was a cheerful and friendly event with mulled wine and mince pies served to the 47 villagers who attended. This year they were treated to a children's dancing display as well as the traditional seasonal songs and carols.
The informal evening took place in the Village Hall on Sunday, 14th December.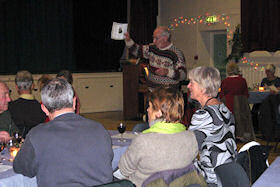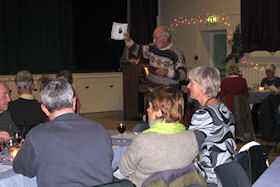 Roderick Nicholson was the compere, and the people who were therelustily sangcarolsaccompanied by Nick Cleoburyat the piano.
The Handbell Ringers played some suitably festive tunes with a collectionin aid of the Parkinson's Disease Society, and Alan Brewer readabout the trials and tribulations ofFather Christmas.
The Spotlight School of Dance did four displays made up of ballet, tap and modern dance. There were three solo dances by Hannah Kemp, Gemma Jackson and Charlotte Read and a group dance by Hannah Kemp, Saskia Noble, Sarah Elliot and Carla Rudyard. The children practise in the Village Hall twice a week and are taught by Suzi Hambidge.
The evening is intended to be a communal celebration of Christmas and not a fund raising event. However there wasa small surplus of £38, which will go towardsrunning costs of the Village Hall.
---
Christmas giving starts early for the Pre-School
Children, staff and parents at Steeple Aston Pre-School are having a very busy few weeks raising funds, not just for themselves but also for others.
The Pre-School's own big fundraiser was their Christmas Fair held at Middle Aston House on the evening of 14th November.
This well-advertised event proved extremely popular. It had a real Christmas feel with lots of twinkling lights, Christmas decorations and servings of mulled wine and mince pies. Visitors were able to buy all sorts of Christmas goodies – food, flowers, decorations and all sorts gifts were displayed on a large variety of stalls.
The fair raised a grand total of £1,345. The Pre-School manager Louise Mohajeri said huge thanks to everyone involved in supporting it, whether by helping out or by coming along and spending money.
Earlier in the day, the youngsters themselves raised £200 for Children in Need during their walk around the village. And there's more to follow in sponsorship money. They say a special thank you to everyone who came out of their doors to donateon the day.
The following Friday, the regular bags2school fundraiser was held, and then on Saturday, 29th November you are invited to dust down your disco gear and get your dancing shoes on for the 70s and 80s music at the Pre-School's Mamma Mia Disco.
The disco will be held from 8.00pm till late in the Village Hall. Tickets cost £7 and are available from Steeple Aston Pre-School on 01869 340863 or any staff member.
For more information about the Pre-School, please click here.