Parish Council opposes "One Oxfordshire" plan
Steeple Aston Parish Council has decided that it's not in favour of the proposed unitary authority for "One Oxfordshire", and would favour a more local set of arrangements.
The parish joins Cherwell and West Oxfordshire District Councils and Oxford City Council in opposing the plans. But despite this opposition, Oxfordshire County Council has already gone ahead with its proposal to disband all the area's city and district councils and replace them with a single authority responsible for delivering all services.
It has already submitted the plan to the Secretary of State for Communities and Local Government, Sajid Javid MP, with the support of Oxfordshire's two other district councils, South Oxfordshire and Vale of the White Horse.
They said: "We believe local government reorganisation is vital to protect council services as central government funding is reduced, and to secure the investment in infrastructure needed to support sustainable economic growth in Oxfordshire.
"It is expected that the government will make a final decision on our proposal later this year, but work is already underway to ensure all six councils work together effectively on delivering a new council for Oxfordshire in 2019."
Leaders of the opposing councils have asked for an urgent meeting with the Secretary of State to discuss the plan before any decision is taken. They say that four of the county's five MP's oppose the plan and there is growing opposition among local residents and a concern about increases in council tax. They "want to avoid committing taxpayers' money to commissioning further studies and analysis in response to the county's proposals" given there is "no realistic chance of a consensus being achieved" between the city, district and county councils.
Edward Dowler, the Chairman of Middle Aston Parish Meeting, said he was strongly opposed to the plan in a letter to Steeple Aston Life. Now Steeple Aston Parish Council has joined the opposition and laid out its reasons in a letter to the Barry Wood, the Leader of Cherwell District Council, copied to local MP Victoria Prentis and local district councillors.
In his letter, Parish Council Chairman, John Coley makes several criticisms of the proposals including:
Lack of proper consultation, especially as the proposals have changed over time
Doubts over whether the revised proposals will achieve the "theoretical" savings claimed
No suggestion that the savings, if achieved, will result in better outcomes
With 15 or 20 areas now proposed, more power and control will end up in the centre
The enormous amount of work already done on the Mid-Cherwell Neighbourhood Plan (and others) will be lost.
To read the full text of the letter, please click here.
---
Parish Council increase is less than a fiver a head
Parish Council Chairman John Coley writes: "The Parish Council has voted for an increase in the budget for the next Financial Year. The increase is £3,574, or £4.60 per elector over the whole year.  This is less than one portion of fish and chips from our mobile chippy, or two pints and a packet of crisps at the Red Lion.
"We have made the increase out of necessity rather than by choice. The government has postponed subjecting parish councils to budget restraint this year but is monitoring the reason for increases and has issued a challenge to parish councils to demonstrate restraint when increasing precepts that are not a direct result of taking on additional responsibilities and Government will monitor the sector's response to the challenge. Just this week the minister made it clear parish precepts remains very much a priority, stressing he had not taken extending council tax referendums to parishes off the table.
"There are two main increases we could not absorb:
We are unlikely to receive any grant from the County Council (as we have in all years up to March 2016) towards cutting the grass verges within the village. We now must bear the full cost ourselves of around £4,000. If we don't do it, grass would soon become overgrown, unkempt and possibly a danger for drivers' sightlines.
Our Clerk, Cathy Fleet, has gained the Certificate in Local Council Administration, which automatically carries an increase in pay.
"Other increases have been agreed to meet costs cost we know we will incur in the year. Included is tree work in the Millennium Park (Play Area) identified by consultants to Dr Radcliffe's Trust who own the land we lease from them.  Left undone we not only break our lease but may cause injury to those who use the Park.
"We have also donated £200 to the Bartons Bus project. This needs our support and will provide additional facilities to those who rely on public transport, and which takes passengers to Heyford rail station in the morning and picks up again at night. It has routes to Banbury, Oxford and Chipping Norton and is prepared to change routes based on projected requirements. The bus has wheelchair access and is available for private hire.
"Despite our efforts, increases outweigh savings we could make to keep Steeple Aston looking smart and well-tended, and a pleasant place in which to live.
"All your councillors are unpaid volunteers and only exceptionally claim expenses for attending meetings outside the village. They tend to meet their own travel costs, unless it is to a distant destination. I believe that parishioners get very good value for the money you are asked to pay to have your home in Steeple Aston."  
---
Schoolkids video raises over £1K for Red Nose Day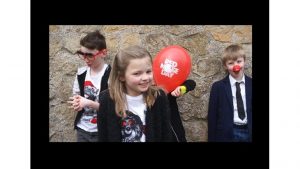 Four years ago, a group of five-year-olds from Steeple Aston made a video to raise money for Red Nose Day. Now aged nine, they've done it again – and they've persuaded some grownups you might recognise to join in as well.
Last time they made £800 for the Comic Relief charity by making their own version of One Direction's 'One Way or Another' music video. This year they've raised £1,064 by performing to Justin Timberlake's 'Can't Stop the Feeling'.
Both videos were made by Laura Jobe. The new one features children now in Class 4 at Dr Radcliffe's School along with friends and family. They also persuaded their teacher Becky Roberts and Headteacher Frances Brown to take part, along with other locals such as Raj and Pari from the village shop.
For links to both videos, and, if you want to, donate to Comic Relief and help them reach their target, go to: http://www.justgiving.com/cantstopthefeelingforrednoseday
---
Anna Allen joins the Parish Council
Steeple Aston's newest parish councillor is Anna Allen, who was co-opted on to the council at its February meeting following the recent resignation of Bridie Mulcahy-Hawes.
Anna has lived in Grange Park, Steeple Aston for 25 years with her husband Andrew. Their children Antony (now 30) and Judy (28) went to Dr Radcliffe's School.
With a Norwegian diplomat father and an English mother, Anna spent her childhood years travelling the world. But at the age of 18 she decided she wanted to make her future in Britain. She went to Bangor University to study marine science and it was there that she met Andrew, who had been seconded from the Royal Navy.
They ended up in Steeple Aston when Anna got a job with Pergamon Press, by then part of Reed Elsevier. She spent nine years there managing their environmental sciences programme. It was an exciting time to be involved in environmental issues, she says, and this is where she developed her interest in wildlife and the environment.
She left this job in 2000 to work in electronic publishing, joining an American dotcom company but working remotely in the Cherwell Innovation Centre at Upper Heyford. Here as the editorial director for The Scientific World she developed new ways of open access publishing peer reviewed scientific literature. Then after a spell working on pharmaceutical marketing she retired in 2013.
On retirement Anna thought she would continue to develop her technical interests and learnt how to build websites. But she decided she'd had enough of spending her days in front of a computer, and took up the offer of a gardening job. She started gardening just four hours a week, then she put an advert in Steeple Aston Life and was overwhelmed by offers of work. She now has two partners in Anna's Garden Services, and they work with three other associates.
Anna says they have now worked in 50 gardens over an area from Bicester to Great Rollright. She finds gardening much more rewarding than the corporate world. "We meet wonderful people," she said, "it's a real privilege to work in such lovely gardens often with historic buildings, and we learn a lot from the garden owners."
Anna is pretty busy in her spare time as well. Two years ago she founded the Steeple Aston Walking Group, now 35 strong. She is Treasurer of the Allotments Association and a keen beekeeper. She also helped set up the Mid-Cherwell Neighbourhood Plan website and newsletter.
It was this experience which prompted her interest in local government, and eventually led to her application to join the parish council. "Since I retired," she said, "I've got more involved in the community and got to know the village better. I'm very busy, but I like the idea of putting something back locally."
Her main contribution, she thinks, will be her business experience and her knowledge of environmental issues. But she isn't against development in the right place, and recognises the importance of providing more housing, especially to keep young people in the village
She will also take an interest in fostering small businesses locally, and hopes her marketing skills will be particularly useful to the council in helping it communicate better with villagers.
---
Mid-Cherwell Plan sent to the Examiner
The draft Mid-Cherwell Neighbourhood Plan has been sent for comments to an Independent Examiner before the start of the formal consultation process which will culminate in a referendum next year.
Following the Examiner's report, it is expected to be sent to Cherwell District Council in early August. This date matters because as soon as Cherwell have a copy of the draft Plan they are obliged to take its recommendations into account.
Meanwhile villagers from across the Mid-Cherwell area are to be invited to an open meeting of the Neighbourhood Forum on Wednesday, 17th May at Ardley Village Hall. The Forum consists of a group of 40 people from the 11 Mid-Cherwell parishes, the Heyford Park Residents Association and the Heyford Park developer, the Dorchester Group.
In addition the eight-person Executive, chaired by Steeple Aston Parish Councillor Martin Lipson, has offered to visit all the 11 parishes and sit in on a Parish Council meeting in each place to answer questions from Councillors and the public.
In his monthly report, Parish Council Chairman John Coley explains more about the work being done to ensure the Plan is accepted.
He writes: "It was Proust who wrote "What we call our future is the shadow which our past throws in front of us." So, this month I'm looking back and looking forward.  Everything we have done thus far, and the work we are doing now, will form part of our submission for a Neighbourhood Plan.  Increasingly developers are looking to appeal or go to court to challenge Neighbourhood Plans; so  we must take pains to make sure that what we in the Plan is clearly supported by good evidence, and where we choose between alternatives, we must show that we have applied the same weight to all options.  This is a daunting prospect for such a large geographical area.  It will take time as well as effort.
"One example is our determination to show that Mid-Cherwell has its own character, and should not treated just as a 'standard development location. You may have seen a black bus (shades of the Magical Mystery Tour for those old enough to remember The Beatles' 1967 album) going around villages one day last month.  This carried consultants and Forum representatives as they travelled round the Plan area and attempted to epitomise and define the 'character' of the various Parishes in the Plan.
"The whole ethos behind the Neighbourhood Plan is that neighbourhoods can decide where they would prefer development to take place; it is not so they can use a Plan to block all development – so not "Strawberry Fields Forever".  We need to make sure our policies are not stating the obvious, or reinventing the wheel, and to this end we have begun a series of meetings inviting all those making Neighbourhood Plans in Cherwell to come together and swap ideas and policy wordings. This includes Bloxham which has already had its own Plan adopted.  It will be very handy to see what works, and what doesn't.
"It also helps us to begin to work out the timescales for various consultations, based on actual time taken rather than on the time we think it should take ("Back to the Future" for someone who carried out Activity Based Costing!). Inevitably there can be significant variances which we can try to ease by having policies which are soundly researched and written.  The better our policies and wishes are described, the less the chance of them being challenged. Work done now will save time much later."
To see the draft plan and find out more about the Forum, go to www.mid-cherwell.org.uk
---
Age UK pilots local Drop-in Information Sessions
A new pilot scheme by Age UK Oxfordshire will provide monthly drop-in information sessions for the first time in Steeple Aston.
Age UK Oxfordshire's free information service aims to help people stay independent and live life to the full. Whether you need help at home, want to discover local activities in your area, find out about benefits, or get in touch with support services the Community Information Network can help.
From Wednesday, 29th March they will be holding monthly Information Sessions at the Sport & Recreation Centre in Steeple Aston. Older people, carers and adults with support needs are invited to drop in and meet local Community Networker, Libby Griffin.You will be able to browse the information table, pick up a range of helpful booklets, and ask any questions – no appointment is necessary. All are welcome; the kettle will be on!
The Information Sessions will be held on the last Wednesday of each month, from 2.00pm to 4.00pm at Sport & Recreation Centre, Fir Lane. For more details contact Libby Griffin on 07827 235410 or email libbygriffin@ageukoxfordshire.org.uk
Richard Preston, our Age UK Oxfordshire local-link adds: "Age UK Oxfordshire is not just about the elderly but offers support and advice to all those who have contact with the elderly. Our perception of 'elderly' is probably of someone who may have experienced the last world war or seems to have been around for ever but that is so far from the truth.
"Support for the elderly probably touches all of our lives at some point. It might be your parents who have now retired, the lady next door who appreciates the opportunity for a chat over the garden fence.  It might be that you know of someone who gives time to help someone of a certain age who needs some shopping done or wants a light bulb changed.  The reality is that you probably have some contact with 'the elderly' and maybe you could find out more ways of providing help.
"Steeple Aston is piloting a scheme where Age UK Oxfordshire is coming to you each month to provide useful support and advice on how we can all help our neighbours, relatives and friends and show what a caring society we live in today. Please call in and see what is available even if you are not classified as 'elderly'."
If you have a question but can't get to an Information Session please call the Helpline on 0345 450 1276. For more information about Age UK in Oxfordshire, go to their website: www.ageuk.org.uk/Oxfordshire
---
Grange Park residents await TPO verdict 
Residents of Grange Park who have objected to the imposition of individual tree preservation orders to replace the controversial and outdated area order on the estate are waiting for a response from Cherwell District Council.
The proposed new orders cover more than 40 trees. Following representations, the original deadline for objections was extended by a month to 12th January. Most of the residents of the 26 Grange Park properties affected who wanted to object were able to do so in that time.
In addition, the Grange Park Residents Group engaged a consultant, Peter Wharton of Wharton Tree and Ecology Consultants Ltd (www.whartontrees.co.uk) to assist them with their objections. He produced a very detailed and comprehensive objection letter which was submitted, on behalf of the residents group, to the Head of Law and Governance at Cherwell District Council before the deadline.
The letter made a clear case for rejecting the proposed TPOs on technical and legal grounds. As yet the residents have had no response to their objections, apart from an email acknowledgment that Peter Wharton's letter was received and passed to the Arboricultural Department for consideration.
Cherwell District Council said previously that the TPO must be confirmed before the end of six months from when it was made otherwise it lapses. If there are objections then a report will be required to respond to the issues raised before the TPO can be confirmed in full or modified. The new TPO was issued on 14th November 2016, so there is some time to go before the six month deadline is reached.
To read the full text of the letter sent to CDC, please click here.
---