Disappointment as majority of Grange Park TPO's to stay
Cherwell District Council has decided that nearly all the individual Tree Preservation Orders imposed on Grange Park will stay in place despite objections from residents.
Individual tree preservation orders covering more than 40 trees were announced in November 2016 in place of the controversial and outdated Area Order covering most of the trees on the estate. Residents had until mid-January to make their objections known to the council.
Twelve objections were received by the council including a detailed report from Peter Wharton of Wharton Tree and Ecology Consultants Ltd, who had been commissioned by the Grange Park Residents Group.
The council had six months to consider the residents' objections, and they took it right to the wire only giving their final response in mid-May. They confirmed that the vast majority of TPOs would remain in place, but agreed that six individual trees and one group of two trees should be excluded.
Council officers considered in detail 32 individual objections from residents, and gave their responses in writing. In most cases they rejected the residents' comments. But they accepted the objections that two trees were too close and three weren't visible to the public. Of the other three trees excluded, one has bleeding canker, a second has co-dominant stems and the third had already been removed with the council's consent.
A Tree Preservation Order prohibits the cutting down, topping or lopping of the tree without first obtaining permission from the council.
Andy Allen, who led the fight against the Area TPO, described the imposition of the individual TPOs back in November as a "bitter blow". After the latest decision to go ahead with most of the orders he explained there were clearly winners and losers as the burden of 'preserved' trees falls very unfairly on some (four trees in the case of one house). But he didn't hold out much hope of further protests by residents.
He said, "The problem we have now is that, rather than having the old Area TPO reviewed and revoked as we had hoped (with possibly one or two trees of special merit still protected), we have new TPOs on individual trees 'set in stone' in perpetuity. The only way we can object further apparently is to take the matter to the High Court for which I'm sure nobody would be prepared to risk the expense."
---
Hear SAL Editor Cathy on Radio Oxford
Cathy Lawday, the award-winning editor of Steeple Aston Life, was interviewed for a feature on parish magazines for BBC Radio Oxford.
Cathy was asked about her role as editor, and about the part that SAL plays in promoting a sense of community in the village.
The interview was broadcast early in the morning on Sunday, May 21st. The BBC kindly gave us an audio copy of the interview so that villagers who missed it could hear what she had to say.
To listen to Cathy talking to presenter Sophie Law, please click here.
---
Richard Preston stands down from the Parish Council

Tributes have been paid to Richard Preston, the Vice-Chairman of Steeple Aston Parish Council, who has unexpectedly resigned after more than 25 years of service.
The current council Chairman, John Coley wrote: "Richard's contributions have been so distinguished that the Parish Council and all parishioners, past, present, and future owe him a great debt. How great that debt is will soon become apparent when all the many things he has undertaken fall on the shoulders of other councillors."
Margaret Mason, the former Chairman who worked with Richard for many years, said the village would surely miss him. She went on, " Richard has been a mainstay of Steeple's Parish Council since 1994 when he agreed to be co-opted. Blessed with huge energy, enthusiasm, a deep love of the village and a very 'can do' attitude when bureaucratic attitudes or lack of finances make things difficult, Richard likes nothing better than a challenge to overcome.
"He would probably say that getting the playground up and running would be the thing he was most proud of in his time on the Council, though there are certainly more to choose from. The project had a rather negative beginning but a change of membership, during which Richard joined the council, created a more positive environment. The Parish Council applied for the leasehold from the Dr. Radcliffe'sTrust, and a Play Area committee was formed, with Richard chairing it. After this the plans took flight and, a year and a lot of hard work later, it was opened at the VE Day celebrations in 1995. Twenty seven years on, and still pleasing yet another generation of children, I think we would all agree what a tremendous asset and success it has been.
"Richard's energies have always been focussed on getting the best for the village, and the older members have not been ignored either. Getting the Dial a Ride service running here was one of his initiatives. He can always be relied on to know where help is needed, (and to give help too), who to talk to to get things done and, very importantly, where to apply to raise funding for a project. He is a very skilful form filler-in and many projects would not have seen the light of day without his expertise and commitment.
" As vice chairman of the Council during most of the years I was chairman he was immensely supportive in so many ways, which I valued. The village has benefitted greatly from his hard work and initiative. More time to look after his garden now? Perhaps, or perhaps not, he still has many other village interests. We all owe him our gratitude for the years he has spent as a Parish Councillor."
And Julia Whybrew, who has worked with Richard in several roles over the years, echoed the views of many when she described "Richard's boundless exuberance and enthusiasm, his astonishing energy and his ability to get others to co-operate." She said, "He has made the village a better place to live, especially for children. The play area is hugely successful, as demonstrated by the number of its users, and it is Richard's vigorous support that made this dream into reality."
Richard himself has not explained much about his reasons for resigning, although there may be some clues in the letter he wrote for publication in Steeple Aston Life. He wrote, "After a quarter of a century representing the concerns and aspirations of the parishioners of Steeple Aston I have made the decision to retire as a parish councillor. Not maybe exactly when or as I expected to leave the position but on reflection, the correct decision…………."
"……….. It has been a wonderful quarter of a century of serving the community and giving something back to a village that supported me and my family so well in my days of self-employment as a market gardener and greengrocer.
"The role of parish councillor has changed somewhat over that time and I feel that bureaucracy and red-tape are now getting in the way of progress. In my opinion there is too much time spent ticking boxes and not enough time made in taking this village forward.  On saying that it is still possible to make things happen and with a little determination and talking to the right people anything can be achieved.
"This gives me the opportunity of thanking everyone who has supported me through my time as a councillor especially the villagers who make their own contribution to village life by passing on their thoughts and comments on various aspects of village life. After all, it is the residents of Steeple Aston who I have served for the last 25 years and that is what the position is all about and for that I have been extremely privileged to have served with so many superb councillors and hopefully enhanced and improved village life for all."
John Coley spelled out the extent of Richard's achievements, writing, "Richard's greatest legacy is the Play Area. This was established in two phases, first for the younger age group and subsequently for the older group. Happily, when Richard inaugurated the zip-wire and trampoline, they didn't suffer a Boris-style breakdown!
"To realise his project required a good deal of fund raising and here behind the scenes Richard has been masterful. He seemed to know of every conceivable fund to which the village could apply for funds. For instance, he found out that, although we were right on the edge of one business zone, he could apply to a largely unused fund designed to compensate for some disturbance which most of us didn't realise we had! But it is one thing to know about funding sources, quite another to fill out the 50 page forms in duplicate, or triplicate, and acquire quotes, signatures, etc. and submit a successful application.  He masterminded funding, secured the purchase of apparatus, and commissioned and project-managed construction work. He also stayed responsible for ongoing maintenance, persuading contractors to give priority to Steeple Aston.
"Ironically, although Richard's passion is cricket and not football, he was instrumental in this hugely successful project, persuading the Football Foundation to provide hundreds of thousands of pounds to extend Robinson's Close football pitch, improve the school paying field and upgrade the Sport and Recreation Centre changing rooms to the level required for higher league football.
"I could go on for pages more, because Richard has made similar contributions to many aspects of the life and fabric of the village. He will be sorely missed on the Parish Council and all Councillors thank him warmly for all that he is done as a councillor."
To read the full text of Richard's letter, please click here.
---
"Quack Pot" protest repairs may be delayed
The Steeple Aston "Quack Pot" protest against the potholes on South Side provoked an immediate response from Oxfordshire County Council's Highways Department. But it seems that it may take a while for the repairs to be done. Officials have said they will do the work without closing the road if possible, but if the road needs to be closed the legal process takes three months.
The protest certainly caught the public's imagination. Within hours it appeared in local papers, then Parish Councillor Helen Wright appeared on local radio and television. Soon it was buzzing around the internet. The story was for a while number 10 in the stories most read on the BBC website, Facebook was humming and it appeared on news websites such as The Poke.
Later, it also appeared in national newspapers including the The Times, the Sun and the Daily Mail, and Martin Lipson was interviewed on Radio 5 Live. To listen to his interview, please click here.
Oxfordshire County Council's Highways Department also noticed the publicity very quickly. An official visited the road immediately, and a team were sent soon afterwards to do a detailed inspection. Now we await a decision on when the work will be done.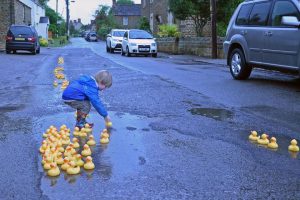 The idea for the protest started as a bit of a joke when Parish Council Chairman John Coley suggested in his Annual Report that the rash of holes had become so bad that the council might consider a "Quack Pots Day" where they would fill all the holes with water and float plastic ducks in the ponds.
Fellow councillor Martin Lipson happened to have several hundred plastic ducks in his basement (previously used for a children's charity event). So on a very rainy Wednesday, 17th May he floated 100 of them in the potholes outside the Old White Lion.
Young Woody Wright, pictured above, had lots of fun playing with the yellow ducks. But his mother Helen explained it was a serious attempt to get something done about the potholes which have been worrying villagers for nearly two years, causing at least three of them to trip and fall recently.
In a press release sent to local media and to county councillor Aresh Fatemian the parish council said, "Drivers and pedestrians in South Side, Steeple Aston were astonished last Wednesday to find their much-loved potholes inhabited by one hundred bright yellow ducks.
"Villagers and others have had to negotiate this particularly bad stretch of potholes in the centre of the village for over 18 months. Every month, like a lot of other parishes, the Parish Council has reported a worsening situation to Oxfordshire County Council Highways. So this month the Parish Council resolved to highlight the problem so that OCC can't continue to duck the issue.
"Parish councillors Helen Wright and Martin Lipson, aided by other villagers, floated 100 rubber ducks in the rain-filled potholes. Helen said "Despite our reporting that since the start of the year three residents had tripped in these holes and fallen, precisely nothing has been done."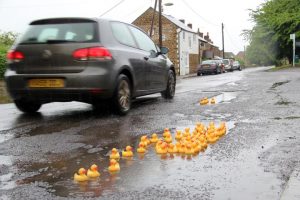 "Smiling drivers wound down their windows, braving the heavy rain, to ask what was going on, and passing local residents applauded. Woody Wright aged three said "I think the ducks like their new ponds".
"After the ducks had been re-homed, Martin Lipson said "We can now only hope that OCC will finally do something to put into decent repair the main road through our village. This has gone on long enough."
To read the Parish Council Chairman's Annual Report in full, please click here.
---
Neighbourhood Plan to be published in July
Following a report from an Independent Examiner, the Mid Cherwell Neighbourhood Plan is being revised with a view to publication in July. Under this revised timetable, if all goes well, there will be a referendum around April next year.
The MCNP Forum met for the first time in public on Wednesday, 17th May in Steeple Aston Village Hall. This gave members of the public a chance to see the Forum in action, and to question the representatives of the 11 parishes, the Heyford Park developer Dorchester and Heyford Park Residents Association.
Traffic, transport and the provision of health services were the main concerns of the members of the public. And the Forum members were able to reassure them that these items are high on their agenda too.
The report from the Examiner suggested it may be possible to include more about traffic in the plan. It also suggested that the number of policies should be reduced, partly by joining up some of them, and that some unacceptable wording should be removed.
In addition, the Examiner advised that the boundaries of the five villages where development is anticipated should be loosened up to provide more space for a limited number of new dwellings. Steeple and Middle Aston are included in the five, and so are currently revisiting this issue.
Further work is also continuing on many details including: preserving views; providing a green buffer between Heyford Park and Upper Heyford, and maybe Caulcott; green corridors in general and biodiversity sites and the possible inclusion of 'extra care' housing.
In his monthly report, Parish Council Chairman, John Coley, gives some more details. He starts with a quote from Shakespeare's Romeo and Juliet: "Wisely and slow; they stumble that run fast."
He continues: "This has been our theme for the month. The Forum Executive has looked again very critically at all our policies in the Mid-Cherwell Local Plan.  This inevitably means that we have had to take time to reconsider them in the light of updated information and what already appears in the Cherwell Local Plan – to which we must conform.  There have been several Neighbourhood Plans where the final Examination has struck out those policies which simply duplicate National or Local policies. It is better now to try to get these correct, or better still, to add our own detailed evidence to enhance them, rather than rewrite them when we are up against very tight deadlines for a Referendum. We must make sure we say exactly what we mean, or we are all hostages to fortune.
Other policies have emerged from community engagement meetings, such as establishing wild life corridors, types of street lighting, if any at all. We need to ensure these are soundly based on evidence, not preference.  For example, if we want grass verges, not concrete, we need to show evidence that grass is the more "sustainable".  The next stage is that we will publish the Plan for the so-called "pre-submission" consultation, after which it goes formally to CDC. After their comments, it will be out for formal Public Consultation, when we expect developers and statutory bodies to respond.
Some parishes are earmarked by CDC to take future housing development because of the infrastructure they, or a "satellite village", have (we have a pub, a shop, a school). We need to review the proposed boundaries of those five settlements to ensure that they are adequate for some development to take place between now and 2031 -the length of time our Plan will stand. The number of new small-scale developments could be a few a year up to 2031. We have asked those parish councils to look again at the sufficiency of their provision."
To find out more about the Forum and its proposals, go to www.mid-cherwell.org.uk
---
Community Speedwatch already making a difference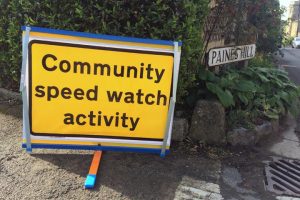 Long running radio soap, The Archers, is mirroring life here in Steeple Aston, as residents of the fictional Ambridge set up a Community Speedwatch campaign!
Steeple Aston's very own Speedwatch campaign is now up and running, with around a dozen volunteers taking it in turns to don hi-vis vests and use a speed gun to monitor and record the speeds of vehicles using roads in our village. The results are then forwarded on to Thames Valley Police, who decide what action to take.
So far volunteers have set up on Paines Hill, and on South Side (by Bradshaw Close), and those who walked by all commented on what a difference having them there made. The consensus was that the presence of the Speedwatch team really slowed cars down, and made pedestrians feel safer.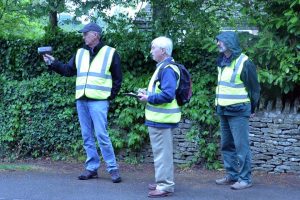 Pictured here on South Side braving a miserable wet day are volunteers Paul Beadman, John Coley and Martin Lipson.
Helen Wright, one of the Parish Councillors involved in setting up the campaign said: "We are really pleased with the start we've made so far. The aim of the campaign isn't to catch people speeding – it's to slow vehicles down, and encourage people to think about their speed when they're driving through our village."
If anyone wants to join the initiative, they're encouraged to email Helen (Helenewright@rocketmail.com).
---
Parish Council expenditure explained
Council tax bills have a number of different elements covering county and district council expenditure as well as police and parish council charges. Julia Whybrew, who covers parish council meetings for Steeple Aston Life, explains what the Parish Council receives and what it spends our money on.
She writes: "Our Council Tax has a number of elements and 3.7per cent of the total is for the 'Precept' ie the spending by our Parish Council.   Between us all this comes to £26,698.44.  Every household in Steeple Aston contributes to the precept though those in Middle Aston don't pay any precept because they do not have a Parish Council.  This is not necessarily the exact amount spent because if there is an unforeseen disaster the Council may have to spend more by drawing on the reserves.
"There are six major areas of expenditure; the upkeep of the play area, cutting the grass, paying the Clerk, the Play Area loo, repaying the loan to flatten Robinsons Field and insurance. In addition there are a number of grants to support local activities and some unavoidable administrative expenses.  I have described these in turn below.
"The upkeep of the play area and the Millennium Park comes to £2,900 and this year there is expected to be another £2,400 needed for repairs and a new trampoline mat.  The area is regularly inspected and kept clean and the sand and bark are replenished as needed.  The need for regular repairs is inevitable considering the enormous use made of our excellent play facilities.
"Cutting the grass, looking after the hedges and the weed spraying is expected to cost about £4,800 of which the grass cutting accounts for £4,000. Cherwell used to pay to cut the grass but their contribution has been gradually reduced and this year, for the first time, the Councillors are not expecting them to contribute anything for this.  In addition the Parish Council pays £600 to the church towards the cost of cutting the grass in the churchyard and the cemetery.
"We are lucky to have a fully trained Parish Clerk who does some hours for this village and is also a Parish Clerk in two other places.  Her salary and her expenses together come to £4,600.
"The lavatory in the play area has to be kept clean and supplied with lavatory paper. Together this comes to about £2,300.   It cost more last year because then paper towels were supplied but now there is a hand dryer instead. If only there was an easy alternative to the costly lavatory paper.
"We are paying off the loan taken out to flatten Robinsons Close and turn it into a football pitch and general play area.  The loan has about another fifteen years to run and costs £2,300 a year. The only other large expense is for insurance for which the cost this year is £2,000 a year.
"Then there are some oddments, none of which are very large individually but they add up to £3,800 in total.  These contribute to a wide range of village facilities and include; £500 to Steeple Aston Life, £440 for the Mid Cherwell Neighbourhood Plan, £350 to SAVA, £84 to the website, £50 to the Deddington library and £17 for a poppy wreath.
"Finally there are some unavoidable expenses such as the audit fees, training the Councillors and hiring the committee room of the Village Hall for meetings. Altogether these come to about £900.
"I find it reassuring that frequently I have listened to the Parish Councillors agonising about what they are paying and there has been no occasion when I have thought they were profligate or thoughtless about what they were spending."
---