Wednesday, 4th to Saturday, 7th April: Local teens in Godspell
Based on the Gospel of St. Matthew, and featuring hits including 'Day by Day' and 'You Are The Light of The World', Godspell took the theatre world by storm when it premiered in 1971.
Now seven local teenagers, Owen Henney, Lucas Lluna, Claudia Townson, Clara Nicholson, Xavier Markham, Immy Parsons and Eleanor O'Connor, all members of the award-winning Musical Youth Company of Oxford, will appear in an exciting new production of Godspell at the Oxford Playhouse.
Not only are they all ex-pupils of Dr Radcliffe's, the show is directed by MYCO's Resident Director and Choreographer Guy Brigg who also happens to be the school's Deputy Head and Year 6 teacher.
The show will run for five performances from Wednesday 4th to Saturday 7th April at 7.30pm and 2.30pm on Saturday 7th April.
Tickets costing from £10 are available online from oxfordplayhouse.com or call the Box Office on 01865 305 305.
For more information visit myco.org.uk
---
Saturday, 21st April: Race Night
There will be a Race Night at and in aid of the Sports and Recreation Centre on Saturday, 21st April. Doors open at 7.00pm with Starter's Orders at 8.00pm.
It's £2 entry for a Lucky Number Race card and light supper. There will be prizes for winning owners and jockeys and Tote betting available.
For further information call Neil Brewer on 01869 349747 or Alan Peckham on 01869 347756.
---
Sunday, 22nd April: Village Litterblitz
NB This event has been rescheduled as it was too snowy on 18th March
Steeple Aston's annual village Litterblitz will take place on Sunday, 22nd April starting at 10.00am.
Volunteers should meet with local councillors at the Telephone Exchange on Sixtyfoot or outside White Lion House on Heyford Road.
All equipment is provided and all volunteers will be MOST welcome!
It usually only takes 30 – 45 minutes. Coffee and cake will be provided for all volunteers afterwards at Burland, Southside.
Come along and help make your village sparkle for Spring!
---
Saturday, 28th April: Meeting with the local police
Steeple Aston Residents are invited to come along and meet your local PCSO Louise Beaumont and discuss your concerns on Saturday, 28th April between 3.00 and 4.00pm at the Village Hall car park. Alternatively please make contact via 101.
---
Saturday, 5th to Sunday 13th May: North Oxfordshire Artweeks
Oxfordshire Artweeks, which has been running since 1981, is an opportunity for people to see creative works by local artists, often in interesting settings. Nearly 500 artists will be exhibiting across the county during May, and all the exhibitions are free. This year the Artweeks Festival in North Oxfordshire runs from Saturday 5th May until Sunday 13th May.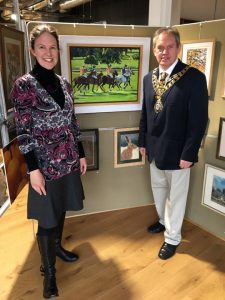 One of the local artists exhibiting is Abigail Boisot from Steeple Aston, pictured here with Bicester Town Mayor Les Sibley and some of her artworks at a Taster Event for Artweeks currently being held at Perch in Bicester.
She is showing new prints and drawings of local landscapes, as well as her bold and colourful equine paintings in a Bicester cafe. Stansfield & Hoole is at 34 Market Square, Bicester OX26 6AG. It will be open on Saturday, 5th May 9.00aam – 5.00pm, Sunday, 6th May & Bank Holiday Monday 7th May 10.00am – 3pm, Tuesday, 8th – Saturday, 12th May (7.30 am – 6.00pm), Sunday, 13th May 10.00am – 3.00pm.
You can see examples of Abigail's work on her website https://www.abigailboisot.com/
Nearby you can also visit Bicester Sculpture Group's exhibition in The Studio in the garden of the Old Vicarage behind St Edberg's Church. The Studio was set up in the 1990s by George Muller, himself a celebrated stained glass artist. He had the vision of creating a space for artists to work together and inspire each other to explore their work in a shared studio. It currently hosts 24 sculptors working in a range of materials and producing a variety of artistic responses to the world around us.
You can go along to this free exhibition and talk to the artists – and maybe find your own creative inspiration! They will be happy to see you whether or not you have visited before . The exhibition  will be open from  Saturday,  5th to Sunday, 13th May from 10.30 am to 4.30pm. For more information go to www.sculptureatbicester.org.uk
There are lots of other artists exhibiting nearby including http://www.artmorelovely.co.uk and  http://www.fleurenser.co.uk/ in Lower Heyford, three artists at The Manor, Western on the Green and Bicester Art Club in the Library, Franklin Place, Bicester.
The Oxfordshire Artweeks May Festival continues in Oxford City 12th-20th May and in South Oxfordshire 19th-28th May.
For more information about artists exhibiting in North Oxfordshire and throughout the county, go to https://www.artweeks.org/
---
Saturday, 12th May: Plant Sale
There will be a Plant Sale on Saturday, 12th May at Paynes Hill House from 10.30am to 1.00pm. coffee and flapjacks will be served.
There will be the usual mix of annuals, including sweet peas and tobacco plants, perennials, dahlias, grasses and vegetables. All proceeds will go to Medecins Sans Frontieres and Steeple Aston Church.
---
Sunday, 13th May: Nessasaurus
Nessasaurus is a highland fairytale for children brought to life through live jazz and storytelling. It's premiere will take place in the Village Hall on Sunday, 13th May at 2.30pm.
There will be a 25 minute concert followed by an improvisation workshop for children age four and upwards. It will feature world-class musicians and be narrated by Cameron Blakely.
Tickets cost £6. To find out more about Nessasaurus and to book tickets online, go to www.jazzanory.com.
---
Monday, 14th May: Village Hall Management Committee AGM
The Annual General Meeting of the Steeple Aston Management Committee will take place on Monday, 14th May in the Committee Room starting at 8.00pm.
The AGM lasts approximately 30 minutes and is followed by the monthly village hall committee meeting. Members of the public are very welcome to attend the meeting and if anyone feels they would like to join the committee they would be welcome. If interested, telephone Barbara Brewer on 01869 340423 for further details.
---
Sunday, 3rd June: Steeple Aston Open Gardens
Eight gardens in Steeple Aston will open under the National Garden Scheme this year on Sunday, 3rd June. The gardens will be open from 1.00 to 6.00pm. Tea and homemade cakes will be on sale in the Village Hall. Combined admission will be £6, children free.
The following gardens will open:
Acacia Cottage
Cedar Cottage
Combe Pyne
Kralingen
The Longbyre
The Pound House
Primrose Gardens
Touchwood
For more information on these and many other gardens open to the public, go to the NGS website www.ngs.org.uk/
Teas in Village Hall
The Village Hall Committee are once again organising refreshments for the Open Gardens. The money raised goes towards the Macmillan Nurses and other cancer charities. If anyone would like to bake or supply a cake, or help serve teas in the afternoon (for approximately one hour, for a time to suit you) please contact Barbara Brewer on 01869 340423.
---
Saturday, 8th September: Oxford Classic Jazz
NB This show was originally scheduled for 3rd March, but had to be cancelled because of the weather.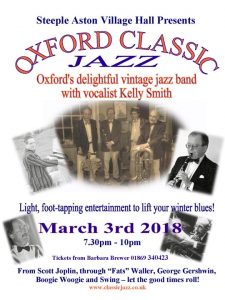 There will be a welcome return to Nick Gill and his Oxford Classic Jazz on Saturday, 8th September in the Village Hall at 7.00 for a 7.30pm start. They are a quartet of musicians plus singer Kelly Smith. They are highly skilled in the joyful style of pre-war jazz, providing an evening of spectacular music from the Jazz Age played by experienced musicians.
Tickets cost £12 and be available from Barbara Brewer on 01869 340423. There will be a licensed bar.
For more information about the quartet, and to hear their music, go to www.classicjazz.co.uk.
---