The building has a large hall, 12 metres by 9 metres, with excellent acoustics and public address system with induction loop. There is a stage and good lighting for both hall and stage, facilities for showing films, a friendly committee room for 12 to 15 people with rear access to the stage, a well equipped kitchen and disabled facilities and access.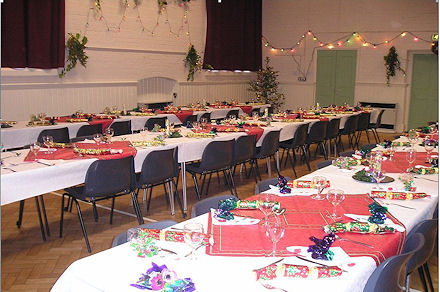 The kitchen has a large cooker with the equivalent of six rings plus two large ovens. It has a big double sink, stainless steel work surfaces, a fridge, microwave and hot water urns. There is sufficient crockery, cutlery, glasses and teapots etc for anything from a few cups of coffee to a three course meal for a wedding reception. Just beside the Village Hall there is a children's playground with swings, slides and other play equipment which is inspected every week for safety.There is also a BMX track, a multi-use games area, an outdoor table tennis table and picnic area as well as a large recreation field.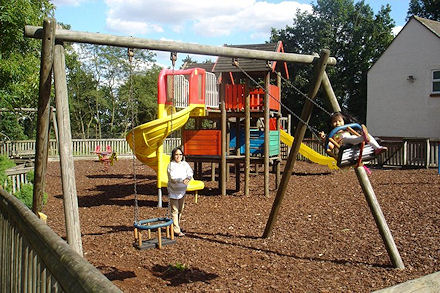 The Hall is licensed for selling alcohol but hirers need to discuss this with the letting agent. No catering is normally provided by the village, but can be arranged with local suppliers for special occasions if wished. The nearest local catering contractor is S & J Cuisine run by Sally Brown and Jasmine Watts (Tel: 07801 975210 & 07917 800415 or email: sandjcuisine@hotmail.co.uk)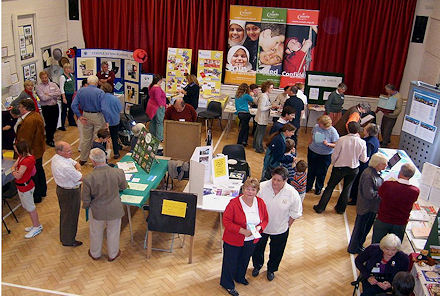 For a map of the Village Hall in relation to the rest of the village, and a map of the village with its road and rail links please click here. If the Village Hall does not meet your needs or is not available when you would like to use it you could consider hiring the other hall in the village, the Sports and Recreation Centre. For more details ring the letting agent, Angela Smith on 07734112967. Please do not ring between 6.00 and 8.00pm unless urgent.